Although the idea of a period property wasn't top of the list for tattoo studio owner Dain Maginnis and his wife, Cat, a false start and the imminent arrival of their second son, Barney, led them to this majestic Victorian villa in Alsager. 'We had an offer accepted on a 1970s house but it was slow-going and was looking increasingly unlikely,' says Cat. 'At seven months pregnant, I had a wobble. We went to see 10 more properties and had an immediate connection with this house.'
Are you planning to tackle a period renovation like Cat and Dain have? We have masses of ideas and helpful advice on what to do and where to start in our feature on house renovation. For more real home transformations, head to our hub page.
Profile
The owners Cat and Dain Maginnis (@ourvictoriandetached), owners of interiors shop Wild One Interiors (wildoneinteriors.co.uk) and their children, Dexter, and Barney
The property A four-bedroom detached Victorian villa in Alsager, Cheshire
Project cost £16,530
The agents and owners moved swiftly to get the family moved in a matter of weeks. Fortunately there was no structural work needed, however, the house hadn't been touched in a long time, which posed a challenge to the couple – by then they had a new baby as well as 16-month-old son, Dexter.
Neither Cat nor Dain had lived in a period home before so the first room, the snug, was a leap of faith. 'We're not ones for sample pots and swatches,' says Cat. 'We tend to just dive in and go the whole hog.' They loved the resulting dark palette and Art Deco feel so much that they decided to continue it through the house.
Stretching a modest budget has taken some careful juggling. They've done much of the work themselves, making the most of budget-friendly online suppliers.
Cat has a knack for tracking down vintage buys with bags of character while Dain has skill-swapped, providing tattoos in return for specialist trades such as plastering and electricians.
Having gorgeous period features has helped: there are original fireplaces in most rooms, the floorboards are in great condition and the striking hallway floor is always a talking point.
Inevitably, the kitchen and bathroom were the big spends. 'The kitchen was just bizarre,' says Cat. 'It's a big room and it had an Aga tucked in one corner, a butchers block in the centre and not much else.' They planned the new space themselves, finding units they liked at Wren Kitchens.
They then tracked down a bulk-buy of 40 handles on Ebay to add their own twist. 'Dain came up with the green ceiling, and we were going to have black wall tiles, but it might have been a bit much,' admits Cat. 'The switch to pink was last minute and has worked really well.'
There is a playfulness in Cat and Dain's approach, and nowhere more so than in Dexter's room. 'There were plant walls popping up on Instagram, in restaurants and bars, and it looked fun,' says Cat.
'We picked the most jungle-like foliage and kept the rest of the room fresh with white and yellow. It's such a happy space, it's made me like white again.'
The bathroom is last to be done and Cat admits she has reservations. 'I am constantly thinking about it and grabbing screen shots,' she says. 'It's a big room and it'll undoubtedly be expensive, so we'll probably go for more of a timeless look.'
The family are now a world away from the crazy early days of being up all night stripping wallpaper. 'Barney was a terrible sleeper so we'd be taking it in turns to wash the dust off in order to feed him and get him back to sleep,' says Cat. 'It was ridiculous!' But this house has won them over. 'I really didn't get the whole Victorian house thing but now I'm obsessed,' adds Cat. 'The ceilings, the sash windows, that hallway floor, I've fallen in love with it all. It sounds cheesy but this house immediately felt like home and now, with our stamp on it, it's totally ours – this is us down to a tee.'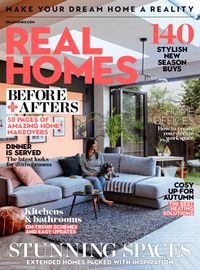 Subscribe to Real Homes magazine Want even more great ideas for your home from the expert team at Real Homes magazine? Subscribe to Real Homes magazine and get great content delivered straight to your door. From inspiring completed projects to the latest decorating trends and expert advice, you'll find everything you need to create your dream home inside each issue.
More reading: