How does a fashion professional transfer her design skills to her home? You just need to peek into the colourful abode of shoe designer Jacqueline to see it's clearly second nature to some. From gallery walls decorated with a mix of witty prints, floral oil paintings and whimsical one-offs to open shelving crammed with collections of pottery, glassware and ceramics, she's an interiors natural.
'I'd say I'm a very visual person, and always have been,' says Jacqueline. 'I actually originally wanted to be a fine artist specialising in painting or work in ceramics, but when I was at art college I panicked, and when I discovered a degree in shoe design
it seemed perfect for me. My artsy background probably explains so much you see in the house. Also, the more you do design, the better you get at developing ideas.'
If you want to renovate and create a space as colourful and personal as Jacqueline's, we have ideas and helpful advice on what to do and where to start in our feature on house renovation. For more completed projects, head to our hub page.
Profile
The owners Jacqueline Benson (@tinyandthehouse (opens in new tab)), a shoe designer, husband Joe Mercer, a planning engineer, their daughter, Martha, and cat, Tiny
The property A three-bed Edwardian end-of-terrace in Finsbury Park, north London
Project cost £156,000
But the house didn't start as a blank canvas just awaiting a few pretty tweaks. In fact, the couple's first viewings of the house were far from auspicious. With an overgrown garden, cluttered hallways and boarded up back windows, as well as about 100 tanks of various reptiles and spiders in the house, it was such a wreck that mortgage companies were turning down everyone else who looked to buy it.
'Our builder actually said it was the worst house he had ever seen,' says Jacqueline. 'It took four men four days and five large skips to remove all the rubbish. They even had to take off part of the roof to get it out of the loft! And we realised that the floor above the kitchen area was about to collapse as they had so much stuff in there.'
Looking beyond the dilapidated state of the property to its potential as the sunny family home it's since become, the house was still appealing. Jacqueline says it was the spacious proportion of the rooms and the location, in a well-connected area of London, that sold it to them. From the point of exchanging contracts onwards, the project began, and work started straight away. Everything, including heating, electrics and plumbing, had to be replaced. Builders knocked down walls to create the new open-plan space at the back, and put in two new bathrooms as well as a new kitchen. Everywhere needed re-plastering and painting.
Luckily the renovations to the house didn't need planning permission, so the builders could proceed quickly. But as the previous owners had ripped out nearly all of the original features – other than the cast-iron railings on the staircase and the wooden floorboards underneath the worn carpets – the couple also had to find salvaged items to put back the period character of the house. 'We didn't use architects,' says Jacqueline. 'I drew up the plans and then directed the builders. Because the house was in such a bad state, it was way beyond DIY, so we couldn't do any of the work ourselves.'
To save on extra rent, the couple stayed separately with relatives for three months while the heaviest work was done. 'We then moved back in to just a bedroom, a bathroom and a spare room, which we used as a kitchen and a store room,' adds Jacqueline. 'Amazingly, we were bang on schedule and even though we did go a bit over budget, our builders were so hardworking. They finished exactly when they said they would.'
While there weren't many ways to cut costs on the build, Jacqueline budgeted by picking the best they could afford in key areas. The concrete kitchen tops, solid wood kitchen and the Heal's lights that hang over their kitchen island were all big ticket items, for instance, but the couple found good value in other areas – like the tiles they've used in the bedroom fireplaces, and the fact that so much of the furniture was bought at auction or on Ebay.
Now they've been in for a couple of years, do they have any other plans for more refurbishments? 'We almost sold it last year before Martha was born because I have such itchy feet to do another project,' Jacqueline laughs. 'But luckily we stopped ourselves! We'll probably stay here for a few years now. In fact, we could extend and create a fourth bedroom and also turn the loft into a fifth bedroom – but let's see what happens over the next few years.'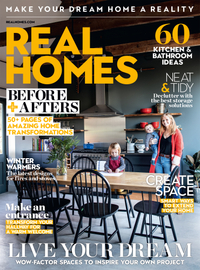 (opens in new tab)
Subscribe to Real Homes magazine (opens in new tab)
Want even more great ideas for your home from the expert team at Real Homes magazine? Subscribe to Real Homes magazine and get great content delivered straight to your door. From inspiring completed projects to the latest decorating trends and expert advice, you'll find everything you need to create your dream home inside each issue.
More reading: