Just one month after getting married, Heather and Jim had sold their separate homes and moved into their new Edwardian property. With four grown-up children to host on weekend visits, the couple set about creating the perfect entertaining space , and achieving the indoor-outdoor link we all covet.
Lifestyle benefits aside, Heather and Jim were eager to inject interest into their spacious kitchen-diner, like the architectural oak beams that highlight the sloping extension roof. They reveal the steps they took to achieve their dream kitchen…
If you're planning your own extension, we have masses of ideas and helpful advice on what to do and where to start in our feature on extending a house. For more real home transformations, head to our hub page.
Profile
The owners
Heather Stewart, a blood transfusion practitioner,
and her husband, Jim, who runs a sales agency business
The property
A three-bedroom semi-detached Edwardian house in Giffnock, Glasgow
Project cost
£136,250
'We loved this house in the first 20 seconds we viewed it,' Heather says, 'but we didn't appreciate how poor the light was in the kitchen until we moved in. At first, we were going to make do with the original layout as there was a big, serviceable dining room and separate kitchen, but having a utility room, toilet and outhouse between the kitchen and garden meant there was no connection to the outside space. 'We wanted to upsize as we needed space to seat ourselves, our kids and their partners when they visit. It was time to try modern, open-plan living.'
'I'd worked with the architects twice before, so I knew they'd make a great team,' Jim says. 'We knocked through the warren of rear rooms and extended one metre beyond the footprint. It required extensive groundworks to remove 200 tonnes of earth from the sloping rear garden and build a new retaining wall using bricks from the internal dividing walls we'd knocked down. Luckily, there was a single-track road at the top of the garden for access, but the job required underpinning and specialist house insurance to cover us during the build.'
'Jim project managed the build, but I took control of the kitchen design,' reveals Heather. 'I wanted a clean-lined look, so I picked high-gloss units teamed with Maxtop Quartz work surfaces to reflect the light. It's all drawers because I don't like cupboards and there isn't much wall space.'
'The project overran by a few weeks because materials were delayed, but
we have nothing but praise for the builders,' Heather says. 'I can enjoy
my terraced garden now, and I'm embracing open-plan living.'
'The space has three distinct parts that follow the sun, which we call lower, middle and upper earth!' reveals Heather. 'It's taken a while to get used to cooking in an open space – you have to be relaxed about mess – but it's great for parties and family gatherings. The only downside is that our beautiful front room gets neglected – the last time we used it was on Christmas Day.'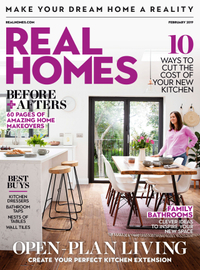 Subscribe to Real Homes
Get fabulous projects, shopping and advice on everything from a major renovation to a quick and easy update, delivered to your door every month with a subscription
More inspiration: