For Hilary and Richard, the chance for multifunctional living was the draw for having their kitchen extended. Though they both have experience in the field, the couple decided to recruit an architect who understood the nuances of smaller extension projects. Doing so meant they could successfully tackle an awkward plot to create a bright and colourful space that provides the functionality and flexibility their family needs. Here, Hilary reveals the steps they took to achieve their new extension.
If you plan to make use of wasted space by extending your house, we have lots of ideas and advice to guide you on how to do it. And for more real home transformations, head to our hub page.
Profile
The owners Hilary Satchwell, an architect and urban designer (tibbalds.co.uk), her husband, Richard Robinson, a studio manager for an architecture firm (metwork.co.uk), and their sons, Arthur and Henry
The property A three-bedroom 1960s end of terrace in Forest Hill, London
Project cost £224,750
'We lived in our house for over a decade before we decided to extend,' says Hilary. 'When we moved in, what we wanted from the house was quite different to what we need some 14 years later. The boys shared a bedroom because it was useful to have a spare room for studying and washing, but 10 years later, with both in their teenage years, they needed their own space. 'In order to do that, we needed extra ground floor space to replace the multifunctional spare room. We had a funny little slither of space down the side of the house where we had a shed. We went through so many options until I said, "What if we extended down the side? How big would it be?" Over the next couple of years, our architect, Russell, brought our ideas to life.'
'My background is in larger-scale architectural projects, whereas Russell brought the attention to detail needed for extension work. As we drew up plans, one of the key questions was what shape it would be. Would it have a flat roof, a curved one, a pitched one? The strange wedge-shaped space we had to work with added to the challenge.
'I wanted to avoid an extension that connected to the existing house by a sloped ridge, but we had to work out a way to get volume despite the small square footage of the addition. The answer was to create a fold effect that adds height to the living area of the space. It was also important the build didn't impose on the view of the neighbours who face onto our side wall, so we hid the build behind a garden wall.'
'We applied for planning permission and we had to make a few changes, like the colour of the brick, but nothing too painful. We're up against a boundary with communal land, so it was simpler than if it had been the neighbours' boundaries. We did have to talk to our neighbours because the path at the side of the plot, which is used to access some of the houses in the estate, needed to be temporarily moved to their front garden while the build work was going on. Luckily they were incredibly helpful.
'The builders started in October and were working outside until mid-January, so they were no bother. It got more difficult when they broke through into the house and we had to give up the ground floor. Our spare room became a kitchen-dining-everything room!'
'I really like bright colours, and it won't surprise you that I'm often wearing something bold. I wanted the space to be as light as possible, especially as the existing part of the ground floor can feel quite dark. My husband laughs at me because my point of reference was the kind of brightness you get when it's been snowing outside and the light bounces off the white. The pale grey rubber flooring mimics that effect.
'We chose materials based on practicality, sustainability and affordability. We made sure we weren't spending on things we didn't need to. Lots of glazing was the real must-have. We didn't want lots of rooflights that would make us feel overlooked, so most of the light comes from big windows and doors either side of the extension.'
'I like flexible spaces, and open-plan living works for us all. It's given us a space that's functional – it's a living room, dining room and kitchen all in one. The study has doors that you can keep open to feel connected to the bigger extension, or close off to make the room a guest space of its own.
'Planning a kitchen when we knew exactly how much stuff we've got meant we could design something that fits precisely what we need, where we need it. It's the little things that make the difference, like the fact that the dishes and cutlery are stacked in pull-out cupboards opposite the dishwasher. My mum has a big island in her kitchen and I never understood it, but it's so much more sociable. I had to quietly admit that she was right all along.'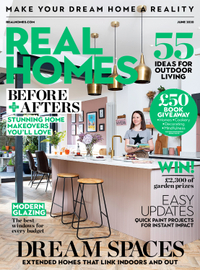 Subscribe to Real Homes magazine Want even more great ideas for your home from the expert team at Real Homes magazine? Subscribe to Real Homes magazine and get great content delivered straight to your door. From inspiring completed projects to the latest decorating trends and expert advice, you'll find everything you need to create your dream home inside each issue.
More reading