When Kate Thompson and her husband Dan decided to move out of London and get more property for their money, Surrey seemed a good choice. Not only did they need a bigger home for their small children Bibi and Tallulah, but also somewhere that would be an easy commute to the city. 'We were really keen to stay in Barnes because we loved the area and we'd lived in London for over 15 years, but we realised that to get any more proper square footage, we had to move,' Kate says. 'Both Dan and I worked in the city and Dan needs to be at his desk before 7am. Woking was suggested to us but neither of us knew it well, and initially we weren't keen – but once we looked at the trains, we realised that it was even more convenient.'
Read on to find out how she's turned a dated property into a swoon-worthy space, then discover other home transformations for more inspiration. For more ideas and advice on how to add on to create your dream home, see more in our guide to extending a house.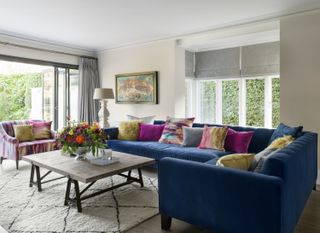 Profile
The owners Kate Thompson, a home move specialist, and her husband, Dan, a commodity broker, live here with their daughters, Bibi and Tallulah.
The property A five-bedroom, early 1900s detached house in Woking, Surrey.
Project cost A similar project would cost in the region of £200,000 to £250,000.
Kate did a little research. 'I found a house online that I liked the look of, drove past one Sunday morning and just completely fell in love,' she says. 'I arranged a viewing the following Tuesday and then brought Dan down to see it on the Saturday. We made an offer straight away – we hadn't even put our house on the market!'
Once they did, they received an offer the same day, and the buyer wanted to move within five weeks. 'We went from thinking about moving at Christmas to being all moved in on 10 February,' Kate says.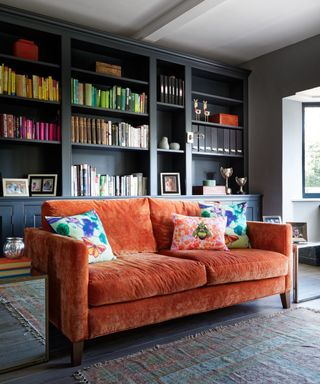 The couple quickly realised that there was a substantial amount of work to do. 'The house was rather tired and on the surface it looked fine, but we quickly realised that it was freezing and had plumbing issues,' Kate says. 'Within a few months we'd replaced three bathrooms, the boiler and insulated the roof.' The couple decided to leave the kitchen initially, as they knew they'd be doing extensive work with a conservatory add-on and needed to financially plan out the rest of the renovations – including redesigning the garden.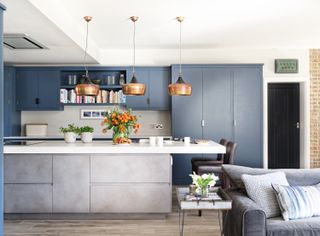 Kate and Dan decided to look at the house practically. The original layout of the house was outdated and conservative, so their first step was to remove an old chimney breast through three floors and knock down half the kitchen, the family room, utility room and garage. The ground floor and first floors were extended to create a modern open-plan kitchen-diner and entertaining space with a master bedroom above. On the top floor, the removal of the chimney breast allowed them to reconfigure two small, awkwardly shaped bedrooms into a large multipurpose kid's room and gym. The existing deck was reshaped and modernised and bi-fold doors introduced to incorporate an indoor-outdoor feel.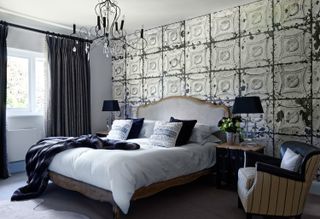 The project was a labour of love and took Kate and Dan seven years to complete. To make their ideal home a reality, the couple enlisted the help of a dream team put together by the usual tender process and trusted personal recommendations. In 2013, with an architect and interior designer on board, they looked at getting planning permission for an extension. 'Drawing up the plans took us at least a year,' Kate says. 'We had to take advice from the council regarding the trees as we live in a tree preservation area, which meant we incurred extra expense to avoid the foundations damaging root balls.'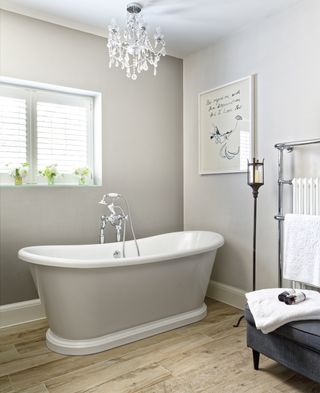 Work started in February 2016 and the family moved out for eight months. 'We ran over budget but managed that by dipping into savings and taking out a few loans,' Kate says. 'The work wasn't completely finished, but it was mainly decoration left to complete. The builders finally left just before Christmas.'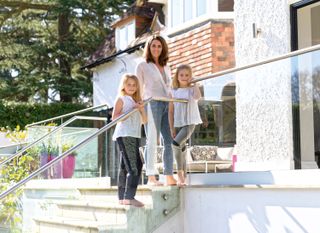 Subscribe to Real Homes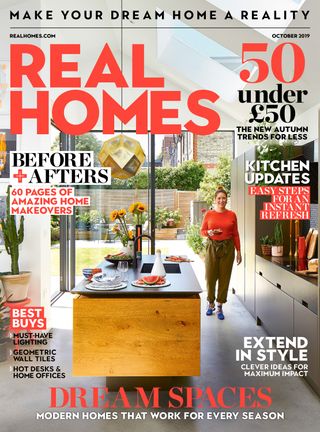 Got more ideas and inspiration to create your perfect home delivered every month with a subscription
The house is over 100 years old, and while Kate felt it was important not to make it look too contemporary, she equally didn't want it to be too traditional. 'I like grey but was also keen to introduce colour. I quite like statement pieces and a bit of edginess,' she says. Her scheme combines stand-out features with a blend of colours and textures. 'I had help from an amazing interior designer, Amanda Erritt, who also happens to be my neighbour and friend,' Kate says.
'I was lucky as she knew me well, but I pulled out a few bits from magazines to explain the sort of things I liked.' For the living room, Amanda suggested centring the scheme around a piece of art. 'The inspiration came from a painting I'd bought my husband, a watercolour representing the London 2012 Olympics,' Kate says. 'I loved the colours.'
It's the kitchen that's the real hub of the home. 'Dan and I love to entertain and I enjoy the fact that people can hang out around the island and chat while you're preparing dinner,' Kate explains. 'We can have large groups of family around the dining table as it sits 16, but it works equally well if it's just the four of us – I can have one of the girls working at the island and one at the table, or both chilling on the sofa. The only thing that doesn't work for me is when the kids want to watch their awful TV – I'm subjected to it while cooking in the kitchen!'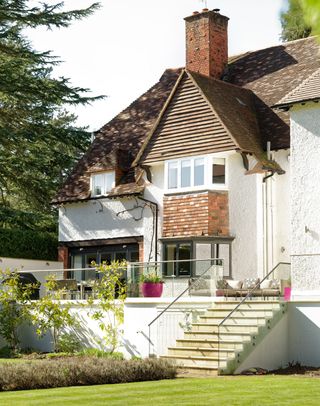 Contacts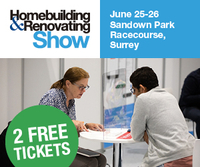 Get two free tickets to the Homebuilding & Renovating Show!
Visit the experts in home renovation for all the latest inspiration and industry updates, sure to kickstart your own home improvement project.
Plus, register online for entry for 2 people on 25 and 26 June 2022 at Sandown Park Racecourse, Surrey.*
*Terms & Conditions apply.
More ideas to inspire your project: