Living in a four-bedroom terraced house in one of central Durham's student neighbourhoods suited Sara Colclough and David Brass just fine, until their two sons came along. 'The house was only 10 years old but it was designed to look Georgian with high ceilings and sash windows,' says Sara. 'However, it was on a main road and didn't have a garden.'
After they relocated to a new-build house that met all their needs, they didn't want a home that was filled with the developer's choice of décor rather than their own. So Sara transformed it with a striking colour palette and personal style touches that have made it feel uniquely theirs. Keep reading to find out more.
Inspired to tackle your own project? We have masses of ideas and helpful advice on what to do and where to start in our feature on house renovation. For more real home transformations, head to our hub page.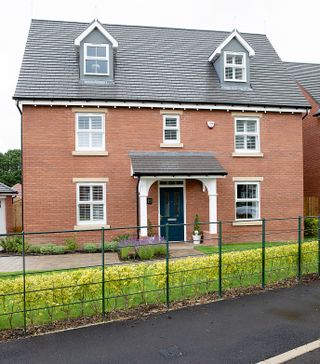 When Sara heard of the plans for a new development on a former golf course, just a 20-minute walk from the city centre, she thought it could answer their need for space inside and out. 'As the housing stock in Durham is pretty limited, moving further out to a new build seemed like the only option that ticked all our boxes,' she says.
Profile
The owners Sara Colclough, a GP and hospice physician, her partner, David Brass, a consultant dermatologist, and their children, Zachary and Luca
The property A new-build six-bedroom detached house in Durham
Project cost £27,000
Over the next year, Sara kept returning as more phases were released for sale off-plan. Although the bigger plot they coveted had been snapped up, in a lucky twist of fate, the sale fell through on the day Sara and David sold their house. The couple rented a flat in the grounds of Durham Cathedral for a year while they waited for it to be built. 'I was so excited about the house, I'd created a Pinterest board for each room and gathered about 70 paint samples,' Sara says.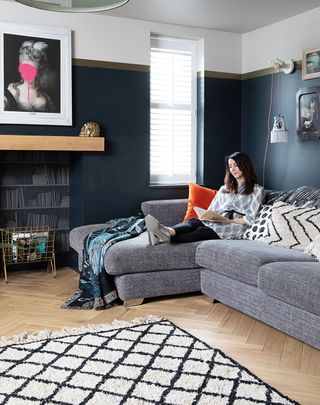 The house was supposed to be ready by June 2017, but they didn't get the keys until 10 days before Christmas. 'Luckily the developer allowed us to bring in our own trades to fit the parquet flooring and carpets before completion,' says Sara. 'This meant we got them VAT free, and with around 100 square metres of floor space, we saved about £2,000.'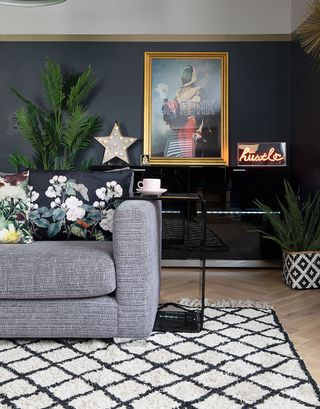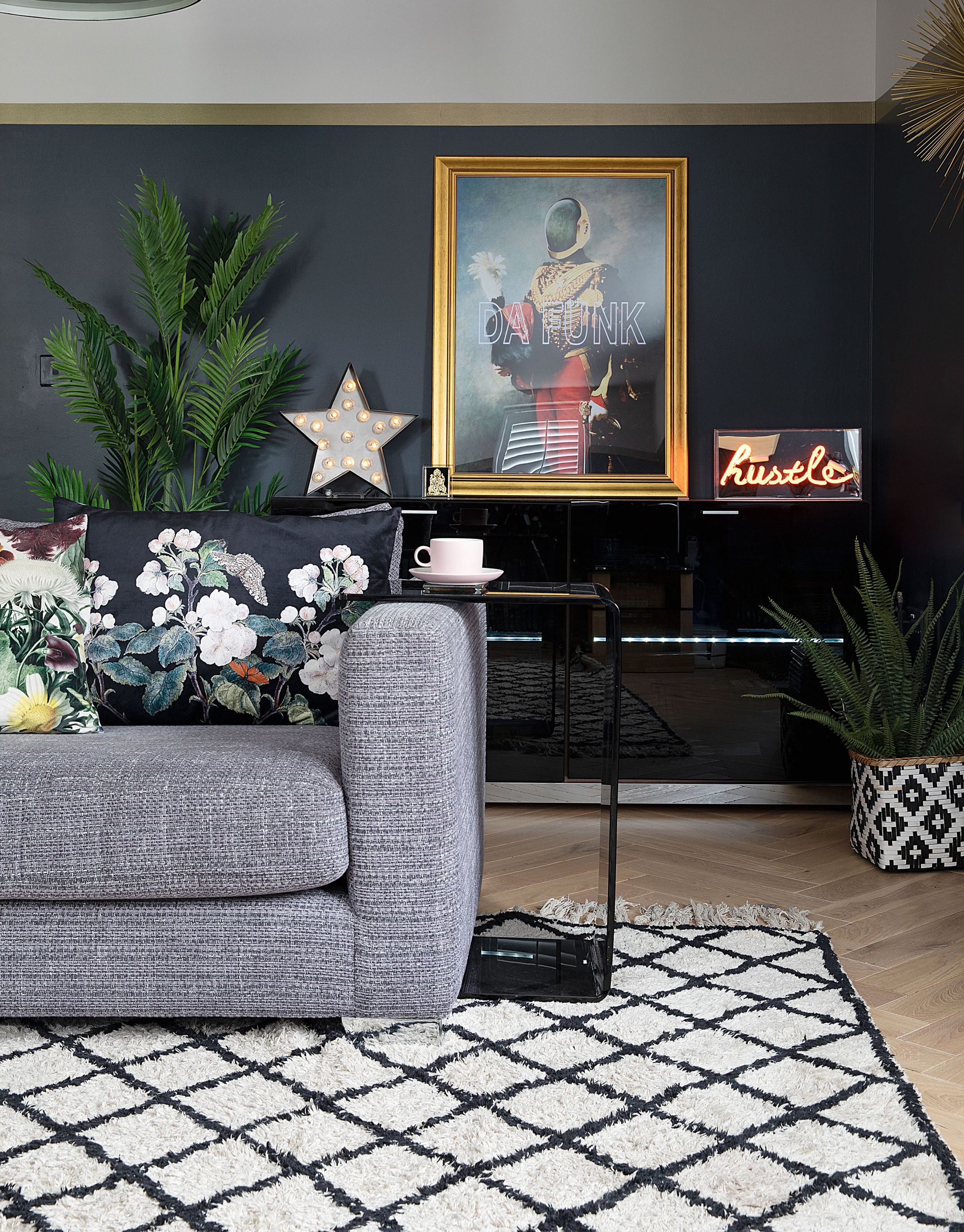 Although it's not advisable to paint a new home straight away to let the building settle, Sara wanted to cram as much as possible into the first week while they still had their rental property. 'We hired decorators to paint the ivory kitchen cabinets in a deep blue (Basalt by Little Greene), as well as painting the living room, master bedroom, bathroom, kitchen and hallway.'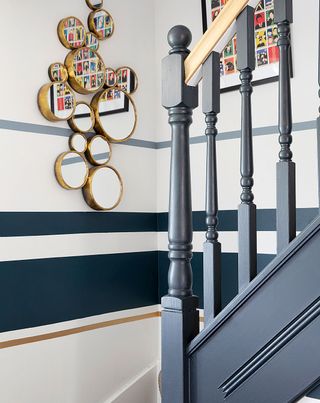 Additional creative touches have helped each room evolve since then, such as chevron panelling in the master bedroom and a geometric mural for the family bathroom. In the living room, Sara's created a metallic border to mimic a picture rail and has cleverly used bookcase wallpaper instead of a fire. 'I've tried to inject some interest relatively cheaply and easily with paint,' she says. 'You can always paint over it again, which I've done many times!'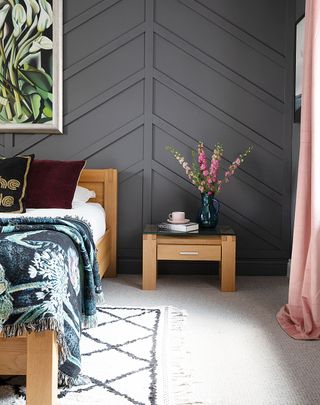 Most rooms have been decorated more than once and Sara admits there have been a few mistakes. 'I picked Denim Drift by Dulux for the hall, stairs and landing, but it didn't work as it looked neither grey nor blue,' she says. 'I lived with it for six months then bought a tin of cream paint to wipe it out before painting my own stripe design.'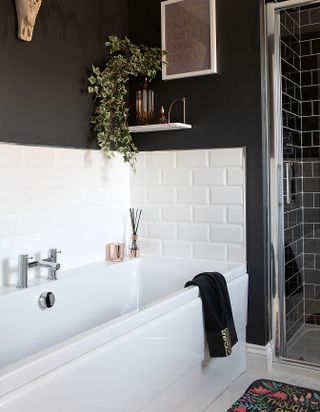 As a serial decorator, Sara says her style is ever-changing according to the property she lives in. 'I can't pigeon-hole myself but I struggle with all-white rooms so I do love dark interiors and quirky accessories,' she says. 'I'm drawn to blues, greys and blacks as a neutral base, then I add colour pops through artwork, cushions and accessories to liven it up.'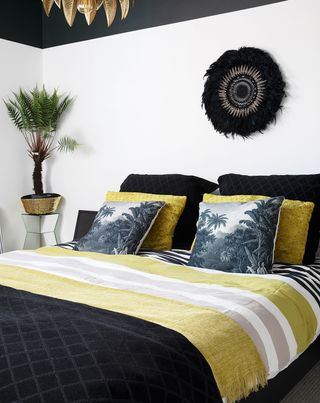 Websites like Trouva, Design Vintage, The Forest & Co and Love Frankie have helped shape Sara's look, but her favourite destination is The Lillian Daph Store in Saltburn. 'I discovered it when I picked up some artwork from Light Up North, which shares the space. It's a beautiful shop and I like supporting local businesses.'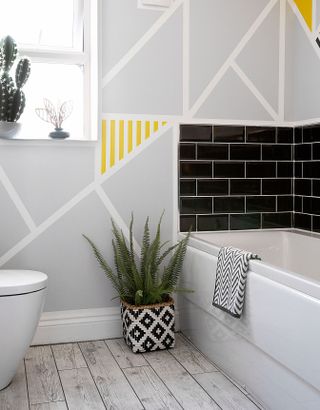 The next task is turning the additional top floor bedroom from a dumping ground into a dressing room. 'Because of the ceiling angles, it'll need bespoke carpentry,' says Sara. 'But it'll make a great top floor suite.' She also intends to go even darker in the master bedroom. 'It'll be the same colour as the living room but on the ceiling, skirting boards, doors and radiators, too. I've even bought black plug sockets.'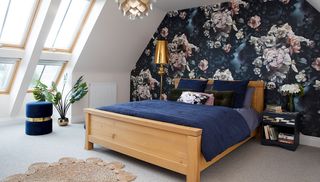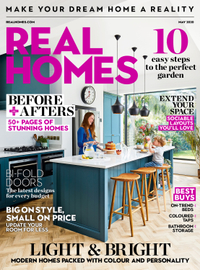 Subscribe to Real Homes magazine

Want even more great ideas for your home from the expert team at Real Homes magazine? Subscribe to Real Homes magazine and get great content delivered straight to your door. From inspiring completed projects to the latest decorating trends and expert advice, you'll find everything you need to create your dream home inside each issue.
More reading