Having both lived with parents before buying their first home together, Amanda and Jess Cotton couldn't wait to get the paintbrushes out and unleash their design ideas. It had taken a while for Amanda to save up a deposit since graduating seven years prior – she'd been struggling on a graduate salary and starting out in the fashion industry. As a result, the couple knew their best hope of getting a foot on the ladder was seeking out a doer-upper where they could add plenty of value.
See all our real home transformations on our dedicated page – and don't miss our guide to loft conversions for more practical info.
Profile
The owners Amanda Cotton, a design manager for Tesco's F&F ladieswear and an interiors blogger (houselust.co.uk (opens in new tab)), lives here with husband Jess, an operations manager for Network Rail, their son, Otis, one, and Louis the cat.
The property A four-bedroom Victorian mid-terraced house
in Watford.
Project cost Around £110,000.
After viewing five other houses, they came across a two-bedroom Victorian terraced house in Watford, which had previously been rented out to three people as a house in multiple occupation, with the lounge being used as an additional bedroom. 'It was in such a bad way that no one wanted it, which is why we got it at such a bargain price,' says Amanda. 'Even our surveyor tried to talk us out of buying it as the roof had huge holes where you could see daylight coming through. It also had rotten window frames and a tiered concrete garden with 14 individual flowerbeds, which wasn't particularly appealing.'
Despite having zero previous experience, the pair threw themselves into the renovations after buying the house in 2011. At first, they focused on making it safe and watertight with a new roof, windows and a functional garden, which involved filling six skips with turf and concrete. Then they flipped the kitchen and dining area around, blocking up the existing French doors and installing new ones at the rear to link the new dining area to the garden.
'The fun part of adding print, texture, colour and even more print came later,' says Amanda, who describes herself as a maximalist, curator, collector and print fiend. 'I decorated the rooms quite grey to begin with just to start with a blank canvas, but it was too bland for my liking.' Since then she's redecorated the house three times over. 'I always do a moodboard for each room so I can see how colours and materials work together,' she explains. 'I like to have a cohesive look. I'm not one to decorate each room the same, but I think a house should flow and not have individual themes otherwise there's a disconnect.'
Luckily Amanda and Jess have very similar tastes. 'Jess likes collecting artworks, and loves a rug, so most of the rugs are down to him moaning about the lack of carpet in the house,' she says. 'They certainly make it more cosy. I'm more hands on with DIY and will turn my hand to anything, unlike Jess who'd rather pay someone to do it right first time.'
Amanda's favourite room is the lounge, particularly the shelf of greenery behind the green sofa. 'I love how the foliage pops against the dark wall,' she says. 'And, I enjoy collecting glazed ceramics and different vases, so this shows off some of my collection.' She's also rather fond of her pineapple ashtray, which was previously owned by Pablo Escobar. 'It was a gift from a really good friend of mine, Barbara Hulanicki, who's the founder of the iconic '60s brand Biba,' explains Amanda. 'She went to his estate sale in Miami and purchased it many years ago and it now lives in our lounge.'
Six years after moving in, the pair embarked on a full loft conversion, adding a master bedroom at the front with three Velux windows, a dressing room at the rear with a dormer window and a shower room in between. As their plans were within permitted development rights, they didn't need planning permission, and used the same architect who'd worked on their neighbour's loft.
'Each room was designed to flow seamlessly to create our own suite,' explains Amanda. 'Looking back I don't know how we endured living here through the conversion. The work left a thick level of black dust throughout our home – it was painful. There was a delay with the loft windows as I wanted black steel-framed ones, and the builders would occasionally forget to board the holes up in the evening.'
'We also got a leak on Christmas Day from our radiators, which the builders hadn't plumbed in correctly. Luckily, they came out on Boxing Day to correct it.'
Despite careful planning, the couple went around £7,000 over their £66,000 loft conversion budget. 'I went overboard with the fixtures and fittings, such as the Aston Matthews solid brass taps, marble tiles, posh light switches from Buster and Punch and a £2,000 Crittall-style shower screen,' admits Amanda.
In hindsight, the pair have learnt a lot from the project. 'Builders are a bit like boyfriends: you have to go through the worst to appreciate the good ones,' Amanda jokes.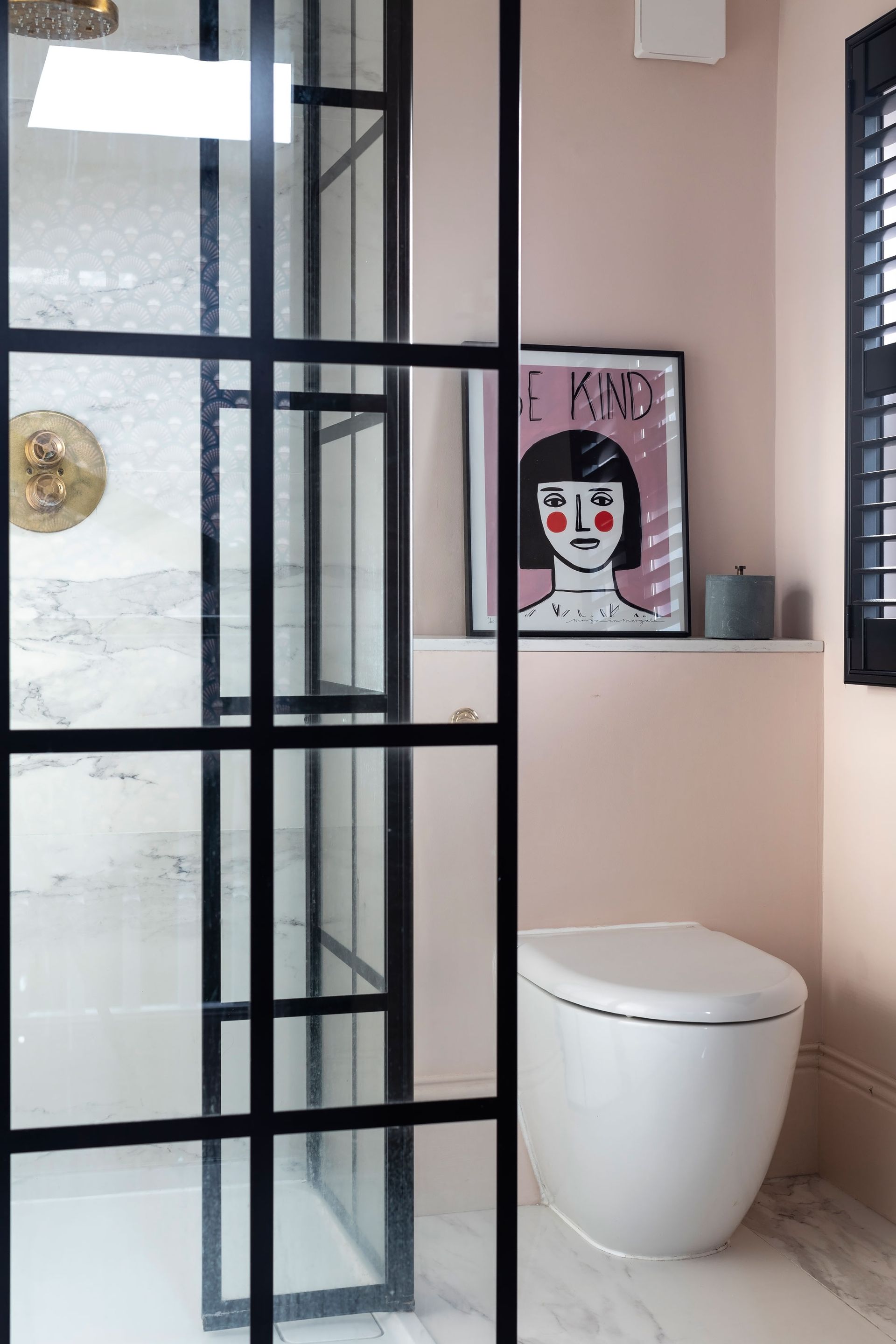 'The most important thing is to find one who's open and honest. We've now got a builder that we would use again for any future projects.' She also advises having a back-up budget. 'Make it clear from the start that you want to be consulted about any extra hidden costs as the build progresses,' she says. 'There's nothing worse than an unexpected bill at the end.'
Having spent eight years on the renovations, Amanda and Jess can finally enjoy the fruits of their labours although they'd eventually like to move nearer to family for Otis and have more outside space.
'If money was no object I'd love to live in an Edwardian villa,' says Amanda. 'The Edwardians knew what they were doing when it came to hallways. I love period houses, but, to be honest, I think our next house will probably be a 1930s build for more family space.'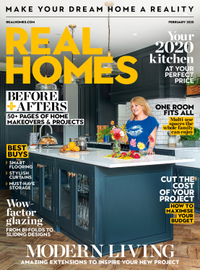 (opens in new tab)
Don't miss out! Subscribe (opens in new tab) to Real Homes for more inspiring case studies and expert advice every month
Like this? You'll love these...: