There's something to be said for the bright, bold, in-your-face interest of a heavily-adorned maximalist home. No one knows this better than Julia Eldon, who creates lavish faux-fur stools, sheepskin rugs and embellished cushions for her homeware business. True to her brand, her own home is full of clashing prints, eye-catching wallpaper and a large assortment of art.
You might think Julia's home requires hours of careful curation, but she says her approach is more intuitive, with a collection of artwork and curios that she's compiled over years. That's not to say that her extended 1960s house isn't well thought out: she's designed an open-plan layout perfect for parties, transforming the kitchen into an entertaining hub while hiding away the boring, functional bits in a utility.
Planning on extending your house? Read our expert advice on extending a house. And be inspired by more real home transformations on our hub page.
Profile
The owners Julia Eldon, owner of home décor business Suburban Salon (suburbansalon.co.uk (opens in new tab)), lives with her husband, James, a head teacher, their children Fred and Amelia, and their dog, Teddy
The property A four-bedroom 1960s detached house in Stockport, Cheshire
Project cost £102,000
'This was one of those houses that had been extended and extended without a thought for the design. There were lots of doors and thoroughfares that didn't make sense, but it had a big floorspace and we could see that it was quite a spacious house downstairs,' Julia recalls. 'The previous owners had made the front room into a study, behind it was the dining room, and behind that was a long galley kitchen so small there wasn't enough room to swing a cat. Where the kitchen is now, there was a poorly converted double garage with a low ceiling that rendered it completely unusable – so it had to go.'
'The house was at the top of our budget, so we had to make it liveable and leave it at that for a while. We painted everything white and bought furniture from Ikea. It took us a while to work out what we wanted to do. We were concerned about the fact that when you walked to the kitchen, the sink was such a way from the door. We also wanted to have the best view possible of the garden from the kitchen.'
'It took about six years from when we first moved in before we started the building work. Prior to that, I focused on making it aesthetically pleasing. We wanted a big, light-filled kitchen that felt like a New York loft, with oak floors and no wall units. We have two Velux windows and two bi-fold doors to bring in that light. We entertain a lot so I didn't want a kitchen island that couldn't be moved. Instead, we opted for a big table so that when we throw a party, we can move it over to the bi-fold doors. We couldn't extend upwards as well with the budget we had, but we changed the layout of the first floor bathroom, rebuilt the en-suite, and uncovered a small loft space that we knocked into to make my dressing room.'
'I designed the kitchen and drew up the floor plans. We had a draftsman do the maths behind it all to present to the builders, and we had to apply for planning permission, too. The process worked quite well. All in all, it took about six months. I was definitely hands-on – I had a plan and I made sure we stuck to it! We had the bathroom done at the same time to save time and budget, and we moved the boiler upstairs.'
'We created a separate utility that houses the wall units, microwave, fridge and so on, so the shelves in the main kitchen space can be stacked with art instead. It's geared around our love of entertaining, and I've zoned the space so that you have that chilled-out sofa area, too.'
'I've always loved pattern and colour and I think beautiful wallpaper anchors a space. I start by deciding where I'm going to place the pattern, be it wallpaper or fabric. I used to spend days choosing fabrics and making curtains for a space! I'll base the entire colour scheme on that pattern. I'd describe my style as maximalist – it's something I've developed over the years – but I've always loved a good dose of colour.'
'When it comes to buying art, I never think it through! It's a collection of things I've picked up over the years, whether it's from small shops or auctions. I'm not one for trends – if I like something, I'll have it. Generally, though, I love art, and I fill the walls with pieces that speak to me. I do try and make the house flow, but I take each room individually depending on its function.'
'We get the sun in the kitchen until about three o'clock on a longer day, then it moves to the bottom of the garden. We constantly have the doors open, even on grey days. The best decision we made was to put the bi-folds in – the light we get is incredible. The sofa area in the kitchen is the most sociable part of the house, and it's so warm and sunny in the summer.'
'With the build over, we have plans to landscape the garden. It's a big space and now the kids are older, the climbing frames and trampoline have gone – so we're reclaiming the space for ourselves!'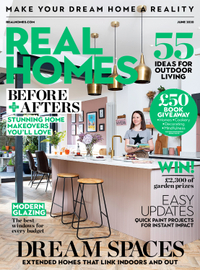 (opens in new tab)
Subscribe to Real Homes magazine (opens in new tab) Want even more great ideas for your home from the expert team at Real Homes magazine? Subscribe to Real Homes magazine and get great content delivered straight to your door. From inspiring completed projects to the latest decorating trends and expert advice, you'll find everything you need to create your dream home inside each issue.
More reading