Home comforts were few and far between when Tim Perkin moved into Park Farm back in 1993. 'I remember Tim telling me what it was like when he first came here,' says Jill. The Grade II-listed farmhouse had been in a really poor state, barely habitable, with just three usable rooms and wires exposed and dangling everywhere. Keep reading to find out more.
Inspired to tackle your own project? We have masses of ideas and helpful advice on what to do and where to start in our feature on house renovation. For more real home transformations, head to our hub page.
Tim renovated it from scratch, gutting the interiors, rewiring and replumbing, and installing central heating to make it as comfortable as possible. By the time Jill and her two children moved in with Tim in 2005, most of the major work had been done.
'I'm from a farming background so living here felt like a home from home,' says Jill. When she became involved in the second stage of renovations, her priority was to adapt the house for the larger family and the catering business she ran.
'We had to find more room from somewhere as we each had two children from our previous relationships, Tim's sons Oly and Josh and my daughter Harriet and son Will.
Tim looked at the granary as a way of creating more space and decided to convert the top floor into a bedroom for Josh,' says Jill. An en-suite bathroom was installed, the beams were stripped and the brickwork around the chimney was exposed.
The next job was the kitchen. This was split across two rooms on different levels. Working as a professional caterer in two tiny rooms was quite a challenge, so Jill turned the living room into a new kitchen and the two small rooms became a snug and a utility room. Tim had uncovered two original fireplaces hidden behind plasterboard when he first renovated these rooms so the Aga was fitted into one of the openings and a large woodburner was installed in the new living room.
'We had the Aga reconditioned and re-enamelled in a teal colour, which has turned it into a real focal point.' The couple also kept the original blue brick floor in the kitchen, the floorboards in the living room, and stripped the beams.
Not only was the new kitchen the perfect size for Jill's business, it also became the heart of the house, where everyone congregated and still does to this day, even now the children have grown up and have their own homes.
Upstairs, one of the bedrooms was redecorated for Jill's daughter and the bathroom was updated and simplified. Jill installed a large laundry cupboard, roll-top bath and heated towel rail. 'This room is the only one where we've been able to keep the original windows, and as they are set quite low they allow plenty of light in,' says Jill.
Since the work only affected the interiors, no architects or planning permission were needed and both phases of the renovations went quite smoothly. 'Of course, nothing is easy with an old house,' says Jill. 'Walls and floors are never straight and you are always having to patch up and repair.'
Tim used local builders for the first set of works, and a carpenter and joiner helped with the later updates and room swaps. 'The biggest challenge has been to make all our furniture and things work together as a whole, as our styles and taste are varied and we have old and new pieces,' says Jill. Decorating the rooms in a calming palette of neutral and grey tones and simplifying what they put in each room has made the house work better overall, and feel more comfortable and lived in.
The couple are proud of what they have achieved and of how they've been able to adapt the house to suit every stage in their family life together. 'Since our children have flown the nest, the house and granary have given us the opportunity to diversify with a bed and breakfast and wedding function business alongside Tim's beef and sheep farming,' she says.
Josh's bedroom has been updated again and the main bathroom now has a walk-in shower. 'Considering the difficult climate of farming at the moment, it has made a big difference to our livelihoods,' says Jill. 'It's a comfortable home for us as a couple, our visitors, and of course the family always gravitate back, which is an absolute joy.'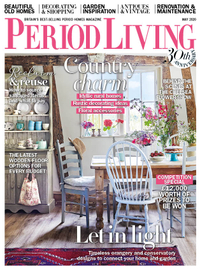 More stunning homes from Period Living: