Karen Griggs faced a huge learning curve when she and Adam renovated a series of outbuildings at their family home near York. After 'parting company' with the first builder, Karen decided it was easier to manage it herself – and what better way to achieve exactly what she wanted than to be as hands on as possible? Before long she was climbing onto the roof, laying bricks and learning new skills from a team of tradespeople who were happy to share their knowledge and make sure everything was done to her exacting standards.
Karen's main focus was the renovation and extension of a former worker's cottage, which had previously been a village pub, a post office, an antique shop and a printing press for choral music. Through her previous job as a healthcare nurse, Karen knows the positive impact beautiful surroundings can have on people's lives, and she set out to create a home full of interesting textures, colourful textiles, beautiful smells and visual delights that would lift the spirits of visitors. We found out how she did it…

If you have your own dream project to tackle, we have masses of ideas and helpful advice on what to do and where to start in our feature on house renovation. For more real home transformations, head to our hub page.
Profile
The owners Karen Griggs, who runs a holiday cottage and rural crafts business (oldforgeyork.com), her husband, Adam, an accountant, their children, Chloe and Freddie, and two dogs, Boris and Bobbi
The property A two-bedroom 19th-century former worker's cottage near York
Project cost £150,000
Karen transformed the old cottage by using recycled and reclaimed materials, including old bricks, painted wood, rustic beams and stone flags, along with colourful fabrics from India, quirky wallpapers and paintings, and an eclectic mix of furniture and accessories that reveal her eye for a stylishly unstructured finish. Her attention to detail and sense of humour are threads that run through every room, but it's taken tenacity and vision to transform the neglected old outbuilding into a stunning rural hideaway.
'We had to remortgage to fund our dream of transforming this property,' says Karen. 'It was a big undertaking, involving demolishing the back of the old cottage, renovating the front section to create a vaulted open-plan living area, and building a corridor to link the two bedrooms, each with double doors opening into a private courtyard.'
'We created the kitchen-dining area by knocking two rooms together and stealing from a small hallway, an old store cupboard and some courtyard space. We installed the log burner against a Corten steel panelled wall, which was handmade and fitted by a local blacksmith – it's a lovely contrast and works well with the beams. We were keen to use natural and local materials, so the huge stone hearth going across the floor is made from Yorkshire stone.'
'We insulated, boarded and skimmed the wall on the right-hand side with magnetic plaster, then painted in chalkboard paint to provide somewhere to draw, create and mess about. The industrial design of the kitchen is quite simple, but we included the Knox brackets and open shelves on the brick wall to display our collection of artwork, crockery and stoneware. I love to fill the cottage with local produce and crafts, and Christmas always includes a sumptuous afternoon tea made by Cake Girl York.'
'The original plasterboarded ceiling made the living room feel small and cramped, so we created the vaulted ceiling and restored the original beams, supporting them with new ones made by a joiner using traditional methods. It's as if we'd given him a 3D jigsaw with half the pieces missing and said, "Make new pieces and finish this off!"
'We desperately wanted to keep the exposed brick wall. It had to be assessed for sound purposes, which couldn't be done until the building was roofed. The interior was put through rigorous sound tests. We were delighted that the building passed and the brick wall could stay.'
'I took apart the pallets used to deliver build materials and used a nail gun to fit them to the back of vintage wooden lockers from Etch Interiors – they help create a divide between the main living area and the entrance lobby. I added coat hooks for practicality, too.'
'The budget was running tight by the time we got to the courtyard, so we used black painted reclaimed softwood instead of burnt larch for the feature wall, and paved the courtyard with stone salvaged from inside the cottage. I also made a giant wreath in my Old Forge studio, which is in a converted barn next to the cottage. There's nothing more relaxing than being able to fling back the doors in the morning and enjoy a coffee in the privacy of a cosy courtyard, whatever the time of year.'
'There's one original Crittall window in the main house, but we love it so much we included similar style aluminium windows and doors from Lowthers in the new-build part of the property. The double doors draw masses of natural light into the rooms and open directly into the sheltered courtyard. On a sunny Christmas morning, there's nothing I like better than opening the doors to bring the outside in.'
'I wanted twin beds or a super king in the second bedroom and couldn't find anything that worked on our decreasing budget – until I found some on Etsy. I also wanted them to be on castors so I could move them about easily. The bedside tables are stacked vintage suitcases and the shelves and sliding door along the back wall were made by a joiner, using wood from the parts of the cottage that were demolished. I called on some designer friends – Fresh Start Living and Making Spaces – to help me pull it all together.'
'The main bathroom and twin room en suite are positioned to the back of the cottage, off a corridor that links all the rooms. This is quite a small bathroom, but you don't need a lot of space to create something amazing. We put taps in the centre of the bath to make it more luxurious, and made use of every inch of space to get the best out of the room.'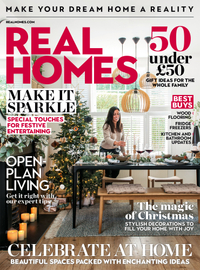 Subscribe to Real Homes magazine
Want even more great ideas for your home from the expert team at Real Homes magazine? Subscribe to Real Homes magazine and get great content delivered straight to your door. From inspiring completed projects to the latest decorating trends and expert advice, you'll find everything you need to create your dream home inside each issue.
More reading