Whether having breakfast with the kids or working on her laptop, there is nowhere in her home that Rhiannon Southwell would rather sit to enjoy the view than at her kitchen table. From here she looks out not just on her gorgeous hand-built Shaker kitchen, but also on garden greenery and sky, seen through the enormous picture window that sits flush with the worktop. It brings the outside in, flooding the kitchen with light and introducing the calm of nature – a theme continued in the green kitchen cabinetry and reclaimed oak herringbone floor. The finished room is the icing on the cake of a renovation project that began in 2013 when Rhiannon, husband Patrick and their two sons, Macsen and Dylan, moved into their Victorian terrace in Bristol after relocating from London.
Keen to tackle your own top to bottom makeover, just like Rhiannon and Patrick, we have lots of ideas and helpful advice on what to do and where to start in our feature on house renovation. For more completed projects, head to our hub page.
Profile
The owners Rhiannon Southwell, textile designer and founder of window film company Blossom & Brush (blossomandbrush.com), lives here with her husband, Patrick, a PR managing partner, and their two sons, Macsen, and Dylan
The property A four-bedroom Victorian terraced house in Bristol
Project cost £51,000
'While all the boring stuff like plumbing and electrics and re-rendering the back of the house was done when we moved in, we only did the kitchen last year,' says Rhiannon. 'We didn't want to do a quick update, we wanted our dream kitchen, so it was a question of holding off until we had enough money.'
The house, on a quiet residential street in north Bristol, was around the 30th property she looked at when she blitzed viewings during a series of day trips from her in-laws' home in Frome, Somerset, back in 2013. 'I actually cried when I came in, I was so relieved,' she recalls. 'I just got a really nice feeling from it, so homely and right for us. We put in an offer straight away.'
When the family got the survey back, there was more to do than they had bargained for, but they decided to press on. Essentials including a new roof at the back, replacing the boiler and restoring the sash windows were done immediately. The house was decorated and they settled in, willing to put up with the dated and unsatisfactory kitchen until they were ready to tackle it. It was during this period that Rhiannon hit on the idea for her business. The large bay window in the sitting room had been a major selling point, but they soon discovered the downside of being on the walking route to the local primary school.
'We realised that it wasn't very nice having loads of people from school looking through our front window every day,' says Rhiannon. 'I searched for something attractive to put up at the window that wouldn't block out any light. Net curtains and shutters weren't very satisfactory, so in the end I hand-painted a design onto the glass.' This got so many compliments, that Rhiannon now sells her hand-drawn designs, digitally printed onto window film, through her business, Blossom & Brush.
In January last year, work began on the kitchen. The old orange units and laminate worktops and flooring were ripped out, a chimney breast was removed and a small, low window, which hardly let in any light, was replaced with the enormous picture window. As for the kitchen itself, the one thing Rhiannon was certain of was the colour 'I'd been gathering ideas for ages from Pinterest and magazines – they were all green! We went for the Shaker style, which I think sits beautifully with the character and original features of our Victorian house.'
They got a quote from Bristol carpenter and friend Jona Warbey, who was able to build them a bespoke kitchen for less than the price of the high-street option. 'He advised on what layout would work, then we told him how we wanted it to look,' says Rhiannon. 'My husband and I are both quite tall, so he made the whole kitchen five centimetres higher than a standard kitchen.'
The work took nine weeks, during which time the family managed with a makeshift kitchen set up in their dining room. When it was finished, Patrick took a week off work to repaint the house from top to bottom. Rhiannon is still taken by the kitchen, which makes all the difference for the family's day-to-day lives. 'It's amazing,' she says. 'It really is tailor-made for us.'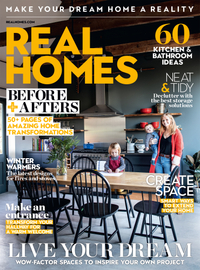 (opens in new tab)
Subscribe to Real Homes magazine (opens in new tab) Want even more great ideas for your home from the expert team at Real Homes magazine? Subscribe to Real Homes magazine and get great content delivered straight to your door. From inspiring completed projects to the latest decorating trends and expert advice, you'll find everything you need to create your dream home inside each issue.
More reading: