Sometimes when a house has lots of secrets it's important to listen and wait while for what it might reveal before embarking on a renovation project – and that's just what Natalie Pède has done with her historic French townhouse. A passionate collector, she has in the meantime filled her home with beautiful antiques.
Read on to find out how she created this beautiful home, then browse the rest of our real home transformations. Read our guide on renovating a house, too, for more guidance.
THE STORY
Owner: Nathalie Pède lives here. She runs a clothes shop near her home and also makes toys, using some of her antique textiles. She has three daughters and five grandchildren.
Property: A townhouse, with sections dating back to the 14th century, and some 19th century additions.
What she did: Nathalie decided to live with the house as it was, before deciding what she should update and what to preserve. She also set up a home studio where she creates her exquisite textile work.
Visitors flock to Issigeac in the summer, and no wonder. The small medieval town in Périgord, south-west France, is full of fascinating architecture and wrapped by ramparts built in the 13th century to protect the town during the wars between England and France. The streets wind in a circle round the town and the spiral effect gives the houses at the top a compelling roofscape.
It was this bird's eye view that helped Nathalie Pède to find her new home. She moved to the town 10 years ago, at first renting a house where she established a textile workroom and opened a successful teashop. Looking out of her workroom window, she often wondered about the house opposite, hidden behind high walls.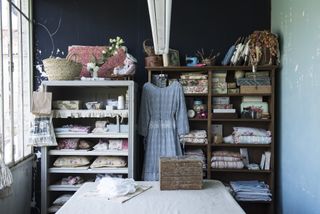 When it came up for sale in 2017, she jumped at the chance to see inside. 'I discovered it was the first time the house had come onto the market since the 19th century,' Nathalie explains. 'Nobody lived there and I was captivated by the history of the interior. I made up my mind to sell my business and buy it.'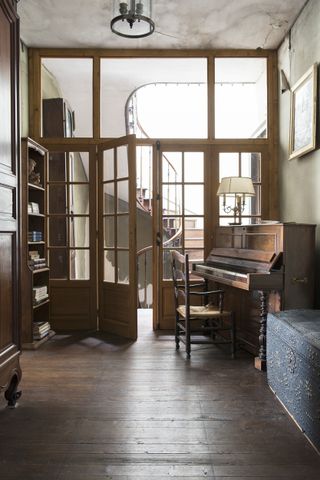 Moving into this house was made easier for Nathalie because so much of her furniture and many of the smaller collections sit comfortably here, from sofas and chairs to her pictures, vintage enamelware and textiles. Creating the workroom was an essential first step and while she can wait for a new kitchen, installing an efficient heating system was her next move and, after that, adding a new shower to her en-suite bathroom.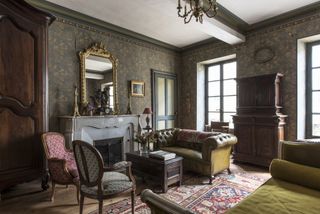 Like many buildings in the town, the history of this house has not been well documented. All Nathalie has been able to discover so far is that it was purchased by a local lawyer or notary in the 1800s and had remained in his family, though no one had lived there in recent years.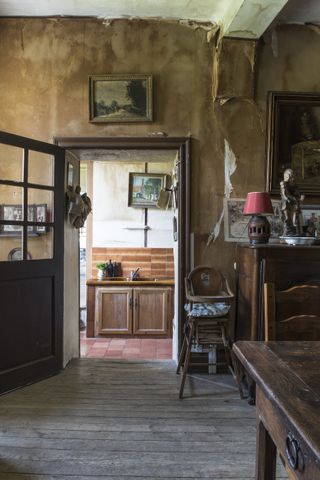 Everything about the house was unexpected. For a start there is no obvious front door. Instead, you go through a gate in the wall, walk across the garden and up a flight of stone steps to a veranda.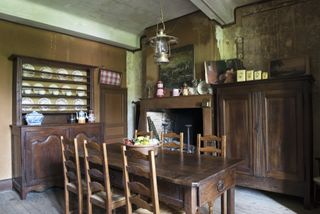 From there a door opens into a tiny kitchen with minimal cooking arrangements and the remnants of its original chimney. Nathalie plans to integrate this ancient fireplace into a more acceptable working kitchen, but to do this tactfully will need thought and for now she makes do with an inherited sink and a basic electric cooker.
Are you looking to add a new kitchen? Take a look at these inspiring design ideas for traditional kitchen ideas.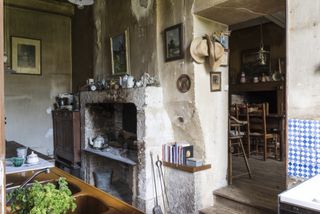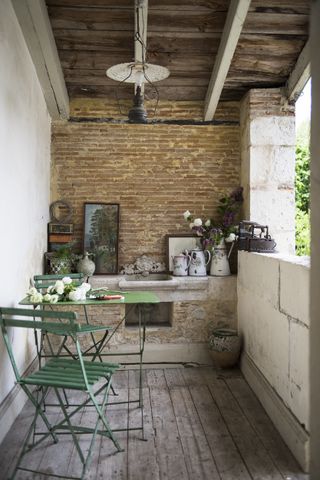 The high walls around the garden only allow views of the town's roofscape from rooms on the first floor, and Nathalie chose an empty room with a wide wall of glazing as her workroom because natural light is so important to her work. Nathalie has a large collection of antique textiles and stores them carefully to prevent fading. She uses them in many of the pieces she makes, including pieces for her home.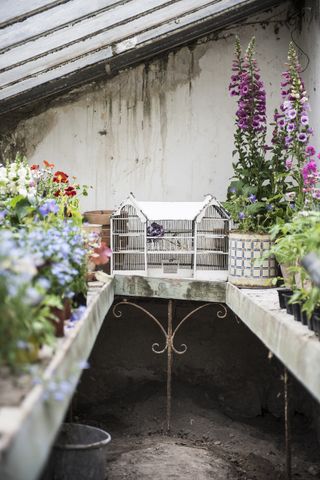 'This is going to be a long-term renovation,' she says, 'and it has to be carefully considered. My daughter Rebecca has recently moved back to the village and between us we shall find great enjoyment in bringing this lovely old house back to life in a way that does not quarrel with its history.'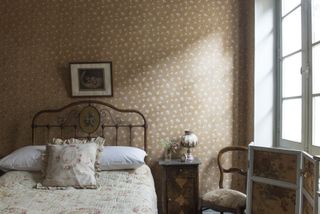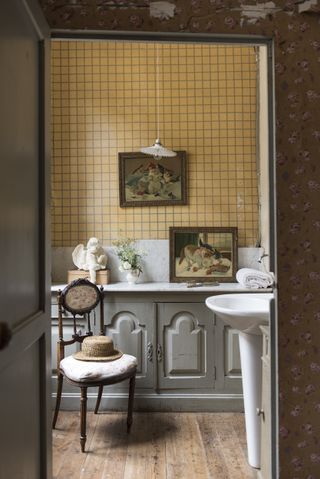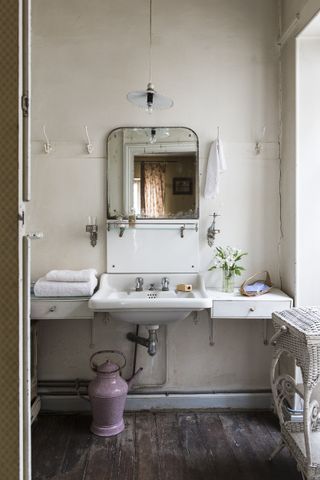 More historic French homes from Period Living magazine