Stumbling across an enchanting period property, Judy and Stuart Meeke bought their cottage, despite not knowing whether they would be able to overcome a major challenge.
Inspired to tackle your own project? We have masses of ideas and helpful advice on what to do and where to start in our feature on house renovation. For more real home transformations, head to our hub page.
Owners Judy Meeke, a retired nursery teacher, and her husband, Stuart, a retired solicitor
Property A three-bedroom
Grade-II-listed cottage in West Sussex, built in 1832
What they did The couple knocked down a wall between the kitchen and living room and moved a wall in the downstairs cloakroom to make space for a shower. They enclosed the storage area under the stairs with tongue-and-groove panelling and installed a new wood-burning stove. They laid new carpets upstairs and redecorated throughout
'Although we adored practically everything about the cottage, it was a little dark,' says Judy. 'Stuart and I felt that removing a ground-floor wall would open up the space to create a much lighter and more practical layout.'
However, because the cottage is Grade-II listed, the couple weren't entirely sure whether the planners would allow this structural change. 'When our offer was accepted, we were definitely keeping everything crossed that they would agree.'
Back in 2015, the couple decided it was time to downsize from the four-bedroom house in Rowlands Castle, Hampshire, where they had lived for 36 years. 'We had thoroughly enjoyed bringing up our son and daughter in our spacious family home with its large garden. Times change, though, and we felt moving somewhere smaller and easier to maintain would make sense,' says Judy.
Since they love Hampshire and West Sussex, the Meekes began househunting in and around this area. However, despite a prolonged search and viewing at least a dozen 'strong contenders', nothing they saw was quite right.

'That changed when a friend gave us a tip-off that this cottage was on the market. Stuart and I instantly realised how much potential the pretty, historic cottage offered,' says Judy.
The couple decided to buy it, and moved in during January 2016, immediately applying for planning permission to knock down the wall between the living room and kitchen. They also wanted to enlarge the downstairs cloakroom to create enough space to install a shower.
'We wanted to make every inch work for us,' Judy explains. 'Removing the wall would let light through from the kitchen and enable us to turn a disused space into a dining area.' The couple were delighted when their application was given a green light and work began in June.

'The builder came highly recommended,' says Judy, 'and as we trusted him and wanted to avoid the disruption, Stuart and I went to Cornwall for a week's holiday while the old kitchen wall was taken out and replaced with the new steel.'
On their return, the couple were thrilled to see the transformation. 'The difference was incredible,' says Judy. 'We had a fantastic living room/dining room that was so much brighter. The knock-on effect was that the entire cottage felt more uplifting and a little more contemporary.'

While chatting through ideas with the builders, the pair decided to enclose the area under the staircase with a tongue-and-groove door and panelling to create more storage. They then installed a wood-burning stove in their new-look living room and recarpeted the bedrooms. To further enhance the cottage feel, the Meekes sourced traditional covers for their radiators and had wooden shelves built for their treasured collection of books.
When the plasterers had finished, Judy and Stuart set to, sprucing up the entire inside of the cottage with a fresh lick of paint. The walls throughout the cottage have been painted in Farrow & Ball's Wimborne White, apart from in the kitchen, where Farrow & Ball's Clunch was used to blend with the units.
'Everything came together beautifully with absolutely no hiccups,' says Judy. 'A friend suggested fitting a lovely old rope at one side of the staircase. It's an eye-catching addition and a link to Stuart's passion for sailing.'

When it came to designing room schemes, Judy, who has a background in fashion and a great eye for colour, decided to start with pieces of furniture brought from their previous home. 'I felt that a fairly neutral palette with accents of pink and duck egg blue would work well for continuity,' she says.
There's no doubt the couple's planning permission gamble paid off and they couldn't be happier with the end result. 'We love the dual-aspect rooms and the remodelled layout,' says Judy.
When family and friends come round for a meal, the Meekes push back the sofa, extend the new Neptune table, and turn the living room into a dining room. With lateral thinking, the couple have created a very comfortable home that's ideal when family come to stay. 'It really has been a joy to put our stamp on the cottage. We feel very lucky to be living in such a wonderful home,' says Judy.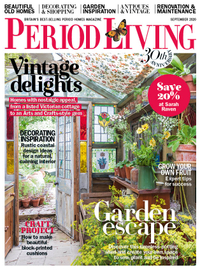 MORE STUNNING HOMES FROM PERIOD LIVING: