There is every reason why the Cotswolds in Gloucestershire have been designated an 'Area of Outstanding Natural Beauty'. Rolling hills, charming market towns and chocolate-box cottages form the quintessential classic English rural scene. Away from the hub of busy tourist spots, sleepy honeyed stone villages are tucked into pockets of countryside where gentle streams meander beside the narrow lanes. Chedworth, near Cirencester, is one such village.
Bee Eastman made the village her home in 2011. On moving to her cottage, former forensic consultant Bee expanded her gardening pastime into a full-time passion, which she enjoys alongside her new-found hobby of stone carving and etching.
Read on to find out how Bee transformed the plot into the perfection of a cottage garden. Visit our gardens ideas page for more advice and inspiration, and find inspiration in our cottage garden ideas guide.
'Since retiring, I decided to explore my creative side by enrolling at the Putney School of Art and Design,' Bee explains, who then went on to study stone carving at the New Brewery Arts Centre in Cirencester. Her prints and sculptures have been exhibited and sold locally and in London, and her artistic talent is clearly seen in the layout of her garden, too, which she designed from scratch.
Dating back to the 18th century, Adam's Pool was originally two homes. When Bee and husband Nigel first moved here nine years ago, the garden was well loved, but in a different form; Bee's vision was to create a series of garden rooms with plenty of space for relaxing.
'The first alteration to the garden was to construct a courtyard abutting the older part of the house by building a folly wall with a quatrefoil recycled church window,' she explains. The wall incorporates ledges to hold candles, and the topiary-studded courtyard is a perfect sun-trap, with lavender spilling across the gravel, Verbena bonariensis and Nigella damascena, love-in-a-mist providing low-growing colour, while pale pink roses and Clematis 'Perle d'Azur' spill from the walls of the house and folly wall.
In the rear garden, a rectangular lawn is surrounded on two sides by abundantly planted borders, one in 'hot' colours and the other planted in soft pinks and blues. In the hot border, chocolatey red Dahlia 'Karma Choc' and 'Bishop of Llandaff' are dotted among towering sunflowers, while spires of bright yellow Lysimachia Punctata, loosestrife, and fiery orange crocosmia jostle for space among cheerful yellow Rudbeckia fulgida var.sullivantii 'Goldsturm' and Sedum spectabile. Further height is provided by the apricot-yellow-coloured flowers of the 'Teasing Georgia' rose scrambling up obelisk supports. 'The sunflowers are planted from seed, although they need support as they grow,' explains Bee.
In contrast, the cool border is bursting with more cottage garden favourites, such as phlox in shades of white, pink and soft purple. Box topiary domes nestle among the planting and the claret-coloured Clematis 'Madame Julia Correvon' smothers the trellissed backdrop and scrambles across the central archway leading to the potager. Scented white 'Blush Noisette' rose, lavender and fairy bellflower are some of Bee's favourite pastel-coloured plants in this border. 'The pale pink and lilac colours are so restful, and I especially love the wonderful scent of the rose,' she says.
Nigel and Bee enjoy entertaining and the garden provides the perfect backdrop in which to spend long summer evenings with family and friends. An outdoor dining area to the west side of the garden makes the most of the evening sun, where sweet peas in pots are placed in order to enjoy their fragrance.
A wooden arbour furnished with comfy cushions in the corner of the garden, is the perfect spot from which to relax and enjoy morning coffee while admiring the garden, 'although next door's cat is rather fond of sitting there, too,' muses Bee.
'Our most recent project was to create the Secret Garden on a plot bought from our neighbours,' she continues. The space had previously been a children's play area and was covered with weed-suppressant matting and rubber chips. 'With the help of gardener Pete Heaps, we filled three skips with debris to create beds before we could even begin to think about planting and rebuilding the old privy into a tiny potting shed'.
The result is a pleasing gravelled quadrangle approached through a gothic-style galvanised iron gate in a rebuilt stone wall. The gate was designed by Bee and made by Jon Ward at the Donkeywell Forge, Cirencester. The design is based on the quatrefoil in the courtyard garden. 'I am indebted to the local stonemasons, Trevor Rowlands and Ken Stevens, who rebuilt the wall using stone from the Farmington quarry, and to the craftsmen at the forge; I have great admiration for their skills,' says Bee.
The local blacksmith also made the archway through to the potager, in which Bee grows fruit and vegetables alongside flowers for cutting. 'Our grandchildren help to sow and harvest the flowers and vegetables; sunflowers and potatoes are their favourites,' Bee says, fondly.
A tiny greenhouse bursting with tomatoes is useful for bringing on seedlings before planting out. Bamboo canes topped with empty snail shells are not just there to support plants. 'The snail shells are quite sculptural and they stop you poking your eye out when you're gardening!' laughs Bee.
The front of the house was formerly an unloved driveway but has now been transformed into a welcoming entrance, giving the visitor a flavour of the delights that lie behind the house. Imposing Acanthus spinosus, spiny bear's breech, are planted at the gate beside the daisy-like Leucanthemum x superbum. Purple Clematis 'Perle d'Azur' clambers through red and white roses across the front of the cottage, beside which a narrow rill trickles gently by. 'Although it does require dredging once a year to keep it flowing,' confesses Bee.
With a borrowed view of the Cotswold hills beyond, Bee and Nigel's garden is the perfect retreat from the modern world. 'We have lived in several places, from the New Forest to London, but this is definitely our favourite'.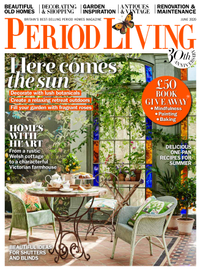 (opens in new tab)
Subscribe to Period Living for more inspiration (opens in new tab)
Period Living is the Uk's best-selling period homes magazine. A subscription provides you with all you need to know about caring for and improving a traditional house and garden.
More gardening advice: