When Anna Vines and Graham Booth decided to seek a change of lifestyle and leave London behind, they spent much of 2007 looking for their dream home in Dorset and Devon.
'We didn't think we could afford a house in Dorset that was large enough for our growing family and we had let a few slip in Devon at the height of the market, but we fell for Pugin Hall the moment we saw it,' says Graham. 'Although the house was run-down and I knew it would be a money pit, when we saw the enormous church-like window in the hallway and the generously proportioned rooms flooded with natural light, we were in love with it.'
Explore this incredible transformation, then browse more beautiful real homes. For more information on renovating a house, check our guide.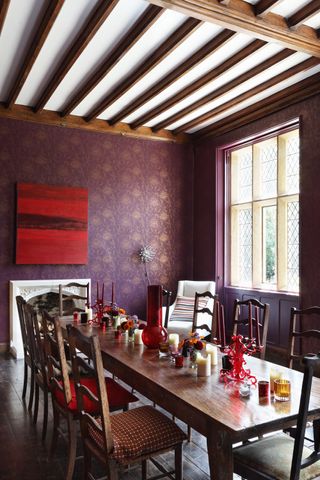 THE STORY
Owners Graham Booth, a freelance market research consultant, and Anna Vines, a former interior designer, live here with their children, Mia, 15, Harry, 13, Ned, 11 and Sofia, six.
Property Pugin Hall, a mid-19th century country house in Rampisham, West Dorset, designed by architect Augustus Pugin.
What they did Original lime plaster was repaired, the chimneys and gable ends rebuilt, rainwater goods replaced and the windows refurbished. Services were updated, with solar panels and a woodchip boiler added.
However, Graham's initial, very practical reaction was to discount the property as a possible home, due to the cost that would be needed to restore and maintain it. His stance caused a row as the couple left the viewing. 'Anna said, "of all the houses I've seen in the last year, this is the one",' Graham recalls.
'It was the dream she never knew she had. We got huffy and didn't speak for a while, so to placate her, I promised that we'd put in a low offer,' he smiles. 'It was the lowest of five sealed bids, but after the others fell by the wayside, ours was the only one left standing.'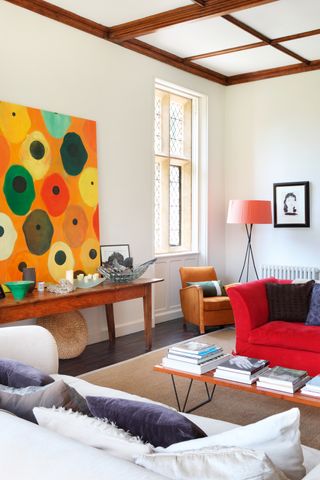 The couple exchanged contracts in January 2008 and moved into a small two-bedroom flat nearby with their new baby and three young children while the renovation took place. Graham worked from home while he and Anna, a trained interior designer, planned the restoration of the hall.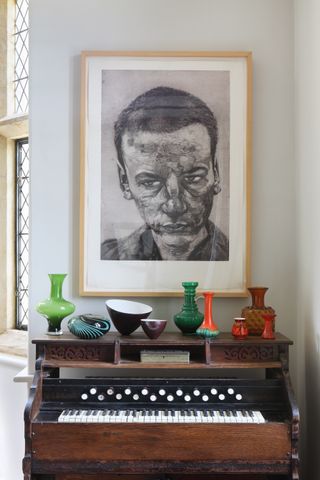 Graham has renovated Grade II-listed homes in the past and had longed to be an architect in his youth, but he found taking on Grade I-listed Pugin Hall far more of a challenge than he had envisioned. 'I invited English Heritage to the house to discover what was possible and I also got a building surveyor involved, who produced reams of drawings.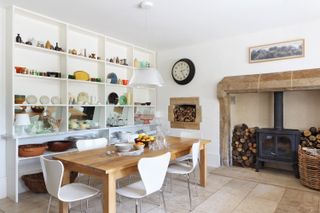 Although in principle we had the budget to achieve what we set out to do, problems started almost instantly because of the volume of the work we had to undertake that hadn't shown up on the building survey and, therefore, we hadn't budgeted for.'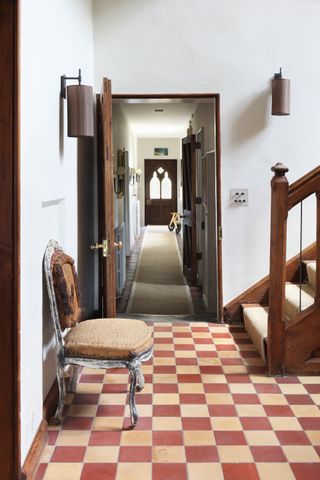 MORE FROM PERIOD LIVING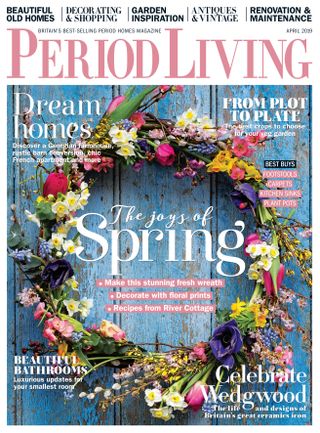 Get the best period home inspiration, ideas and advice straight to your door every month with a subscription to Period Living magazine
This included a lot of work to shore up the structure. Refurbishing all of the windows and inserting 400 steel wall ties into the building quickly swallowed up a third of the couple's budget. The guttering and downpipes had to be replaced, along with all of the basic services.
'We also upgraded the heating, adding a wood-chip boiler and concealed solar panels on the roof, plus underfloor heating throughout the ground floor,' explains Graham. 'All this work needed to be done before we could even make a start on creating our beautiful home.'
The house was meticulously restored using original materials and traditional methods. Crumbling gable ends and chimneys were replaced and craftspeople were hired to carve the castellated details on the chimney pots on site. Inside, the house was gutted and a lime screed subfloor laid for the underfloor heating.
Damaged ceilings and walls were repaired with authentic lathe and horsehair lime plaster, while missing joinery was reinstated and the timber floors and beams were brought back to their original lustre.
Pugin designed the house, built in 1847, to be similar to his own in Ramsgate, Kent, and Pugin Hall is thought to be an improvement on the design, which features a 'pin wheel' layout, with rooms radiating from a central hall.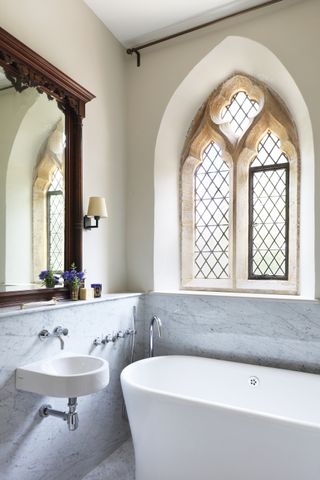 During the renovation, Graham and Anna visited Pugin's house for inspiration, documenting details such as the doorknobs, which they were able to trace back to Hardman Brass of Birmingham, who cast a new set using the original moulds. They also compared features such as the wood panelling in the living room, which has been restored.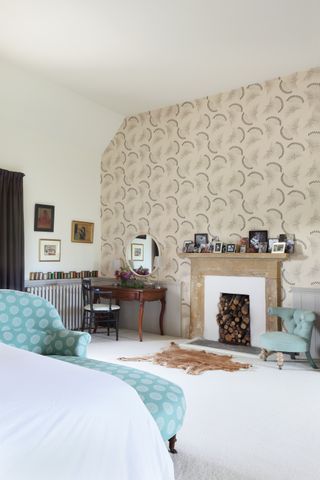 In contrast to the rest of the interior, the couple wanted a sleek, contemporary kitchen, and designed it to include a family dining space. The room now incorporates a large American Viking range, which replaces the old Aga, with a new wood-burning stove residing in the original chimney arch. A local carpenter created bespoke storage cabinets, topped with stainless-steel worktops, and added a tall display unit to showcase the couple's treasured collections of ceramics and porcelain.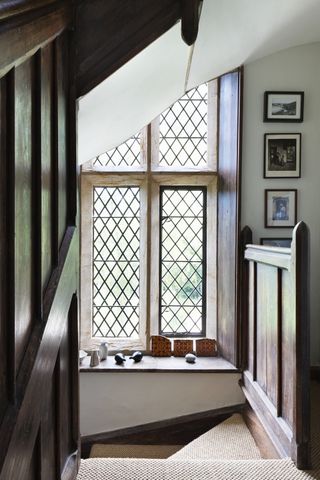 The work to the historic house took around a year to complete, with the family moving in during the summer of 2009, 'but it really only became a home once we had put up all our art and laid out the glass, ceramics and objets d'art that we have acquired over the years,' he adds. Their collections transformed the house into their personal space and include many paintings sourced from young artists. The carefully chosen artwork and tasteful décor has had the desired effect and has brought Pugin Hall back to life, turning it into a beautiful family home.
However, as Graham first anticipated, work is ongoing in a house of this scale and history. 'It genuinely feels an astonishing privilege to live here,' he says of the couple's completed home. 'A Grade-I-listed house never really belongs to you – you just look after it for a while; but I still have to pinch myself when I pull up outside.'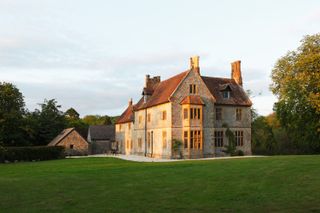 More beautiful homes to browse: