After renting out their two-bedroom house in Walthamstow, which they'd purchased in 2008, Laura and Chris Sabogal spent two years in Suffolk where their twin girls were born and help was on hand from nearby grandparents. 'We loved our house in Walthamstow with its close proximity to historic Lloyd Park and were very reluctant to sell it, so while we lived in Suffolk, renting it out was a great option,' says Laura. 'Suffolk is a beautiful place and we overlooked fields of purple flowers, but once I returned to work, commuting to London became too much for both of us and we decided to move back to the city.'
With many years' experience working as a freelance interior designer and stylist, Laura was keen to find a bigger house, in the same area, to renovate herself. 'We just couldn't find the right property,' says Laura. 'It didn't take us long to realise we wanted to stay and that's when we decided we could extend outwards at the back and upwards into the loft.'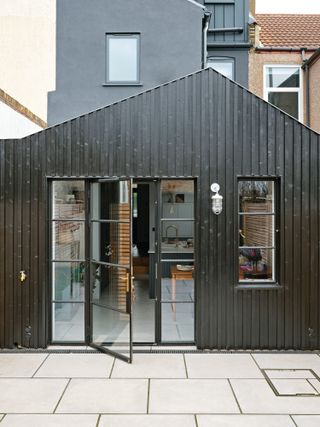 Although Laura and Chris loved the open-plan layout of the house, they recognised it would be too noisy with young children as they both work freelance from home. 'Unusually, and against today's trend for open-plan layouts, our first mission was to extend the back to accommodate the kitchen and put in a wall to create a separate sitting room,' says Laura.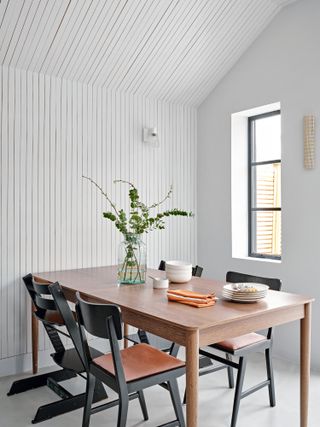 Profile
The owners Laura Sabogal (@laura_k_sabogal), an interior designer and stylist, her husband, Chris, a director of photography, their twins Suki and Poppy, five, and their working cocker spaniel, Kitsy
The property A four-bedroom Victorian terrace in Walthamstow, London
Project cost £174,500
'By adding a pitched ceiling in the extension, we created more height, and Fabco metal frame doors with large windows on the back brought in much-needed light. A slight hiccup with the size of one of the steels did hold up the work for a while, but it was soon resolved by our very experienced builders. The idea for the vertical timber panels for cladding both the inside kitchen wall and the outside extension came from my love of all things Scandi. I'd seen something similar in Denmark. They draw your eye upwards and create a feeling of height.'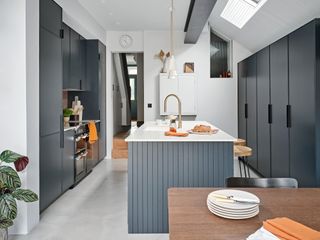 A micro cement floor – a cheaper version of a concrete floor – with underfloor heating adds an air of simplicity to Laura's unfussy scheme, while floor-to-ceiling cabinets offer maximum storage potential. 'That all-important question of where to put everything?' laughs Laura. 'It's crucial to have great storage in a home and we wrote a list of everything we needed in our kitchen cupboards. One side is for storing food and drink and is very narrow at only 34cm deep. It's the perfect size for a larder as you can get your hands on anything you need without having to rummage around at the back. In the last two cupboards we've installed sockets for the coffee machine, kettle and toaster, which are on a pull out tray so the steam escapes the cupboard. It's such a clever design and keeps the kitchen tidy and uncluttered.'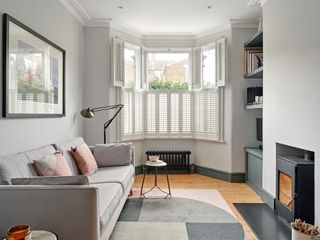 Next door, the cosy sitting room has a woodburning stove and Laura has renovated the original door using reeded glass and a Victorian brass door handle. Laura stripped back and varnished the floors, changing them from a glossy orange finish to a much paler pine. As Victorian houses can be draughty, she insisted on a woodburning stove to add extra warmth in winter. 'They bring a room alive when they're lit.' Her treasures have been collected over the years from car boot sales or antiques auctions. The old radio belonged to Chris' grandfather.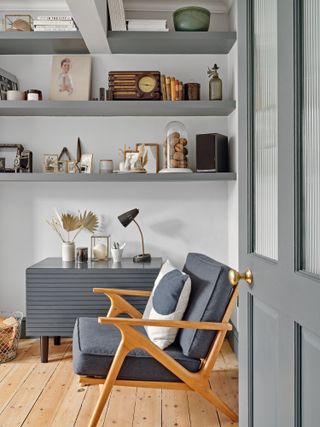 Another outstanding feature throughout the house is the thoughtful lighting, thanks to Laura's husband, Chris, who works in photography. 'Chris and I are both particular about lighting as it makes such a difference to the mood in your home,' says Laura. 'In the kitchen there are lots of circuits to accommodate the pendants, the wall lights and the spotlights and we always choose bone china or glass shades as the light glows through them, creating a softer ambience.'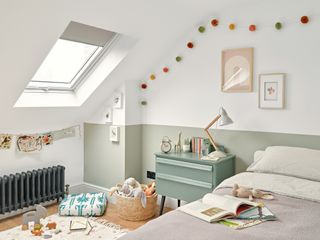 Costs & contacts
Build work £140,000
Architects, structural engineer and planning costs £10,000
Door and glazing £8,000
Kitchen units & worktop £5,500
Sanitaryware for utility and bathroom £5,000
Concrete floor £4,000
Skylights £2,000
Architect Smith & Newton
Construction Raaw Building Services, 07756 987795
Interior designer and stylist Laura Sabogal
However, it's the loft conversion that's made the most difference. 'We needed two more bedrooms for Poppy and Suki as well as a bathroom, but we didn't want to squeeze in a tiny space. You often see loft bathrooms in the eaves but we put ours in the middle of the extension so that the ceiling has full height.' Soft colours and furnishings have given Poppy a bright and playful bedroom and the bathroom picks up the colours in the grey/green floor tiles.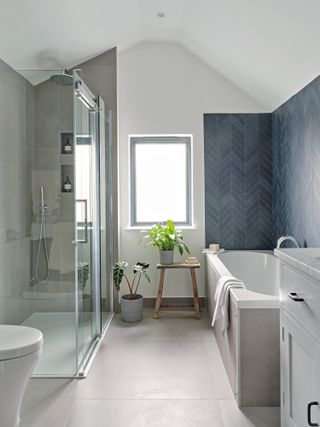 The bathroom was originally split into two tiny rooms to house a desk in one and cot in the other, but Laura renovated the space to create a generously sized room. Her unfussy scheme has practical yet stylish touches with dark chevron tiles over the bath and much lighter tiles on the floor and in the shower.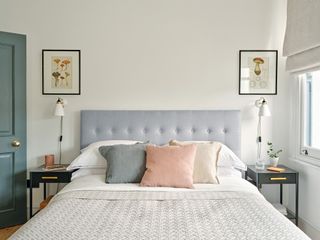 Upstairs on the first floor, she's reinstated an original fireplace in the main bedroom, stripped and varnished floors in a pale pine and commissioned floor to ceiling wardrobes in a similar style to the downstairs vertical wall cladding.
It's hard to believe that this spacious family home with four bedrooms, two bathrooms and a stylish kitchen diner was once Laura and Chris' first two-up, two-down house. 'We're so pleased we made the decision to stay,' Laura concludes. 'We're benefiting from the extra space and still enjoying this lovely area where we feel most at home.'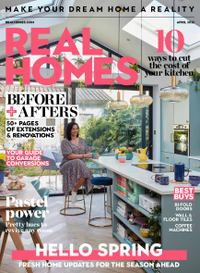 Subscribe to Real Homes magazine
Want even more great ideas for your home from the expert team at Real Homes magazine? Subscribe to Real Homes magazine and get great content delivered straight to your door. From inspiring completed projects to the latest decorating trends and expert advice, you'll find everything you need to create your dream home inside each issue.