Priced at the top of their budget and three times bigger than their previous place, Becks and Martin almost didn't view the Victorian house in Leeds that would become their home. The couple had bought a terraced house in Leeds, renting it out when they moved to London. When their son Sam was born, they returned and lived there temporarily. But a detached house with a garden was the dream.
Profile
THE OWNERS Becks Huntley (@the_interior_lens), a market research freelancer, her husband, Martin, an intensive care consultant, and their sons, Sam and Jacob
THE PROPERTY A four-bedroom Edwardian detached stone-built house in Guiseley, Leeds
PROJECT COST £85,500
'It had to be near good schools and the hospital for Martin being on call as a doctor,' says Becks. 'This house ticked all the boxes but had been on the market for over a year and required serious vision. It felt really dark and the skirting boards had been chewed by dogs!'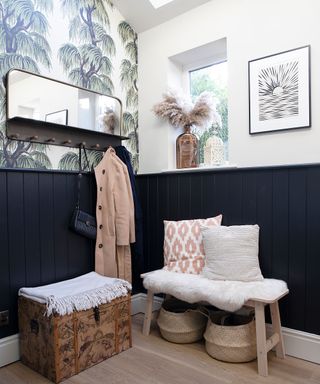 Ill-thought-out extensions had left the kitchen boxed in. 'The only thing I liked was the sitting room ceiling,' admits Becks. 'But we were happy to get a doer-upper and max out our budget to get the house we wanted.'
The first floor was renovated first, while they saved up to reconfigure the tricky ground floor. 'It was a blessing in disguise as we changed our minds a few times about the layout,' she explains. After knocking down a structural wall to double the size of the bathroom, all the flooring was replaced and every bedroom redecorated.
Before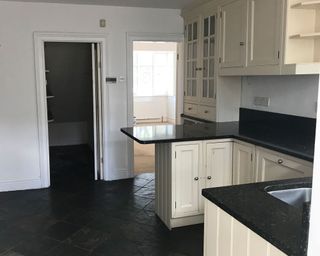 Four and a half years later, two structural walls were knocked down to create an open-plan kitchen, living and dining area. Although the couple didn't hire an architect, their structural engineer and builder proved invaluable in dealing with the different ceiling heights. 'Our builder hid all the steels and levelled the ceiling,' says Becks. 'This was key to making it all feel like one space.'
After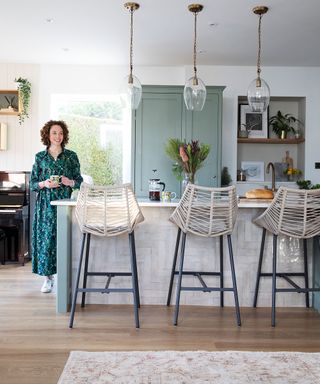 It took time to plan the kitchen layout as there isn't a lot of wall space, so the island had to work hard to compensate with ample storage. 'Using a local independent kitchen company meant we weren't constrained by standard sizes,' says Becks. 'Martin was set on a range cooker, so the kitchen was designed around that, and I wanted deep drawers.'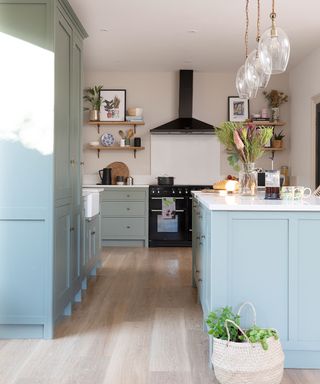 The pair agonised over the cabinetry style. 'The old kitchen was so dark that I initially wanted something modern, clean and shiny,' says Becks. 'But then I realised it wouldn't go with the age and style of the house. An in-frame Shaker style seemed more classic and timeless, while green is quite neutral and natural. It can also be re-sprayed in future.'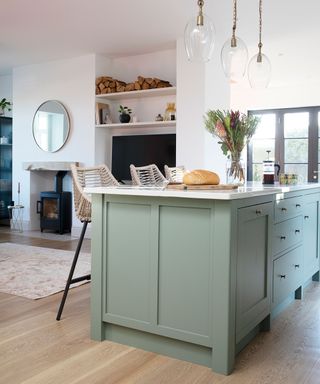 Before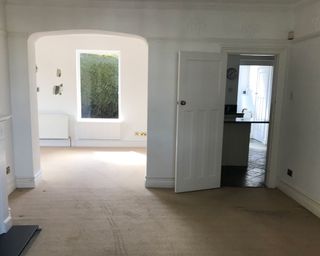 After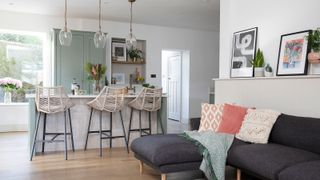 Opening up the dining room – previously accessed via an archway from the living area – has also been a game changer. 'A window was blocked up here to better zone the space and create a dining nook,' says Becks. 'We'd always wanted a built-in seating area that could fit a lot of people around.'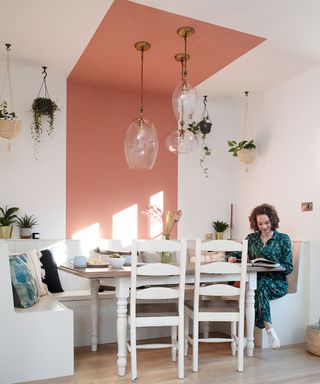 Becks studying for a Diploma in Interior Design during the build also came in handy. 'I made lots of mood boards and it made me think about the different colours and textures I liked,' she says. 'We did loads of travelling before we had kids, and Martin grew up in South Africa, so we've always liked rustic styles and pieces from different parts of the world – things that aren't too matchy matchy.'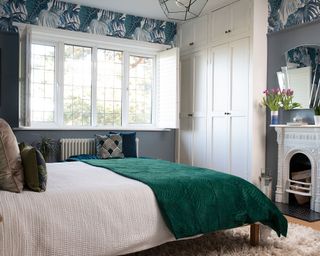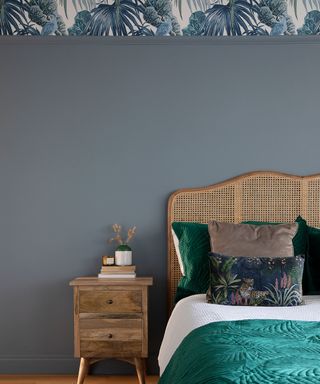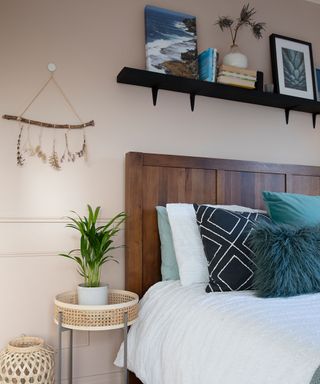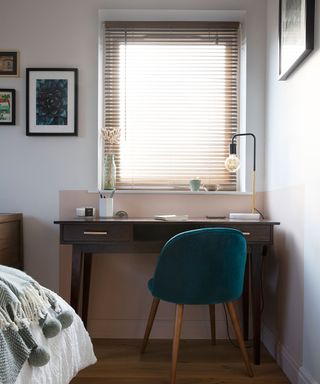 Despite a hiccup when the utility room floor had to be dug up and relevelled, the eight-week build went to schedule. However, the joinery took another eight weeks due to Covid and supply shortages. 'It was horrendous,' says Becks. 'We had 14 weeks with no kitchen so we used a hob in the utility, washed up in the bath and kept our food in the living room.'
Before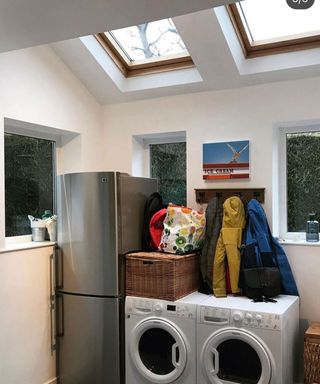 After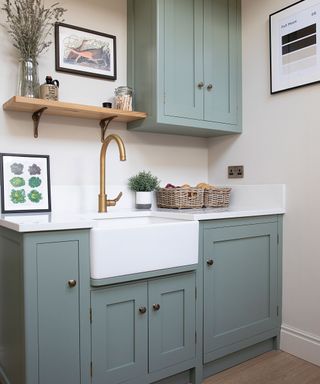 Becks would love to build a pod where she can run workshops on how to approach interiors projects. 'It pays off to put the hard work in at the beginning and plan the space in detail, down to the colour palette and style of furniture,' she advises. 'And you don't have to extend to get the home you want, either. We have so much more space as the thick stone walls we took out were about half a metre wide.'
Before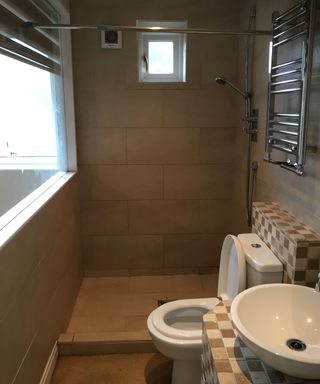 After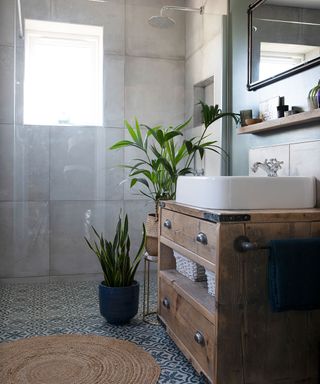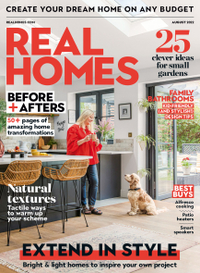 Subscribe to Real Homes magazine Want even more great ideas for your home from the expert team at Real Homes magazine? Subscribe to Real Homes magazine and get great content delivered straight to your door. From inspiring completed projects to the latest decorating trends and expert advice, you'll find everything you need to create your dream home inside each issue.