Fact file
The owners: Carol Spenser, a stylist/writer/broadcaster and creative director of Style Directions (styledirections.com), and husband David, a market research consultant
The property: A converted barn dating from the 1800s, with four bedrooms
The location: Near Diss, Suffolk
What they spent: The project cost around £595,000.
Years passed between Carol and David Spenser's initial plans to convert their barn and the day they moved into it as their new home.
'We'd battled with planners for five years to get planning permission,' Carol says. 'Our first application, in 2008, was dismissed and, after submitting revised plans, we were asked by Mid Suffolk Council to do various surveys, checking for everything from owls and bats to great crested newts. Someone even had to sleep in the barn for two nights to make sure no bats lived there!'
Find out how they overcame it, then browse through more real home transformations and learn more about converting a barn, school or church.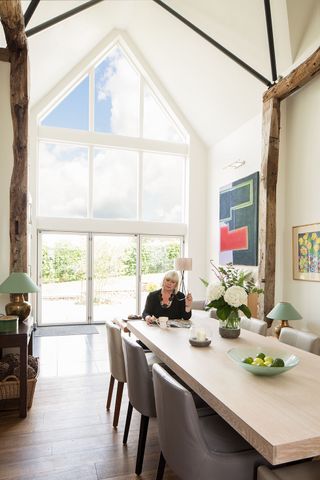 In 2013, with permission granted, the Spensers put the construction work out to tender. 'We got quotations from three companies and viewed some of their past projects,' says Carol. 'We chose a family firm, Avoncrown, with whom we felt we could work, rather than the cheapest.'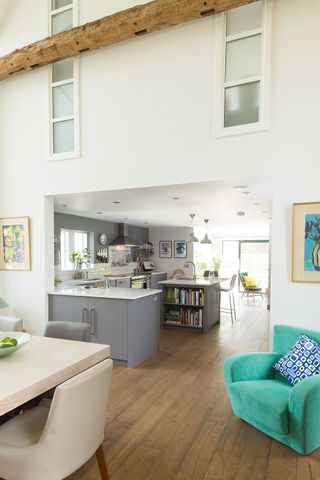 The council's stipulation that the design should be as close as possible to its early-19th-century origins remained one of the greatest challenges.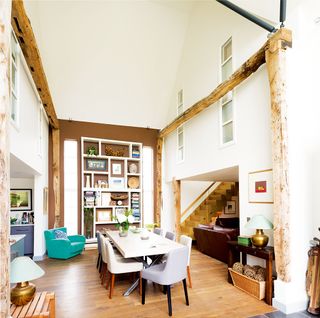 Glazing fills one wall of the impressive porch, flooding the space with light. Metal struts support the structure, without interrupting the visual lines. Plasterboard provides a backdrop to the weathered oak beams, dating from the early-19th century, and allows them to stand out.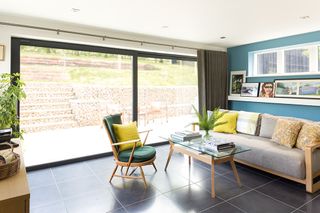 Carol and David chose engineered antique oak floorboards – brushed and black-oiled to enhance knots and splits – for the main living space and the bedrooms. 'We wanted something with character, to resonate with the features of the barn,' Carol explains.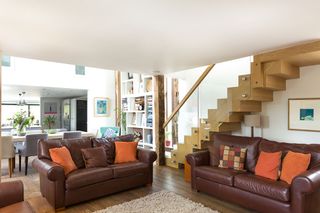 A bespoke staircase, made by local carpentry firm Weybread Woodcraft, frames one of the leather Multiyork sofas. The lower ceiling in the family space, which is open-plan to the dining area, creates a cosy feel.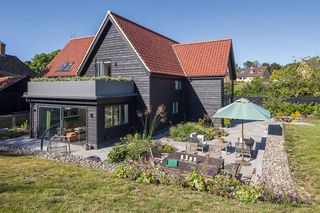 The barn was weatherboarded with larch, which was then painted black in keeping with the local vernacular. The windows from Velfac could only be used in existing openings, and have frames that are powder-coated aluminium on the exterior and wood internally.
More real home transformations: