We've featured a handful of architects' homes, and the insight they give into the design of their own home is always invaluable. Emma and Ross Perkin of London-based practice Emil Eve Architects are no exception.
Their quirky Victorian terrace is a result of their combined expertise and creative vision, and it's fascinating to hear about the thought process behind some of the details and special touches in their kitchen extension – from the Ikea-hack units to the joinery designed by Emma and Ross themselves.
We spoke to the pair about their design process and making compromises – and picked up a few tips on how to get a bespoke finish without breaking the bank…
The before
Profile
The owners Emma and Ross Perkin, who own architectural practice Emil Eve (opens in new tab), and their children Jess, six, and Tom, three
The property A four-bed Victorian terrace in Stoke Newington
Project cost £95,000 for the build, £10,000 for the kitchen
'When we moved in, the layout was completely different,' says Emma. 'The kitchen was in the basement with no connection to the garden – in fact, the only access to the outside was through one of the bedrooms. There was also a strange outdoor loo block. The whole layout was a bit of a muddle.
'We knew we wanted to live in this area, and so we were ready to compromise. For example, lots of people are looking for a big outdoor space with a rolling lawn, while this property just has a small courtyard area. Dissolving the boundary between the internal and external through large sliding doors was key to opening up the kitchen, dining and outdoor spaces into one big room. Open or closed, the garden comes right up to the glazing and feels like part of the house.'
Designing the layout
'We put a lot of thought into how the kitchen shape would work,' says Emma. 'A square, boxy layout can be quite difficult to use; spaces with corners and pockets work a lot harder, and you can designate different activities in different areas. We knew we wanted an island in the middle and decided to avoid placing any appliances there. Instead, it's a multipurpose area. It's common for the kids to be sitting drawing on one side while we're prepping food on the other.'
'Every time we take on a project, we're looking for opportunities to connect to outdoor spaces, especially with London-based clients – and this house was no different,' adds Ross. 'The garden was unloved, but there was potential for an integrated courtyard. With young kids to think about, we decided to design pockets of space where we could cluster together, and that would integrate the garden into the design. That's why the garden and the kitchen-diner are essentially two L-shaped spaces that interlock.'
Keeping costs down
'Because we sourced and designed things ourselves, it obviously helped keep costs down,' says Ross. 'We wanted to avoid using standard, off-the-peg systems where we could, opting for a crafted look instead. The doors, for example, we designed ourselves, and they cost far less than a high-end specialist would charge. It's a great way to do bespoke without the price tag. The floor has a terrazzo-style look, which we created using standard, ready-mix concrete and buff-coloured aggregate, then ground back to expose the stone.'
'Any project is about prioritising, especially financially,' adds Emma. 'We were happy to spend more money on the brick and the stainless steel worktop, for example, while using Ikea carcasses. We've found it a lot harder to make decisions for ourselves than we do for other people, though. Luckily, we've worked together for so many years that we know where each other's passions and specialisms lie – we're good at deferring to each other.'
Material matters
Contacts
Main contractor County Construction (opens in new tab)
Windows and doors Jonathan Read Ltd, 01728 723649
'We didn't really use this project as a testing site for ideas – we were conscious that it's our own home, after all!' says Ross. 'We wanted something robust and durable; something with character that's also neutral enough to appeal if we sold it one day. We used materials we're excited about, and we paid particular attention to details like the Danish brickwork – we spent a long time making sure the pointing was right.
'A bright blue kitchen might seem bold for some people, but it's the right feel for us,' adds Emma. 'We enjoy materials and textures, and we look to the building for clues about the right palette.'
Dual perspective
'We've definitely developed our skills and knowledge through this,' says Ross 'We're very much a partnership practice – we both get involved in projects, and I think our clients like that dual perspective. When we're working with clients, who they are plays a massive part in the design: who cooks, how often they entertain, what their hobbies are, and so on. It's a real collaboration, and we brought that line of thinking to our own project as well, which you can see in areas like the kitchen island. It's so nice to be cooking next to the kids while they're painting.'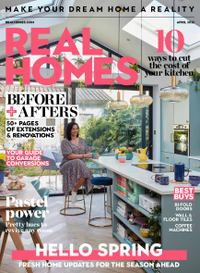 (opens in new tab)
Subscribe to Real Homes magazine (opens in new tab)
Want even more great ideas for your home from the expert team at Real Homes magazine? Subscribe to Real Homes magazine and get great content delivered straight to your door. From inspiring completed projects to the latest decorating trends and expert advice, you'll find everything you need to create your dream home inside each issue.