Having viewed several properties within a mile radius of Grimsby town centre, first-time buyers Leila and Joe fell for the cheapest and most dated house of all.
'We rented on and off for years and got travelling out of our systems, so we were ready to buy our first home,' says Leila. 'Our previous house was on the rural outskirts, and we wanted to be more central.' As Leila had always loved her aunty's spacious London terrace and Joe had grown up in a period home, the couple wanted a characterful house.
Profile
The owners: Leila Davidson (@zephs_house), an HR advisor, and her partner, Joe Peddie, a civil and structural engineer, live here with cats Zephyr and Laszlo
The property: A three-bedroom period townhouse, built around 1904, in Grimsby, North East Lincolnshire
Project cost: £20,474
Luckily, the three-bedroom Victorian house they fell for had 'good bones' with central heating and a new roof, but also bags of potential to give it their own stamp.
'On the day we moved in, Joe's nana was ripping up the worn carpets in the dining room,' says Leila. 'And the first weekend I started with an easy job by painting
the downstairs toilet. Then we decorated our bedroom in a pale stone grey and painted the floorboards white to create a sanctuary from all the building work we had planned.'
A few months later, the dining room, tiny kitchen and utility were knocked through to create one long kitchen-diner. The ceiling was vaulted and skylights added, while a window and side door were blocked up to give more scope for placing kitchen units and furniture.
After contacting lots of tradespeople, the couple chose a builder recommended by one of Leila's best friends. However, there were several challenges during the four-month project. A damp proof course was an unexpected cost, and Joe had to fit the bi-fold doors with his dad because the builder wasn't comfortable installing an unfamiliar product that Leila had sourced.
With a galley kitchen in the middle, the new space flows so much better. 'We regularly have family over for Sunday tea and we love games nights with friends,' says Leila. 'It's lovely being able to prep in the kitchen while chatting, and we can shift the table for late-night kitchen discos.'
Shortly afterward, the front living room was knocked through to the dining room by the same team, with structural engineer Joe working out calculations for a new steel beam.
Previously, the room had a dado rail with red and magnolia walls — this was removed, the walls replastered, and the floorboards sanded. A jammed bay window was restored to working order.

Over the years, the couple have honed their daring and bold interior style, which mixes contemporary with traditional. 'We love the period features and wanted to restore as much as we could while also making our home feel modern,' says Leila. 'The living room and bedroom at the front are just for me and Joe to relax in, so we went for dark, cosy colours, whereas the back of the house was kept bright, colourful and fun. I enjoy telling family and friends my decor ideas and waiting for their reactions!'
Now the only pieces of furniture remaining from their previous property are
the brown leather sofa in the living room and Peacock chair in the main bedroom. 'Most of our furniture is second-hand,' says Leila. 'I'll typically look on various home websites first, then try and find the same thing second-hand or cheaper on eBay.'
While Joe's favourite space is the living room, where he had the most creative input, Leila's is the hallway, with its daring black paintwork, fun striped runner, and original floor tiles. 'It just feels so true to our style and the period of the house,' she says. 'It's an instant wow factor every time we come in.'
With a recent garden makeover completing their renovation journey, Leila
and Joe can't imagine moving for a very long time. 'We've put our absolute
hearts into this home, there's been blood, sweat, and tears,' says Leila.
'We've created our dream home and I'd be absolutely gutted to leave.'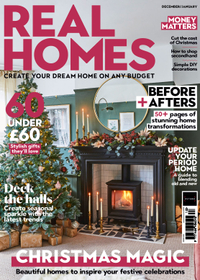 Subscribe to Real Homes magazine
Want even more great ideas for your home from the expert team at Real Homes magazine? Subscribe to Real Homes magazine and get great content delivered straight to your door. From inspiring completed projects to the latest decorating trends and expert advice, you'll find everything you need to create your dream home inside each issue.