After renovating the rest of their Victorian terrace, Andrea Wilson and Will Saunders turned their attention to the third and final bedroom. It was the room the couple had slept in while the rest of the house was being tackled, so they knew it had the potential to be an ideal guest bedroom. The fact that it was devoid of color and needed completely new décor, carpet, and furniture, didn't faze Andrea, for whom interior design is a hobby.
Profile
THE OWNERS: Andrea Wilson, a PA, and her partner, Will Saunders, a food quality control engineer, live here with their Scottish Fold cat, Milo
THE PROPERTY: A three-bedroom Victorian terrace in south London
PROJECT COST: £2,645
"This room was very dated and tired, with wallpaper literally falling off the walls, but that only provided me with even more scope to do just what I liked," she says. The key to getting it right, according to Andrea, was having a clear vision of the feel she wanted to achieve — the main aspect being that it had to be light and inviting — and giving herself lots of time to source items well in advance.
Before
"As you want your guests to relax and feel at home, it's important not to make the room seem too formal," says Andrea. "One way to achieve this is by adding color through the bedding and cushions. Also, rather than opting for a bed in a contemporary style, I thought a traditional iron bedstead would look comforting — as well as being good and sturdy! It was our biggest outlay, but we saved money elsewhere by recycling and repainting other items."
After
"At first I was intending to paint all the walls the same shade but decided I wanted the back wall to be darker and the rest lighter," Andrea explains. "It's a combination that we have tried and tested in the rest of the house and feel it works well. Using the darker color — Farrow & Ball's Plummet — as a backdrop makes anything in front of it stand out. Having similar hues creates a brightness, yet gives it a feeling of calm, which is the main requirement of a bedroom. Using neutral colors also means it's neither masculine nor feminine, giving it a versatile appeal."
"I'm a great believer in reusing items wherever possible," says Andrea. "I use chalk paint to add color, and with very little money and a bit of time, you can easily transform furniture and accessories. The mirror and the desk here have been painted in different colors over the years. Another important aspect was finding an original Victorian fireplace at a reclamation yard — it instantly brought a feeling of authenticity to the room."
Contacts
"The main thing I wanted to achieve with this room was to create a fresh, light, and inviting feel," says Andrea. "I love color, so it was never going to be all white! I think the use of fabrics can be one of the easiest, yet most personal ways to introduce color into a room. With bedding, for example, it's easily changeable, so not only does it allow you to be as daring as you like, but you can use a selection of different duvet covers and switch up the look every time one is in the wash. I've mixed my personal tastes with a bit of what's on trend, like the dark and terracotta tones."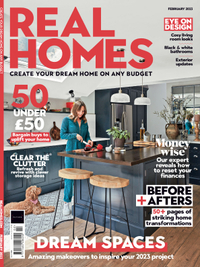 Subscribe to Real Homes magazine
Want even more great ideas for your home from the expert team at Real Homes magazine? Subscribe to Real Homes magazine and get great content delivered straight to your door. From inspiring completed projects to the latest decorating trends and expert advice, you'll find everything you need to create your dream home inside each issue.