This budget kitchen makeover is one that's had us all staring round our kitchens, wondering what elements we can copy for a quick, inexpensive revamp. Pati Robins, an artist and full-time carer, is renowned for her creative hacks and her eye for a bargain. Living in social housing, she's transformed her existing, dreary and bleak kitchen into on-trend industrial delight, and all at minimal cost.
We're excited to share her story with you, and reveal all the low cost, high impact and money saving tips and tricks that you can copy. Shhh..... we won't tell if you don't.
For more inspiration check out these kitchen design trends.
The before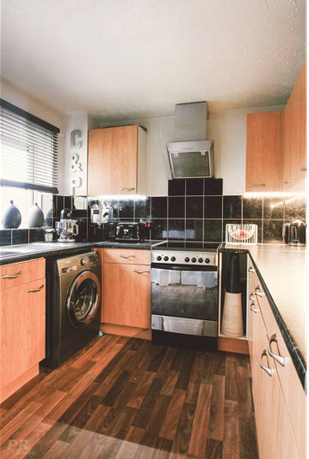 The original kitchen was dark and disheveled. The wooden cabinets were dated, and the black worktop and wall tiles made the small space feel even smaller. That said, the general layout of the space worked well for Pati, so there was no need to change to position of the cabinets or appliances.
The after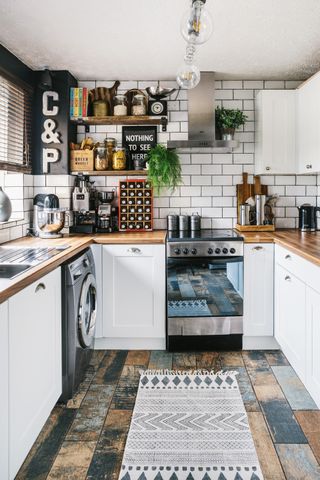 What a transformation! Pati's first and biggest decision was the cabinets. 'I've dreamt of shaker style doors for a long time,' says Pati, 'so I decided to replace the cupboard fronts altogether. I could have revamped them in a cheaper way by wrapping or repainting the existing units, but that's one thing I wanted to invest in.' Choosing white shaker style cupboard fronts has made the small space instantly lighter and brighter.
Pati chose to replace one of her wall cabinets with industrial style open shelving, which is so popular at the moment. This not only visually opens up the space and creates the feeling of more room, but it gave Pati an extra canvas from which she could show off her personality. Decorative and practical details such as the typographic sign and glass jars make the space feel homely and lived-in.
The wood-effect worktop adds to that industrial, country vibe and brings a feeling of warmth to the space too. Pati bought the cooker second hand, and the wall tiles were 'bought for free' using Tesco Clubcard points. The lights were also secondhand, upcycled by Pati, and the patterned rug was from Ebay.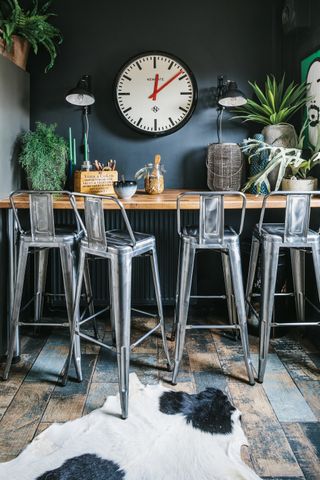 The bar area opposite the kitchen provides a handy space for eating breakfast or drinking her morning coffee. The dark painted walls are very much in line with the rest of Pati's home, creating a cocooning and cosy feel. The distressed wood effect floor boards are actually tiles, which Pati laid herself. We're loving the industrial style bar stools - and at just £90 for all four on Amazon, they were a complete steal.
At every turn, Pati hunted for the best deals, using second hand stores, her upcycling skills and even club card points, proving that kitchens on a budget do exist! The result is a low cost, high impact makeover that's perfectly functional and bang on trend. We'll have one of those, please!