A few years ago, a 'grey home' was a good one. And, with the likes of Mrs Hinch championing this style of decor, we were all choosing the perfect shade of grey for our walls, picking out lush sofas and if you were taking this trend perhaps one step too far, you may even have invested in a lot of mirrored furniture...
As the old saying goes, what goes up, must come down! And while grey had a good run in my own home – proudly achieved by painting the walls Dulux, Chic Shadow, finding the perfect complementary grey wooden flooring, Chesterfield sofas and yes even, mirrored items – a short while ago I definitely felt that this trend had had its moment in my home. This is my story of how I succumbed to the grey trend, big time, in my hallway and how I realised it was time to introduce fresh hallway ideas instead...
The grey hallway before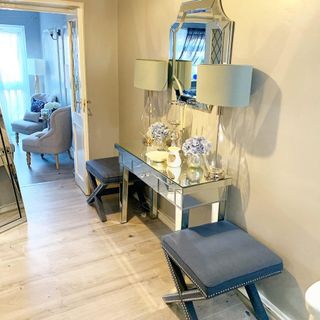 One of the selling features of my current home was the hallway. From the moment I saw it, I pictured my mirrored console table, floral arrangement and stalls either side! With visions of mirroring a hotel lobby, and I loved this totally grey hallway and layout for three years straight...
But with the natural cycle of interior trends, the last year saw me gravitating more towards warmer tones like beige and the more trendy and wide range of greige colours, all over Instagram and TikTok.
Going greige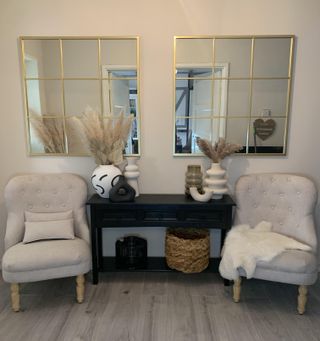 Greige is a perfect blend of grey and beige which, depending on the lighting of the space, can favour a more grey or beige look.
I have always loved gold accents, having incorporated them within my main living room space from the get-go. And, as it's slowly decorated the rest of my home, the hallway was naturally the next destination...
Cool beige tones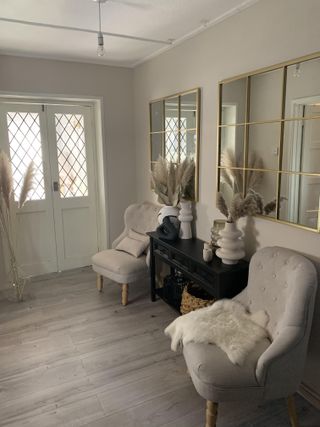 I changed the hallway completely by painting the walls Natural Hessian by Dulux. A cool beige tone that also changes with the lighting.
My mirrored furniture served me well but with another child around, I was happy to switch over to a wood console table that I painted Black using Dulux quick dry paint.
Mirror central before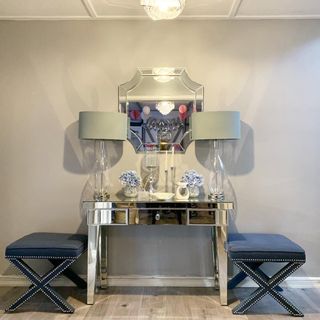 Mirrors are still a great addition to a hallway! So, to give the illusion of a greater space, I swapped the single cantered mirror for two very large gold grid mirrors. At 95cm in height and width, they make the hall look much wider.
I switched the two navy ottomans for two buttoned armchairs in cream. These complement the traditional style of the console table while also making the space have the feel of its own reception room.
The after: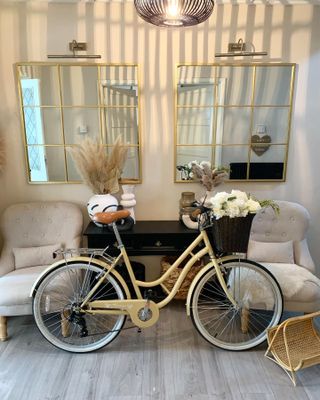 To style the table I chose vases from H&M and Next to give the space a more contemporary finish. A large basket on the lower shelf is perfectly for items guests leave at your house (ours is already full) and the later addition of two picture lights add that extra decorative touch and opulence.
I also got a bike that matches the colours perfectly! If only it could form part of the new greige hallway look...