When you have a young family, taking on a huge renovation project is less than ideal – but despite the challenges, that's exactly what Clara Felce and her partner, Liam Frost, did when they took on their run-down kitchen with two children in tow. After nearly five years of saving and planning, the couple simply couldn't wait any longer.
They called in an architect and a team of builders to alter the layout of the ground floor of their home and now, after over a year of building activity, all the hard work has paid off. Here, Clara reveals how renovating this beautiful, bright space has brought her family closer together.
If you are planning on extending your house to create the perfect family space, we have plenty of ideas and advice on how to do it. For more real home transformations, head to our hub page.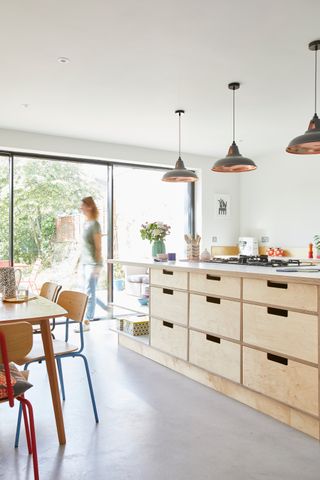 Profile
The owners Clara Felce, an OTC consultant, her partner, Liam Frost, a graphic designer, their two children, Daisy and George, and their cats, Sushi and Mr Kipper
The property A four-bed end of terrace Victorian townhouse in Brighton
Project cost A similar extension and interior fit out would cost upwards of £120,000
'We moved back to Brighton to live in a vibrant city, close to the sea and family,' says Clara. 'We found this townhouse in a quiet street in the Preston Park. It's ideal with good schools and lots of parks nearby.
'The house was in desperate need of decoration. The downstairs kitchen was riddled with damp and in the mornings there were snail trails across the kitchen floor! The units themselves had suffered water damage. At the time, the kitchen was at the front of the house overlooking the street, which was an uninspiring view when washing up.
'With a young toddler and another child on the way, we put a sticking plaster on the situation by installing a cheap white kitchen into the existing space to keep us going for a few years.'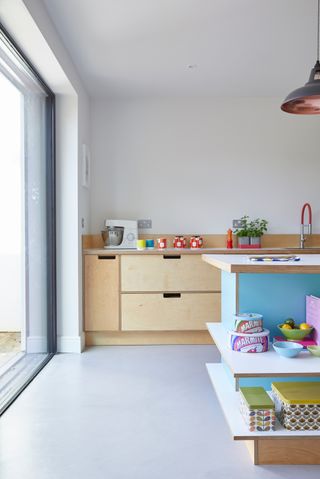 'After five years, the garden sliding doors gave up on us. They stuck when we opened them and were draughty, too. We used this as the excuse we needed to tackle the renovation works. It wasn't our intention to take on such a huge project, but we slowly realized how much work needed doing.
'We approached the architects Three Eleven and their team helped us reconfigure the downstairs space to improve on what we already had. We asked our architect to do drawings for the kitchen and for our loft room upstairs – we wanted everything to go through planning at once. In March 2018, we were ready to start the building works. We struggled to get contractors in place but we did the best we could to push the project through.'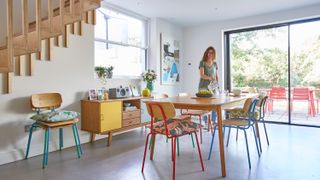 'In May 2018 the old kitchen was ripped out and all the walls were pulled down. We had large steel supports put in through the ground floor into our living space. There were huge holes in the walls and floors. We had no idea just how intrusive the building works would be, and in the end we had to move into a rented flat in Hove. Liam would come back to the site every day to keep an eye on the project.
'We discovered that half the ground floor was made up either of solid concrete, which had to be dug out, or rotten joists, which had to be replaced. The ceiling needed leveling as well. It soon dawned on us that the budget for our loft extension was going to be eaten up by this kitchen project.'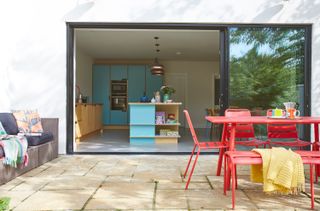 'We looked high and low to find a kitchen company that understood our ideas for the space, spending hours online hunting for the right company until we discovered a local design firm, Wood Works Brighton. We met the owner, Francois, who we clicked with straight away. On my wish list was a large central island filled with storage, a larder area with a built-in oven and lots of space to socialize in.
'We moved back in during August to an empty box downstairs. We still didn't have a working kitchen and were cooking meals on a gas stove and washing up in the bath. We had to wait three long weeks for the concrete floor to set before Francois could come in and measure up the space.'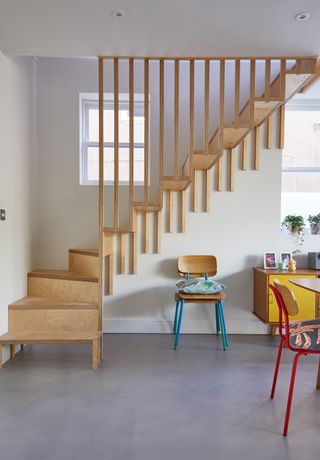 'We finally had the kitchen installed just before Christmas, but we couldn't use it until we had everything plumbed in and a new staircase installed. It wasn't until February that we could actually cook our first meal in this space! We had pancakes, which the kids helped us with. I took a photo of the meal to celebrate what we had gone through as a family.
'The new layout has completely changed how we live in this house. We have so much room to host large family parties, which often spill out into the garden in the summer. Every day we cook and eat together. Living here has brought us closer together as a family.'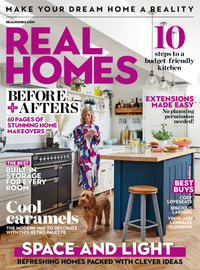 Subscribe to Real Homes magazine
Want even more great ideas for your home from the expert team at Real Homes magazine? Subscribe to Real Homes magazine and get great content delivered straight to your door. From inspiring completed projects to the latest decorating trends and expert advice, you'll find everything you need to create your dream home inside each issue.