When we bought our fixer upper we knew we'd eventually have to remodel the guest bathroom but hadn't planned on tackling it for a while. But when a pipe started leaking and we looked into it further we found mold...lots of it. Paying professionals for a complete bathroom renovation would've cost us around $15,000, money we didn't have.
We knew we'd have to take on the job ourselves so we started to look for ways to save money. There were some things that had to go because we weren't able to get rid of the mold and other things that needed to go because they were really outdated.
The bathroom before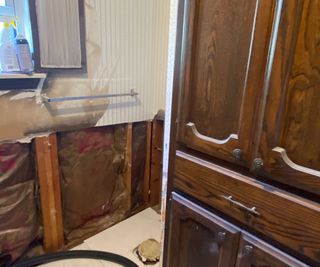 We were able to save the vanity base and linen cabinet. We also saved the refinished cast iron bathtub. This saved us a ton of money. But everything else – tile, countertop, sinks, toilet – had to go.
The color scheme
Our budget was $4,000. I knew I wanted a modern farmhouse look but since we were having to gut a good portion of the bathroom I knew the design would have to be strategic. I decided on a black and white bathroom color scheme with gold accents and natural wood elements. We painted the vanity and linen cabinet in Sherwin Williams Tricorn Black. I purchased new gold hardware at Hobby Lobby when they were on sale for half off.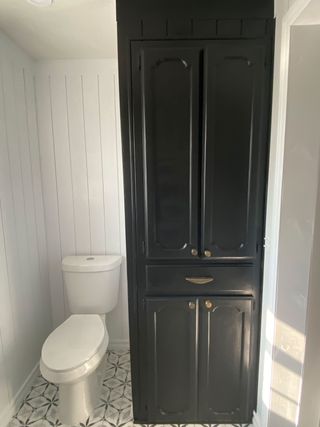 The sink and counter
We found a marble remnant on Facebook Marketplace for a steal to use for the countertop. The person we purchased it from was kind enough to cut it to the correct dimensions for us. We watched a YouTube video on how to cut the holes for the sinks and did it ourselves.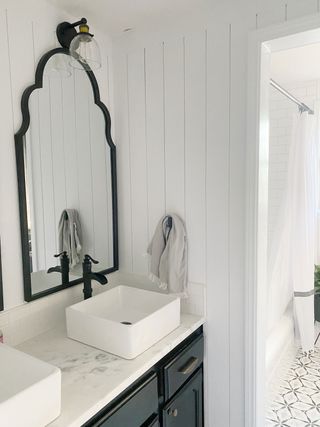 The guest bath walls
We decided to go with primed pine shiplap for the walls, which you can find at places like The Home Depot and other DIY stores, and installed them vertically. It's pretty easy to DIY shiplap walls and, neither my husband or I are great at mudding and taping sheetrock so we went down this route instead so we wouldn't have to hire it out. Plus it fit in with the modern farmhouse look I was going for.
We chose classic white subway tile for the shower, it never goes out of style and is very affordable. We also replaced the toilet with a model that was easy on the budget and also eco-friendly, saving us money in the long run. We then picked up a toilet roll holder in matt black to complete the new look.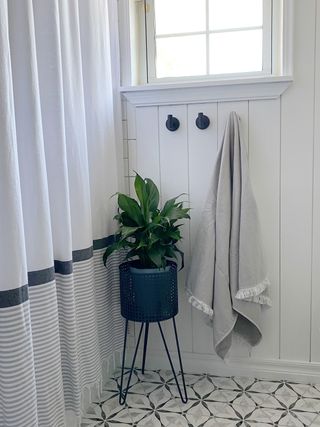 Amazon has a great selection of sinks and I bought a pair of square vessel sinks for $100 total. Since the guest bathroom is also the bathroom two of our kids use, double sinks were a must.
I purchased matching mirrors from Kirkland's when they went on sale and matching black and gold vanity lights for $65 at Home Depot that tied in with the black vanity and gold hardware.
The towel hooks you see are also from Amazon.
The one thing we decided to splurge on was the floor tile from Home Depot. As soon as I laid eyes on the beautiful patterned hexagon tile I knew we had to have it. This meant getting this shower curtain from Amazon instead of glass doors, but it was worth it in the end!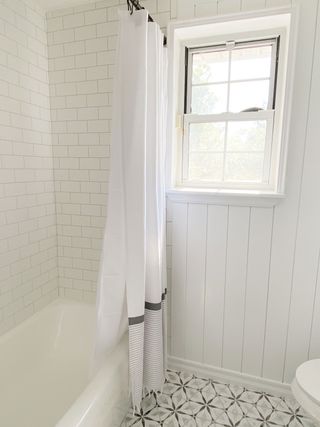 The results
It all came together beautifully thanks to my husband's hard work and my strategic budgeting (and a little painting)! Here's where we spent the money:
Paint: $60
Subway tile: $90
Vessel sinks: $100
Faucets: $130
Marble countertop: $290
Mirrors are from Kirklands: $160
Primed pine shiplap: $500
Toilet: $100
Shower/bathtub faucet kit: $200
Decor: $150
Other supplies (sheetrock, grout, wood, screws, etc.): $1,655
Total cost: $4,000
It took a lot of hard work, courage to tackle things we'd never done before, and about two months worth of time to accomplish it, but we love how our bathroom turned out! And the best part? We saved over $10,000 on the average bathroom remodel costs by doing it ourselves!