Are you looking for ideas for a tricky renovation? Take inspiration from Kim and Lewis Holmes' characterful converted schoolhouse in East Yorkshire, filled with interesting artefacts and unusual antiques. Find out how the couple salvaged and reused everything – from the tiles and bricks and tiles on the old toilet block, to the dark wood panelling in the hall – giving the old school and their antique finds a new lease of life.
Browse more real home transformations, and find out how to renovate a house in our guide. See more Christmas houses on our dedicated page, too.
THE STORY
Owners Kim Holmes, an artist, and her husband Lewis, a builder and joiner live and run their upholstery business, Old School, here. They have four children, Django, Suzi, Katie and James, and a dog, Mouse
Property: A six-bedroom, former village school built in the early 19th century, in a market town near Bridlington, East Yorkshire, from where the owners run their upholstery and furniture restoration business, Old School
What they did: Doors and windows were repaired, panelling fitted, insulation added throughout. Fake beams were removed along with a dividing wall to open up the space. They converted the roof space into six bedrooms
Kim and Lewis' first impressions of the old village school were not encouraging. All the doors and windows had been flung open to 'warm it up inside', one of the interior walls was covered in black mould and there was a dilapidated toilet block in the yard. 'It was quite grim, and not what we were looking for at all,' recalls Kim. 'But by the time we had looked round we were really excited about its potential.'
The fact that the building had been empty for three years and was showing signs of decay, and that it still looked like a school – with old gym equipment and sliding doors – was seen as a challenge rather than a problem. 'We liked the idea of taking a tired old building and reinventing it,' says Kim. 'We wanted a project and this certainly needed some work.'
Lewis and Kim were expecting their son Django at this point, but moved in and prepared themselves to live on a building site while they took out fake beams and old units in the kitchen, removed a dividing wall and demolished the outside toilet blocks before starting work to reconfigure the interiors of the rest of the property.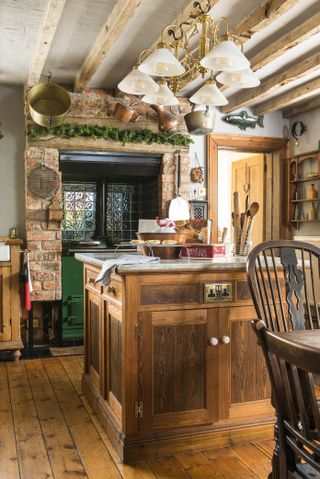 The kitchen was originally the schoolmaster's house, the dining room was a gym, and the living room and main bedroom were classrooms. Kim and Lewis wanted to turn the area that had been used as a tea room into a living space and renovate the entire property using reclaimed materials.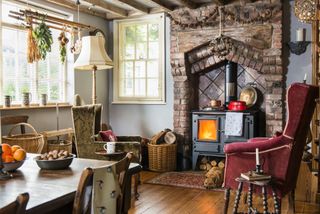 'We salvaged everything we could, including the roof tiles and bricks from the toilet block, and then sourced slates, beams, old bricks, stone and church fittings to include in the renovation,' says Lewis. 'We were both working full time and raising a family, so we did the work as and when we had time.'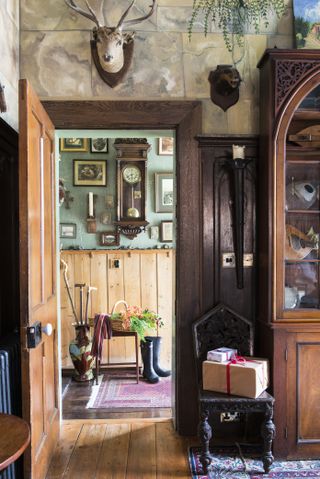 In the first few years, the couple insulated the ceilings and built a mezzanine in the living room to create an office and library, ingeniously using the steps, ornate gothic panelling and screen from a reclaimed pulpit to create the upper level. The pulpit staircase wasn't quite high enough to reach the mezzanine so Lewis built it up, adding reclaimed columns, beams and four chunky stone steps.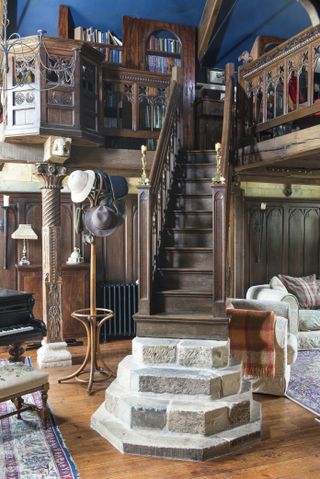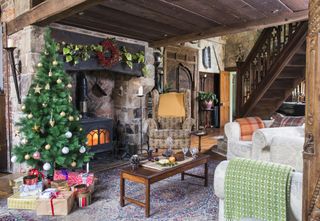 MORE FROM PERIOD LIVING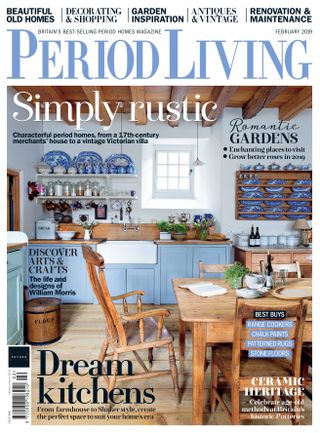 Period Living is the UK's best-selling period homes magazine. Get inspiration, ideas and advice straight to your door every month with a subscription.
With the mezzanine firmly in situ, the couple could move on to fit salvaged panelling, repair doors and windows, install reclaimed beams, build a new kitchen and lay reclaimed wood floors insulated with lambswool. 'We literally took the wool off the sheep's backs on my father's farm and laid it under the floors,' says Kim. 'There's always some formaldehyde present in older properties and the wool helps to absorb it, as well as allowing the building to breathe and keeping the place warm.'
Lewis also built furniture and adapted cupboards using bits and pieces from his workroom, at the back of the old school. Complementing Lewis' craftsmanship are Kim's upholstery skills. She is adept at finding battered old chairs, which she strips back to basics and re-covers.
'People used to stuff chairs with all kinds of things – I found a complete horse's tail inside one, and another was full of silk stockings!' she says. Kim also makes soft furnishings, restores wooden furniture by painting and ageing it and, as an artist, she has been able to create paint effects and trompe l'oeil 'stone' walls, as well as the colourful paintings that hang in the dining room. The result is a unique family home, full of history, character and cost-saving ideas.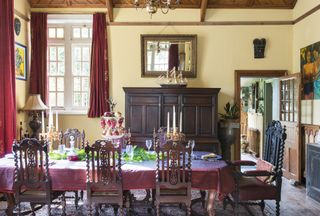 'We recycle and reclaim just about everything,' says Kim. 'We buy and sell antiques all the time and have gradually replaced things to suit the house. Some things we bought years ago, including the 17th Century Indian door, which we've been storing until we had somewhere suitable. If you see something you really like, you have to be impulsive or it will be gone.'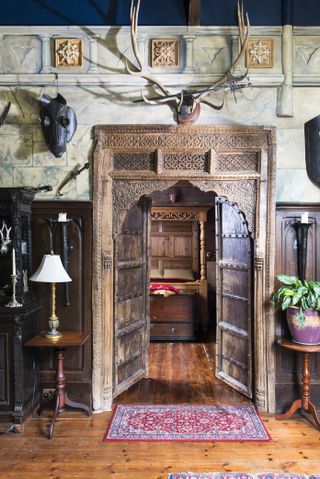 While Kim collects artefacts, paints her pictures and upholsters old furniture, Lewis salvages building materials, makes furniture, and carries out repairs to the school. 'I grew up in a Victorian gardener's cottage and learnt from watching my dad recycle things, so it was natural for me to want to do it as well,' says Lewis. 'It's shocking what people throw away; we try to reuse as much as possible. Recycling is something of a hobby for us – we love it.'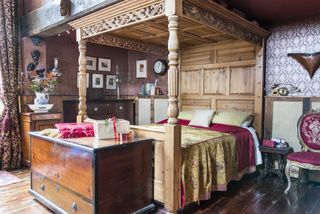 Christmas is one of the few times of year when Kim and Lewis down tools and enjoy the fruits of their labours. 'We have the family round on Christmas Eve and we all play games then crowd into the kitchen to prepare the homegrown vegetables,' says Kim. 'Then on Christmas Day I always wake up early to light the fire, turn the tree lights on and set out the presents. It's champagne and smoked salmon for breakfast before the whole village goes to the pub for a couple of pre-dinner drinks. The house really lends itself to Christmas – there are often 14 of us at the table.'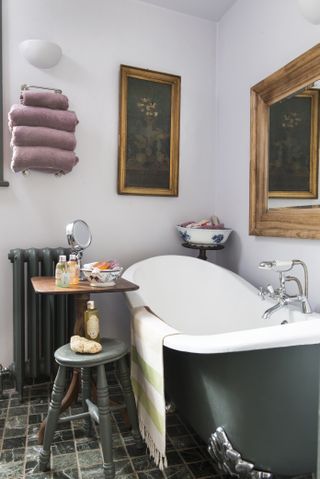 But this could be the last Christmas Kim and Lewis spend at the Old School. 'We've decided to sell the house and make a fresh start in the wilds of Scotland,' says Kim. 'We've always wanted to be self-sufficient, creating our own electricity, growing vegetables, keeping animals and sustaining ourselves as much as possible. We'll be sad to leave – it's a wonderful community here – but if we don't do it now we might regret it.'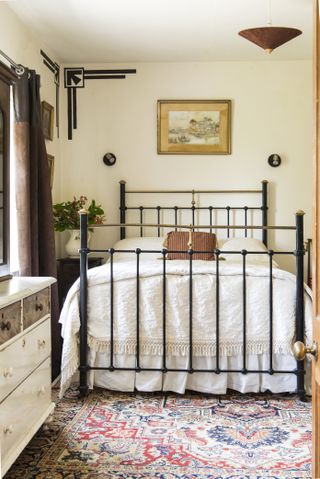 More inspiring converted homes to explore: