Looking for the very best of barbecues? When the sun's out and the mercury reaches a scorching 20 degrees or more, there's no better time to make use out of outside space. Whether it's in your back garden, or on the beach if you're lucky enough to live close to it, a barbecue is the best way to make the most out of the sunny weather, and you can always be prepared for it with a portable BBQ.
Portable BBQs come in all shapes and sizes. Some, like the Weber Smokey Joe Premium Barbecue are traditionally kettle-like in shape and are usually lightweight for easy transportation. Alternatively, portable BBQs can be even more compact, with the Berghoff Tabletop BBQ being a fantastic choice for social occasions.
When you're looking for the best portable BBQ for you, consider whether you would prefer to cook on gas or charcoal (both have their positives and negatives). Also consider the weight of the BBQ – you will be wanting to take it places after all.
1. Weber Smokey Joe Premium Barbecue
A traditional kettle BBQ, ideal for camping holidays and beach trips
Specifications
Best for: All rounder
Fuel: Charcoal
Weight: 3.5kg
Reasons to buy
+ Tuck and carry lid lock for convenient transportation
Large enough to cook effectively on charcoal, yet small enough to conveniently pack into the boot of the car, the Weber Smokey Joe is a great all-rounder that also happens to be very friendly on the pocket. It features a steel cooking grate, a handy tuck and carry lid, a steel charcoal grate for aeration and a briquette measuring cup so you don't over do it on the heat production. If you're a fan of the traditional smokey flavour and need a BBQ large enough to feed a group of you, the Weber Smokey Joe is the perfect choice.
2. Berghoff Tabletop BBQ
For weekends away or gatherings in the back garden, this is your perfect BBQ
Specifications
Best for: Social gatherings
Fuel: Charcoal
Weight: 8.3kg
Reasons to buy
+ Sits on your tabletop
Anyone who enjoys the sociability of tabletop cooking (think raclette) will love the idea of this BBQ from Berghoff. Thanks to its clever, heat resistant base, it's safe to place on a table, so everyone can partake in cooking the food, rather than the dedicated BBQ chef missing out on the sociability of the event. The BBQ compacts down into one small unit and can be conveniently carried over the shoulder, making it perfect for beach trips, too.
3. Landmann Cast Iron BBQ 0630
This rustic looking fire bowl come BBQ will make a great outside feature
Specifications
Best for: Authenticity
Fuel: Charcoal
Weight: 7.2kg
Reasons to buy
+ Great value for money
Perfect for small gardens, this cast iron BBQ will look great as a garden feature. Made from cast iron, it's designed for the outdoors, with natural weathering enhancing its rustic nature. There's plenty of space to cook with and you can adjust the height of the grill to ensure you cook away from the coals. The BBQ is lightweight, so it's still perfectly portable and with large wooden handles, carrying it to your designated cooking spot shouldn't be a problem.
4. Lotus Grill BBQ
A next level table top BBQ that doesn't produce smoke, perfect for windy beach trips
Specifications
Best for: No smoke
Fuel: Charcoal
Weight: 3.7kg
Reasons to buy
+ Very lightweight
There's nothing more annoying than the sting of smoke in the eye but with this BBQ grill from Lotus, that is no longer a problem. This BBQ boasts heaps of clever features that make it well worth the expenditure. From the battery powered fan that brings the heat up to the right temperature to the smoke free cooking that still infuses your food with that authentic smokey flavour, the Lotus Grill is a lightweight, colourful construction that'll make back garden BBQs and beach trips a joy.
5. Weber Q 1200 Portable Grill
A stylish table top gas BBQ with plenty of cooking space
Specifications
Best for: Family camping trips
Fuel: Gas
Weight: 17kg
Reasons to buy
+ Fold-away work tables for convenient prepping
It may be expensive but if you're looking for convenient cooking, this BBQ from Weber may be just the ticket. Thanks to its built in carry handles, the BBQ is easy to transport, while the fold away cooking tables provide you with some handy prep space. With a control burner valve and thermostat, you can regulate the temperature of the BBQ so the food doesn't burn on the outside and remain raw in the middle. You also have the option of buying a compatible BBQ stand, making this the ideal BBQ for home and away.
6. Hotspot Notebook Portable BBQ
Folding flat – just like a notebook – this BBQ is cheap, stylish and functional
Specifications
Best for: Budget
Fuel: Charcoal
Weight: 4.54kg
Reasons to buy
+ Plenty of cooking space
If you're looking for cheap and cheerful, it doesn't get much better than the Hotspot Notebook Portable BBQ. It collapses into a flat shape and features carry handles for portability. There's a charcoal grill and a cooking grill, which provide vital aeration and cooking space. Made from a heat resistant pressed steel and weighing in at just over 4.5kg, this is a lightweight, stylish BBQ perfect for trips away and as a stylish back garden feature.
7. Everdure by Heston Blumenthal Cube Portable Charcoal Barbecue
A touch more expensive than the Berghoff, but with some pretty cool additional perks
Specifications
Best for: Features
Fuel: Charcoal
Weight: 7kg
Reasons to buy
+ Features a food-grade plastic tray and a handy bamboo chopping board
As with all cooking gadgets designed by Heston Blumenthal, this BBQ has been cleverly thought out to provide you with every feature you could possibly need, whether you've got people round for the evening or you're heading out on your next camping trip. Similarly to the Berghoff, this is perfect for tabletop cooking, which makes your gathering all the more sociable. There's the added bonus of a food grade plastic tray, which can be a handy storage area for either food or cutlery and napkins, and a bamboo tray for prepping.
8. Calor Mini BBQ
Another tabletop BBQ but this one is for those who prefer cooking with gas
Specifications
Best for: Picnics and the beach
Fuel: Gas
Weight: 8.5kg
Reasons to buy
+ Space to fit a 400g gas canister
If you like the idea of a tabletop BBQ but find gas easier to handle, the solution lies with this portable BBQ from Calor. With enough space to fit a 400g gas canister, you won't need to worry about refilling too often, while the grill provides you with plenty of space to cook up a storm. To make cooking in the great outdoors even easier, the BBQ features a wooden lid that doubles up as a chopping board and shoulder straps for easy transportation.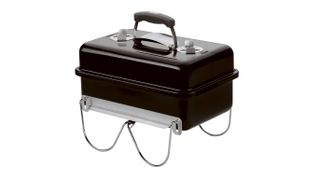 9. Weber Go-Anywhere Charcoal BBQ
A BBQ in a box
Specifications
Best for: Full size BBQ
Fuel: Charcoal
Weight: 6kg
Reasons to buy
+ Stylish and incredibly ergonomic
Almost as though you're carrying a tool box, when it comes to transporting your BBQ to your favourite picnic spot, this one is a top choice. There's plenty of space for cooking, and with two air vents you can carefully control the temperature and infuse your food with that great smoky flavour. With plenty of five star reviews, if you're looking for a quality BBQ that makes a great all rounder, you can't really go wrong with this one from Weber.
Read more
Make a feast-worthy space wherever you are with our best picnic blankets