The Ninja Creami is the brand's first ice cream maker, but because Ninja is one of the top brands for producing blenders to make smoothies and even crushed ice, I was intrigued to see how it would compare to the best ice cream makers I've tried in the past.
By using a fast-spinning blade to shave frozen ingredients into smooth frozen desserts, it brings a new approach that I've never come across before in my years of reviewing kitchen appliances. Because Ninja makes many of the best blenders though, it's promising that they chose to carry this technology across to gelato, smoothie bowls, and milkshakes.
When reviewing the Ninja ice cream maker I made heavy use of the Ninja Creami recipe book. At least for the first time you use every mode, I'd recommend doing the same, because ice cream recipes you'll find online won't necessarily be applicable to this device. For this Ninja Creami review, I made chocolate nut ice cream, vanilla bean and cookie gelato, lemon sorbet, and a strawberry and banana smoothie bowl to see how it held up across a range of its cooking functions. Here's how it held up.
Ninja Creami review: specs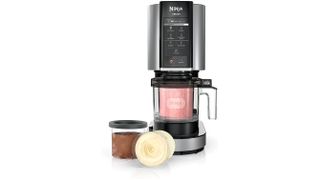 Size: 6.52 x 12.07 x 15.95 inches
Functions: Ice Cream, Sorbet, Gelato, Milkshake, Smoothie Bowl, Lite Ice Cream​, and Mix-in
Included: Motor Base with Dual-Drive Motors, Creamerizer Paddle, three 16 oz. Creami Pints with storage lids, Outer bowl and lid, Recipe inspiration guide
RRP: $199/ £199
Setting up the Ninja Creami
My first impressions of the Ninja Creami were that it was surprisingly light, and quite tall. It has a smart control panel that lights up when switched on, and three ice cream bowls to freeze your ingredients before they go into the machine.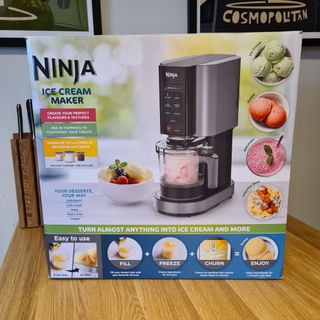 The ice cream maker also has a thorough recipe book included, with a selection of sorbets, gelatos, low-calorie ice creams and smoothie bowl recipes to choose from. This came in very useful for my testing, but there are also steps on how to customize your own recipes and make ice creams from scratch.
The Ninja Creami requires all ingredients to be frozen solid (every recipe I tried specified for 24 hours) before being added to the Creami. For some context, I've reviewed a range of ice cream makers in the past and none have required this.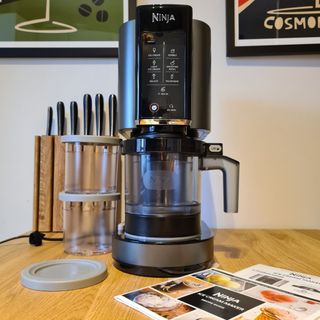 Typically you would be required to freeze an ice cream maker bowl and chill your ice cream mix overnight, before adding to the ice cream maker to be churned as it freezes.
This is very effective at making smooth ice cream or gelato, but it does require you to have the freezer space to freeze a very large ice cream bowl. The Creami, by contrast, has three 16 oz. bowls that won't take up much space in your freezer drawer.
Making sorbet in the Ninja Creami
I started with a recipe for lemon sorbet. It required only sugar, lemon juice and water, so it's a super straightforward vegan recipe that takes just a few minutes to prepare. If you wanted it to be low-sugar, you could even use a sweetener in the place of the sugar.
I mixed my ingredients until the sugar dissolved and then froze the bowl for the required 24 hours before churning. This does remove any spur-of-the-moment recipes from the equation, but you'll struggle to spontaneously make any recipes in a regular ice cream maker, too.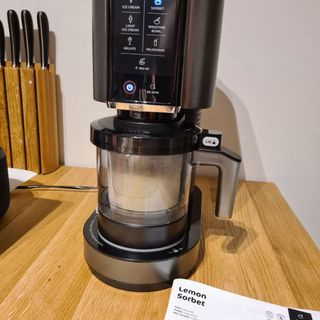 To make ice cream you need to place the frozen bowl into the outer bowl and screw the lid into place. The lid has a clamp that allows you to add and remove the churning and slicing paddle. When it's into place, you twist the handle up so it's out to the right side of the machine and will feel it lock solidly into place. Only then can you run one of the recipe settings.
I did this and pressed the 'start' button, and was a bit stunned at just how noisy the machine was. It took a minute or so to begin churning, which was shown on a light-up panel above the controls to count-down the timing. Once it did begin to churn, the Creami took only a few minutes to work its way down to the bottom of the pot, and I was left with an encouragingly smooth sorbet which was scoopable as soon as I removed it from the machine.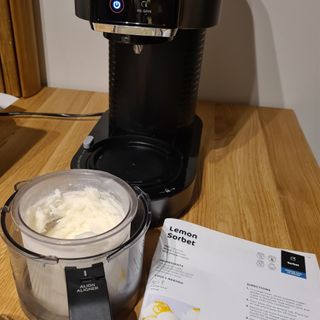 The flavour was delicious, not too sweet and likely a lot lower in sugar than many store-bought alternatives. I was really pleased at how simple the recipe was to follow, and while I think it could serve up to four people, I split it between my partner and myself in a generous serving.
Making a smoothie bowl
I love smoothie bowls, but even when reviewing some of the most capable blenders on the market I struggle to make one that's the right consistency for me, or that will incorporate all of my ingredients. I was keen to give this setting a try on the Ninja Creami, but the recipe book was very clear that you can only do this with certain types of fruit. This is because some fruits will freeze far too solidly and could damage the blade.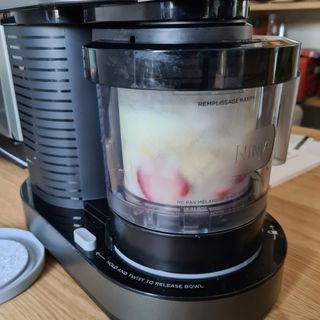 The recipe called for me to add sliced strawberry, sliced banana, milk and then yoghurt in that order, and I was surprised that it didn't call for me to mix the ingredients before freezing. I left it to freeze overnight (confession time, I did not freeze this one for 24 hours) and woke up in the morning to make a healthy smoothie bowl.
Again, the Ninja Creami was very noisy, and it took a lot longer to work through the ingredients for this recipe than the sorbet. When I took it out of the machine I was disappointed that none of the ingredients seemed to be mixed together. The bottom was strawberry-pink, and the top was covered in a strange flakey consistency.
I scooped my finished smoothie bowl out and split it between myself and my partner, and it was a very solid consistency. After letting it defrost for a few minutes I was able to mix it together a bit more and combine my strawberry and banana, but going forward I would mix the recipe together before freezing.
The flavor was very nice, and there was no real trace of seeds or any tough parts of strawberry, which is proof of the powerful design. It was a lot more solid than any smoothie bowl I've had in the past, but when topped with some almond butter and sliced banana it tasted delicious.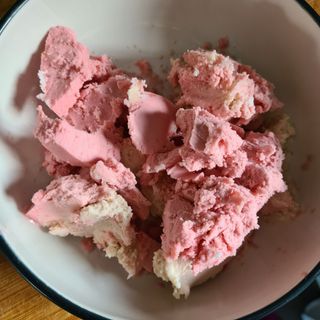 Making ice cream in the Ninja Creami
There is a range of ice cream recipes to choose from with the Ninja Creami, and I selected a nut spread ice cream (which I suspected was an unofficial recipe for Nutella-style ice cream). To make this I combined chocolate hazelnut spread, double cream, and whole milk. I had to heat the mixture slightly to get the hazelnut spread to melt into the mixture without forming clumps, and then I froze it for 24 hours.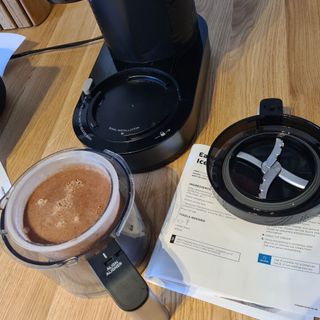 I switched the ice cream mode on and watched as it churned my ice cream. After the churning was done I tasted the ice cream, and thought it could use some more chocolate flavor, so I added a bit of chocolate syrup and locked the ice cream bowl into place.
The Creami has a 'mix-in' setting to incorporate last-minute ingredients into recipes that you don't want to be fully churned, and this did a good job of mixing my chocolate into the ice cream for a more rich flavor.
My first taste after this was delicious, but I added the ice cream back to the freezer so I could enjoy it a few hours later. When I took it out I found the ice cream very tricky to scoop, so I had to leave it for about 10 minutes to let it defrost. The flavor was nice, but very rich, and I would use less cream and more milk if I were to make this recipe again. It tasted almost-whipped, as opposed to churned, and while it's a good workaround I have enjoyed the ice cream I've made in my Cuisinart ice cream maker more in the past.
How to clean the Ninja Creami
Cleaning could not be easier. The tubs, lids and paddle are top rack dishwasher safe, and I was able to clean everything very easily with soap and warm water. This is a lot easier than most ice cream makers, which require you to clean them by hand.
Should you buy the Ninja Creami?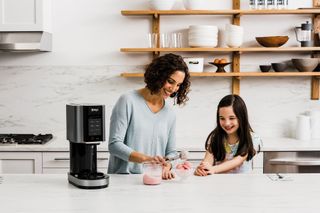 The Ninja Creami impressed me with its wide range of recipes, the ability to work on numerous recipes at once, and how quickly it turns frozen ingredients into ice cream and frozen desserts.
The 'Creamerizer Paddle' does not churn but rather shaves ingredients so finely that it creates a very smooth consistency. It's not conventional and certainly not traditional, but it does work, especially with sorbet.
The results with ice cream were more dense than I'd experienced with other ice cream makers, but with some recipe experimentation, I'm confident that it could make a capable stand-in for those who don't have the freezer space for a large churning bowl.
About this review, and the reviewer
Millie Fender is an ecommerce editor at Real Homes, specializing in small appliances and all things cooking. She loves putting new products to the test, whether they're air fryers, blenders, or even pizza ovens, and her family and friends love eating the results.
Millie has a constant stream of new products waiting to be reviewed in her kitchen. It's a little snug, so if she thinks anything deserves to stay there, you know it's something special.