Investing in the best garden furniture is worth it for anyone who has a garden or patio, however small. While there have been a few changes to lockdown measures, with summer and (hopefully) warm weather just around the corner, we all still want to make the most of our outdoor space at home. 
So we come to you with our top picks, from luxurious garden chairs to while away the hours in, to compact bistro sets and chimeneas to keep you warm on chilly nights. We've trawled the web to bring you the best designed pieces from a range of garden furniture makers, from John Lewis & Partners to Cox & Cox.
Want the best garden furniture at the best prices? Head to our garden furniture sales page.
1. John Lewis Dante Pod Hanging Chair
Best hanging chair
Specifications
Maximum weight: 95kg
Material: Iron tube, iron rod and synthetic wickers
Reasons to buy
+ Steel wicker hanging seat is hard wearing and durable 
Reasons to avoid
-Won't be to everyone's taste
Soft in appearance but made from hard materials underneath, the beautiful Dante Hanging Chair will sit harmoniously in your garden all year round. Here's what we love about it:
Traditional design
With its woven wicker effect, it's traditional in its appearance, while its pod-like design is large enough for one and shouldn't take up too much space in your garden. 
Variety of finishes available
It comes in a natural or grey colour scheme with a corresponding super spongy cushion.
Browse our full round up of the best hanging chairs. Then, shop more hanging chairs at John Lewis & Partners
2. Ravello Lounge Set
Best garden lounge set
Specifications
Best for: Luxury garden seating
Material: Eucalyptus wood
Size: LWH Table: 120x60x40cm, Chairs: 68x75x78cm, Bench: 142x75x78cm
Care instructions: Cover during bad weather
Reasons to buy
+ Ideal for large family gardens + Contemporary style would work in a variety of spaces
Reasons to avoid
- Requires maintenance  -Expensive
The luxury Ravello Dining Set would be suitable for bigger gardens and owners who intend to dine or enjoy drinks outside during the summer. Here's everything you need to know:
Seats four to five people
The set comes with two chairs and a bench, allowing seating for up to four or five people, and a coffee table which is perfect for entertaining around.
Versatile design
The set is made from eucalyptus wood which looks modern and stylish, but we think will also fit seamlessly into traditional garden schemes. 
Requires protection during winter
The wood will need to be preserved and covered over during the winter to ensure it doesn't weather. The set can be placed on grass, decking or patio and the cushions are waterproof should they ever get caught in the rain.  
View more outdoor lounge sets at Cox & Cox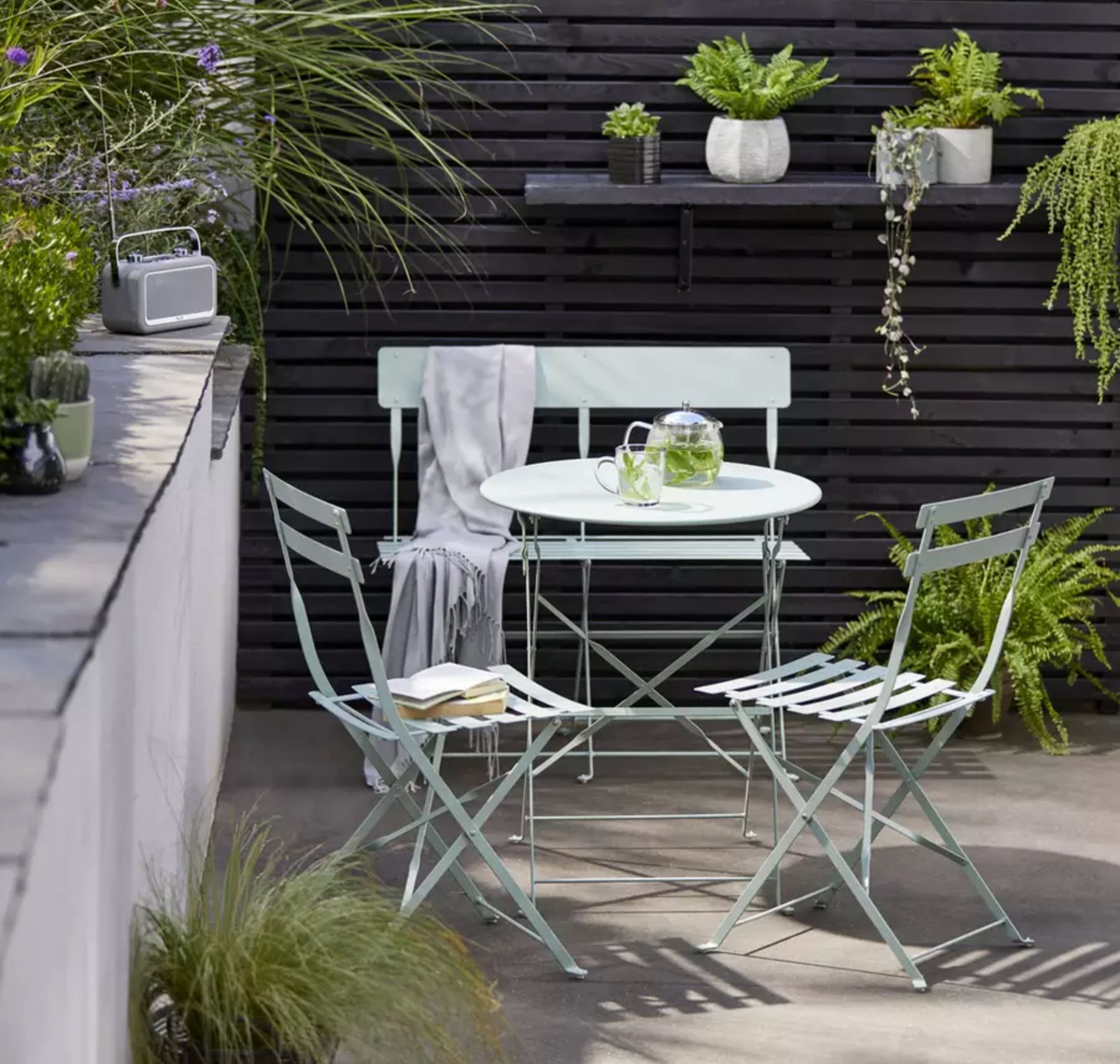 3. Argos Home Eve Folding 2 Seater Metal Bistro Set
Best garden bistro set
Specifications
Best for: Smaller areas
Material: Steel
Size: HDia Table: H71 x D60cm; Chairs: H80 x W41 x D46cm
Care instructions: Cover when not in use
Reasons to buy
+Strong and durable  +Affordable+Perfect for small gardens and balconies
Reasons to avoid
-Chairs uncomfortable without cushions 
Those who don't have room for a full dining set in their garden may prefer the Argos Home Eve bistro set, which is minimalist in design and is small enough to fit on a patio or even a balcony. Here's why we love it:
Durable design
The steel  frame is weighty and durable, meaning it will hold up well all year round, but be sure to preserve it by covering it over when not in use. 
Easily accessorised
You may wish to add cushions to the chairs for extra comfort, or leave them as they are for a streamlined look.
Take a look at our pick of the best garden dining sets. 
4. La Hacienda Colorado Medium Chiminea
Best chimenea
Specifications
Best for: Warming up
Material: Steel
Size: HD 125x45cm
Care instructions: Cover when not in use
Reasons to buy
+ Keeps you warm in the evenings + Looks modern  
Reasons to avoid
- Weathers easily  
As soon as the sun goes down even in the height of summer, the temperature can drop very low but it's such a shame to go indoors. However, with the La Hacienda Medium Colorado Black Steel Chiminea Patio Heater you can keep the party going after the sun goes down as you burn wooden logs to create your very own fire. Here's everything you need to know:
Gives off plenty of heat
It is said to give off plenty of heat and looks really funky when in use, just be sure to cover it over or store inside when not in use, and the steel outer weathers and rusts very easily.  
We have the best chimeneas in our buyer's guide. You can also shop more chimeneas at Ebay
5. John Lewis 6 Burner Deluxe Gas BBQ with Side Burner
Best gas barbecue
Specifications
Best for: Cooking outdoors
Material: Stainless steel
Size: HWD 118x157x60cm
Care instructions: Store away when not in use
Reasons to buy
+ 6 burner gas BBQ + Includes griddle and pizza stone 
Reasons to avoid
- Tricky to clean -Not everyone will want a gas barbecue 
Summer barbecues are a favourite pastime in Britain, so as soon as the weather allows and this John Lewis & Partners 6 Burner Gas BBQ is one of the best. Here's everything you need to know:
Caters for all the family
this large 6-burner gas BBQ can cook for 8 to 10 people, and we're not just talking your standard burgers and hot dogs. This device features a griddle and pizza stone as well so you can dine alfresco for breakfast, lunch and dinner if you wanted to, although admittedly it can be a little tricky to clean. 
Efficient design
Users love its efficient design with several hooks for utensils, a space for condiments and a bottle opener on the side. 
Easy to manoeuvre 
It has lockable castors so you can be sure your food won't go running off down the garden slope and this also makes it easy to manoeuvre in and out of garden storage. 
Take a look at our pick of the best gas BBQs in our buyer's guide. Then, shop more gas BBQs at John Lewis
6. Suntime Monte Carlo Rocking Sunlounger
Best garden sun lounger
Specifications
Best for: Sun bathing
Material: Steel
Size: HWD 74x67x154cm
Care instructions: Suitable all year round
Reasons to buy
+ Curved design for comfort + Durable material  
Reasons to avoid
- The lack of sun may reduce its use  
Summer days are best spent lounging around, and this Suntime Monte Carlo Rocking Sun Lounger from John Lewis has proven popular among customers for its curved, ergonomic design. Here's everything you need to know about it:
Durable design
Its durable steel frame means it can be left outdoors all year round, the only downside is you may not get many days in the year you can use it due to the unpredictable weather. 
Super comfortable
The lounger features a head cushion and arm rests for extra comfort when napping outdoors. 
We have more attractive sun loungers in our buyer's guide to the best garden sun loungers. You can also shop more sun loungers at John Lewis
7. House by John Lewis Salsa Garden Chair Set of Two
Best garden chairs
Specifications
Material: Steel and rattan
Dimensions: H81.5cm x W72cm x D69cm
Set: Yes
Reasons to buy
+ Six stylish colours to choose from+Contemporary design
Reasons to avoid
-May be too large for some spaces
These Salsa Garden Chairs from John Lewis will certainly draw the eye, especially if you like the look of the Saffron and Heatwave colours. Here's everything you need to know:
Contemporary design
These chairs are perfect for bringing a touch of summer to your garden and thanks to their metal and rattan composition, they can remain outside all year round, serving as a reminder of summer even during the dingiest of winter days.  
Browse more chairs in our buyer's guide to the best garden chairs. Then, shop more garden chairs at John Lewis
How to choose garden furniture
Place to buy the best garden furniture
Size and weight
You'll need to take into consideration the size of your garden before choosing what furniture is right for you. Large wooden furniture will be heavy and hard to move, so once it's in position, it's unlikely you'll want to be moving it around again. 
If you think your garden will be overwhelmed with large pieces of furniture, then smaller, lightweight metal furniture pieces, such as a metal patio table and chairs, look far daintier and can be easily stored away in the winter, too. 
However, bear in mind that lighter pieces are easily blown over in windy spots.
Maintenance
You'll also need to consider your garden furniture's maintenance and what you will do with it in the winter months. Using a preserve on the wood each year will be necessary to keep it looking good, and you may wish to purchase a garden cover to keep it dry on those frequent rainy days. 
Metal is easy to wipe clean and tends to go with any style of cushion you like, which means you can change them whenever suits you. On that subject, look out for water-resistant cushions or ones you can pop in the washing machine.
Whether you're looking for something for summer garden parties or for furniture you can enjoy all year round, our list of the best garden furniture should help you feel inspired when kitting out your garden this year.
More garden design ideas