If you're planning on hosting for friends and family this summer, a good barbecue can make all the difference. From traditional charcoal BBQs to singing and dancing gas BBQs, we've put together a great selection for every kind of designated BBQ chef.
Whether you're cooking for friends or family, the BBQ can often take centre stage. To take the pressure off, making sure that you invest in one that both looks great and is fantastically functional is certainly the best way to go.
We've found that the Weber Performer Deluxe Charcoal BBQ does a grand job of combining style with functionality, teaming up with an integrated cart to provide you with the ultimate cooking station.
Alternatively, those of you who prefer to cook with gas may want to look at the Everdure by Heston Blumenthal Force 2 Burner Gas BBQ, which features two independently controlled gas burners and a high hood for convection cooking whole joints of meat.
1. Weber Performer Deluxe Charcoal BBQ
With a cooking station and BBQ all in one, you can keep things easily under control
Specifications
Best for: All rounder
Fuel: Charcoal
Weight: 43.5kg
Reasons to buy
+ Gas ignition for quick and easy lighting
If you're looking for the king of all charcoal BBQs, the one from Weber is definitely one to consider. The BBQ itself is classically kettle-like, with a lid thermometer helping you to keep the temperature constant. To the side of the BBQ is a substantial prep area, which is great for placing baps and buns once the sausages and burgers are ready to serve. Thanks to the gas ignition, this Weber is ready to go in no time at all, while the GBS cooking grate provides you with plenty of scope when it comes to BBQ-ing your favourite ingredients.
2. Big Green Egg Medium Nest BBQ with Wood Shelves Bundle
This rather exclusive Green Egg BBQ is this summer's must-have
Specifications
Best for: Stylishness
Fuel: Charcoal
Weight: 60.6kg
Reasons to buy
+ Lifetime guaranteed glaze means it'll stay looking stylish forever
For boutique gardens and small court yards, the stylish Green Egg BBQ is the perfect choice. Large enough for couples and small families, this medium sized BBQ features plenty of refined features that put it flights above other BBQs of the same size; from the patented air-flow technology that enables you to keep the BBQ at a constant heat to the intelligent insulation that ensures the outside of the Egg is never hot. There's also the additional bonus of wooden shelves for prep area, while the temperature gauge ensures you'll never under or over cook your ingredients.
3. Napoleon Charcoal Kettle BBQ
A high-quality traditional kettle BBQ with a temperature gauge
Specifications
Best for: A kettle BBQ
Fuel: Charcoal
Weight: 18.1kg
Reasons to buy
+ Lightweight for easy portability
You can't really go wrong with a traditional kettle BBQ, the epitome of summer gatherings. This stylish one from Napoleon is lightweight yet sturdy, enabling you to transport it to the shed and back whenever it is required. The spacious lid provides you with plenty of space to BBQ whole joints of meat or alternatively, the grid is large enough to produce a BBQ feast, helped along by the temperature gauge, which should prevent you from burning or undercooking your food.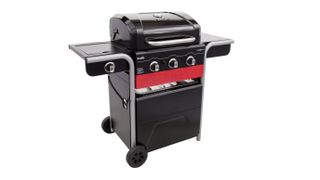 4. Char-Broil Gas2Coal Hybrid Grill
Smoke your ingredients one night, cook them on the gas the next – the choice yours
Specifications
Best for: Hybrid BBQ
Fuel: Gas or coal
Weight: 50g
Reasons to buy
+ A handy side burner for heating sauces or boiling vegetables
Whether one member of your family prefers gas and the other prefers coal or you're really looking to maximise every available opportunity to cook outside this summer, this hybrid gas BBQ leaves you with plenty of scope for creating amazing food. When the BBQ is set up for gas cooking, there are three individual burners for you to closely control the temperature. Those who prefer to cook on charcoal will be pleased that the size of the BBQ enables you to slowly cook your food off the heat to prevent burning, while the warming rack will ensure the ingredients don't go cold or spoil once cooked.
5. Outback Omega 200 Charcoal Trolley BBQ
Great value and it looks the part, the Outback Omega is a fantastic buy
Specifications
Best for: Beginner BBQ chefs
Fuel: Charcoal
Weight: 19.8kg
Reasons to buy
+ Plenty of prep and storage space
If you're looking for a stylish, ergonomic BBQ that won't cost you the earth, the Outback Omega 200 will definitely do the trick. The brand claim that its perfect for beginner BBQ masters, with its adjustable heat control helping you to cook your food without burning or undercooking it. Whether you're looking to cook enough sausages to feed a small army or a deliciously smoked joint of meat for an alternative Sunday dinner, this BBQ provides you with enough space to do so. There's plenty of prep area or you can use the wooden sideboards as serving stations for baps and buns.
6. Outback Omega 250 Gas BBQ
This alternative from Outback Omega is great for those who prefer to cook on gas
Specifications
Best for: Great budget buy
Fuel: Gas
Weight: 19.4kg
Reasons to buy
+ Lava rocks are used to turn fat and juices into flavoursome smoke
If you prefer the idea of cooking on gas but don't want to lose out on the smokiness produced by charcoal BBQs, this one from Outback could be your answer. The gas flames heat the lava rocks which in turn collect the juices from the meat and turn it into flavoursome smoke, so you should still benefit from that distinct BBQ flavour. If you're worried about having to spend large sums of money, it'll be a comfort to learn that this BBQ should only set you back around £110, and with the added bonus of a prep table and a separate gas ring, it's certainly great value for money.
7. Premium 4 Burner Gas BBQ With Side Burner
A gas BBQ that offers more heat control and accuracy
Specifications
Best for: Value for money
Fuel: Gas
Weight: 26.37kg
Reasons to buy
+ Four gas rings for great heat control
Great for cooking your food off the heat, this Premium 4 Burner BBQ enables you to keep two rings on and two off if you're looking to slowly cook meat all the way through. The sideburner enables you to cook your side dishes separately to one side, while the other side can be your designated prep area. The BBQ features a handy heat rack to keep the food warm without burning it, while the temperature gauge helps you keep everything in check.
8. Fuego Element F21C
A compact BBQ designed by a former Apple Chief Designer
Specifications
Best for: Small spaces
Fuel: Gas
Weight: 33kg
Reasons to buy
+ Heats up in just five minutes
Small, yet perfectly formed, this BBQ designed by Apple's former chief designer is great for compact garden spaces. With room to discreetly store a large gas canister underneath and a clever four wheeled base for portability, every detail has been thought about. When it comes to cooking, the BBQ boasts two cooking modes, including direct heat for fast grilling and searing and indirect heat for slow cooking. The heat reflection in the hood also helps with slow and low convection cooking, so no matter what you plan for dinner, you know it's going to be cooked to perfection.
9. Everdure by Heston Blumenthal Force 2 Burner Gas BBQ
A fantastic invention from wacky chef Heston Blumenthal
Specifications
Best for: Modern design
Fuel: Gas
Weight: 33kg
Reasons to buy
+ Available in a range of stylish colours
Any cooking gadget with the name Heston Blumenthal attached to it is going to be great quality and well thought out and this BBQ is no different. It features two independently controlled gas burners for cooking on and off the heat with variable heat control so you can ensure that your ingredients are cooking at the perfect temperature. You can cook with the hood up or the hood down, with the hood being high enough for convection cooking if you fancy cooking a large joint of meat for everyone. Available in graphite, mint and red, there's a BBQ to suit all tastes.
Read more