Having to choose between 1,380 (and counting) Target TV stands listed online can be a li'l daunting, right? Especially as TV stands are always expensive, right? Wrong! Believe it or not, there are some budget-friendly options out there that don't skimp on quality or style. You just need to know your way around.
I've taken the liberty of scouring Target for only the finest roster of TV stands yet. After all, you have more than enough to be thinking about. There's a design for every one of your needs. Whether you're looking for something clean, black, and matte for a pared-back aesthetic, something in polar white for Scandi-chic appeal, or even a little bit of wood for rustic effect, you can find it here.
Cottage-core queen or quiet luxuriant, this is your one-stop shop for the best TV stands worth watching. Because, let's face it while having the best TV is part of the package, a stylish stand is where our interior design heads are at. Grab your remote, sit back, and relax...
12 of the best Target TV stands to binge-watch your fave shows
Why you can trust Real Homes Our expert reviewers spend hours testing and comparing products and services so you can choose the best for you. Find out more about how we test.
If there's one thing I know a lot — like A LOT — about, it's the importance of your first investment purchase. Granted, these TV stands are towards the lower price bracket, starting at $63.75, but they're still a bit more than your average Target decor picks.
I've cast my mind back to my not-so-distant student days, to decipher what kind of TV stand I wish I'd bought back then. Luckily, my info has come a long way since then, positioning me as an expert in all things chic and cheap.
However, if you'd still like to take a look yourself, these are all the TV standsTarget has to offer. Hot tip? Filter by price and rating to find the best of both worlds.
Black TV stands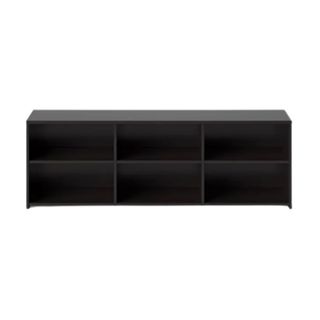 Cheapest in guide
1. Room Essentials Black TV stand
Price: $63.75
Color(s): Black
Material: Particleboard
Size (in): W60 x H20 x D15
Storage: Six shelves
Sometimes, you can't beat a classic. This slick and practical design is just that, offering serious space to keep your video games, box sets, or any other trinkets you want to decorate your dorm or rental with. With two holes at the back for cables, it does what it says on the tin, all the while looking understatedly cool. And at that price? Dream.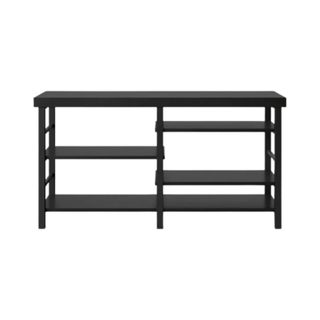 Modernist design
2. Room Essentials Adjustable TV Stand
Price: $110.50
Color(s): Black
Material: Metal
Size (in): W47.25 x H25 x D19
Storage: Five shelves
When it comes to less-is-more design, this stand is an instant win. With a matte finish and open shelving, it features clean lines and plenty of room to keep your cinephile essentials, not to mention any other decor you wish to flex. As for the setup, all you need is a screwdriver, and the rest is a breeze.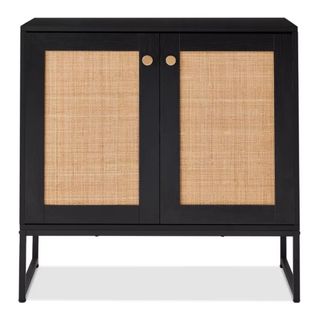 Modern boho
3. Best Choice 2-Door Rattan Stand
Price: $129.99
Color(s): Black
Material: MDF
Size (in): W31.5 x H15 x D11
Storage: One internal shelf
If there's one way to instantly pep up an otherwise forgettable dorm room or rental, it's through quietly luxurious designs such as this. Replete with a woven design, it's both a talking point and also an adept furnishing, providing a 165-pound capacity. Count us in.
Wood TV stands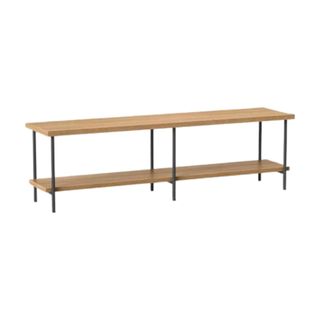 Scandi
4. Room Essentials TV Wood & Metal TV Stand
Price: $85
Color(s): Natural
Material: Wood and metal
Size (in): W60 x H18.2 x D15.7
Storage: Two shelves
If you're after something stylish but restrained, this has your name on it. Bright and airy apartment? Perfect. Dreary and tired rental? Perfect. Wherever you're living, the slick rectangular piece has your back for major interior credentials. Add your Playstation to the shelf, and get stuck in.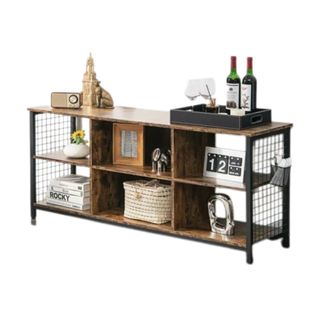 Farmhouse
5. Costway TV Stand Media Center
Price: $129.99
Color(s): Brown and back
Material: MDF
Size (in): W55 x 25H x 16D
Storage: Six shelves
Does your rental or dorm feel clinical and cold? Need some panache? Try adding a little rustic charm to your space by way of this grilled cabinet, replete with a rich and warm wood grain. And yes, it's got a handy set of cable management ports to ward off the tangles. Big slay, indeed.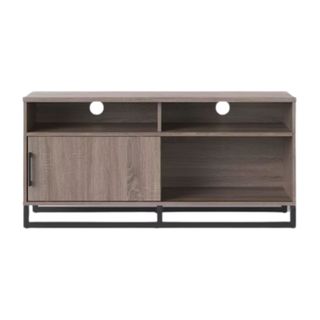 Timeless
6. Room Essentials Mixed Material TV Stand
Price: $130
Color(s): Gray-brown
Material: MDF and metal
Size (in): W47.56 x H23.46 x D14.65
Storage: Three open shelves, one drawer
Keeping abreast of trends in the world of interiors is no small feat, especially since the advent of TikTok, when new ideas are cropping up here, there, and everywhere. Fortunately, designs like this will never go out of style, offering a sharp, geometric profile, elegantly finished hardware, and the type of woodgrain you can only appreciate in person. Very here for it.
White TV stands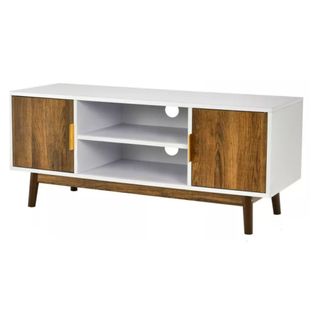 Small but mighty
7. Costway TV Stand Media Console
Price: $92.99
Color(s): White and brown
Material: Wood
Size (in): W43 x H18.5 x D15
Storage: Two shelves and two cupboards
Adorable, right? Yep, this tiny stand is a must for anyone working with a smaller TV — i.e. in the realm of 32 inches. In fact, you could even keep your laptop on it, ready for a major streaming sesh. With premium fabrication, it's stocky and sturdy, promising plenty of years of use.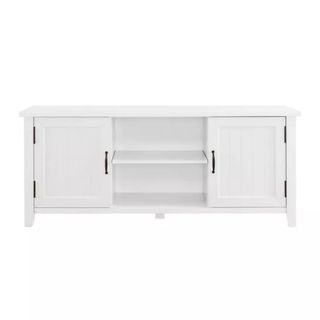 Strongest
8. Modern Transitional TV Stand
Price: $164.99
Color(s): White
Material: MDF and steel
Size (in): W58 x H24 x D15.75
Storage: Three adjustable shelves
Where reviewers were concerned, this is one sturdy design. Indeed, it's built with high-grade MDF and metal framework, complete with subtle but oh-so-chic antique accents on the bronze cabinet handles. Holding up to 250 pounds, this brings classic looks and seriously wrought construction alike.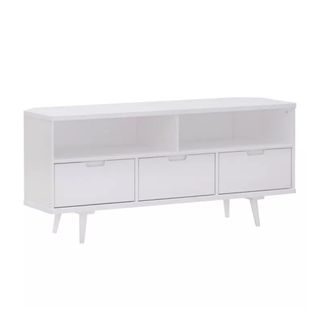 Investment piece
9. Cara Mid-Century Modern TV Stand
Price: $359.99
Color(s): White
Material: Pine and MDF wood
Size (in): W52 x H23.75 x D15.75
Storage: Two shelves and Three drawers
When it comes to wise shopping, this is a good start. Not only are the materials responsibly sourced, but they're also primed with serious storage capabilities, perfect for big DVD and Playstation collections alike. Complete with tapered legs, the design comes with an organic look and lasting construction, all while ticking the box for the ever-trending mid-century modernism. Sure, it's a bit pricier than the others, but relatively speaking, still an absolute steal.
Gray TV stands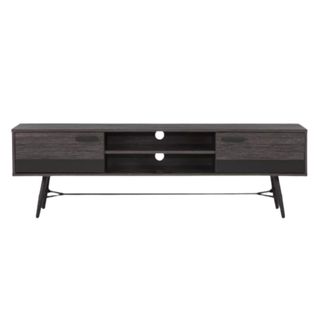 Largest in guide
10. Corliving Aurora Duotone TV Bench
Price: $239.99
Color(s): Gray
Material: MDF and metal
Size (in): W71 x H22 x 16D
Storage: One shelf, two cupboards
Bigger isn't always better, but in this case, we're willing to say so. Suitable for a box as big as 80 inches, this four-legged design is yet another example of what a touch of mid-century modern can do for a rental. With black-finished hardware and tasteful door handles, it has a real luxe feel, which goes a long way in elevating a small space.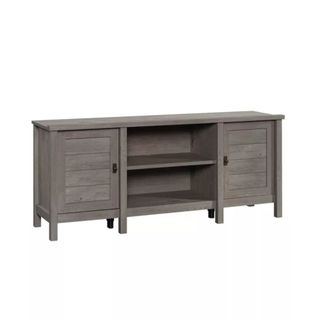 Fuss-free
11. Sauder Cottage Road TV Stand
Price: $218.99
Color(s): Gray
Material: MDF
Size (in): W59.13 x H24.65 x D15.59
Storage: Three adjustable shelves
When it comes to no-nonsense design, this cool customer delivers, offering up cabinet-closed shelving and a tasteful mystic oak colorway — ideal for cottagecore kids. Did we mention that it's a piece of cake to put up? Slide-on moldings save the day once again.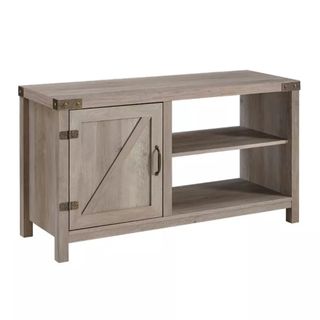 Vintage look
12. Clarabelle Industrial TV Stand
Price: $229.99
Color(s): Gray
Material: MDF
Size (in): W44.25 x H24 x D15.25
Storage: 2 shelves, 1 cabinet
I'm loving this retro-look design, which takes cues from countrified getaways and barn doors. It's a subtle way to embrace farmhouse decor without going too over the top. It's neutral enough that it will blend in with other decor styles too, if country-chic isn't your thing.
How we chose
When we're selecting our favorite products, we always keep in mind what you guys actually want. As such, it needs to be inexpensive, suitably sized, and of course, aesthetically pleasing. While we haven't yet tested each and every product featured we have gone through the offerings out there with a fine-toothed comb, ensuring all featured are no lower than four stars and/or come with glowing reviews. Indeed, our main criterion is whether an item will improve the average dorm-dweller or renter's life. Luckily, these do.
---
Your search for big style on small budgets resumes with our guide to the cutest Target lamps — perfect for when the 'big' light ruins a thrilling watch.