Winter is here and, take it from us, investing in an electric blanket is not something you will regret. Forget grabbing dusty old blankets from the back of the cupboard, layering on the itchy jumpers, or wearing more than one pair of socks to bed. Cosy up with an electric blanket instead for more warmth, without worrying so much about your electric bill...
Costing pennies to run each night, an electric blanket is a really budget-friendly buy that will help you get through winter feeling jolly. It will warm up your mattress for a good night's sleep, and keep you toasty on the sofa, even when it's subzero temperatures outside.
Electric blankets have come a long way and now boast lots of cool features like timers, temperature settings, and smart dual controls. They're even pretty stylish and available in a range of colours and sizes to suit your home.
So we've shopped around and found the best ones on the market. We've tried them out, overnight, to make sure they're worth every penny. Below you'll find what we think.
6 of the best electric blankets to buy this year
Why you can trust Real Homes Our expert reviewers spend hours testing and comparing products and services so you can choose the best for you. Find out more about how we test.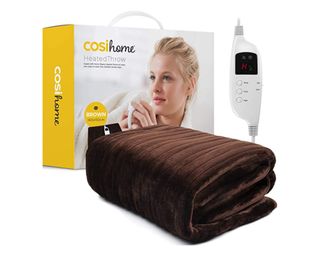 Our best electric blanket is Cozi Home's heated throw. And there's no surprise as it's the cosiest we've tried. The clue was in the name it seems!
The cosy stuff
And since it's so easy to switch on, and to care for, there's no reason not to. The heat controller (which is the simplest we've seen, despite the more advanced settings) is detachable. It can be quickly removed to wash the entire rest of the blanket. Whilst the fabric is polyester so not as eco-friendly as we would have liked, it does wash and dry well. We've tried it on a quick cycle and tumble-dried it on low. The detachable controller also has the added benefit of doubling up this electric blanket as a throw when you don't need the heat. Bonus!
Energy-efficiency
It has nine heat settings, yes nine. Most electric blankets have six, max. This includes a plus H button that blasts high heat for 60 minutes before dropping back to one. Being able to control the heat with more precision means you won't waste energy on a setting that's too hot, or too cold for your liking. All this for just over £60? You get why it's the best, right?
During testing
Making both a soft sleep surface and a warm wrap-around blanket for nights-in in front of a film, I can't get enough of using this blanket in every place possible. I tend to pop in on a timer for around half an hour before I'm due to jump into bed, I love the way it adds a layer of warmth (not like a sweaty sleep surface of an under-the-sheet alternative).
PS: You can find out more on why I recommend this electric blanket as the best one to buy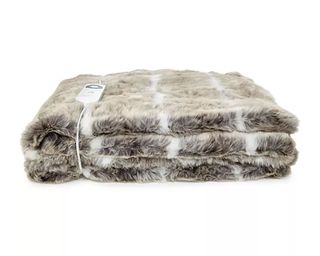 We'll cover the more practical elements next, but what puts this electric blanket above the rest is how gorgeous it looks. The faux fur feels luxuriously soft and washes well. It's a super stylish alternative to the purely functional, pale yellow electric blankets that give you granny vibes.
The cosy stuff
We've had this blanket on our bed since getting it out of the box. And it's now a stable part of getting our room ready for autumn. It goes great with our tester grey-coloured bedroom, but we know it'd look great in any space including the living room. In fact, even without switching the heat on, it's an extra layer to snuggle under.
Energy efficiency
Not only does this Dreamland option look great but it also stands out in the efficiency department. Firstly, the electric blanket can reach a toasty 37ºC in just five minutes and has an auto-shutoff system, so you can choose how long you want it for without worry. But better, is that the blanket can monitor the temperature of the room and adjust the heat accordingly - unless you want to select one of 6 settings yourself. This clever tech makes up for the higher price point, we think.
During testing
For when I want to show off, perhaps my friend is coming over for a sleepover, or my parents are stopping by to see the flat, I get out this electric blanket. It's just so chic. Besides the great range of settings, I'm just obsessed with how it looks on the bed. You wouldn't even know it's electric.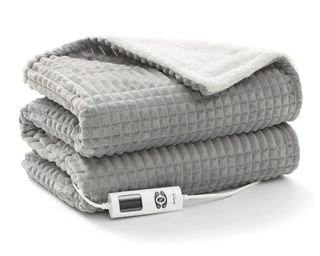 Let's face it: it doesn't just get cold in your bedroom. Until the warmer spring/summer months, you might feel the chill while watching your favourite Netflix series or spending time at home. But, rather than sticking the central heating on, warm up with this soft Sherpa electric blanket.
The cosy stuff
Great for snuggles in the living room, extra hospitable help in a guest room, or in a reading nook, this heated throw is multipurpose. And thanks to its stylish design, it doesn't look out of place, in any space.
Energy-efficiency
While we may have needed to wash this one more than we would have liked, due to it being used most days, by more than one person, it's still been more energy efficient than switching on the heating. Besides, it's a relatively affordable buy to begin with. With six different settings, a timer, and an automatic switch-off, there's no concern when it comes to choosing your temperature. Though we did notice this one takes a little longer to heat up, which may impact on running costs.
During testing
I've had this on our bed, over the sofa, and even wrapped around us at the desk. Used by more than one flat member, it's become a household necessity. But what I like the most about this, is that it's the easiest to clean. Completely washable, we've popped this throw in the machine and it's come out just as soft.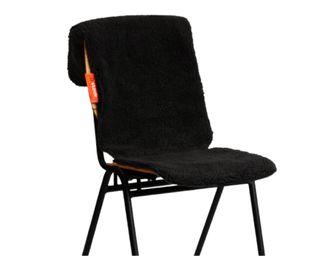 Okay, so it's not exactly an electric blanket, but we couldn't not include this heated seat pad from Stoov. The smaller version of a cosy throw is ideal for when you're working from home. Rather than putting on the heating during the day, let this battery-operated buy warm up your seat as you work.
The cosy stuff
It's not big enough to use in bed (unfortunately) but this cute heat pad is cordless to give you 1-3 hours of heat, from any seat. There are three heat settings, which may not seem like a lot compared to others higher up on this list, but we think it's all you need. On the weekends, or when you decide to pop into the office, simply recharge and pop the cover in the wash, it'll be ready for when you get back.
Energy-efficiency
Spending two days a week working from home, and being reluctant to turn on the radiators with the risk of ranking up the energy bill, this heated pad has proven essential. It's not plug-in and instead is battery operated, which comes in handy for taking it just about anywhere; how about in the car?
During testing
I've got this clever little companion and couldn't imagine getting through the winter period without it. We've had it for around a month and can gladly say we're yet to need to replace the batteries. So far, so good. Used by my housemate and me on our alternate work-from-home days, it sure does get its uses too.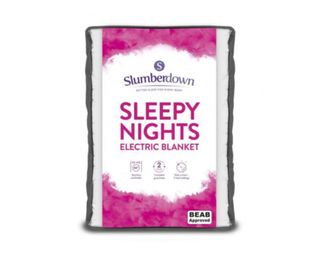 A great budget-friendly option, this Slumberdown Sleepy Nights electric blanket is the cheapest of our top picks. Although it's basic, it has everything you need for a cosy night's sleep.
The cosy stuff
It's a traditional style electric blanket, which is a kind way of saying it looks like the one your grandma had. However, it is thin in profile so you won't feel it underneath your bed sheet (like some others), yet it still radiates a full amount of heat. There are three temperatures to choose from.
Energy-efficiency
Surprisingly, this has one of the fastest heat-ups in just a few minutes. There's no waiting around for your bed to warm up. Just make sure you remember to switch it off before you sleep, as there's no automatic timer or additional controls. Don't let its simplicity put you off, because for just £30 for a double, you're bound to save some money. Oh, and they do a single size too which is perfect for singletons even if you sleep in a bigger bed.
In testing
I've used this one traditionally as you would under my top sheet. And although I'm a hot sleeper, I have still loved having it on when it's been super cold at night. As mentioned, making sure it is turned off has been a little hit-and-miss, and I have found myself waking up super warm a few hours after falling asleep. Still, for cooler sleepers who really struggle to get cosy in bed, its a no-brainer.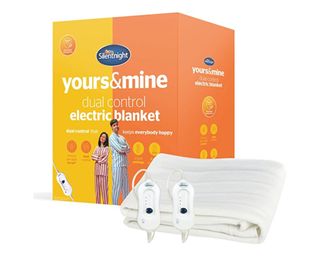 For couples who can't regulate their temperature, we have the solution to all your body heat needs. This dual-control electric blanket ticks all boxes when it comes to keeping your partner cosy at night. It's an affordable under-the-duvet option to preheat your bed, ready for when you get in. Just remember to turn it off before you fall asleep!
The cosy stuff
There are a few heat options, which is fine, but the real benefit comes from being able to choose how hot you'd like it on either side. You're cold but your partner isn't? No need to put your feet on them for warmth, just adjust your side of the bed instead. We're yet to give this one a go ourselves, but we have called it in to try. So stay tuned for whether either party will need to compromise. Still, the reviews look good, and note how easy it is to wash and dry with the rest of their bedding. Always check the instructions before washing electric blankets. For this one you will, of course, need to detach the controller.
Energy-efficiency
Given the limited amount of features, and lack of an automatic shut-off setting it may not be the most efficient on our list. However, the ability to turn off one side of the blanket at a time means single sleepers can save more. After all, there's no need to heat the entire bed if you (or your partner) aren't going to use it.
---
How we tested these electric blankets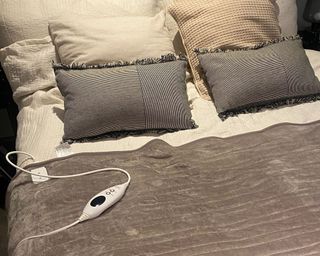 Interested in how we test these electric blankets? Okay, so turns out it is as simple as it sounds. We've tried them out on our beds, or around ourselves on the sofa more than a few times, paying special attention to their features, functions and settings. How they perform throughout the night is important, especially if they claim to have a shut-off setting, where safety is concerned. We've washed them, more than once, according to their instructions, of course, and used them again. We've tested the top-rated ones on this list and we have a few more in testing currently. Rest assured we're aware we aren't at our coldest this year, so we'll make sure to update this guide on how they are on the chilliest of nights and days.
Meet our electric blanket testers:
Louise is currently flat sharing with friends in their first home. And whilst this comes with the excitement of having her own place, it also comes with bills to pay. Her energy bills are on the rise (as well as everyone else's), so she's been eager to test out just about anything that will save her some cash.
"I have five of these electric blankets (one for each housemate, and more), which may seem like more than enough, I know. But trust me, having one per member of the household has proven tactical in us not turning the heating on - just yet. We all take turns snuggling under the Bedsure blanket on the sofa, but I keep the Cosi Home heated throw for myself (sorry!) and the Dreamland faux fur throw makes a decorative appearance on my bed from time to time. My flatmate who works from home full time has taken a particular liking to Stoov's heated pad, and suggests fellow home-workers shouldn't buy anything else."
Christina shares a bed with hubby-to-be, so keeping both parties at their optimal temperature at night hasn't always been easy:
'I've called in Silentnight's dual control electric blanket to see if it solves me being colder than my partner. We'll keep you updated on the verdict, as well as how it performs over the colder months. Stay tuned!'
4 things to consider when buying an electric blanket
There is a good choice of electric blankets on the market, and their popularity is only rising in the current climate. To help you decide which one will work for you, there are a few things we'd recommend you consider:
1. Throw or blanket? Would you rather have a blanket that sits underneath your sheet to heat up your bed before you sleep? Or would you prefer a throw you can snuggle under on the sofa, over your bed or even when you're sitting in a chair? Either way there are two types to choose from. A traditional electric blanket can pre-heat your bed and keep you toasty whilst you're in it, but a heated throw can do both, looking pretty layered over your duvet or kept on the sofa.
2. Temperature settings See how many options there are. We say the more the better, because obviously the weather constantly changes, so it's nice to be able to adjust your blanket's temperature accordingly.
3. Energy efficiency How energy efficient your electric blanket is will play a big part. Most new electric blankets will cost as little as 1p per night to run which makes them pretty cost-efficient compared to heating up your entire house.
4. Machine Washable? Look out for an electric blanket that can be cleaned in the washing machine. A lot are now tumble dryer safe too. But for the best, electric blankets that have a removable controller that turns it from a heating device to a washable throw will offer the best of both worlds.
How much does it cost to run an electric blanket?
Teun Van Leijsen founder of Stoov states "The cost-of-living crisis is causing worry for many as the colder months approach in the UK, and with that, consumers are having to become savvier with spending to ensure they can keep their homes heated. An electric blanket provides the perfect product for this challenging situation, since with every degree we lower the thermostat, we can save 7% in energy."
But since there are other energy-saving products out there, that don't require electricity, like the best duvet for winter, it's worth finding out how much a blanket would cost to run in comparison:

The experts at Sleepseeker have researched and discovered data on how how much it costs to run an electric blanket. They state "To calculate the cost of an electric blanket with an approximate power of 100W, you need to convert to Kw and multiply by the pence/kWh unit. This would be: 0.1*0.52 = £0.052. This means that running an electric blanket for one hour would cost just over 5p, or 42p a night in October 2022."
How do I wash an electric blanket
Hayley Thistleton, at SleepSeeker recommends "You should wash your electric blanket approximately every few weeks - once a month or whenever the blanket gets dirty." Most electric blankets have a removable cover that can be bunged in the washing machine, and dried on low. Though we'd always advise you to check the care label or manufacturer's instructions before you do.