Our conservatory blind ideas are a must-consider for sunroom ideas and glazed extensions. Because while conservatories can be a beautiful addition to a home – allowing you to enjoy your garden on cool, rainy days, grow container plants, and entertain guests – they come with potential temperature regulation issues.
In the summer, they tend to get too hot, and come winter, too cold.
If you are using your conservatory for prolonged periods of time (for example, as a home office or dining room), sun glare can also become a problem. However, blinds can be a great solution to alleviate these concerns.
They also give your conservatory a strong visual identity. As the walls are mostly glass, you'll need more than one or two, meaning they are likely to set the style of the space. That's why picking the right look is possibly more important here than in any other room of the house.
Conservatory blind ideas to provide shade and comfort
Why you can trust Real Homes Our expert reviewers spend hours testing and comparing products and services so you can choose the best for you. Find out more about how we test.
1. Filter harsh sunlight with day and night roller blinds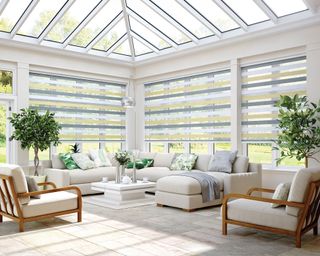 Confused about which types of window treatments are most efficient for your glazed extension? Get two stunning styles in one blind with a day and night vision conservatory blind idea.
Whether you're looking to let in the light or shut down for sleep, these allow you to do so with their genius inventive design. This is particularly important if you want to create an impromptu guest room as part of your conservatory idea.
As you roll it down, alternating strips of fabric slide against one another to switch between a block of color and a stylish set of stripes. Magic!
2. Choose linen-look blinds for a light and airy feel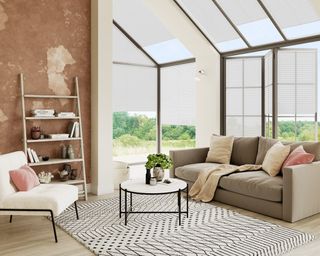 'This eclectic look celebrates earthen colors and textures found in natural materials like plaster, clay and putty, contrasting them against lux, comfortable fabrics.', says Matt Thomas, director at Apollo Blinds.
'Cozy furniture, chalky neutrals, and blush pink velvet accessories are juxtaposed against the rough, rendered plaster feature wall. Linen-look window blinds are perfect to accompany this look.'
3. Use roman blinds for a cozy conservatory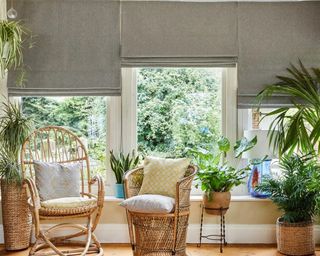 'Roman blinds will give your conservatory a cozy feel.', says Yvonne Keal, senior product manager for Hillarys.
'They are easy to use and can be adjusted to meet your needs: simply lower to block the sun's glare, or open fully to see the outside world.'
'If your conservatory is a little draughty, consider choosing Roman blinds with curtains as this will prevent chills from getting in and help you to maintain a comfortable temperature.'
'Of course, it's not just practical features we're worried about when we're choosing for our home, a Roman blind can help to make the space feel like your own. Give your space personality with a statement fabric, or opt for a classic neutral.'
4. Mix and match different types of conservatory blind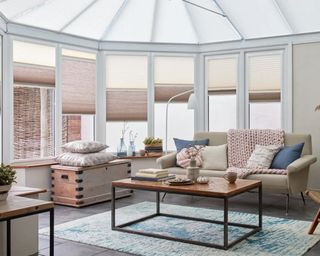 'Transition blinds are another solution which offers unique ways to control the light and change your look with your mood.', says Yvonne Keal, senior product manager for Hillary's.
'They are two fabrics within one blind and give you greater control over the lighting and privacy.'
'You can opt for a combination of two different fabrics, increasing the possible looks you can go for.'
'Have either one covering the windows or a bit of both for a luxurious look – perfect if you're finding it hard to choose.'
5. Add a metallic touch with copper Venetian blinds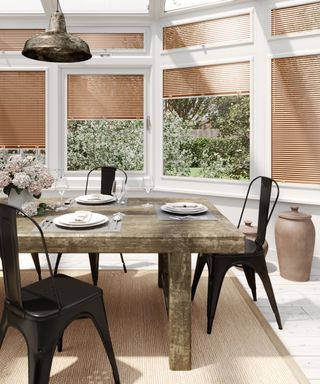 If you want to add a little industrial luxe to your conservatory idea - metallic shades including copper and rose gold are a must.
In this conservatory idea, Venetian, aluminum slats can be lowered and raised with a modern operating handle. This cord-free design makes for a perfect design in a home with young children.
Pair with a aged metal lighting idea and weathered wood table for a rustic dining room idea.
Aside from aesthetics, conservatory blind ideas also help to weatherproof your conservatory so you can use it 365 days a year.
'Blinds can help block out sunlight in summer and prevent temperatures soaring and thermal curtains can keep additional heat in the winter.', says Matthew Currington, technical director at The Lighting Superstore.
6. Got bi-fold windows? Add fitted door blinds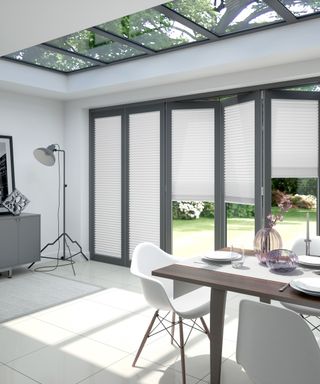 Perhaps the main attraction of a conservatory idea is the connection it creates with the garden. And unless you've serious hayfever allergies, this can be beneficial for both our physical and mental health.
Most period-style additions will open out to the garden through French doors, but bi-fold door ideas are increasingly popular as they stack to the side to allow for a wider opening. They create a wonderfully seamless, outside-in look and feel to any home.
But when you need privacy or shade, a specialist pleated conservatory blind idea can provide respite.
This sophisticated window treatment idea can be clipped to the inside of your doors. There's no fiddly installation and you won't need to manipulate them when opening and closing the door mechanism.
7. Retain heat during winter with a thermal blind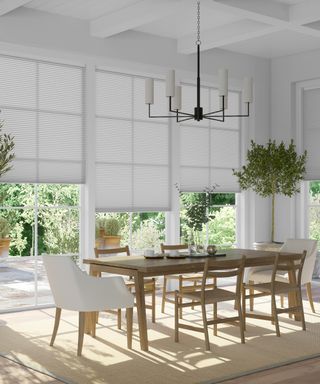 We've spoken about using your conservatory in comfortable climes but what about in extreme summer or winter? Poor preparation when it's too hot or cold can make it difficult to enjoy your conservatory.
Typically, thermal conservatory blind ideas are made of honeycomb fabric to trap the heat, while also allowing light to gently filter through.
The white outward facing fabric is white, not just for looks but also improved sun protection for you and your family. It may also save you a few dollars in energy bills too!
If your conservatory has partial or full brick walls, try using pale conservatory blind ideas for the main windows, contrasting with a slightly darker shade overhead.
8. Opt for a ceiling blind idea in your conservatory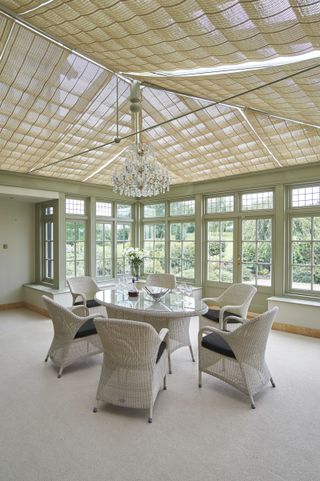 Clever glazing isn't always enough to keep a room with so much glass at optimum temperature in extremes of weather.
Conservatory blind ideas are very useful for blocking out strong sun, and can be fitted on just the roof, or on both roof and doors. Opt for bespoke designs that fit your conservatory perfectly and are as discreet as possible when not in use.
Pinoleum blinds, which have a wood-weave design, are an attractive option and create a dappled effect with the light. Electronic operation will make life easier.
They are perfect for creating a timeless look – ideal if the style of your conservatory or furniture is more on the traditional side. The filtered, muted light they cast helps to minimize the glare on books or screens, even in the height of summer.
9. Create a tropical paradise in the back of your home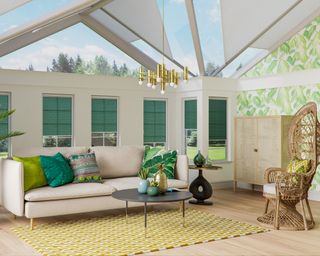 'What better place to incorporate the tropical/botanical trend than in the conservatory!', says Matt Thomas, director of Apollo Blinds.
'Create a lush, indoor paradise with vibrant teal, turquoise and lime green colorways, and warm highlights of gold or turmeric.'
'Indoor greenery, both real houseplants and printed on fabrics/wallpaper, are a must for this look, which also incorporates a contemporary take on traditional rattan 'conservatory' furniture.'
'Textured turquoise blinds are an invigorating finishing-touch to bring the scheme together.'
10. Don't want blinds? Use a solar window film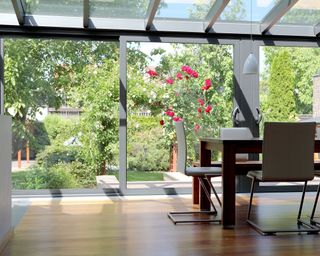 Unfortunately, the effects of the sun (fading of furnishings, excess glare and heat) are often ignored at the planning stage of a conservatory idea, whether you've inherited this space, or are a self-builder whose starting from scratch.
This usually means installing expensive window treatments or AC units, which is costly and not always the ideal solution.
Solar window film is an affordable way to remedy this issue. The film is a self-adhesive material, which is applied directly to glass extension ideas, using a squeegee and soapy water.
11. Enhance the light in north-facing conservatories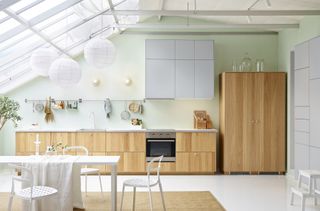 In north-facing conservatories, heat and light will be at a premium.
As you may not need sun-reflective backings, you can really experiment, choosing from a wide range of colors and textures.
Consider using blinds with an opaque finish, which will give the room a soft, cozy glow. Fabrics in bright shades bring in the sunshine, whatever the weather might be like.
12. Keep the look streamlined with a roof blind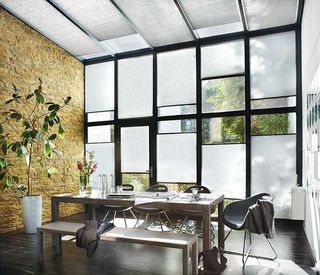 Roof blinds will often look lighter than those at the side windows, as the light filters through at different angles.
These roof blinds from Duette allow the light to flood in from above but without the glare.
A protective finish helps keep the fabric clean, while its remote-control operation means the blind's position can be altered at the touch of a button once the sun has gone down.
13. Choose sheer roller blinds for a softer look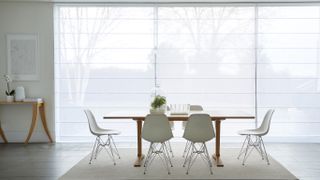 Roller blinds in different fabrics allow you to vary the amount of light let into the conservatory.
Try adding delicate translucent styles, which will offer a modern alternative to net curtains. Make them as individual as you are with shapes at the bottom, braids and accessories.
We love these Voile Roller blinds from Hillarys.
14. Pick Roman blinds instead of curtains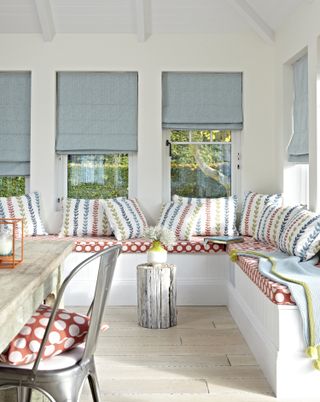 For the soft, relaxed feel of curtains with added simplicity, try Roman blinds.
Plus, when you are using your conservatory at night, lined Roman blinds will give a feeling of warmth. English Blinds have tonnes of lovely colors and fabric that are made-to-measure.
15. Match your blinds to the conservatory frame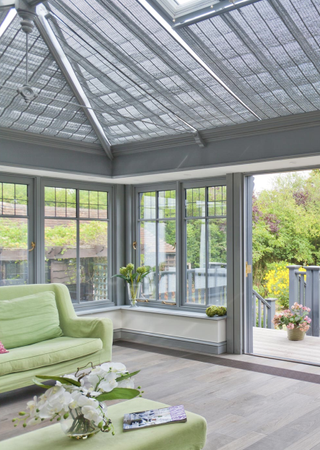 All-white roof blinds can look incongruous if the frames of your conservatory are a different colour. Instead, try to match the two for a cohesive feel that won't detract from your outside views.
These pinoleum blinds from Vale Garden Houses are finished in the same soft grey as the interior paintwork, a hue that works as well with pale greens inside as in the garden.
16. Choose smart control blinds for ease
If you've chosen roof blinds, ensure you pick a design that you can adjust at the touch of a button or via your mobile screen.
This won't only make controlling your conservatory blind ideas completely hassle-free, it also means there will be no unsightly wires or cords for small hands to grab.
These blinds by Thomas Sanderson are not only future-proof, but they fit flush to roof glass for a slick look and feel.
Why should I fit conservatory blinds?
'Where blinds can cut heating bills in the winter by up to 25%, they can also shrink electricity bills in summer by reducing the need for costly electric fans or air conditioning units.', says Matt Thomas, director of Apollo Blinds.
'By keeping the temperature constant despite the season, they can make the conservatory what it should be – a cozy extra room in the house that you can use all year round.'