Have you been faced with the dilemma blender vs juicer? As the new year and the inevitable promise of a new start lurks just around the corner, there's no better time to start thinking about what you can do to boost your health.
In terms of packing in as much fruit and veg as possible, the decision best blender vs best juicer is a common one.
There's no doubt about it, blending and juicing are both great habits to get into. Be it for a great way to kick start your day, or as a healthy alternative to that 3pm cup of joe, they're a brilliant, healthy alternative to many caffeine or sugar filled drinks.
But when deciding between the two, it can be tricky, as there are many pros and cons to both. So we've complied this handy little guide with the info you really need to know – from nutrition to cleaning, so you can make the best decision for you.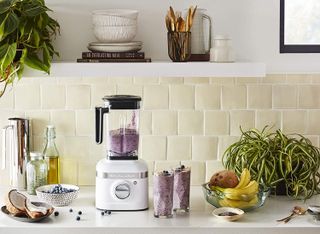 Blender vs juicer: what is the difference?
Why you can trust Real Homes Our expert reviewers spend hours testing and comparing products and services so you can choose the best for you. Find out more about how we test.
The key difference between a blender and a juicer is that blenders blend the entire piece of fruit or veg for you to drink, whereas a juicer extracts and discards the fibre pulp.
This extra process of extraction generally means that juicers are bigger and bulkier, and means that the health benefits of the drinks created are different. A blender will create a thick smoothie often with bits in, whereas a juicer will create (yes you guessed it) a juice, which is much thinner in texture and can generally be drank quicker.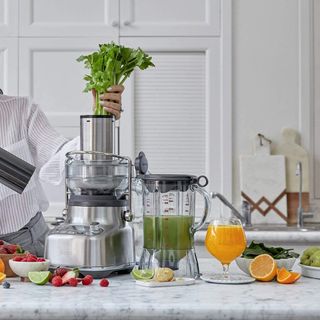 Blender vs juicer: which is healthier?
One isn't necessarily healthier than the other, but the way that the kitchen appliances break down the fruit and veg means that the drinks they create have differing nutritional value.
Blenders break down everything that you put into them, including the fibre and pulp. The fibre left in the drink works to release energy slowly, preventing an immediate sugar high and then low, and making your feel full up for longer. Energy is released evenly and slowly. The fibre both slows down and helps to clean your digestive system, removing any toxins as it goes.
Juicers, however – such as the best orange juicers – extract the fibre and pulp from your fruit and vegetables. This means that the drink is densely packed with vitamins and minerals, so you'll be able to fit a lot more fruit and veg (therefore a lot more goodness) into a glass, than you would with a blender. If you have any digestive problems, removing the fibre could be a good idea to give your digestive system a break while still getting lots of nutrients.
Blender vs juicer: which is better value?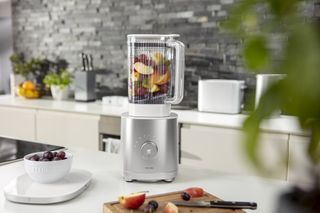 There are many brands and models of blenders and juicers out there, all at various price points with various capabilities.
That said, in general juicers are more expensive than blenders, as there is more components to them. Some people get frustrated with the waste created by juicing as the pulp and fibre is removed.
If you want to make the most of every part of your fruit and veg to prevent waste, go for a blender. But if you want a drink that's highly concentrated in nutrients and will release energy quickly, go for a juicer.
Blender vs juicer: which is easier to use?
Blenders are easier to use as they have less components. You can buy blenders, such as the Nutri Bullet at Amazon, which combine the blender and a cup in one – you simply switch the blade with a lid and you're good to head out the door. Stand blenders are also very straight forward to use - you simply fill the blender with fruit and veg (and milk or water or yoghurt etc) blend, pour and serve.
Juicers like Ninja cold press juicer from Ninja Kitchen, are a little more complex to use. The appliance breaks down the fruits and veg, then extracts the pulp and filters it into a built-in compartment. The usable part of the fruit or veg is then sieved into a jug/glass for you to use. You will then need to discard of the pulp.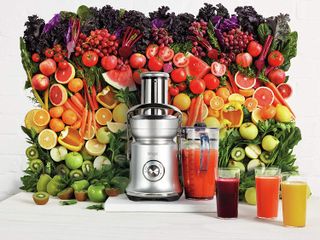 Blender vs juicer: which is easier to clean?
Blenders can be very easy to clean. If you have a model with a blender and cup in one, this really minimizes on washing up and makes smoothie making really simple.
As juicers have more elements to them, they can be more tricky to clean. You have to empty out the pulp and clean the sieve, juicer and jug too, meaning juicing is generally a more time consuming feat.