Buying a top-rated washing machine cleaner is essential for ensuring this busy appliance is running well — and is safe to use. Not only can all the build-up in your machine prevent it from running efficiently, but even if you own one of the best washing machines money can buy, bacteria can build up that can harm your health. One thing's for sure: using a washing machine cleaner regularly is the easiest way to keep your machine hygienic and fresh. And it's a lot cheaper than having to call our your plumber again, or even having to replace your entire washing machine.
Check out our selection of reviewed washing machine cleaners to buy right now if yours is looking a bit grubby and is in need of a deep clean. Whilst ranking these products, we've considered value for money as well as other added benefits. From formulas with eco-friendly packaging to solutions that kill bacteria, we can help you buy the best washing machine cleaner to suit your appliance.
Keeping on top of your washing machine cleaning schedule will ensure yours will last longer, so you can have fresh-smelling clothes whenever you need them. Once your washing machine cleaner has arrived, take a look at our cleaning a washing machine guide for some step-by-step instructions if you're stuck. Remember: without a washing machine cleaner, pipes can become clogged with limescale and drums impacted with detergent build-up. Don't say we didn't warn you...
The best washing machine cleaners
Why you can trust Real Homes Our expert reviewers spend hours testing and comparing products and services so you can choose the best for you. Find out more about how we test.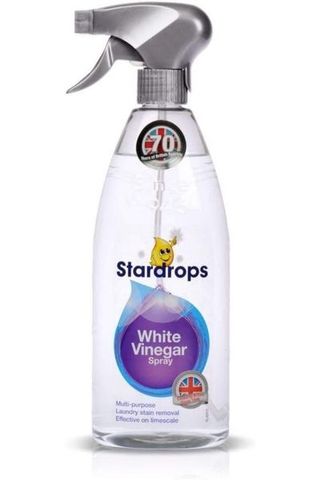 1. Stardrops White Vinegar
Best washing machine cleaner
+ Works fast
+ Very versatile
+ Safe for pets
- Scent isn't nice
- No eco credentials
White vinegar works wonders when it comes to cleaning everything from your washing machine to your dishwasher. We often pour a load into our drum, as well as our dispenser drawer, and we run our machine on a hot wash to sanitise it. Hate the smell? Add some of your favourite Zoflora detergent to the mix, too. It's also safe to use around pets. A cupboard staple for sure — whether you have furry friends or not.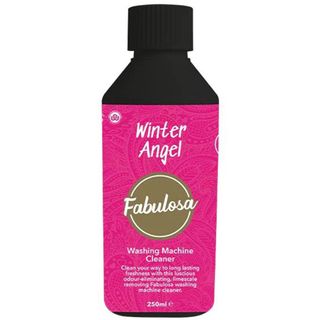 2. Fabulosa Winter Fairy washine machine cleaner
Best-smelling washing machine cleaner
+ Bottle made from recyclable PET
+ Made in Britain
+ Suitable for vegans
+ Attractive scent
+ Super affordable
If, like me, you stockpile Lush's Snow Fairy products each Christmas — we've got some good news. The clever people at Fabulosa have found a way to bottle this fragrance into a washing machine cleaner. So if you love the sweet scent of bubblegum, pear drops, and candy floss in the shower, your washing machine can now smell like this for as little as 50p per use. Available from Home Bargains, Poundland, and direct from the Fabulosa site.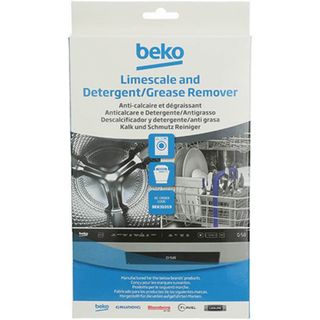 3. Beko 2-in-1 Descaler and Detergent Cleaner - 12 pack BEK32000
Best manufacturer washing machine cleaner

+ Suitable for dishwashers as well as washing machines
+ Industrial-strength cleaner
+ Prevents build-up of limescale

It's always reassuring when you find a cleaning product made by the manufacturer of the appliance you're trying to tackle. I happen to have a Beko washer myself, but this 2-in-1 sachet works with other makes including Grundig, Blomberg, and Flavel. You get 12 sachets in a pack (one for every month of the year) and free next-day delivery when you buy directly from the brand.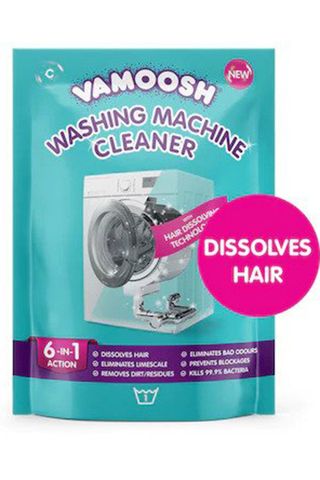 4. Vamoosh Washing Machine Cleaner
Best for pet owners
+ Dissolves hair
+ Works on limescale and odours
+ Prevents blockages
+ Kills bacteria
+ Chlorine and bleach-free
- Plastic packaging

If your pet sheds on your favourite garments, it can clog your machine without you even knowing. Sure, some of us might use a lint roller before we pop items in the wash, but fur (and human hairs) can mangle your machine. You only need to empty one sachet of powder into your dispenser drawer every one to two months. The crystals can then get to work on an empty 60°C cycle, though they dissolve hair at higher temps.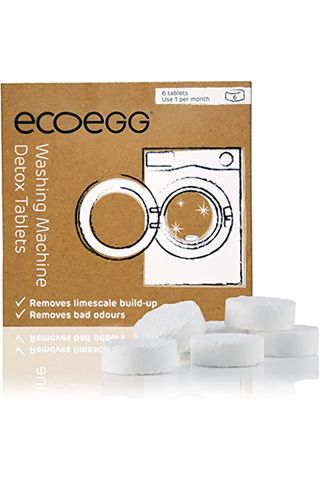 5. Ecoegg Washing Machine Detox Tablets
Best for eco-friendly homes
+ Removes bad odours
+ Not tested on animals
+ Vegan
+ Safe for septic systems
- Tabs come in plastic film
- Requires 90°C wash
Like us, our appliances also need a bit of TLC, so imagine this as the effervescent multivitamin for your machine. All you need to do is unwrap one tablet out of the plastic wrapper, place it in your empty washer drum, and run it on your hottest wash (90°C/195°F). We liked that there wasn't a messy sachet or liquid to deal with and that the box contained six tablets (one to be used per month). Leaves your washer smelling super fresh.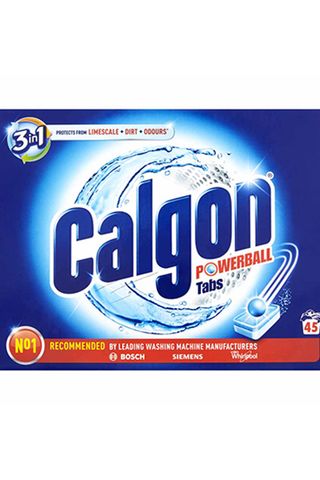 6. Calgon 3-in-1 Water Softener Tablets
Best for hard water areas
+ Softens hard water
+ Protects and cleans
+ Helps prevent limescale
+ Recommended by manufacturers
Washing machines do live longer with Calgon! True to its catchy TV jingle, these tabs increase the longevity of your laundry appliance by cleaning the inner drum and looking after the heating element to stop them from getting dirty and rusty. We particularly like that they can be used in hard water areas, as the active polycarboxylates will soften hard water minerals for a better working, sanitised, and odour-free machine.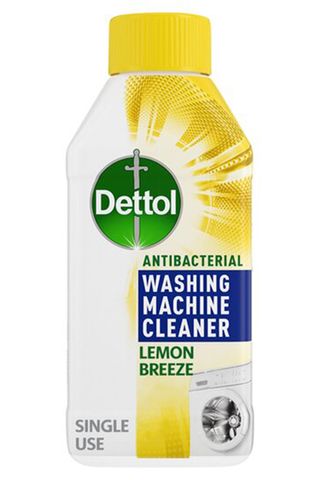 7. Dettol Antibacterial Washing Machine Cleaner
Best liquid solution
+ Great for hard water areas
+ Cleans entire machine
+ Fresh fragrance
Kill 99.9 per cent of bacteria with this lemon-scented Dettol Washing Machine Cleaner and use it to remove limescale at the same time. It's recommended you use it every two months, but it can be used more regularly when the washer is starting to smell a bit iffy, especially if it's never been cleaned before. It leaves behind a citrus fragrance, too.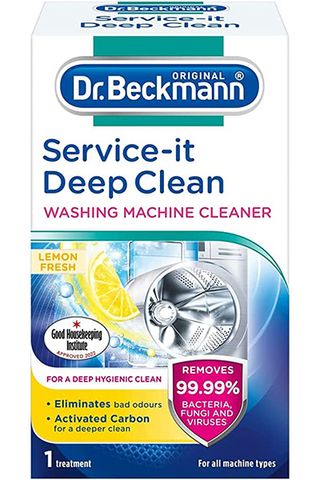 8. Dr. Beckmann Service-it Deep Clean Washing Machine Cleaner
Best for colder cycles
+ Deep, powerful clean
+ Kills bacteria
+ Activated carbon
+ Leaves a refreshing scent
- Won't clean the drawer
Make your machine hygienic with this trusted formula which will degrease and deodorise your washing machine, whilst also killing micro-organisms and bacteria (including MRSA) that might be lurking in your machine. Pour the solution into your machine's drum and run it on a hot cycle for sparkling results. This is the product to use if you tend to run colder cycles.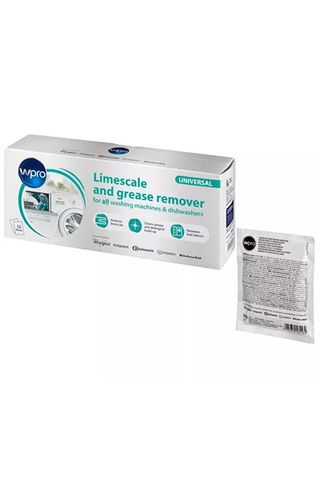 9. Wpro Limescale & Detergent Remover
Best for new washing machines
+ Multi-appliance product
+ Packaged as a 12-month supply
+ Cleans the tub, drum, element, pump and pipes
- Short use-by date
These sachets remove and prevent limescale, grease, and detergent build-up. It's a fantastic preventative solution for new washers, especially if you prefer using low-temperature wash cycles that don't dissolve detergents as easily as a hot wash, which in turn leaves a residue behind.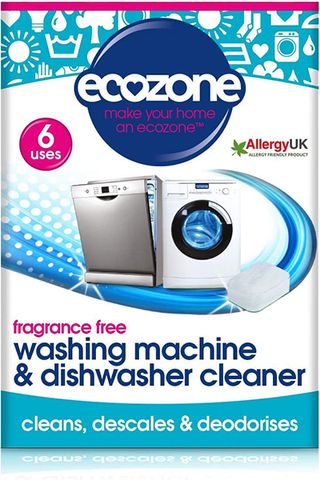 10. Ecozone Washing Machine & Dishwasher Cleaner
Best for versatility
+ Also dishwasher safe
+ Allergy UK approved
+ Non-toxic, septic tank safe
+ 3 scents
+ Biodegradable packaging
- Not the best for hard water
The Ecozone Washing Machine and Dishwasher Cleaner is easy to use and good for the planet! It can help prevent pricey call-out charges and repair bills by ensuring your washing machine doesn't break down due to limescale build-up.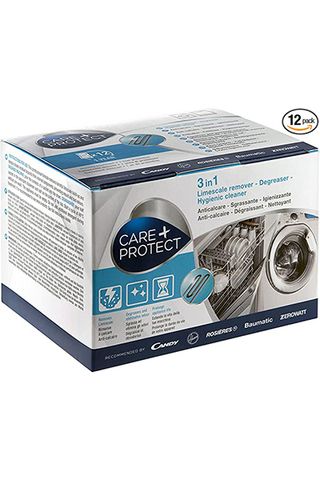 11. Care + Protect Limescale Remover
Best for detergent build-up
+ Great for restoring
+ Removes limescale
+ Cleans at the same time
+ Recommended
- Mixed reviews

An all-in-one limescale, detergent, and purifying remover, the Care + Protect Limescale Remover is great for hard and soft water areas. You just need to use it once a month, plus it can also be used in the dishwasher. With 12 applications in one pack, simply pour half the contents of the sachet into the drum and the remaining into the drawer. Set on a 60ºC cycle — empty — and turn it on.
---
Real Homes review process
Here at Real Homes, we ideally would only recommend products that we've actually tried and tested. For peace of mind and so that you know you're buying something that actually works. In the case of these washing machine cleaners, our cleaning expert and ecommerce editor Christina Chrysostomou has tested a bunch of them in her own washing machine at home. Otherwise, she sourced help from other Real Homes team members with washing machines that are in need of a clean. The ones we're yet to test are on our radar for next time.
Meet the team members who've tested these washing machine cleaners.
Whether it's a boujee press event, a hot date with her husband-to-be, or she just wants to stroll into the office in a sassy outfit, Christina's washing machine (and laundry basket) work overtime. From casual fits to activewear to formal LBDs, it's essential her washer is ready to launder, so limescale, blockages, and bacteria are an absolute no-no.
With a landlord that lives in Australia, it's essential that she keeps her white goods in good working order. She tried the Vamoosh washing machine cleaner in her BEKO-branded machine and was pleased with the results. With thick, long, curly hair, the hair-dissolving technology was definitely something that sparked her interest in this product, and the low price point means she can run this in her machine every couple of months without it breaking the bank.
She's currently testing the Ecoegg Washing Machine Detox Tablets and will be sure to report back once she has.
With two pets in her household, Annie is always looking for a solution for cleaning her washing machine. More often than not, after washing her dog's bed and toys, she'll notice her washing machine has a slight odour.
She swears by the Stardrops White Vinegar solution for cleaning pretty much anything at home. Simply enough, she pours a little in her drum and some in her drawers, too, and puts her washing machine on a hot cycle. You can add some Zoflora into the mix if you really like, though you shouldn't notice that your drum smells like vinegar if you skip this part.
3 things to consider when choosing a washing machine cleaner
By keeping the inside of the washing machine clean, you'll benefit from an appliance that won't break down every few years or need a new part, which in turn saves you money and hassle in the long run. We rounded up what to look for in a good washing machine cleaner.
1. Does it tackle limescale?
When learning how to use a washing machine correctly, it's important to clean the inside of it regularly in order for it to work properly. Not only does this deal with any unpleasant odours resulting from dampness, mould, and mildew, but it will also help prevent limescale build-up, the enemy of any appliance that uses water, especially if you live in a hard water area.
2. Does it tackle odours?
A good washing machine cleaner will tackle odours inside the appliance caused by soap scum and grease. When doing laundry, even the best washing pods or laundry detergents can leave some residue on clothes, which will leave your laundry smelling fresh.
3. Does it kill germs?
Look for a cleaner that works over time. Removing stinky odours, descaling, cleaning, and helping to protect plastic inner workings and the drum itself makes sense. But some solutions are antibacterial, too, killing germs at the same time, while others can also be used to clean a dishwasher.
Alternatives to washing machine cleaner
All of the washing machine cleaners on our list will do a good job of cleaning your appliances. Having said that, there's plenty of room to experiment with DIY washing machine cleaners.
Our top picks for this task are baking soda and dishwasher tablets. Simply put either (or both!) into your washing machine tray and run your machine on the hottest cycle. If you already own a dishwasher, that's one less product you need to buy.
We've loads more dishwasher tab hacks to try around the house, as well as all sorts of bicarb cleaning tricks and vinegar sanitising solutions, too.