If you're in the market for a reed diffuser that will bring pure joy to your space over the festive period (and beyond) then you've landed in just the right place. Our home fragrance expert has been busy testing a whole bunch of reed diffusers, from warm and woody fragrances to floral and fresh scents, so that you can buy a new reed diffuser online, without having to leave the comfort of your sofa.
Depending on the scent you usually lean towards, we're only recommending the best reed diffusers that wowed us whilst in use. This means that their fragrance was impressively able to spread from one corner to the other in our living room, bedroom, bathroom, hallway or kitchen. And we also gave top points for vessel design and for eco-friendly packaging. Why a reed diffuser instead of a candle? A reed diffuser is much safer to use with no flame in sight, plus they work without you doing a thing. Their strength can be tailored to the size of your room by adding or removing reeds as you see fit.
Convinced? A reed diffuser is essentially the only safe way to keep your home smelling nice, and not only that but a reed diffuser can soon become a focal point of a coffee table or console table. Our top picks come from the likes of The White Company, Rituals and Neom, with a few picks from smaller businesses for good measure. For more ways to scent your home, see all the best home fragrances in our buyer's guide.
The best reed diffusers to buy for your home in 2022
Why you can trust Real Homes Our expert reviewers spend hours testing and comparing products and services so you can choose the best for you. Find out more about how we test.
(opens in new tab)
1. The White Company Fir Tree Diffuser
The best festive diffuser
Size: 150ml
Scent: Woody/Fresh
Refillable? No
+ Festive
+ Fills a room
+ For all rooms
- Not for smaller spaces
Whether for your own home or for someone else's, this festive reed diffuser smells like anything but your classic cinnamon and orange diffuser. Instead, it's both woody and fresh and smells a little like your Christmas tree – but better. We suggest using it in a living room, dining room or hallway, as it might be too strong for a bedroom, but rest assured it will subtly bring the festivities indoors. It's also made using high-quality oils!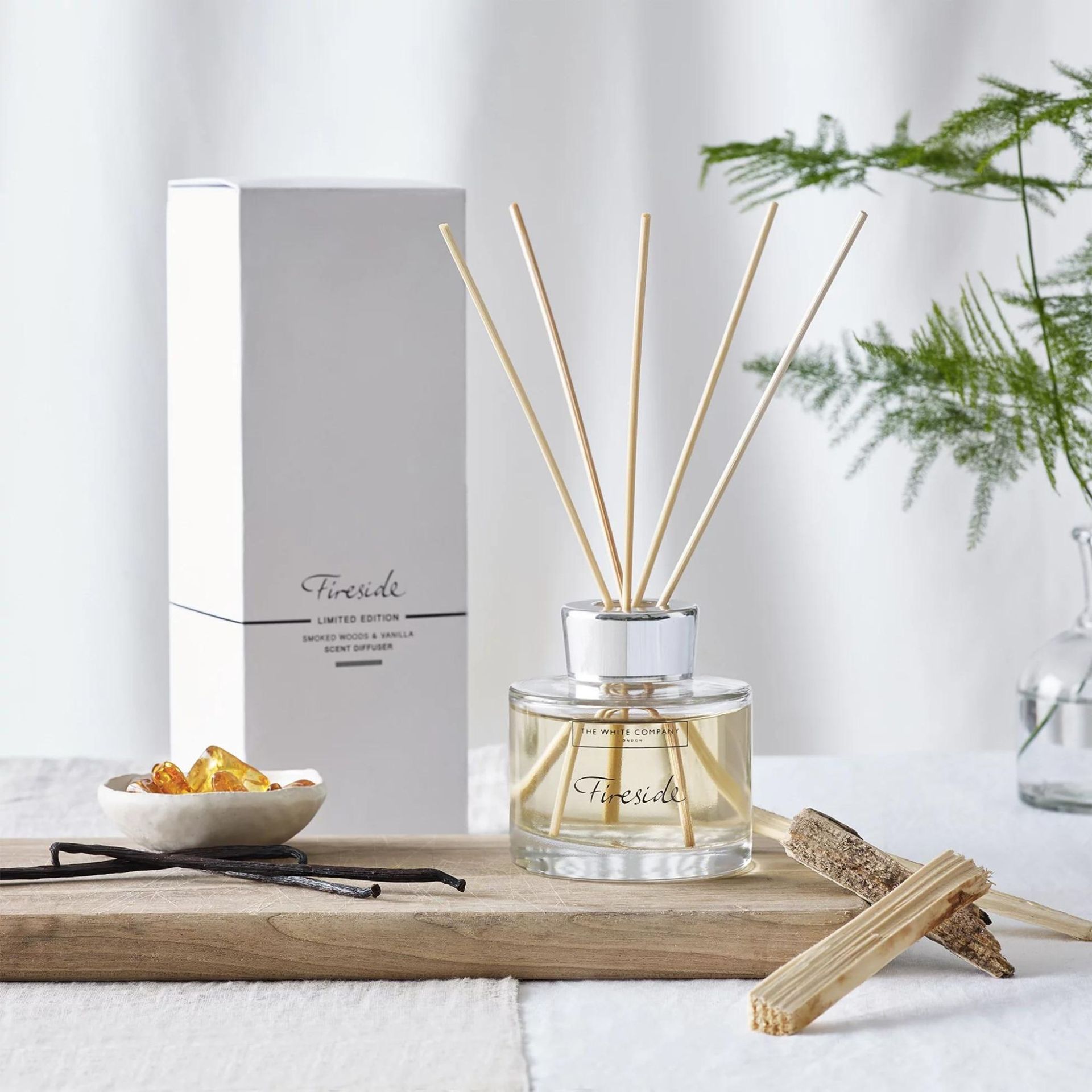 (opens in new tab)
2. The White Company Fireside Diffuser
The best woody diffuser
Size: 150ml
Scent: Woody
Refillable? No
+ Great for autumn
+ Fills a room
+ For living rooms
- Not for smaller spaces
We're obsessed with this autumnal fragrance from The White Company. So much so that it makes a reappearance in our living room every year. Its scent imitates a roaring fireplace, and it can fill a room, no matter how large. This will forever be our favourite reed diffuser for autumn. You can also recycle its glass vessel after use.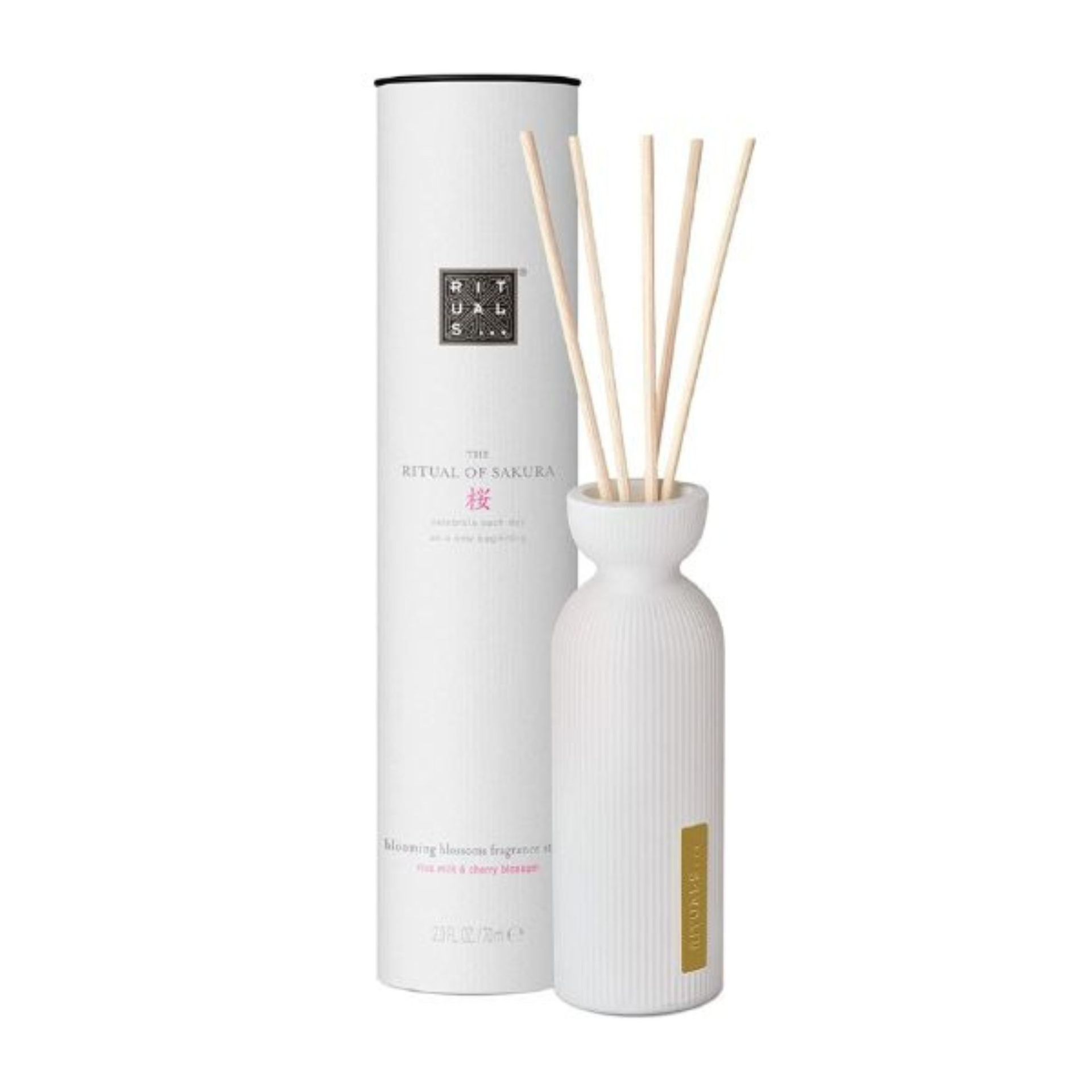 3. Rituals The Ritual of Sakura Fragrance Sticks
The best year-round
Size: 70ml/250ml
Scent: Oriental
Refillable? Yes
+ Year-round fragrance
+ Luxury pick
+ For hallways
+ Unique fragrance
- Vessel not recyclable
We're obsessed with this Rituals reed diffuser and its strong oriental notes of rice milk and cherry blossom. There's no need to flip reeds regularly as honestly, the aroma will travel so delicately from one side of your room to the other, whilst even the smallest size lasted us way longer than the recommended five weeks. The fragrance sits inside a luxurious white ribbed vessel.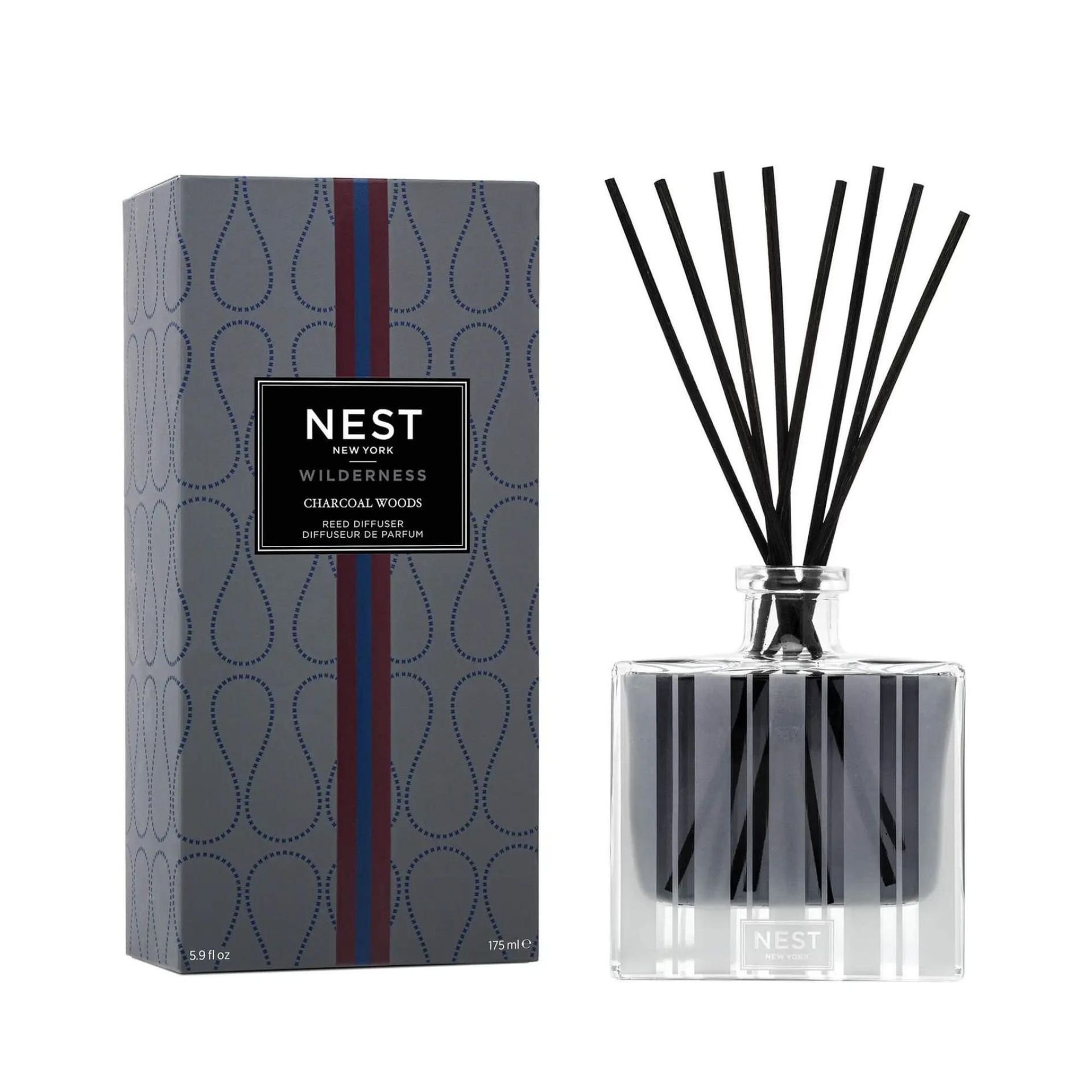 (opens in new tab)
4. NEST NY Charcoal Woods
The best luxury diffuser
Size: 175ml
Scent: Woody
Refill available? No
+ Bottle stopper
+ Luxury vessel
+ Recyclable vessel
+ Eco packaging
- Heavy fragrance
This woody and smokey fragrance offers a pleasantly mysterious scent and fills the air with exotic notes of labdanum, patchouli, cedarwood, charred birchwood, and a hint of black truffle. We can vouch for the fact that it masks unpleasant odours and has a spicy, almost cologne-like aroma. It's also cruelty-free and alcohol-free.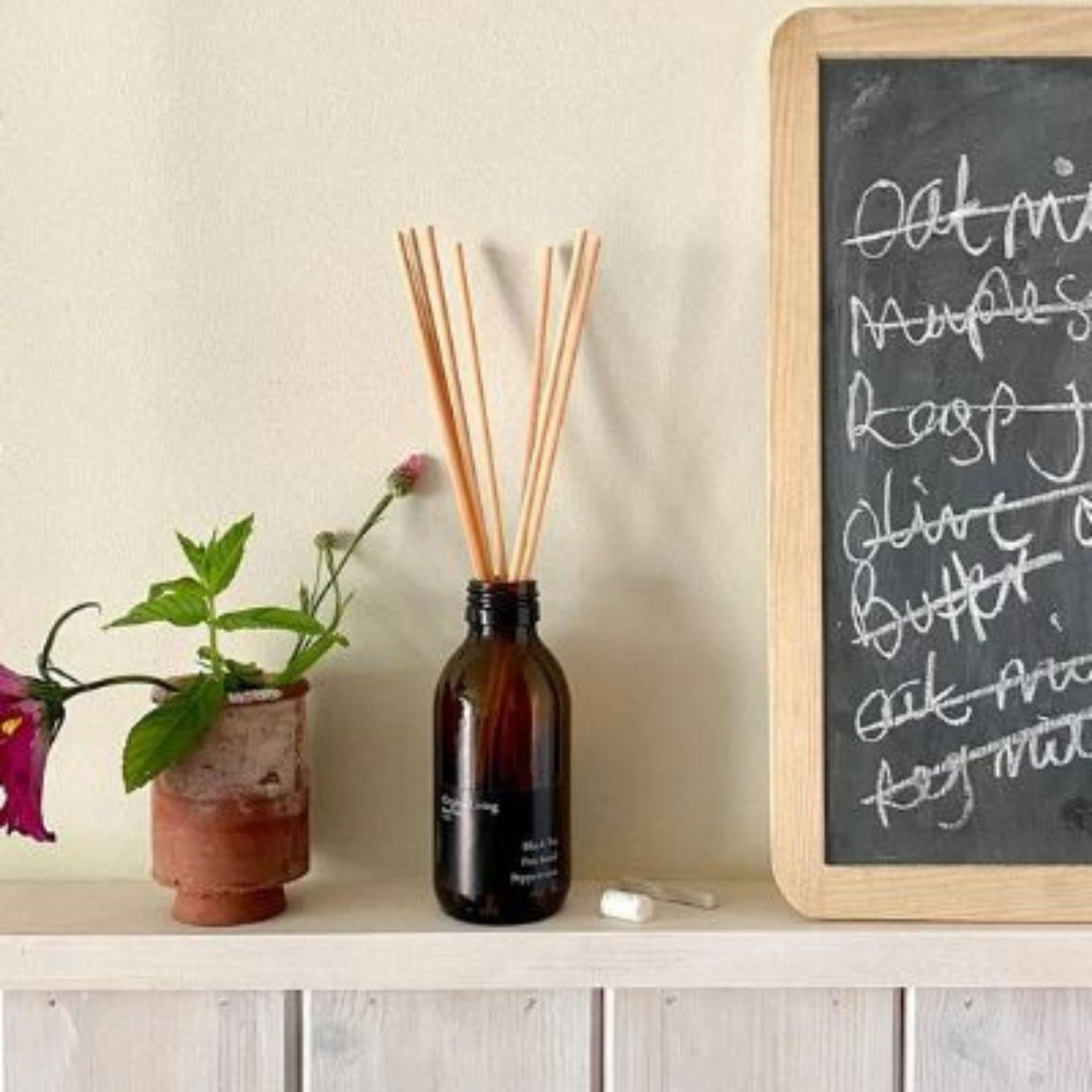 (opens in new tab)
5. Orphic Living Black Tea, Patchouli & Peppercorn
The best spicy diffuser
Size: 150ml
Scent: Spicy
Refill available? No
+ Recyclable vessel
+ Small business
+ Great for autumn
+ Plastic-free packaging
- For smaller spaces
Ideal for use in autumn and winter, this spicy aroma is bold yet warm and also welcoming thanks to its leather, tobacco, amber and musk notes. It sits inside an amber glass bottle, adorned with a simple label plus rattan reeds.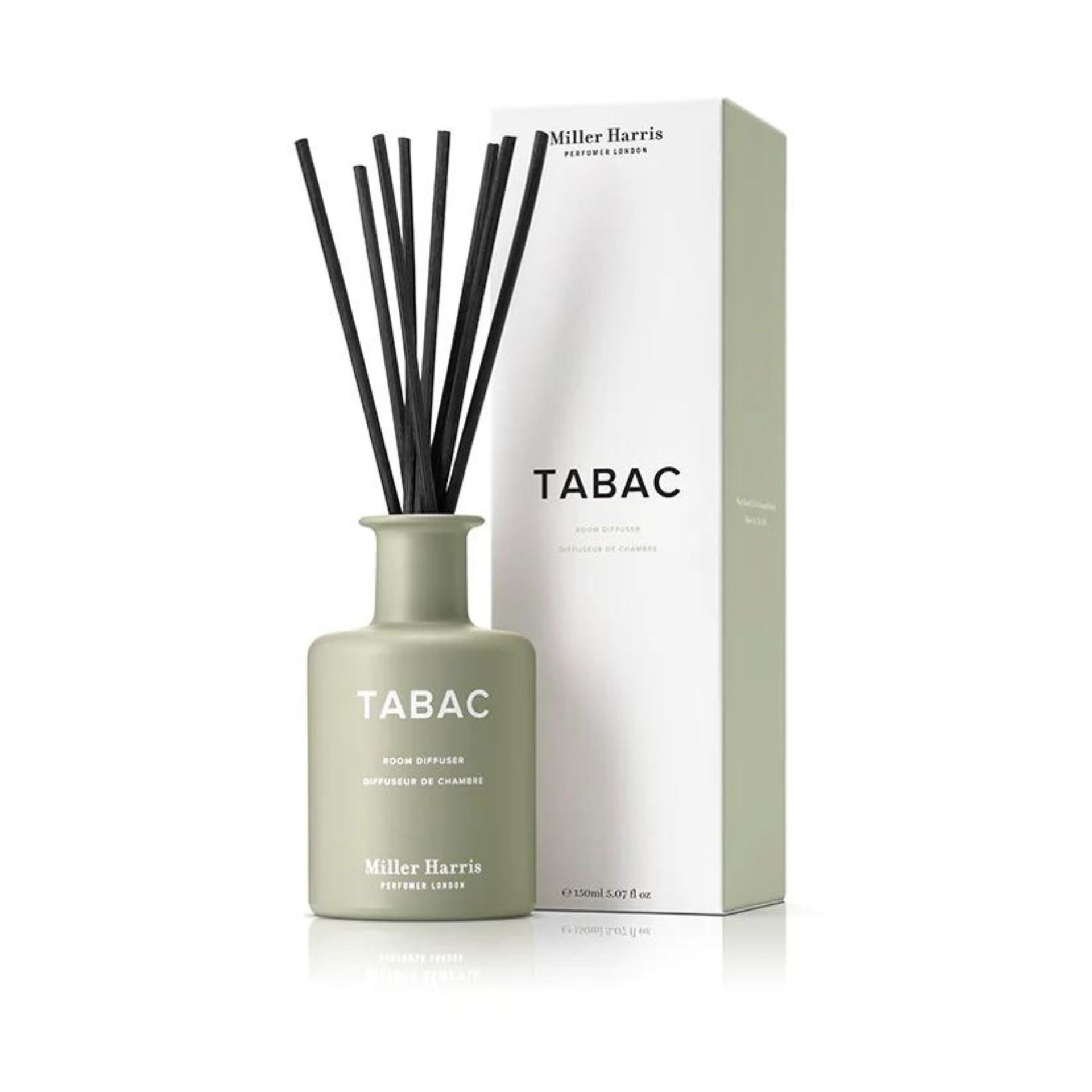 (opens in new tab)
6. Miller Harris Tabac Room Reed Diffuser
The best warm diffuser
Size: 150ml
Scent: Warm
Refillable? No
+ Bottle stopper
+ For home office
+ Eco packaging
+ Recyclable vessel
- No refill
This exciting and luxurious fragrance brings a serious scent to your home, and it's ideal for fall and winter use. It has a bottle stopper for when you want to switch to something different and it sits in a subtle green glass vessel that's recyclable. In fact, the brand's ethos is sustainability. It's warm and is perfect for serious spaces such as an office.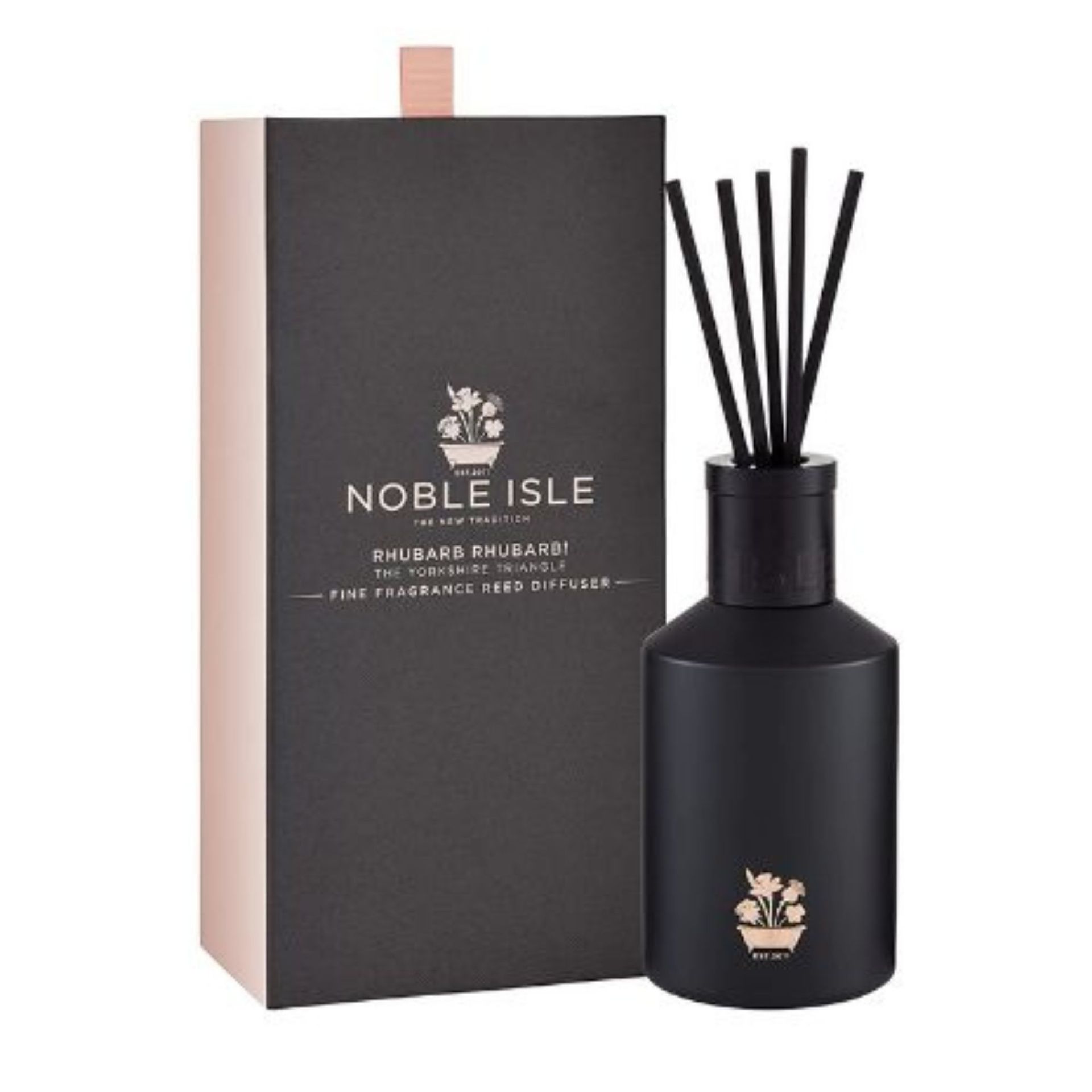 7. Noble Isle Rhubarb Rhubarb! Reed Diffuser
The best floral diffuser
Size: 100ml
Scent: Sweet
Refill available? No
+ Cruelty-free and vegan
+ Great for a hallway
+ For spring & summer
- No refill
- Vessel not recyclable
If you love a sweet fragrance then this long-lasting diffuser boasts a gorgeous floral yet slightly sweet aroma, fuelled by rhubarb, sour juniper berry, and fresh muddled rosemary. It's housed in an elegant black glass vessel with black silk reeds which require infrequent flipping.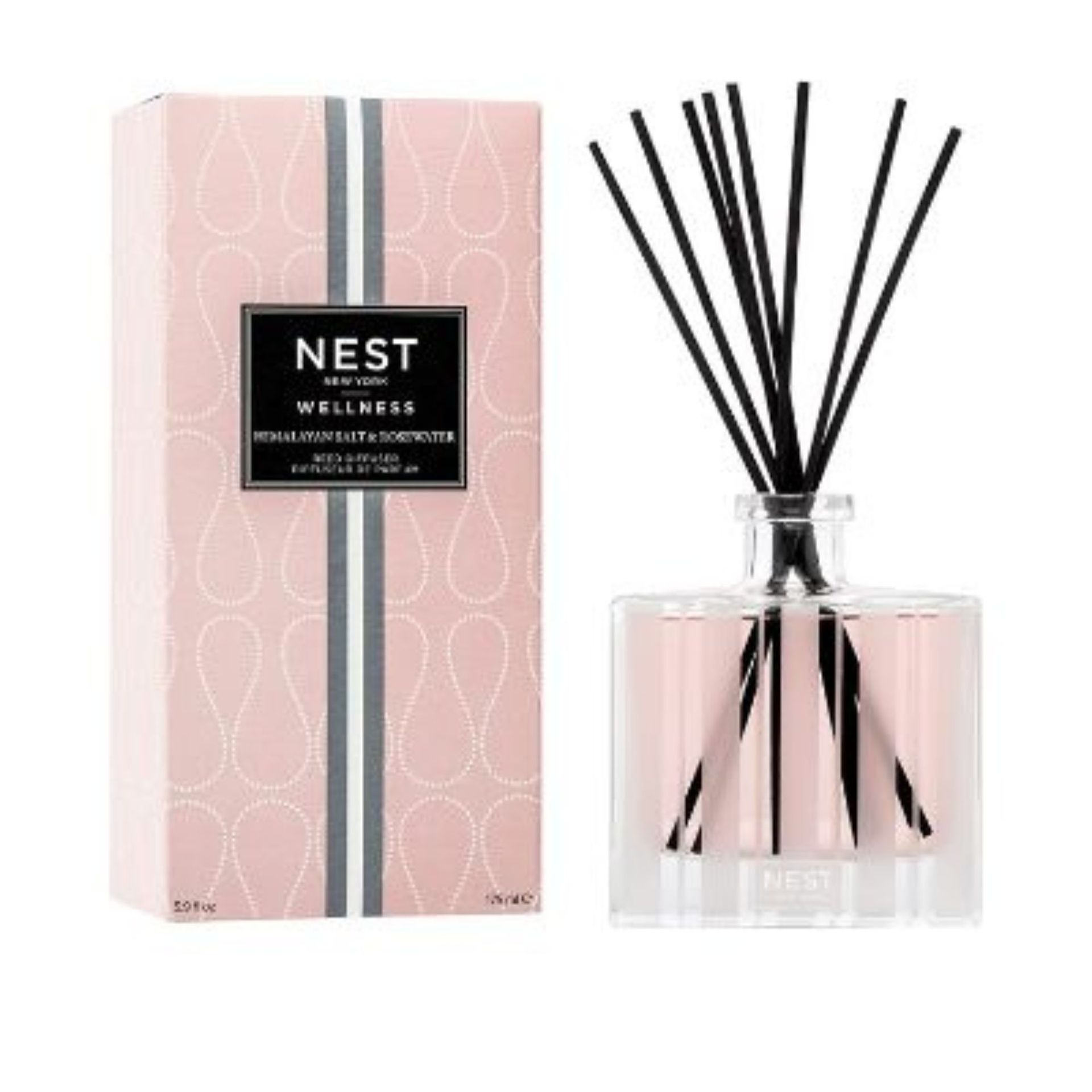 (opens in new tab)
8. Nest NY Himalayan Salt & Rosewater
The best fresh reed diffuser
Size: 175ml
Scent: Floral/Fresh
Refill available? No
+ Bottle stopper
+ For summer & spring
+ Recyclable packaging
+ Luxury vessel
- No refill
Impressively scented to be floral and fresh, this blend of rosewater, geranium and salted amber is perfect for enjoying in a hallway or a bedroom. We have this fragrance as a candle and we're obsessed, whilst its striped frosted glass bottle screams luxury. It's also cruelty-free and alcohol-free.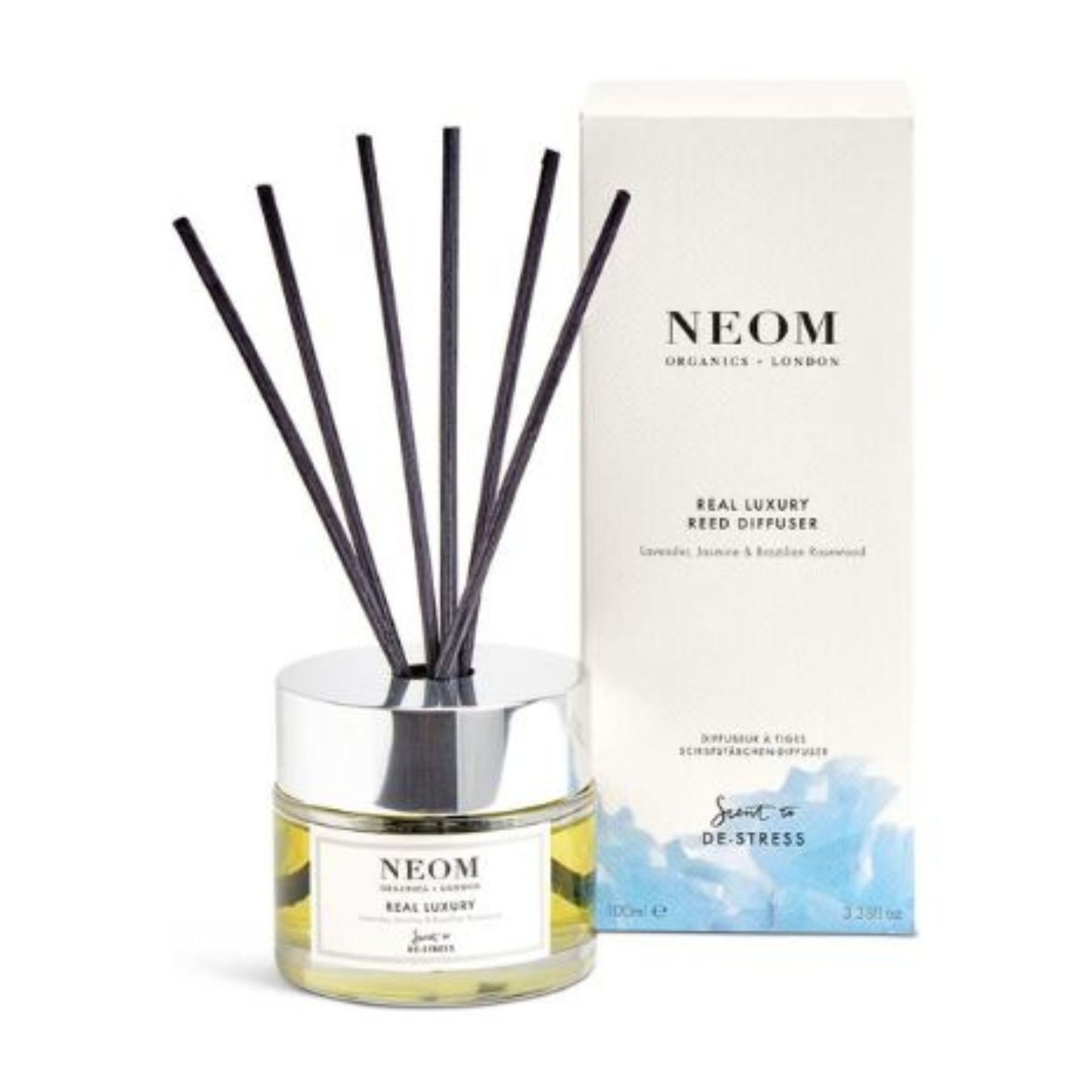 9. Neom Scent to De-Stress Real Luxury Diffuser
The best aromatherapeutic diffuser
Size: 100ml
Scent: Floral
Refill available? Yes
+ 100% natural fragrance
+ Good for de-stressing
+ Refill available
- A little expensive
Use this calming reed diffuser to unwind after a busy day. Created with 24 essential oils including lavender, jasmine, and Brazillian Rosewood, it can help relieve tension headaches and stress. Rotate the reeds for up to 12 weeks of relaxing aromas. A good one for the bedroom or home office. Alternatively, run a hot bath and let your steam become infused with these herbal extracts.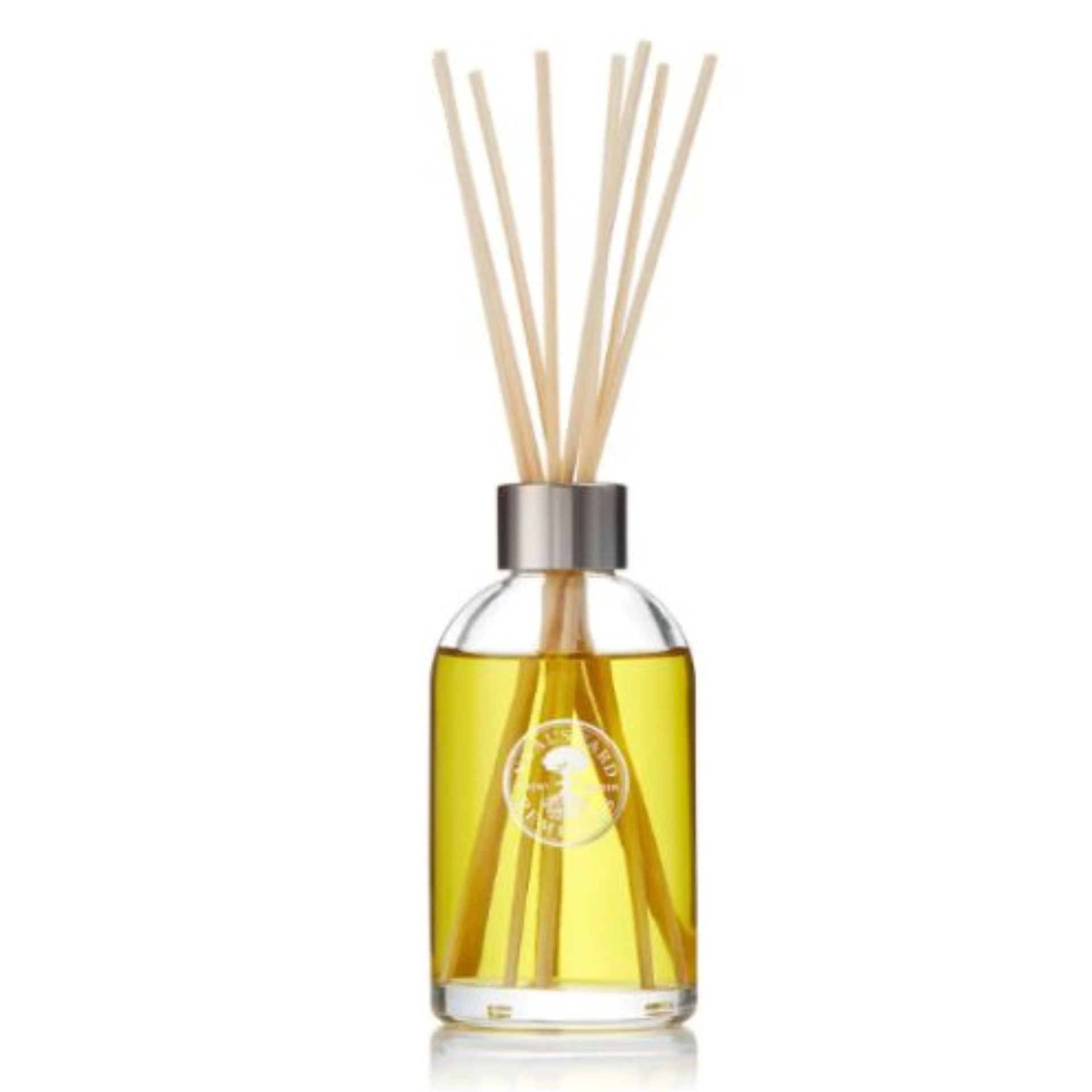 (opens in new tab)
10. Neal's Yard Organic Aromatherapy
The best for kitchens/bathrooms
Size: 200ml
Scent: Fresh
Refill available? Yes
+ Organic & vegan
+ Great gift
+ 100% natural
+ Recyclable packaging
- Vessel isn't the most luxurious
Fragranced with 100 percent natural essential oils, this diffuser is nice and fresh thanks to grapefruit and petitgrain. It's never overpowering in both scent and looks, with a plain vessel that you wouldn't necessarily be fussed about having on display or not.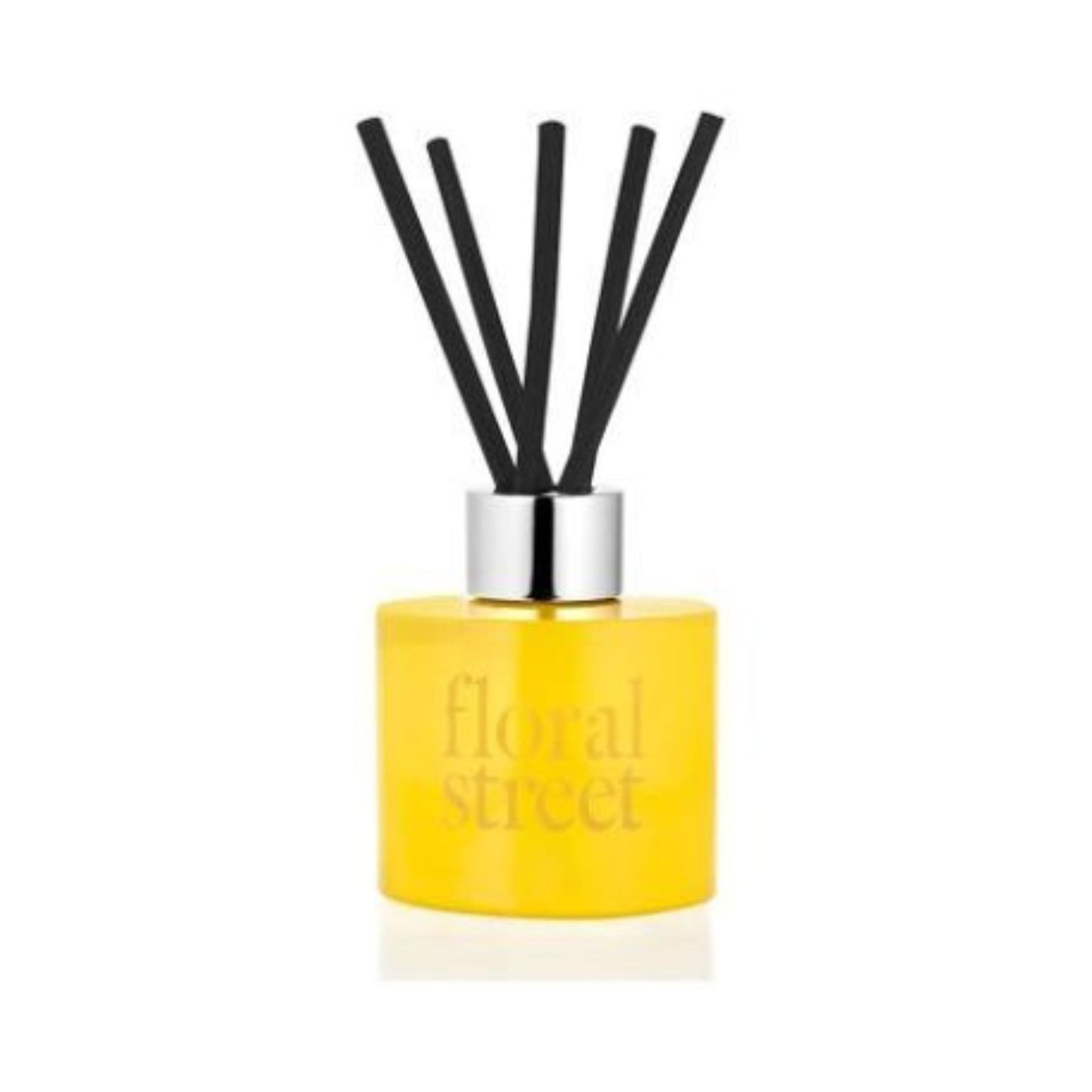 11. Floral Street Vanilla Bloom Reed Diffuser
The best vanilla diffuser
Size: 100ml
Scent: Vanilla
Refill available? No
+ Recyclable vessel
+ Year-round fragrance
+ Fun vessel
+ High-quality reeds
- No refills
This vanilla fragrance is neither too warm nor too overpowering, and it's a deliciously deep blend of vanilla with plum, rose and amber. It's housed in a fun bright yellow vessel with black reeds that will need frequent flipping.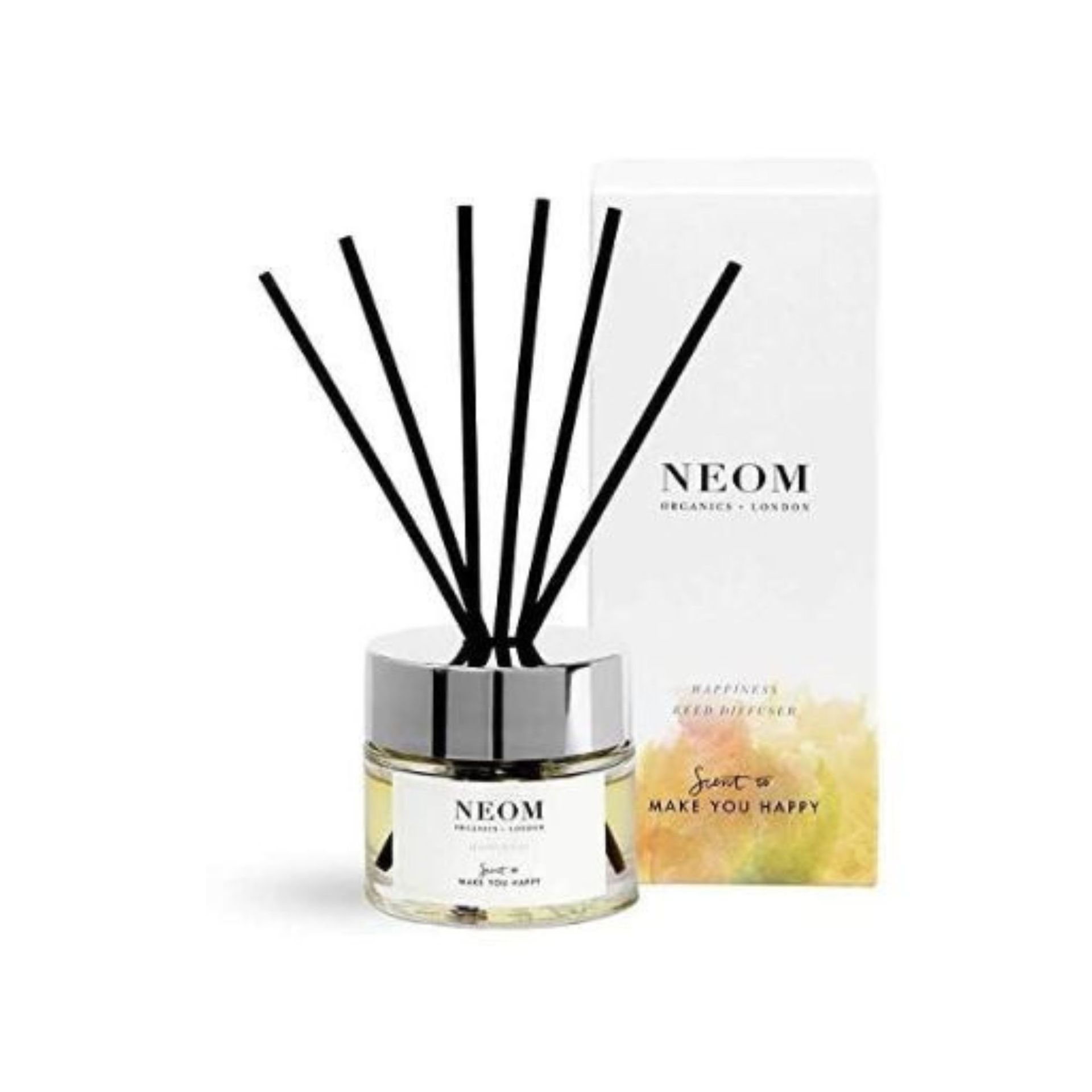 12. Neom Organics Happiness Reed Diffuser
The best citrus diffuser
Size: 100ml
Scent: Citrus
Refill available? Yes
+ 100% natural
+ Year-round fragrance
+ Therapeutic
- Subtle in large spaces
- Vessel not recyclable
This citrus-based fragrance offers a welcoming and uplifting boost that's scented with neroli, mimosa, and lemon essential oils. The perfect balance of refreshing and not too powerful, it works best in smaller spaces and it's perfect for kitchens and bathrooms.
Read our best candles guide for our top favourite buys for scenting and adding ambience
---
Real Homes review process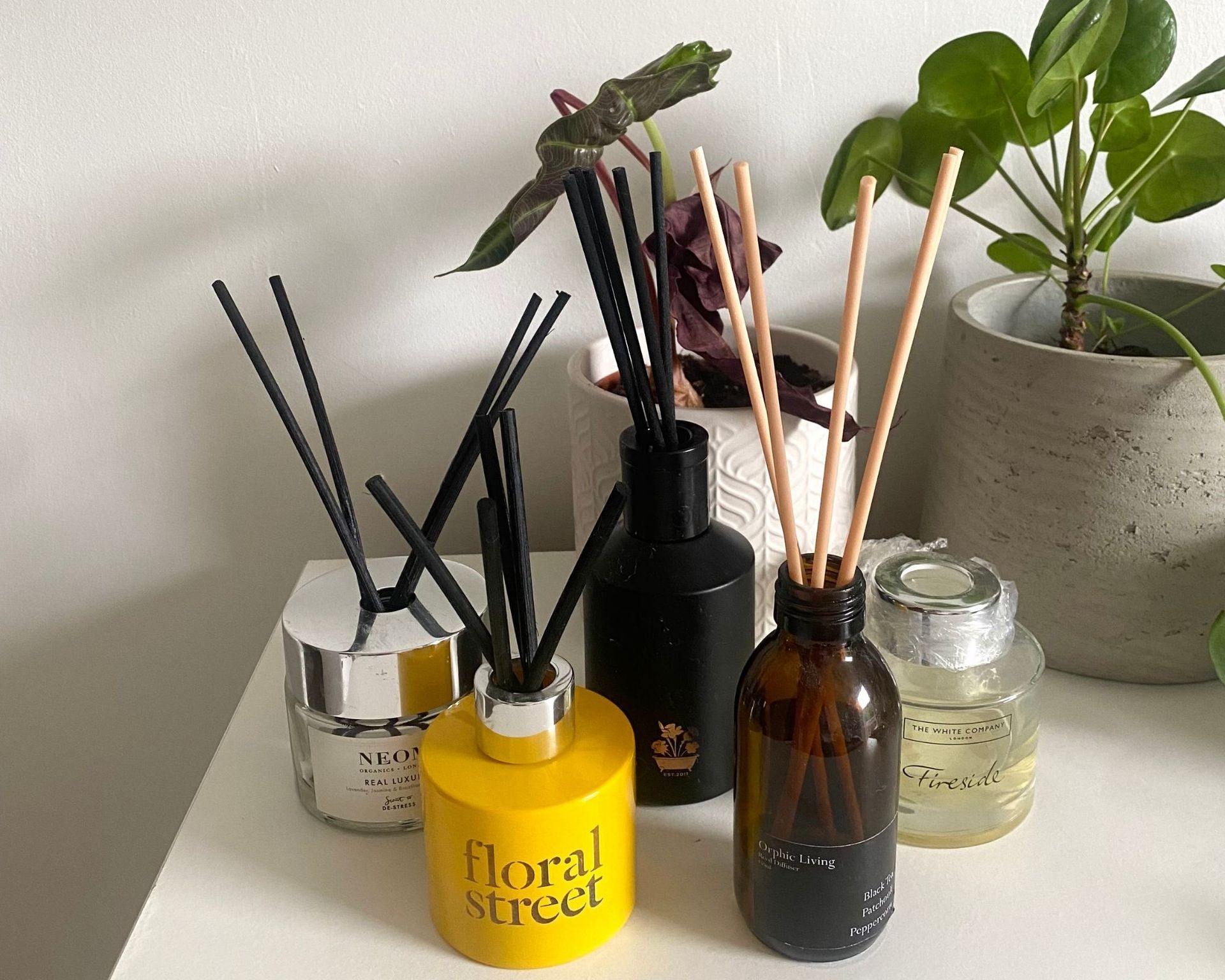 All of these reed diffusers have been tested by our home fragrance expert and Deputy Ecommerce Editor, Annie Collyer (opens in new tab). Annie has had hands-on experience with every reed diffuser in this list to form her opinion and compare these fragrances by strength and scent.
Annie tested these reed diffusers in her two-bedroom flat in London, which she shares with her husband and her dog. Whilst testing these reed diffusers, Annie makes sure to move them around her home before finding a space in which they are most suitable for sitting. Annie usually tests reed diffusers until they are fully empty, otherwise, in the case she really likes them, she will make her decision after a few weeks of use.
What is the best smelling reed diffuser?
There's no one-size-fits-all when choosing a reed diffuser, simply because everyone in the world has different scent preferences. There's also the added factor of the time of the year as some fragrances are deemed more suitable for colder weather, and other scents are more fitting for spring and summer.
For autumn: The White Company's Fireside Diffuser (opens in new tab)
For Christmas: The White Company Fir Tree Diffuser (opens in new tab)
For year-round use: Rituals The Ritual of Sakura Reed Diffuser (opens in new tab)
You can, if you're feeling crafty, get stuck into making your own reed diffuser thanks to our step-by-step guide. This also makes a lovely homemade gift idea.
What are the benefits of reed diffusers?
A reed diffuser is a great alternative to a candle, and it's much safer with no flame or heat involved. They offer peace of mind when used around pets and children, though you'll still want to put them out of reach. Reed diffusers are also, the majority of the time, longer lasting than candles. A reed diffuser emits an aroma 24/7 and some can last for months of use. Let's not forget that some reed diffusers, unlike candles or room sprays, are refillable. This means you need only invest in the vessel once then you can buy a fragrance refill for a cheaper price. You can find 100 percent natural reed diffusers, scented with only essential oils if that's important to you. Also, let's not forget that reed diffusers in general offer a more subtle and gentle release of fragrance. So, if you're not a fan of heavy fragrances then opting for a reed diffuser might be your best bet.
6 things to consider when choosing a reed diffuser
1. Is your reed diffuser refillable?
With candles, once they're gone, they're gone. Not so with reed diffusers, which can be topped up with new fragrance oil when it's run out. Just make sure that when you buy a diffuser refill you discard your old reeds, as they'll be saturated with all the scent they've soaked up from the first round of oil and won't soak up anymore.
2. Consider scents you normally like
So now you know why to buy a diffuser, which one should you buy? If you don't know what you like, choosing a fragrance can be the hardest part of shopping for a scent diffuser, but looking for individual scent families is a good place to start. Florals are fairly self-explanatory, and while some of them might get a bad rap for being overdone or cloying, our floral picks are all combined with fruity and fresh notes to keep things modern. For a more unexpected home fragrance, consider something from the woody or spicy families, or on the other end of the spectrum, a fresher, 'greener' scent.
3. Size and lifespan
We've listed the size of each reed diffuser above. The larger the diffuser, the longer it will last. And don't forget that the more reeds in the fragrance, the quicker it will empty. Plus, the more often you flip the reeds the quicker the fragrance will need to be refilled or replaced, too. It's worth bearing this in mind when looking at the price of a reed diffuser – when will you next need to pay to refill or replace it?
4. Look at its vessel
Make a point to buy a reed diffuser that will fit in with your home decor, because it will have to be placed in the centre of a room. Also be sure to consider if this vessel is recyclable after use and if not then you might want to ensure refills are available so that you needn't throw away the vessel after use.
5. Does it come in other forms?
If you like your home to smell the same, from one room to the other, then be sure to check whether the reed diffuser you have picked comes in other forms. Think candles, wax melts, room sprays...
Are reed diffusers safe for pets?
Love a reed diffuser, but heard about the potentially toxic effects on your pet? It's not just scaremongering: dogs and cats have a much stronger sense of smell than us and can be overwhelmed by strong scents. Moreover, if they are exposed to strong perfume over long periods of time, it can make them ill by damaging their livers. Here are some solutions:
1. Limit the use of your reed diffuser to parts of the house your pet doesn't spend much time in, for example, your home office or bathroom.
2. If you do want to keep using a reed diffuser in the main room, keep the space well-ventilated and allow your pet access to the outdoors. Consider putting the diffuser away for the night.
3. Some natural fragrances are safe for pets, notably the oils of rose, jasmine, and lavender (we mean only to inhale, of course, never to ingest). Look out for natural and organic reed diffusers that use these calm florals, and avoid anything citrus or pine fragranced. For more information and safety advice read whether diffusers are bad for dogs.
As far as fire safety is concerned otherwise, reed diffusers are a better bet than candles that mustn't be left burning unattended.
Otherwise, if you're into DIY, then see our guide on how to make a reed diffuser using essential oils, to create your very own concoction.
How to preserve a reed diffuser for later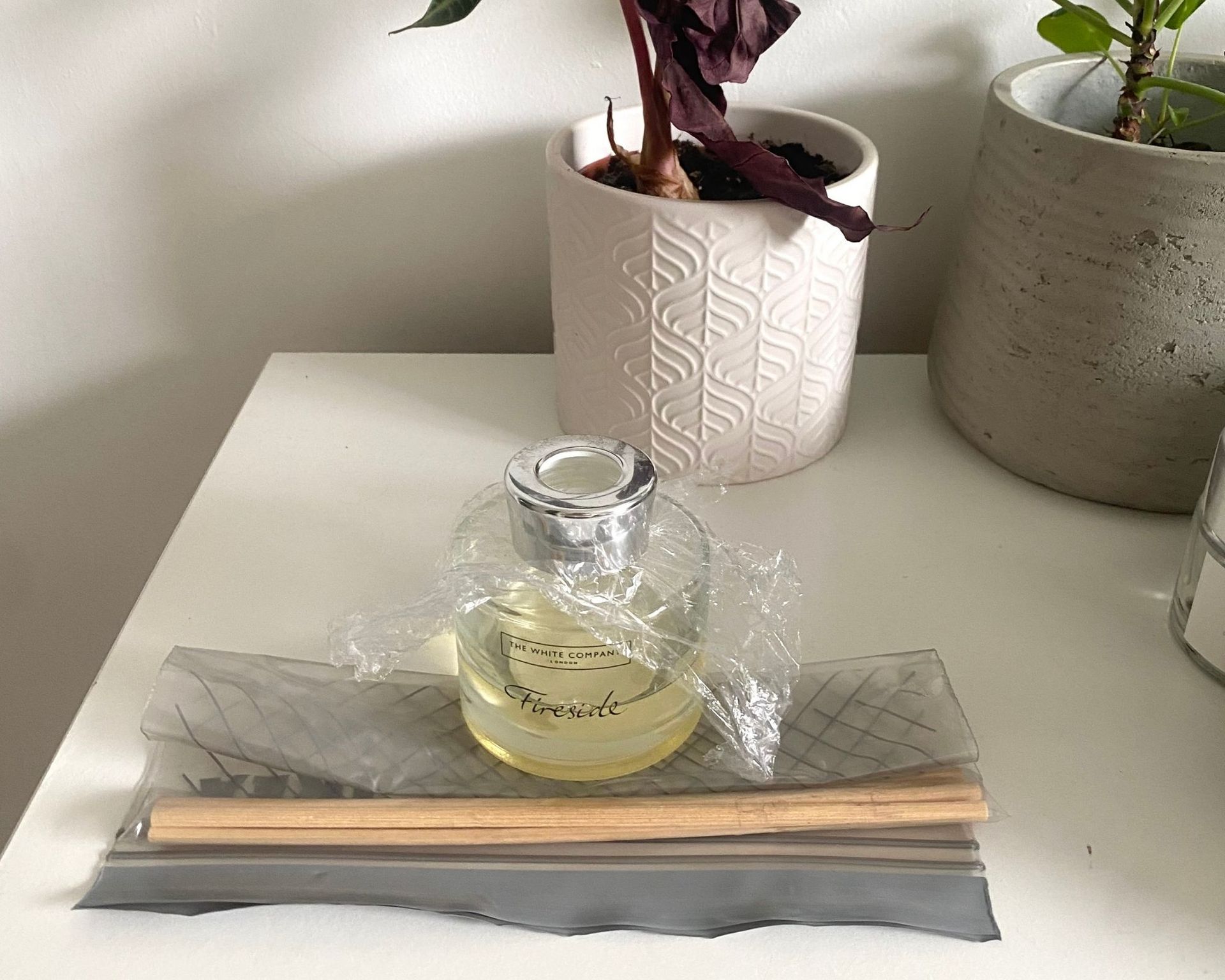 If you've bought a reed diffuser to be used at a certain time of the year, for example The White Company's Fireside Diffuser for autumn, then there's a way that you can preserve the fragrance for next year, if you haven't used it all in the time it's most fitting for.
We often do this with our reed diffusers to save them for next use, and so that we can switch up the scent of our home every few months. All you need is some cling film (preferably recyclable cling film to be kinder to the environment) and also a sealable sandwich bag.
It's worth us noting that this only works with reed diffusers that have collars. Here's what to do to preserve your reed diffusers:
1. Remove your reeds, run them under water and dry them with kitchen roll. Place them in a sealable sandwich bag and pop them somewhere safe. You might want to label this bag with the fragrance name if you are doing this with several reed diffusers.
2. Cut off a generous amount of cling film to cover the hole of the reed diffuser that the reeds usually sit inside.
3. Screw off the reed diffuser's collar and cover the hole with cling film.
4. Screw back on the collar and make sure that the cling film is held on.
5. Store with the reeds, ready for use next year.