Are you looking for the best non-stick frying pan? However you like your eggs in the morning, we can all agree on one thing: having a good-quality frying pan is non-negotiable. Especially in our fast-paced, time-poor lives, no one wants to have to scrape food out of a pan. Nor do we have the time, or patience to let things soak in the kitchen sink...plus it doesn't look very nice, does it.
This guide includes non-stick frying pans from Ninja, Stellar, Zyliss, Le Creuset and Our Place. These come with a selection of non-stick coatings, some of which can even stand up to metal utensils, and many of them can go through the dishwasher. What's more, if you're trying to keep an eye on your diet, these pans reduce the need to add so much oil, without compensating on taste. Want to step it up from a simple saute? A lot of these fryers can take the heat, so you can go from frying to roasting without worrying about melting any components in the oven.
Many of these frying pans have been tried and tested by the Real Homes team, and our hands-on experience is reflected below. Read our thoughts on quality, design and durability. Many come in a selection of sizes, from 20cm up to 30cm in width, and while the right one for you will vary, you can even choose a few pans in different sizes to serve your household. To complete your cooking arsenal, you could also take a look at our guide to the best kitchen knives for helping with prep.
The best non-stick frying pans
Why you can trust Real Homes Our expert reviewers spend hours testing and comparing products and services so you can choose the best for you. Find out more about how we test.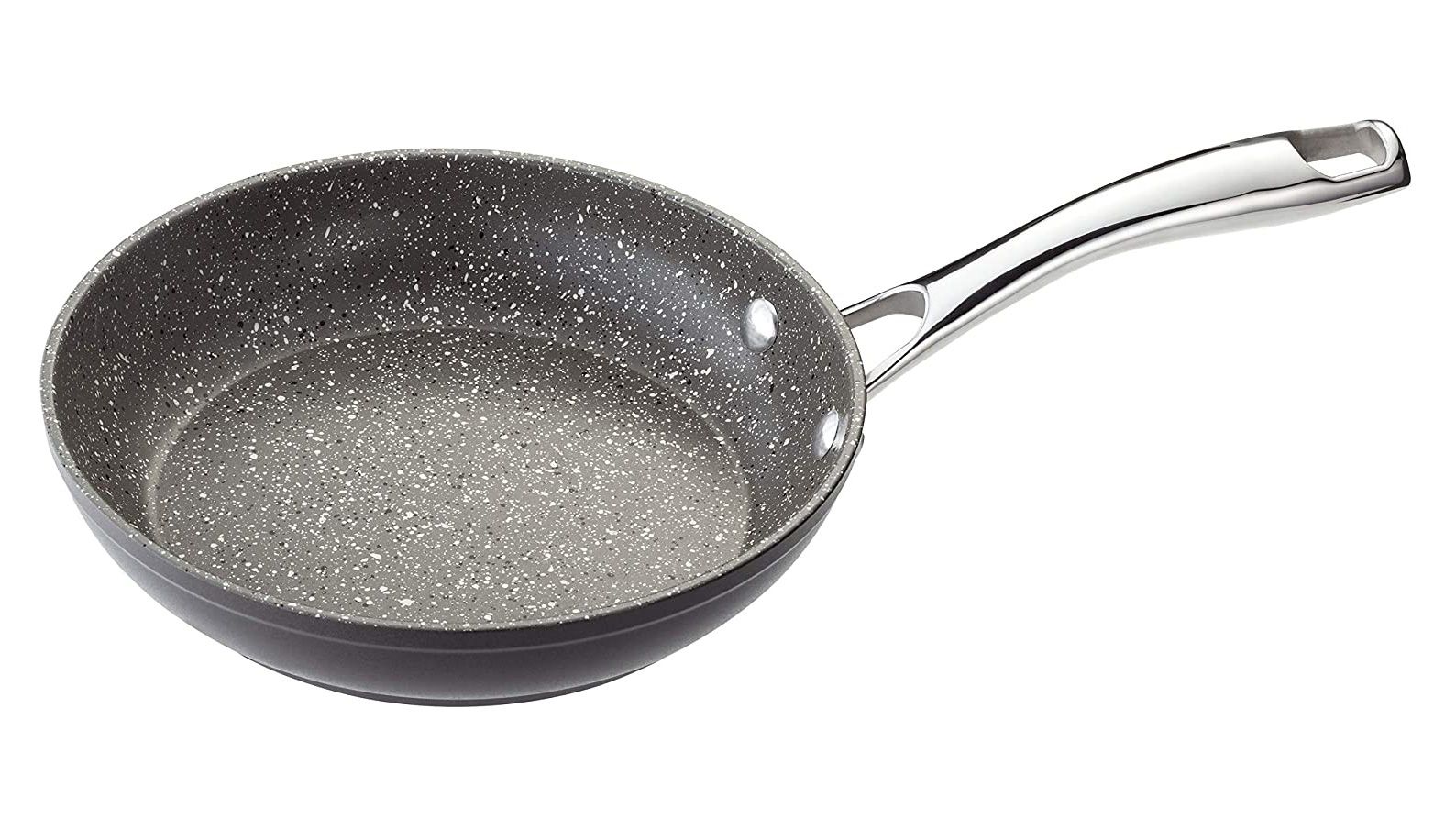 We've tried, tested and we love this Rocktanium non-stick frying pan. In fact, out of all of the frying pans we have used, this one stuck out the most for ticking all of our boxes including affordability. And, it comes in a range of sizes from 20cm to 30cm wide, to suit your family size.
In review
When testing this frying pan Christina immediately noticed how comfortable its curved handle was – great if you are using this pan for pancakes or eggs, or you are cooking something that needs constant attention, and therefore, persistent handle holding. Another thing we loved is how little time it took to heat up – this pan was by far the quickest to get our eggs to perfection. Onto non-stick: we used no oil when testing, and found that the egg was actually sliding around the pan as we moved it – the non-stick coating is that good. In terms of washing, it won't fit it in a slimline dishwasher, but it was washed by hand with no issues. The only thing we are not so keen on is its grey speckled design – not as much of an issue if you are storing it inside a cupboard, though.
Good to know
It has a PFOA-free non-stick coating – QuanTanium – and the pan itself is reinforced with titanium to stand up to almost anything. It comes with a 10-year non-stick warranty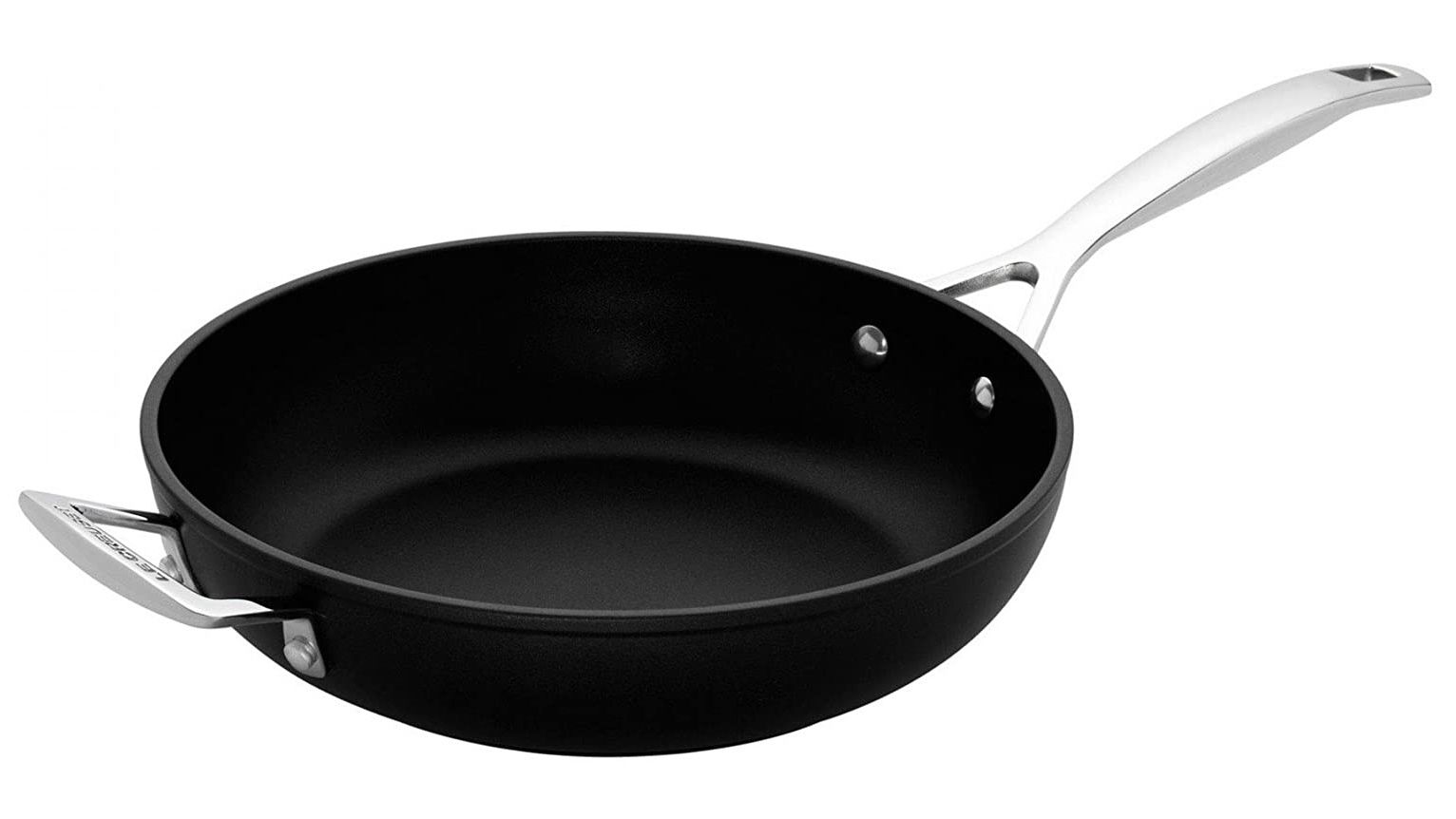 This Le Creuset non-stick pan is our best investment pick, and the perfect option for families. Why? It comes in three sizes, it's super deep, it has two handles for easy carrying from hob (or oven) to table. Oh, and it's sturdy enough to deal with daily use.
What we noticed when testing
Annie tested this pan for us and has been using it for a couple of years since. Admittedly, the egg test didn't fare well with this pan but realistically you would never use a pan this large (and deep) pan for frying an egg – it's more for cooking up hearty meals from risotto to stews. And we love it for doing just that – it's large, too, so it can cook plenty enough for four portions (we have the 28cm size). It is quite heavy, but with two handles this makes it easier to carry from the hob to the oven or your table. Unfortunately, you need to use it with non-metal utensils or it will feel like you are damaging the pan – and for the price, you don't want to do that. Even with handles, it fits in our slimline dishwasher though it takes up a lot of space. It also handwashes a dream.
Good to know
This Le Creuset pan has a great, PFOA-free non-stick coating – three layers, to be exact – while it features ergonomic handles for easy carrying. It also comes with a lifetime guarantee – so, if you are only going to buy one good frying pan, and you want it to last for years of daily use, then we can't recommend this more.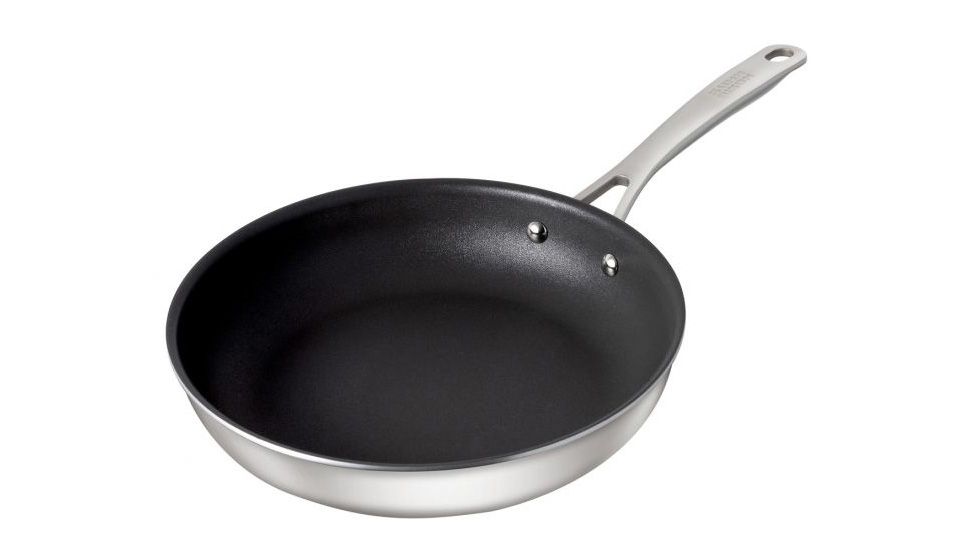 This Kuhn Rikon pan is our very best non-stick frying pan for families, or for pretty much anyone for that matter. It can withstand daily use and daily dishwashing, and it certainly beats most when it comes to durability and nonstick, but with that comes a higher price tag.
In review
Annie reviewed this pan and noted straight away that it's heavier than most, though it's not too heavy as this extra weight just makes it feel more sturdy. Its handle is nice and comfortable and easy to grip, while it has really good non-stick – we didn't have to try and peel the eggs off the pan, and we never have an issue with sauces sticking. The sides of this pan curl to create an all-around pouring lip so that you can slide foods onto your plate with total ease. The one thing we are not too keen on is its textured base which makes your utensils feel like they are scratching the pan, though it's good for charring foods. Cleaning was easy and the pan just needs a light scrub in the sink. You may want to hand dry the stainless steel base so as to prevent watermarks, though.
Good to know
This pan is made from five layers, three of those layers being stainless steel, aluminium and PFOA-free non-stick. The comfortable handle and loop mean that it can be displayed with pride – it looks good, so why not?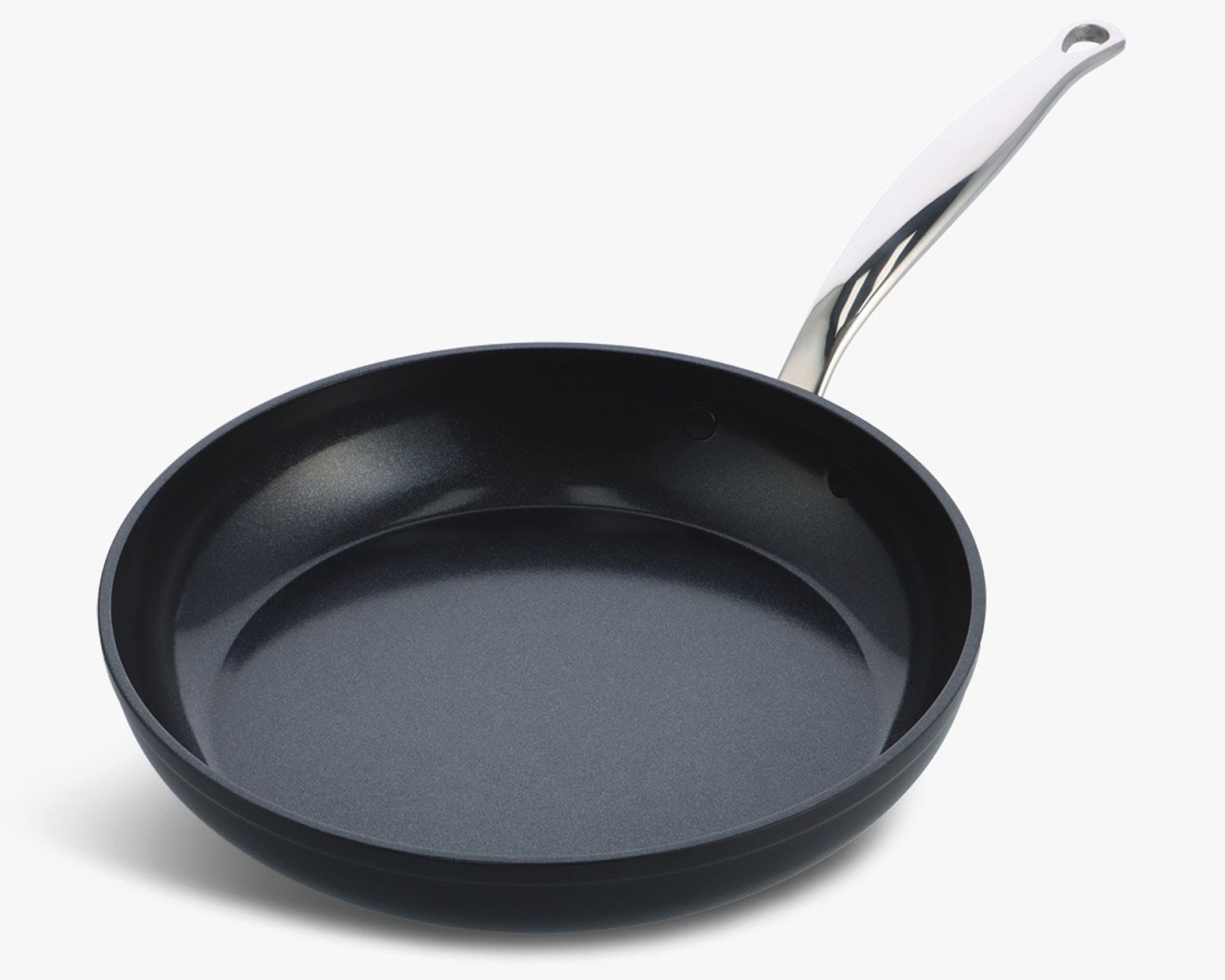 There's no need to resort to a sad-looking and salt-loaded ready meal when you've got the Barcelona Pro from The Original Green Pan. Available in a number of sizes, the smallest size is great for cooking something just for you, or, if you're looking to impress someone special, it's the perfect size to knock up a quick Tarte Tatin for something sweet.
In review
Christina, who tested this frying pan on an induction hob, noticed the weight of this small-but-mighty pan (a comfortable 740g). The innovative design means the bottom stays perfectly flat when heated, keeping the butter/oil where she wanted it. The fried eggs were free to move about the pan whilst cooking, which made it super easy to use a metal fish slice spatula utensil to remove them and place them onto the plate. We washed it both in the top rack of our dishwasher and by hand, and we found the latter to be better for deeper cleaning. Putting it away was easy: it can be stacked in a cupboard or you can use the looped design to display it in all its matt black and mirrored handled beauty.
Good to know
The pan has a PFAS-free Thermolon™ Infinite8 non-stick coating made with natural materials. The secret 'ingredient' to creating this finish is actually sand! It doesn't emit any nasty fumes so you won't have to worry about bad chemicals seeping into your food. You also get five years warranty on the ceramic non-stick coating and a lifetime warranty on other parts to cover manufacturing defects and defective material.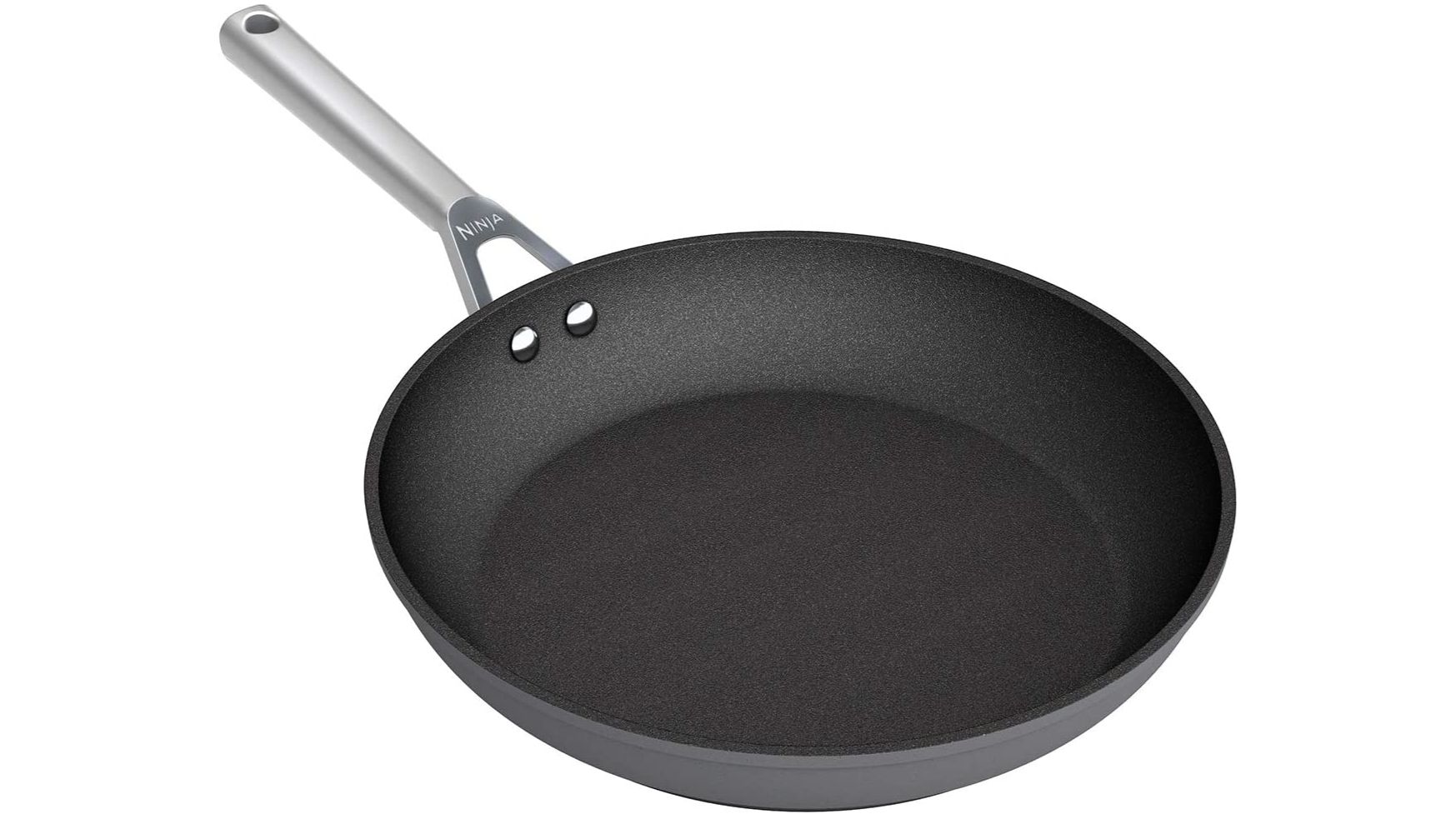 The Ninja Foodi ZEROSTICK Frying Pan comes in a range of sizes, from 20cm through to 30cm, and its angled handle is designed to offer ergonomic comfort while still being oven-safe.
In review
Our tester Millie found it really easy to cook with thanks to its durable design. There's also no need to worry about scuffing it with metal utensils because you're permitted to use these even with the non-stick coating. Its coating is made of plasma ceramic, which sounds fancy, and does genuinely work very well as a non-stick surface. Because the interior is a little textured it's not the slippiest pan, but with a drizzle of oil you'll be flipping pancakes all day long. It heats up fast too, and cleaning is straightforward whether you want to use a dishwasher or clean by hand.
Good to know
You can pop this frying pan in the oven at temperatures of up to 260ºC. That's seriously good, especially if you love to cook stovetop pizzas or sear your meat before cooking it in the oven.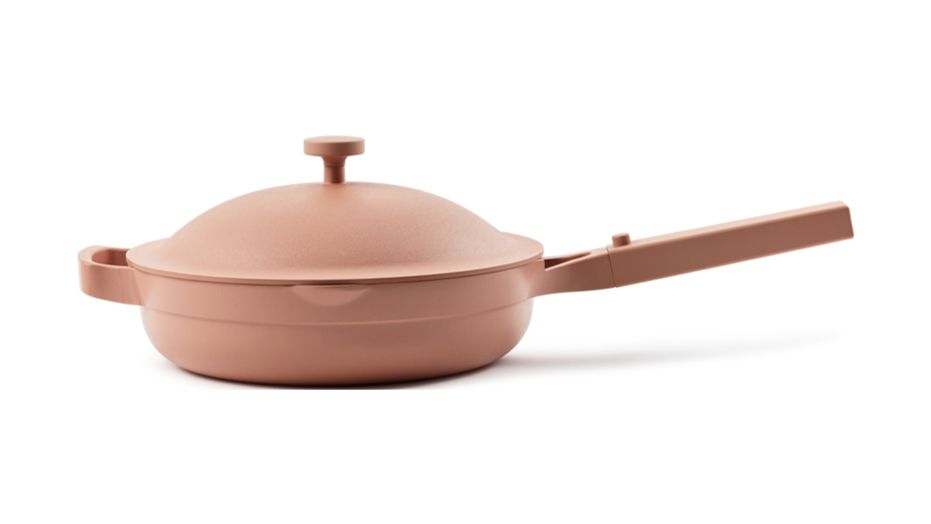 The Always Pan puts a different spin on the concept of a non-stick frying pan. It gets high points for both looks and features with high-quality ceramic nonstick as well as a depth of 6.5cm, and a lid plus add-ons available. You can use it for bacon and eggs, but don't think that that's all it can do.
In review
The design is undeniably gorgeous, and it comes complete with a lid and a steamer insert. We rarely ever put it away as it normally rotates between being on our dish rack drying to being in use on our hob as it's so versatile. We do think it's a shame that it can't be cleaned in the dishwasher, but we do think that it's a great buy for those with not much pan storage space to work with as it can do it all. When it comes to quality non-stick, this is top tier. From pancakes to fried eggs, everything slips around the pan with next-to-no oil. Just be careful what you use to clean it as it might damage the pan. We did find that depending on what you cook in it, it can stain easily and require a little elbow grease to clean.
Good to know
You can choose from green, peach, red, blue, cream, black (and more) finishes. You can't put it in the dishwasher or oven. It's not really large enough for families, but more a pan for couples. The pan was designed to be suitable for many different uses, so the steaming insert is perfect for steaming veggies and more. And you can also buy a wooden or metal steamer insert if you like your dumplings.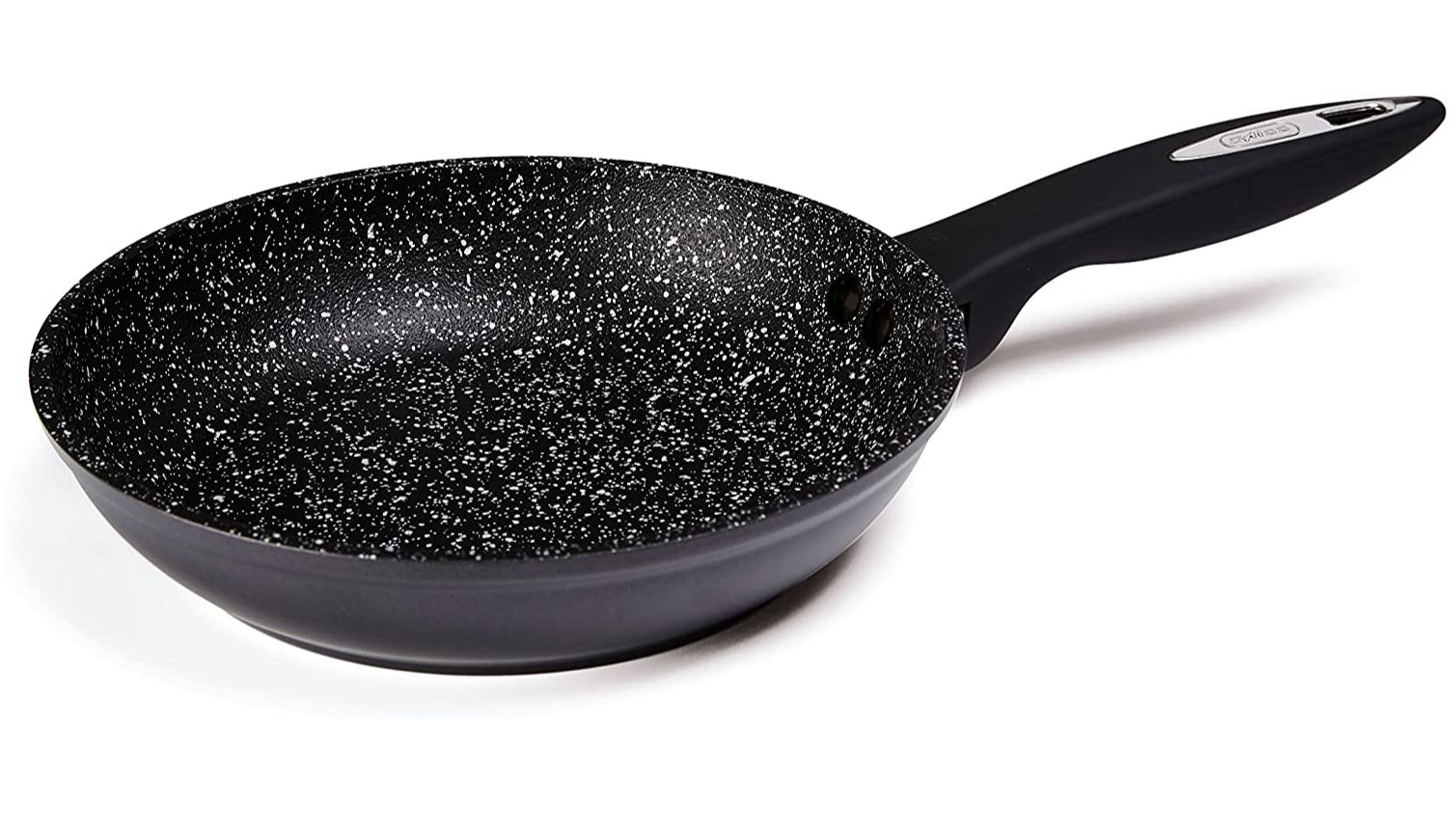 If you're on a budget, then this pan from Zyliss is the one for you. The soft-grip handles and quality textured nonstick make it feel like a much pricier pan. There are three sizes to choose from, so you could even get a collection going.
In review
The weight of the Zyliss Cook Ultimate Induction Frying Pan means it's not ideal for flipping pancakes or moving around a lot. It's 600g, which is about the weight of a small bag of flour. The non-stick is great. It uses Swiss design and triple-layered coating with a textured design that reminded us of the Ninja pan.
Good to know
While this frying pan can go in the dishwasher and the oven, it's worth knowing that it can only go in the oven up to 180°C. That's to be expected with soft grip handles.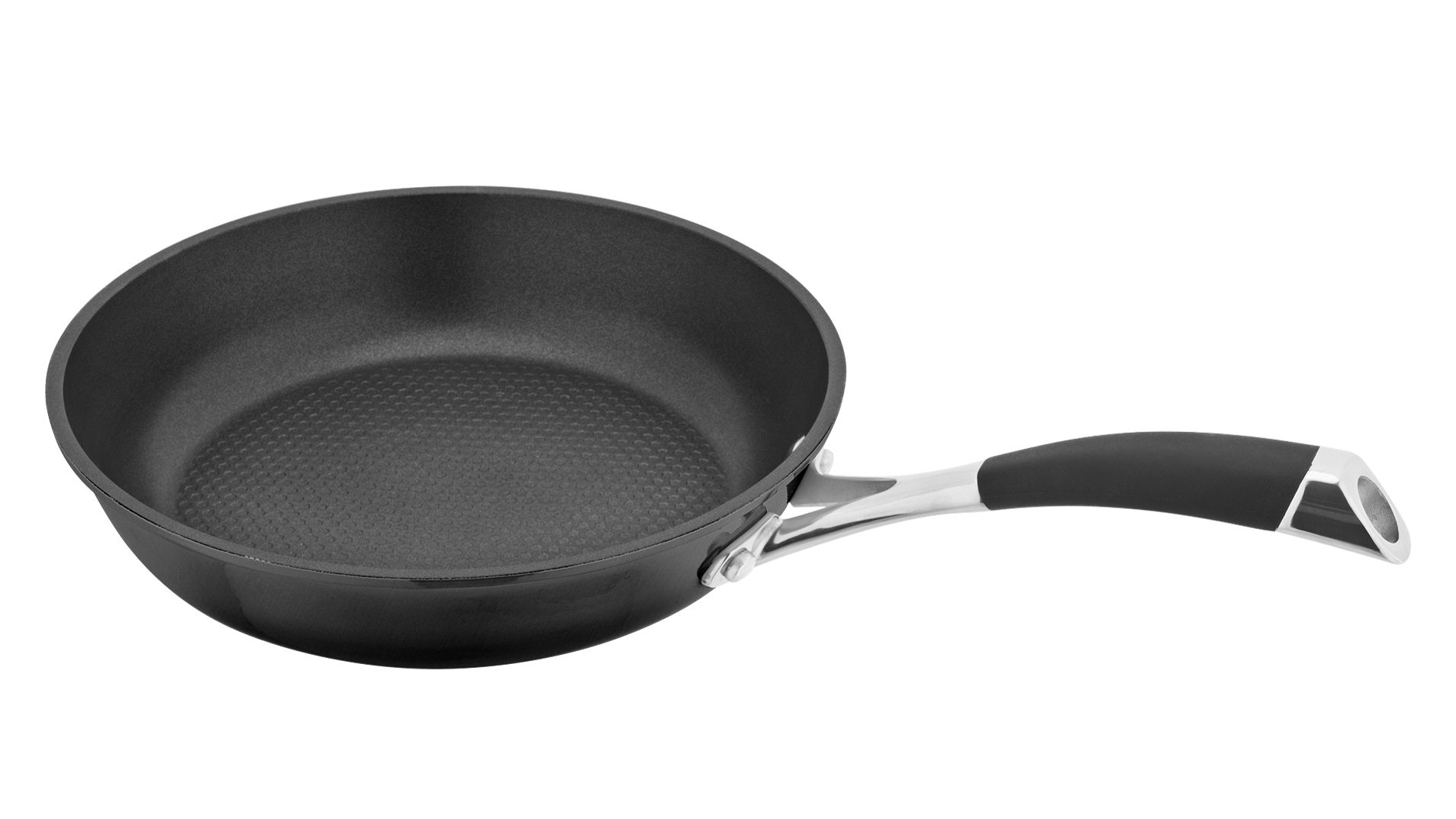 The Stellar S327B 24cm Forged Frying Pan is a little different from the rest of the non-stick pans we tried. It has a unique hexagonal pattern on the double-layered non-stick, which is great for some things, but a bit of a hindrance for others.
In review
The non-slip handle is great. It's grippy but doesn't prevent the pan from being oven safe. The hexagonal design creates interesting charring that you usually wouldn't find on a non-stick pan. This adds a nice depth of flavour, and makes it easier for your food to not stick to the pan itself because it is elevated. What it's not great for is sauces or scrambled eggs, because things do get stuck in the little grooves. Cleaning this away by hand wasn't too much of a hassle (which is proof of the quality of that non-stick) but it did require getting a scrubbing brush involved. It's better for frying eggs, meats, fish, pancakes... anything without a lot of liquid involved. There's nothing to say whether you can use metal utensils or not, so we didn't to be safe.
Good to know
It only comes in one size. The non-stick is Teflon's Platinum Professional and it is covered by a 10-year warranty.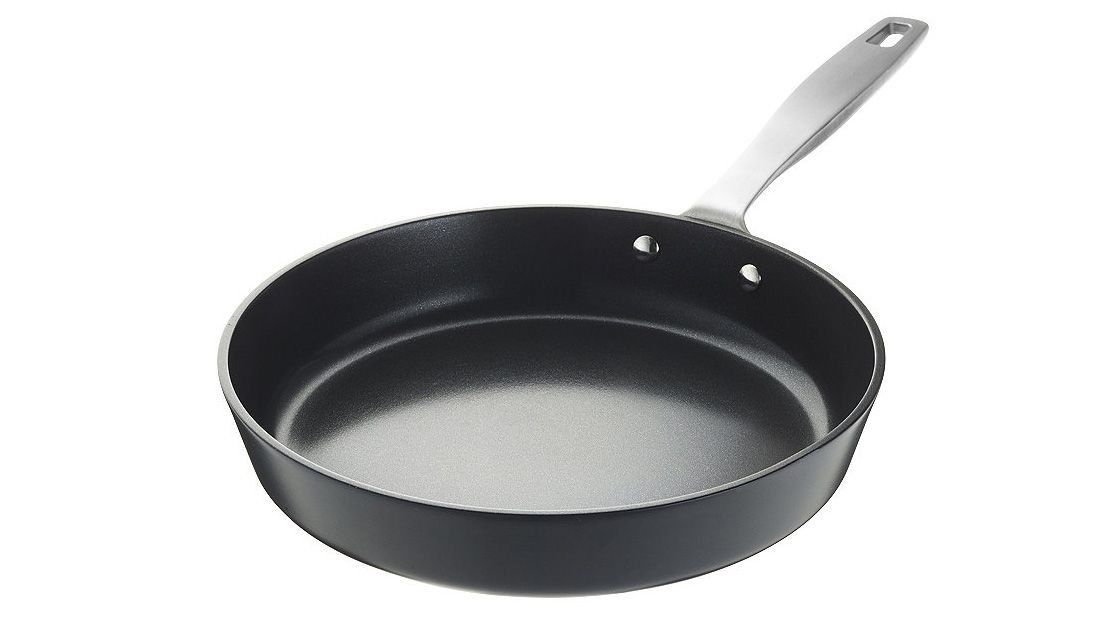 If you are looking for an eco-friendly non-stick frying pan, then your search ends at Lakeland. This one comes in two sizes – 24cm and 28cm – and we think it's a great secondary pan. You might not use it every day, but it's handy if you can't invest in two super expensive pans (understandably). Otherwise, it would be great for students as it's nice and durable at an affordable price.
In review
This Lakeland frying pan surprised Annie while testing. We did notice almost immediately that the flat handle wasn't the most comfortable, but we also realised how good the non-stick coating was, especially for something that's eco-friendly. It has a flat base and high sides, making it deep enough for sautéing, too. This also meant that we spilt less whilst using it, meaning for fewer clean-ups. It's also a dream to wash up as the surface is so nice and slippery – though we did notice some watermarks when leaving to dry on our draining board. It's good for cooking pretty much anything, from a single fried egg to an entire dish. It doesn't say whether you can use it with metal utensils, so we didn't to be safe.
Good to know
The non-stick coating of this pan is eco-friendly, BPA-free and PFOA-free. There are three layers of this coating in total, to ensure longevity. How exactly is it eco-friendly? Simply enough, it has a hard oxidised coating to reinforce the aluminium and create a tough cooking surface. This process uses no acids and fewer chemicals than the production of other pans, as well as three times less energy to make it kinder to the environment when it comes to production. There's a loop at the end of the handle for displaying, too.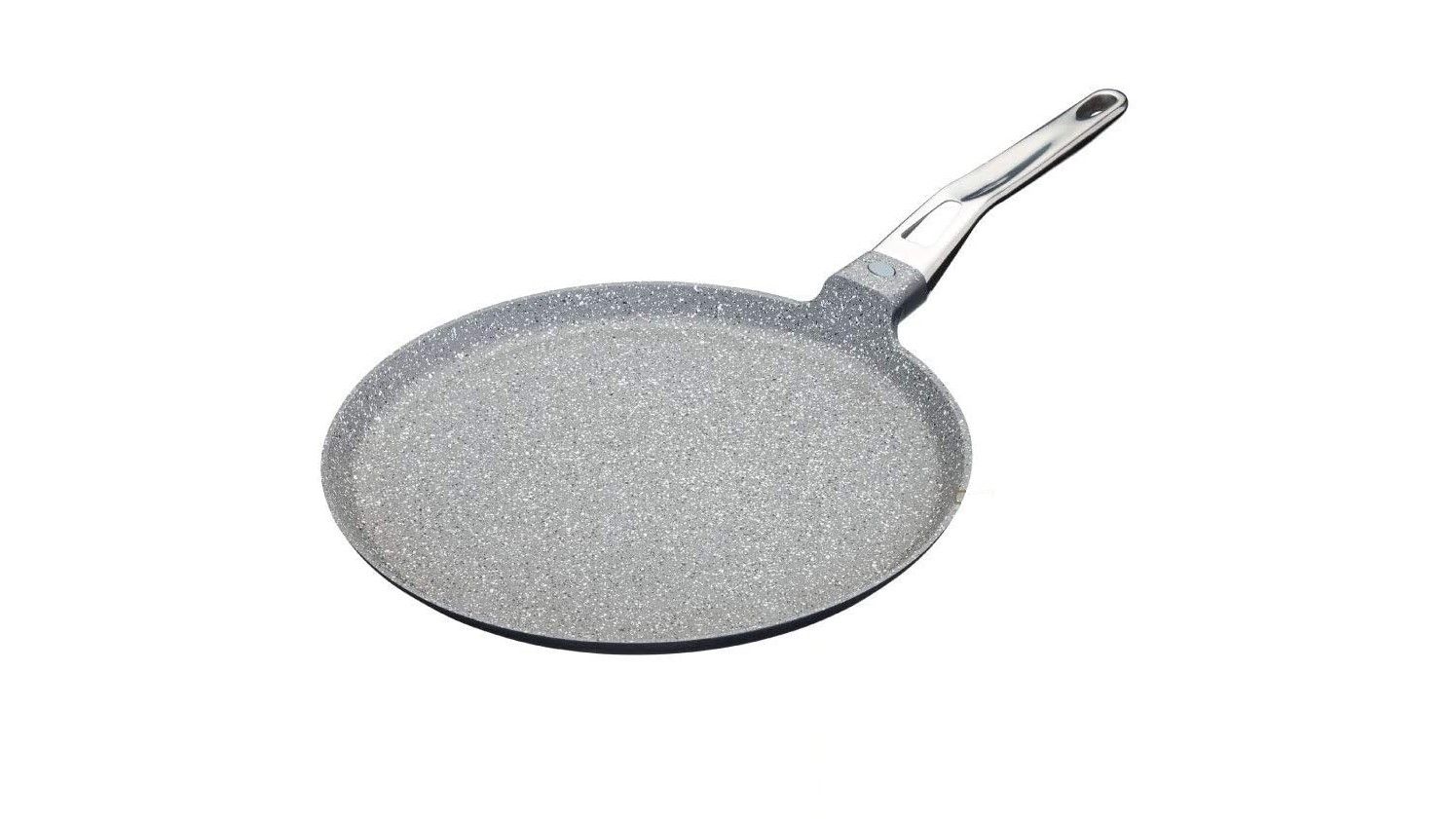 If you've got pancake day on your mind, the MasterClass Crêpe Pan is a top choice. It has a very shallow base that will make flipping so quick and easy, and the double layer of nonstick reduces the need for oil when cooking.
Top features
The pan is oven-safe up to 150 degrees, and the cast aluminium will heat fast and evenly for making consistently delicious crêpes. We like how long the handle is; great for getting some distance when the pan is hot and ideal for flipping pancakes with plenty of control.
Good to know
You can use the MasterClass Crêpe Pan on all hob types, including induction. Oh, and the 28cm width is the perfect size for a crêpe.
---
Real Homes review process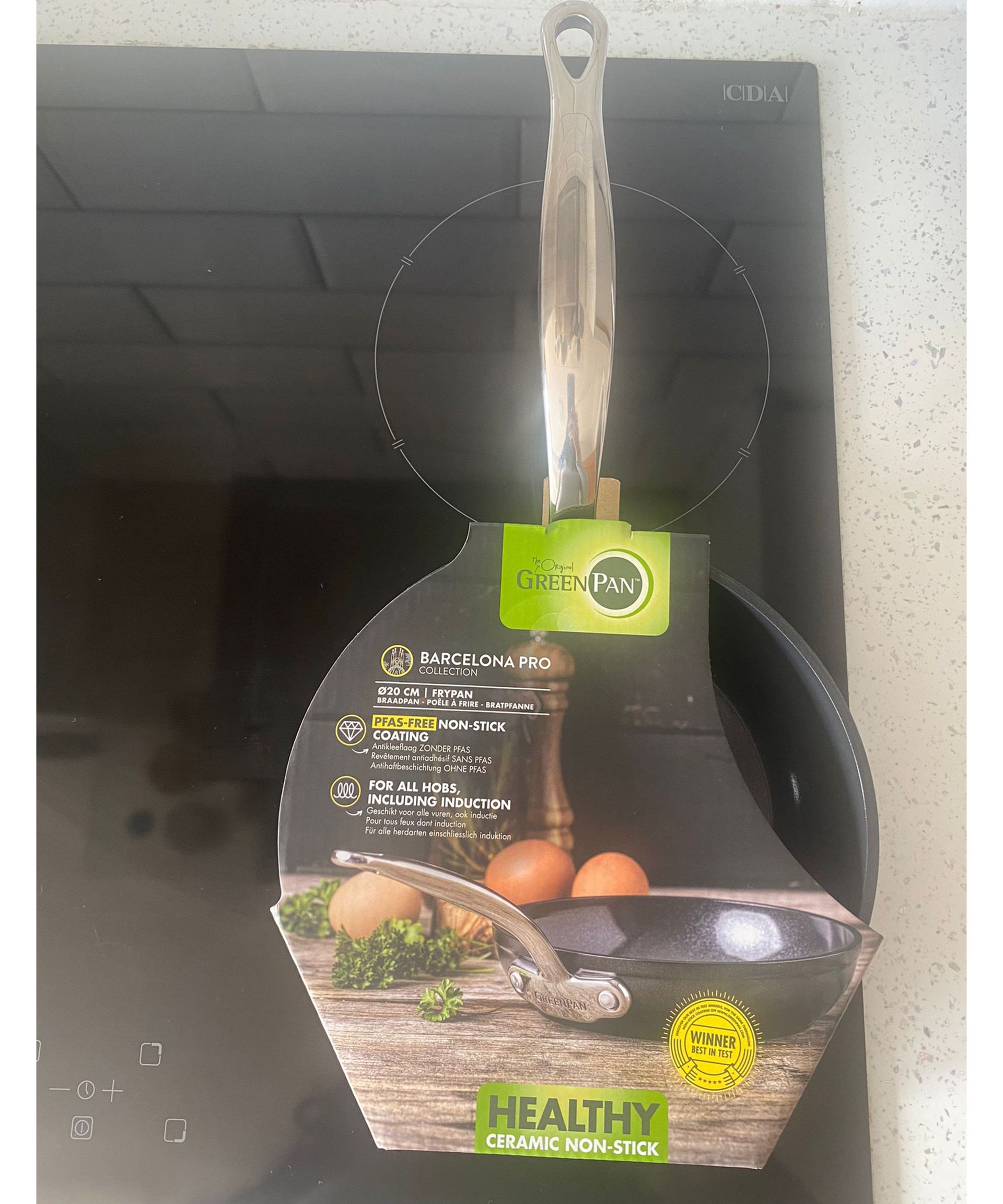 Here at Real Homes, we like to be able to recommend products that we've had hands-on experience with, inside our own homes so that we can use them a good few times before coming to a verdict. We used the knowledge of a couple of team members, along with their hobs, to test each pan in this guide.
First, we used the pan to fry an egg with no oil. From this, we were able to determine the pan's non-stick qualities. After this initial test, we've been sure to use the pan for cooking a range of foods, and we've been sure to report back on how its non-swtick has fared, as well as how easy it is to wash the pan.
Meet our testers below:
Annie is our Deputy Ecommerce Editor, and she has a breadth of experience in testing everyday items, from vacuum cleaners to frying pans, candles and even the odd BBQ.
Annie has tested three of these frying pans for us, including the Lakeland one (opens in new tab), the Kuhn Rikon pan (opens in new tab) and the brilliant buy from Le Creuset. Annie uses the Le Creuset pan almost always when cooking anything that needs to be fried, and after testing, she gave the brilliant Kuhn Rikon pan to her parents and it has fared well in their busy household. Otherwise, the Lakeland one performed very well and now sits in her sister's vegan and toxic-free kitchen and is used every now and then.
Annie is our Deputy Ecommerce Editor, and she has a breadth of experience in testing everyday items, from vacuum cleaners to frying pans, candles and even the odd BBQ.
Annie tested the
Whether it's a quick omelette, some fried halloumi, or a speedy sauce, our content editor, Christina prides herself in making rapid meals in minutes. Watching her Greek Cypriot and Mauritian grandparents make everything from curries to flatbreads in a frying pan, little did she know that standing on a stepladder as a little girl would come in so handy to equip her with the culinary knowledge she has today.
One switch she's made, however, is to reduce the oil content in many of these recipes. With The Original GreenPan (opens in new tab), she has been able to significantly reduce how much fat she adds to the final dish. Though, she is known to add a generous knob of French butter to her scrambled eggs at the end of the cooking process, for flavour.
6 things to consider when choosinhg a non stick frying pan
When buying the best non-stick frying pan, there are a few things to consider. We've listed all of these factors above, below each every pan, but here's what else to know:
1. Size
This should be dependant on how many people are in your household, and what you are buying a non-stick pan to mostly cook. The pans in our guide range from 20cm to 30cm. It's also a smart idea to consider the depth of your new pan, for when it comes to cooking sauces or stews.
2. Non-stick coating
This is obviously a very important factor – all of the pans in our guide have a non-stick coating. Though some have three layers, others have one layer of coating. This non-stick coating will last depending on how you care for the pan, and how often its used. What the coating is made from is a big deal to many people.
Simply enough, PFOA-free means that the coating is free from the chemical PFOA, or perfluorooctanoic acid. The long term impacts of this chemical are not fully known, but lab tests have shown a connection with higher cholesterol as well as impacts on growth, reproduction and liver function. So it is one that is best avoided if possible.
A non-stick pan will usually be made from polytetrafluoroethylene – otherwise known as PTFE – to make them smooth and to ensure your food doesn't stick to them.
3. Suitable for all hob types
If you are investing in a pan that you'll be using for years, you definitely want to make sure it is suitable for every hob type. Should you move home or change your hob, your pan will still be compatible. Induction hobs only work with certain metals, so think ahead and get one that can be used on induction if that is on the cards.
4. Dishwasher safe?
As simple as it sounds – is your new non-stick pan dishwasher safe? Be mindful that larger pans won't necessarily fit into smaller dishwashers, and washing your pan in the dishwasher could damage the non-stick coating. In our eyes, you are always best to hand wash and dry frying pans.
5. Oven safe?
For when the hob won't cut it, lots of frying pans can be popped in the oven after the hob, for browning or heating your food twice-through. Be sure to check which temperature your new pan is safe for – some are 180ºC, others 260ºC. And not all are oven-compatible!
6. Price
Lastly, but arguably most importantly, is price. If you are looking to buy a pan to last you a lifetime (as you should if budget allows), and you use a non-stick frying pan pretty much every day for cooking breakfast, lunch or dinner, then you may want to invest more in something that will last. If you never use a pan, just for the occasional fried egg or omelette, then you can get away with something a tad more reasonable.