Adding a touch of chinoiserie to your home decor can offer an elegant element. Nothing says Chinese pottery more than traditional blue and white china. A carefully curated selection of ginger jars can completely transform a display area, with their aesthetically pleasing shape and design. We've carefully selected the best ginger jars, notable for their rounded shape, high-shouldered design, and domed lids. Here's our pick of the best ginger jars available now.
Staff pick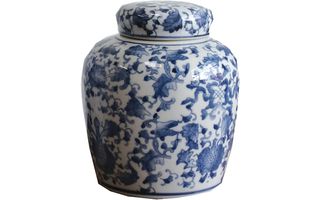 Available in two sizes
Our overall staff pick is a classic ginger jar. It features a blue and white, floral and foliage-inspired repeating pattern. It's made of ceramic materials and comes in two sizes. The smaller version measures in at 5.5-by-5.5-by-6.5 inches and the larger 6.3-by-6.3-by-8.25 inches. If you can afford to buy both, they look great grouped together.
Spotty option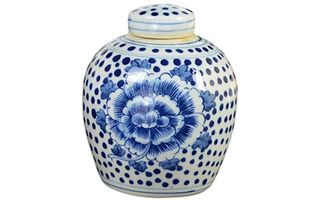 A modern twist
We love that this Chinese jar takes a traditional ginger jar motif, a lotus blossom style flower, and juxtaposes it with a bold, modern dotty design. This jar has a traditional small mouth that is typical for authentic ginger jars. This porcelain jar has dimensions of 5.5-by-6.5 inches.
Faded looks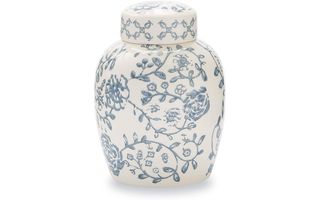 Hand-stamped design
This gently rounded jar has a delicate, slightly faded floral design offering a lovely vintage look. The pattern is hand stamped, so every jar will be slightly different. Both the removable lid and the jar are made of durable stoneware. This jar is 7.5-inches tall and approximately 5-inches wide.
Willow pattern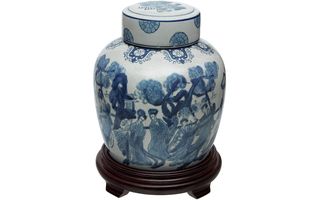 With a wooden stand
Reminiscent of the Chinese willow pattern, this is a striking ginger jar that's elevated by a decorative wooden base. The porcelain is off-white, with an attractive crackled-glaze effect that suggests age. This is a larger option than most ginger jars, measuring 8-by-8-by-9.5 inches.
Dark blue hue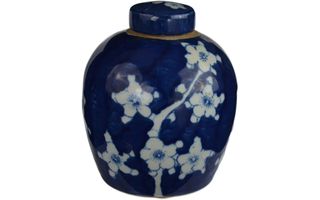 Cherry blossoms and plum flowers
Designed to look antique, this ginger jar has a heavier blue hue than usual. This means it would look fabulous when positioned next to other, more traditional ginger jars. The floral design depicts cherry blossom and plum flowers. This jar has average dimensions of 5.5-by-6.5-inches.
Lotus flower pattern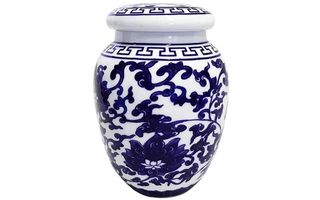 Ming-era reproduction
This handsome ginger jar combines a classic meander border with a reproduction of a Ming-era lotus flower pattern. The result is striking. This jar is available in a small size of 4-inches tall and 3-inches wide, and a larger size measuring 3.5-by-5.5-inches.
Tall boy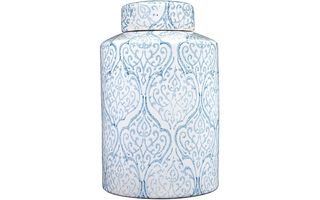 Great for grouping
This ginger jar from the Creative Co-op moves away from the traditional high-shoulder, tapered shape of the classic examples, but is still a strong option to include as part of a collection. We like the faded repeating pattern, which is very subtle. This is a tall choice, measuring 8.5-by-13-inches.
Designer option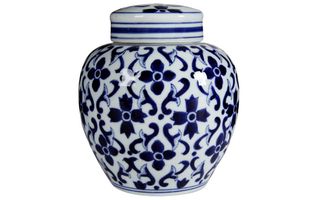 Made of porcelain
Designed by Anthony Venetucci at A&B Home, this ginger jar features a strikingly simple transferware pattern, yet still manages to evoke classic Chinese design. It's made of porcelain and has a removable lid. This jar measures 6.5-by-7.75-inches.
Made in Jingdezhen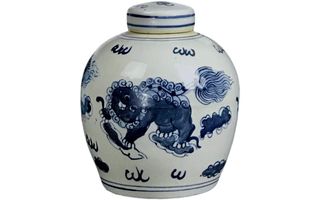 Depicting a traditional dance
This ginger jar is made in Jingdezhen, a famous porcelain-producing area in China that used to be under imperial control producing pottery for a series of emperors. It features a traditional dancing lion motif symbolizing the classic ritual performed at ceremonies. It measures 5.5-by- 6.5 inches.
Hand-crafted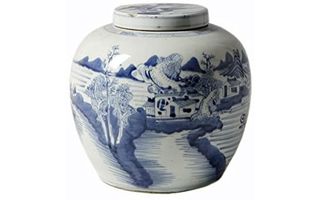 Lovely landscape scene
This jar is hand-crafted and glazed, meaning every piece is unique. We're big fans of this ginger jar's instantly recognizable Chinese landscape design. This style would look great grouped with jars with a repeating pattern, providing an interesting contrast. The jar measures 9-inches tall.
All about the jar
Why you can trust Real Homes Our expert reviewers spend hours testing and comparing products and services so you can choose the best for you. Find out more about how we test.
Our overall staff pick is the Creative Co-op decorative blue and white ceramic ginger jar. With its high-shouldered shape and classic repeating blue and white pattern, it's the epitome of an authentic ginger jar.
We're also fans of the Mud Pie small floral stamped ginger jar. This has a hand-stamped pattern that is a delicate shade of pale blue. This means the jar would look amazing grouped next to other jars with bolder designs.
If you're looking for a ginger jar that is clearly a decorative option, do consider the Handmade blue and white porcelain ginger jar. This jar's wooden pedestal lends it an elegant grandness that would be lovely on a fireplace mantel.