Whether your kitchen's on the smaller side and what worktop space you have is treasured or you live on your own so don't need big appliances, a small microwave is a handy appliance to have. An easy way to keep your kitchen from looking cluttered and it'll cook your dinner in minutes after you've had a long day. Here, we take a look at the best compact microwaves so you can find the right one for you.
Not found what you want? Check out our full list of the best microwave ovens. On the hunt for more kitchen appliance recommendations? Head to our appliances hub page for plenty of advice.
What is the best small microwave?
A great all-rounder, the Russell Hobbs Aura RHM2079A tops our list of the best small microwaves. At just 20 centimetres high and 30 centimetres deep and wide, the 20-litre microwave is simple to use, easy to clean and it looks pretty great on a kitchen counter, too.
How to buy the best small microwave
Quick links to buy a small microwave
Power
Every kitchen benefits from a microwave, even if it's a small model. The biggest consideration? Its power: anything less than 700W and you may as well use the oven. But if you're looking for a microwave to cook food fast with oven quality taste, opt for one with 800 or 900W, such as the Samsung F300G microwave.
Size
When it comes to size, 30cm x 30cm is the average for compact microwaves, with some, such as the Swan Retro Digital Solo microwave, coming in slightly smaller for cramming into those teeny tiny spaces – just make sure you consider the size of your dinner plates first...
THE BEST SMALL MICROWAVES
1. Russell Hobbs Aura RHM2079A 20 Litre Microwave
Best small microwave: a high-tech, sleek, mini-microwave for modern kitchens
Specifications
Best for: Sleek design
Power: 800W
Capacity: 20ltrs
Dimensions: H20.8cm x W30.6cm x D30.6cm
Reasons to buy
+ Simple to use + Easy to clean+ Looks great
This sleek white compact microwave, with its red LED display and mirrored door, has a really simple interface. In fact, this microwave is loved by users for its ease of operation, with no extra features or buttons bulking it out. It does, however, have a good range of automatic programmes to help you cook your food to perfection, and if you often buy frozen food, this microwave also has a special function that thaws food both quickly and hygienically. At 800W, it's impressively powerful. Despite its compact nature, its interior is surprisingly large – there is enough room to fit a standard-sized dinner plate. It is also easy to clean. A great all-rounder and our pick of the best small microwave...
Shop more Russell Hobbs microwaves on their Amazon page
2. Caterlite Commercial Microwave Oven
Best small microwave for power: a little larger but the most powerful on the list
Specifications
Best for: Power
Power: 900W
Capacity: 23ltrs
Dimensions: H28.1cm x W48.3cm x D39.6cm
Reasons to buy
+ 5 different power settings+ High watt
Reasons to avoid
- Largest on this list
If power is what you're after then you can expect good things from this commercial microwave oven. It's the largest on the list, but still smaller than many microwaves, making it ideal for kitchens that have limited work surface space. It heats up food quickly with no complicated buttons or dials to slow down the process, it's surprisingly lightweight and, thanks to its simple styling, it suits most styles of kitchen. One of the best compact microwaves you can buy if you're after something high powered.
View more Caterlite kitchen appliances on their Amazon page
3. Swan Retro Digital Solo Microwave
Best small microwave for retro kitchens: small and good-looking for interior design lovers, this is one of the best small microwaves you can buy
Specifications
Best for: Retro look
Power: 800W
Capacity: 20ltrs
Dimensions: H29.7cm x W45cm x D25.6cm
Reasons to buy
+ Choice of colours
Reasons to avoid
-Not ideal for those who don't want the retro look
The style-conscious will love this retro-looking compact microwave from Swan. It comes in a range of different colours, and it's one of the smallest on the list. It has a 20ltrs capacity but, despite its size, it packs a punch when it comes to power. It features a range of settings for different temperatures and even for defrosting food, with a 60 minute digital timer for ease of use. The turntable provides even heat distribution when warming up meals so you can expect quick and easy cooking in this microwave. The best small microwave for those going for a retro look in their kitchen, we think.
Shop more Swan products on their Amazon page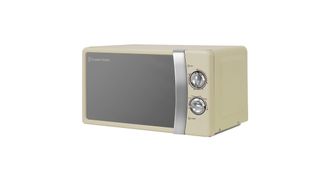 4. Russell Hobbs RHMM701C
Best small microwave for the style conscious: a great pick if you don't want your microwave to stick out like a sore thumb
Specifications
Best for: Stylish
Power: 700W
Capacity: 17ltrs
Dimensions: H25.6cm x W45.1cm x D32.6cm
Reasons to buy
+Compact +Available in a range of colours
Reasons to avoid
-Retro design might not be for some
Available in black, cream, red or rose gold, the Russell Hobbs RHMM701C is our pick of the best small microwave for those after a stylish addition to their kitchen worktop. Its cute, retro design might be just what you're looking for if you like the look of the Swan but still think it's a little too bulky for your kitchen, seeing as it's smaller in height and depth. It's one of least powerful picks on our list, but users have said it's great for reheating dishes as and when needed, and could make a good choice of microwave for a studio flat or maisonette. The glass plate is 25cm in diameter, which should accommodate most standard dinner plates.
Shop more microwaves at Robert Dyas
5. Panasonic Silver with Grill NN-K181MMBPQ
Best small microwave for versatility: this versatile microwave is ideal for all types of snacks
Specifications
Best for: Versatility
Power: 800W
Capacity: 20ltrs
Dimensions: H25.8cm x W43.7cm x D33.7cm
Reasons to buy
+Microwave and grill +9 auto programs+5 power levels
Reasons to avoid
-Not as sleek looking as others
If you have a busy lifestyle and don't have time to cook complicated recipes from scratch, this Panasonic microwave is the best compact microwave for you. It is a combination microwave and 1000W grill, with nine auto programs and five power levels that allow you to quickly and easily reheat meals or prepare hot snacks. It's small enough that it won't take up too much room on your kitchen counter, but powerful enough to cook a range of dishes quickly and thoroughly.
Shop more Panasonic products at Amazon
6. HOTPOINT MWH 1331 B Solo Microwave
Best small microwave for tiny kitchens: extra small for those really short on space
Specifications
Best for: Small kitchens
Power: 700W
Capacity: 13ltrs
Dimensions: H17cm x W29cm x D29cm
Reasons to buy
+Tiny height+Curved so great for sitting in kitchen corners+Features Multiwave technology+Touch control to operate
Reasons to avoid
-Smallest capacity on our list-Expensive for the size
This Hotpoint microwave is the smallest on our list, operating at 700W of power and holding a capacity of 13ltrs. It might be the smallest microwave on our list in terms of height as it comes in at a tiny 17cm tall, however, what it lacks in height it certainly doesn't lack in features. Multiwave technology ensures food is evenly cooked throughout, and it has five power levels and five auto-defrost programmes including meat, fish, poultry, vegetables and bread. Its curved design makes it perfect for storing in a kitchen corner, and it features a sleek touch control to operate. Our pick of the best small microwave for those short on worktop space.
Shop more microwaves at Currys PC World
More on kitting out the kitchen: