Whether you're a first-time BBQ owner or you're hoping to upgrade, our tidy list of the best BBQs ought to help sway this all-important decision. Our team of reviewers has been busy this summer cooking on a load of barbecues, from the likes of Weber, Everdure by Heston Blumenthal, Char-Broil and many more big brands, to help you pick with ease.
Because a BBQ isn't something you can try before you buy, we've done the job for you. Whether you are searching for a portable BBQ for use on your balcony or maybe it's a do-it-all smart model that you want to invest in, keep scrolling for our verdict. Our guide features a BBQ for every budget and all household sizes, plus we've included some of the best gas BBQs, charcoal, and hybrid models below, too.
Now's the best time of year to get your hands on a new grill, especially if you want to embrace al fresco dining this year. Get grilling with our top recommendations.
The best BBQs to buy in 2023
Why you can trust Real Homes Our expert reviewers spend hours testing and comparing products and services so you can choose the best for you. Find out more about how we test.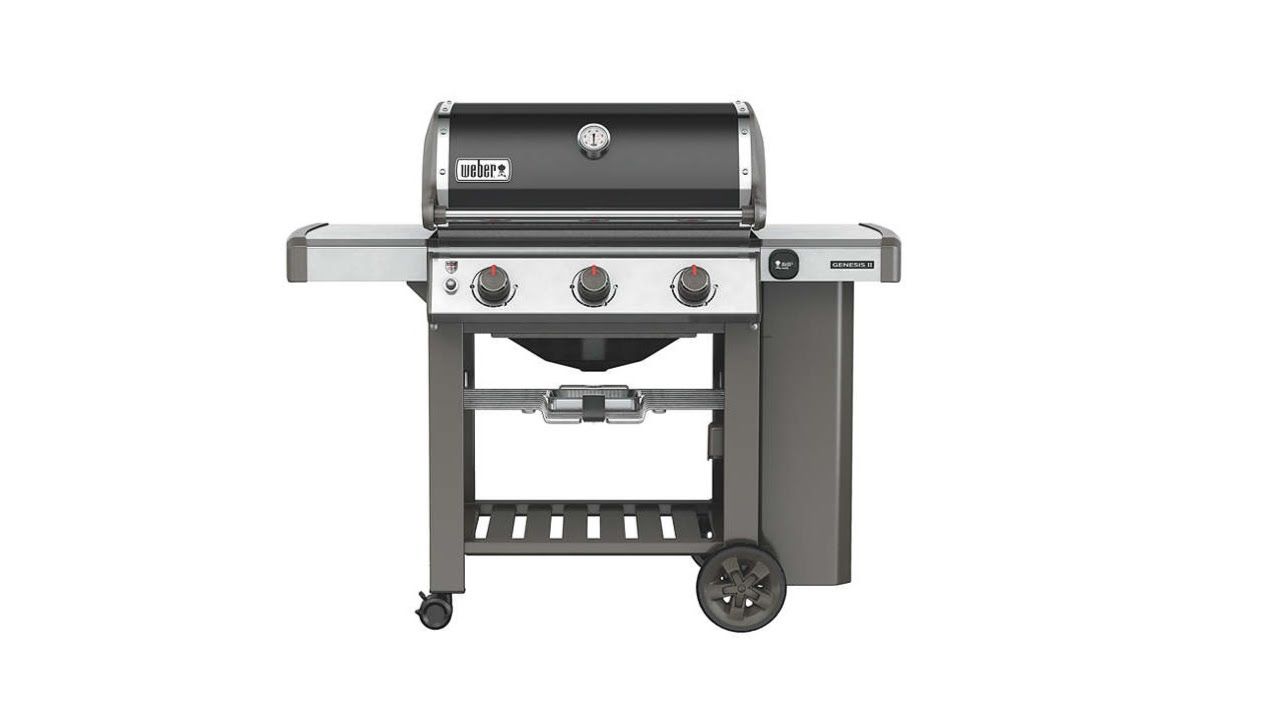 Our favorite gas barbecue is the Weber Genesis II E-310. It's designed to last, with chip-resistant and rust-free coating and cast iron cooking grates that are durable and easy to clean. Not only that, but it's super convenient and easy to use, whether you choose gas or coal to cook with. We rate it five out of five stars and the best gas BBQ you can buy.
Cooking ability
This BBQ is great for cooking for groups of people, with plenty of space including three burners and a keep cool rack. You can use it with charcoal or gas, which means no more waiting for your charcoal to light and the option of total temperature control. You sync it with your smartphone and hook your food up to the temperature gauge for up-to-date alerts on when your food is done. We used it to cook everything from sausages to spatchcock chicken, potatoes, peppers, corn, steaks and more. Our only complaint whilst cooking is that it only comes with one probe to check the temperature.
Design
This barbecue certainly comes with space demands, so it's definitely a better option for people with sizeable gardens. It is easy enough to store though, with four wheels (two of them lockable) for easy moving.
Good to know
Offering a sturdy design, this BBQ features a porcelain enamelled lid two stainless steel side tables and painted steel doors. Assembly takes a while and is a bit fiddly. You need a total of 10 batteries to use this BBQ.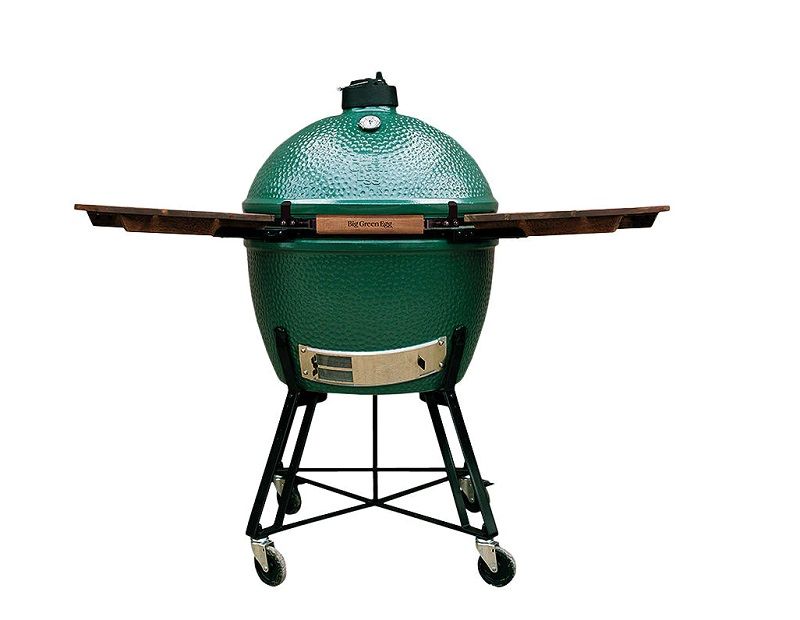 We can highly recommend buying the Green Egg BBQ; it's everybody's favourite (including ours) in terms of style and substance and it's perfect for small spaces, terraces and courtyard gardens. We tested it in our garden and have rated it 5 out of 5 stars.
Cooking ability
Thanks to patented air-flow technology, once the Big Green Egg is up to temperature (which doesn't take long at all), it maintains it nice and steady so there's no worry about over or undercooking food. Having a predictable barbecue gives peace of mind, especially when you're having people over. You can also control the temperature to within a few degrees for precise cooking.
Design
It features wooden shelves on either side, so you can easily keep meat and fish separate, or use one shelf for the cooked food and another for the rolls and salads.
Good to know
No need to worry about children dashing about, as this design has superior insulation so the outside of the egg is never too hot to touch. It's also self-cleaning as the oil and fat left over after cooking are burnt down by the Egg's residual heat leaving a fine ash that can easily be brushed away. The only reason this isn't rated our best charcoal BBQ is because of its higher price tag and heavy weight.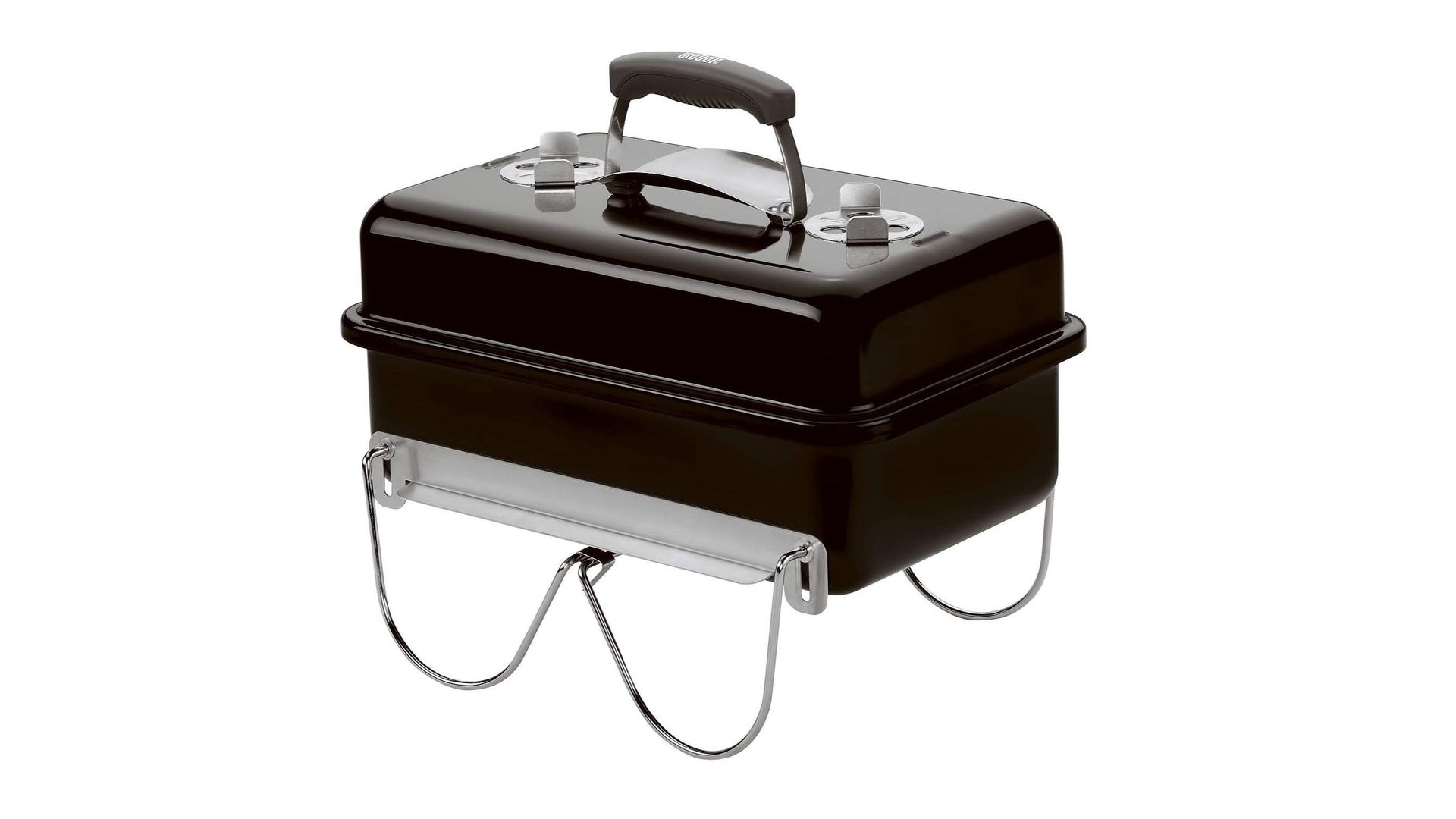 If you're searching for something that can do everything a full-size model can, then the Weber Go-Anywhere is your best bet. We've given this BBQ five out of five stars, and we really wish we could give it more. Its brilliant design paired with its sizable cooking area make grilling up a storm easy, while it sits at a happy-go-lucky price point, too. What's not to love?
Cooking ability
We used it to cook everything from chicken wings to burgers, sausages, corn, and a joint of beef. It took around 25–30 minutes to get hot each time we tested it. You can fit six to eight burgers on there at one time, and we tested it plenty of times while cooking for two, and once for cooking for seven, in batches. It can tackle pretty much any task, big or small.
Design
The unique design of the Go Anywhere is what initially caught our eye. It has foldable feet that unhook to cuddle the BBQ and its cover, to ensure it's secure when you're taking it on the go. It's super sturdy and has a comfortable handle that never gets hot, and it has plenty of vents to allow airflow.
Good to know
This BBQ comes with a briquette bowl to help you measure the charcoal you need. It's easy to clean after use and we put the grates in the dishwasher for ease. It has a hinged lid to protect it from the wind while cooking. Our only dislike is that it doesn't come in more colours. You can leave it outside if you like, but we'd suggest covering it or placing it somewhere the rain can't reach. Though it is fuelled by charcoal, we don't rate it as our best overall charcoal BBQ because of its smaller size.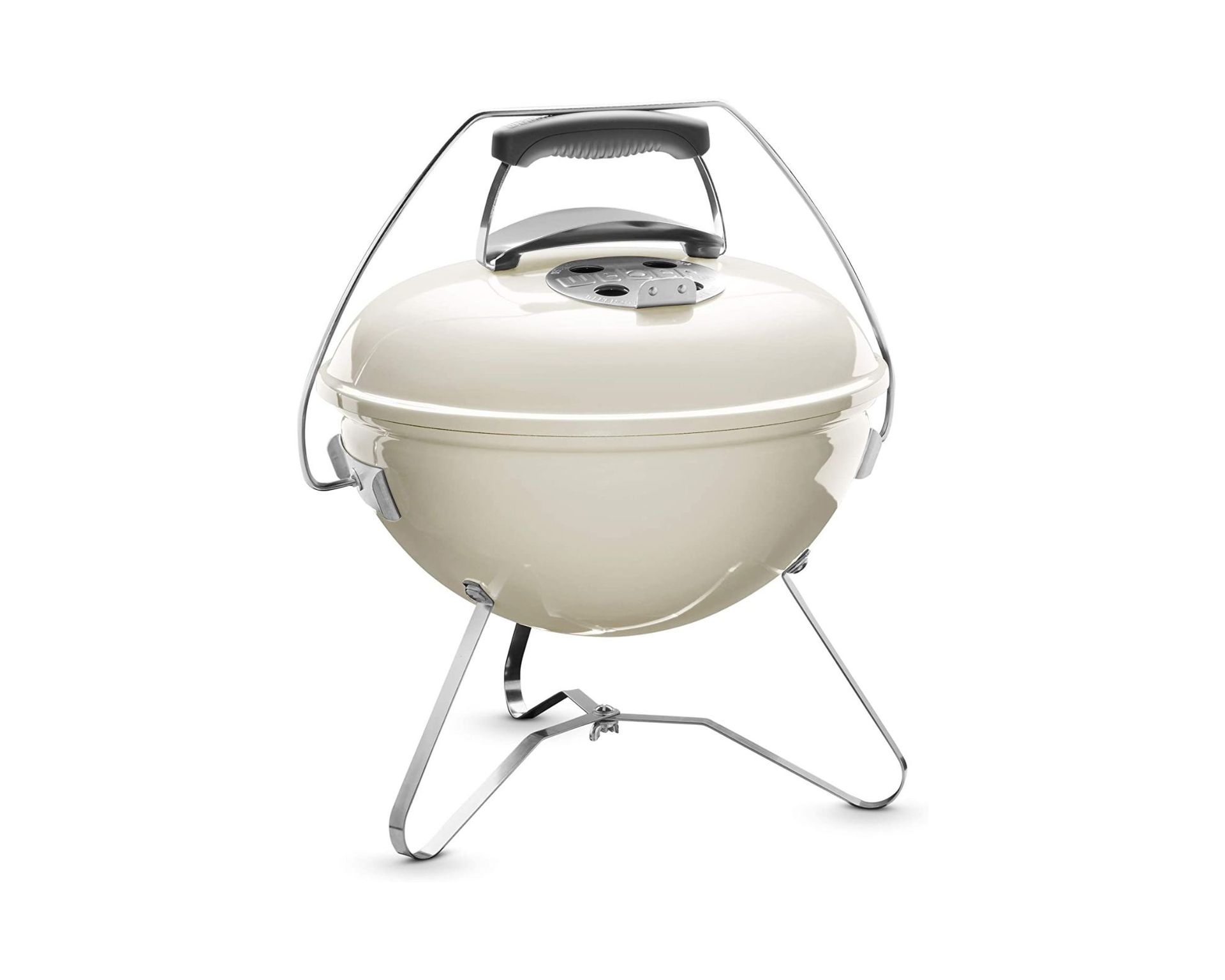 This BBQ from Weber gets top points as our best small BBQ. It can tackle any task, while it's definitely more fit for keeping at home and using in a small garden, tiny balcony or for couples and small families. It offers a decent size cooking space and comes in a range of colourways. Even better? It's super affordable and takes up zero floor space.
Cooking ability
We're very impressed with the cooking ability of this small yet mighty BBQ as we used it to cook everything from burgers to a Tomahawk steak plus kebabs and more. Its cooking space is circular which makes the BBQ itself a bowl shape. We found that it was ready to cook in just 15–20 minutes. You can fit approximately eight burgers on this BBQ at any one time. We tested it in several situations, to cook for two people and even for a large group of people. It does a great job of batch cooking, too.
Design
Choose from a range of colourways, our favourite being Ivory. We're not huge fans of the tuck-n-carry lid as It's not as secure as you'd hope, especially if you're searching for something to cart around. Otherwise, it is nice and compact and it has a hinged lid for wind protection.
Good to know
It's easy to clean and we put the grates in the dishwasher. It comes with a briquette bowl so that you can measure charcoal with ease. Ours has been left outside, but as with the Go Anywhere, you might want to place it somewhere away from the elements. Even though this BBQ is fuelled with charcoal, it isn't our best charcoal BBQ around solely because of its size.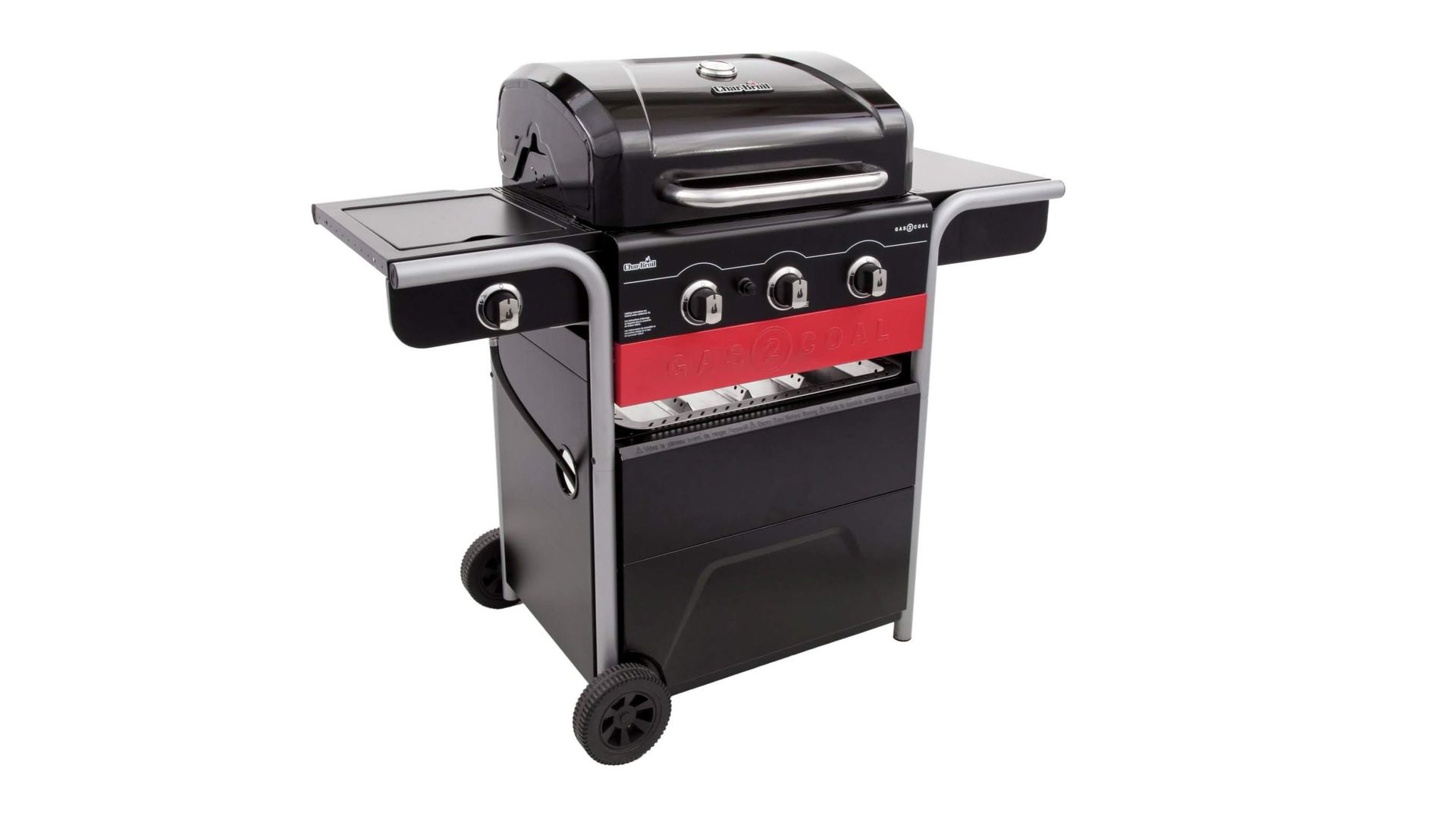 Whether one member of your family prefers gas and the other prefers coal or you're really looking to maximise every available opportunity to cook outside this summer, we can recommend this barbecue which leaves you with plenty of scope for creating amazing food.
Cooking ability
This design offers great gas temperature control with three individual burners that allow you to get the temperature just right when cooking on the gas setting. There's an off-heat cooking option for that smoky, slow-cooked flavour while the ability to cook without the heat on in the charcoal mode is great. The results, flavour-wise, are stunning. We cooked steaks, chicken, asparagus, skewers, scallops and sausages on this BBQ.
Design
There is a little space with a side shelf and warming rack, which is also handy for keeping food warm. Otherwise, if you're not using the side burner you can use this as extra food prep space. Underneath the BBQ you'll find more storage space for tools and more. It also sits on wheels for easy transportation. Its side shelves don't fold, but you can use them to help move the BBQ into place if need be.
Good to know
Thanks to a warming rack, you can keep food warm while cooking more – ideal for larger batches and parties. It comes in several sizes so that you can choose based on your family size, and your budget. Assembly also took a while, so don't expect to unbox it and be cooking within half an hour.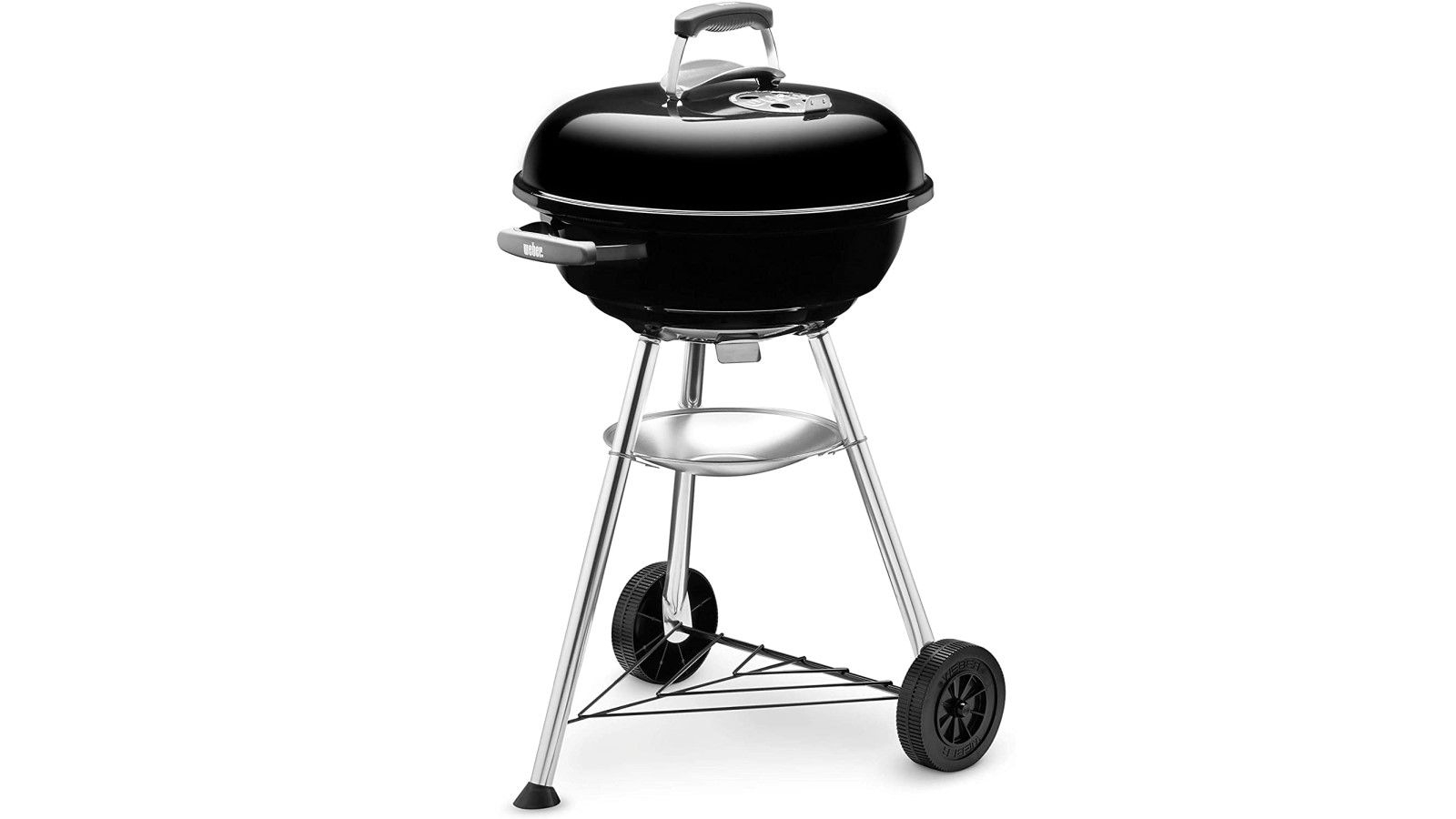 The Weber Compact Kettle Charcoal BBQ packs in all the things we love about charcoal BBQs into a traditional and compact kettle design. It's the style that makes Weber a household name, and it delivers on value and style.
Cooking abilities
Choose your diameter from 47cm or 57cm. It's sizeable enough to care for a family, and there's a drip tray underneath to catch ash and charcoal that might escape. That means you've got easy cleaning options. You can cook up to 13 burgers on there at any one time.
Storage space
It's fairly nonexistent, but you can use the shelf between the wheels to store plates and utensils while you grill.
Good to know
The price is a huge bonus. It's reasonably priced but comes with adjustable heat filters for smoking and keeping temperatures maintained or amping up the flames.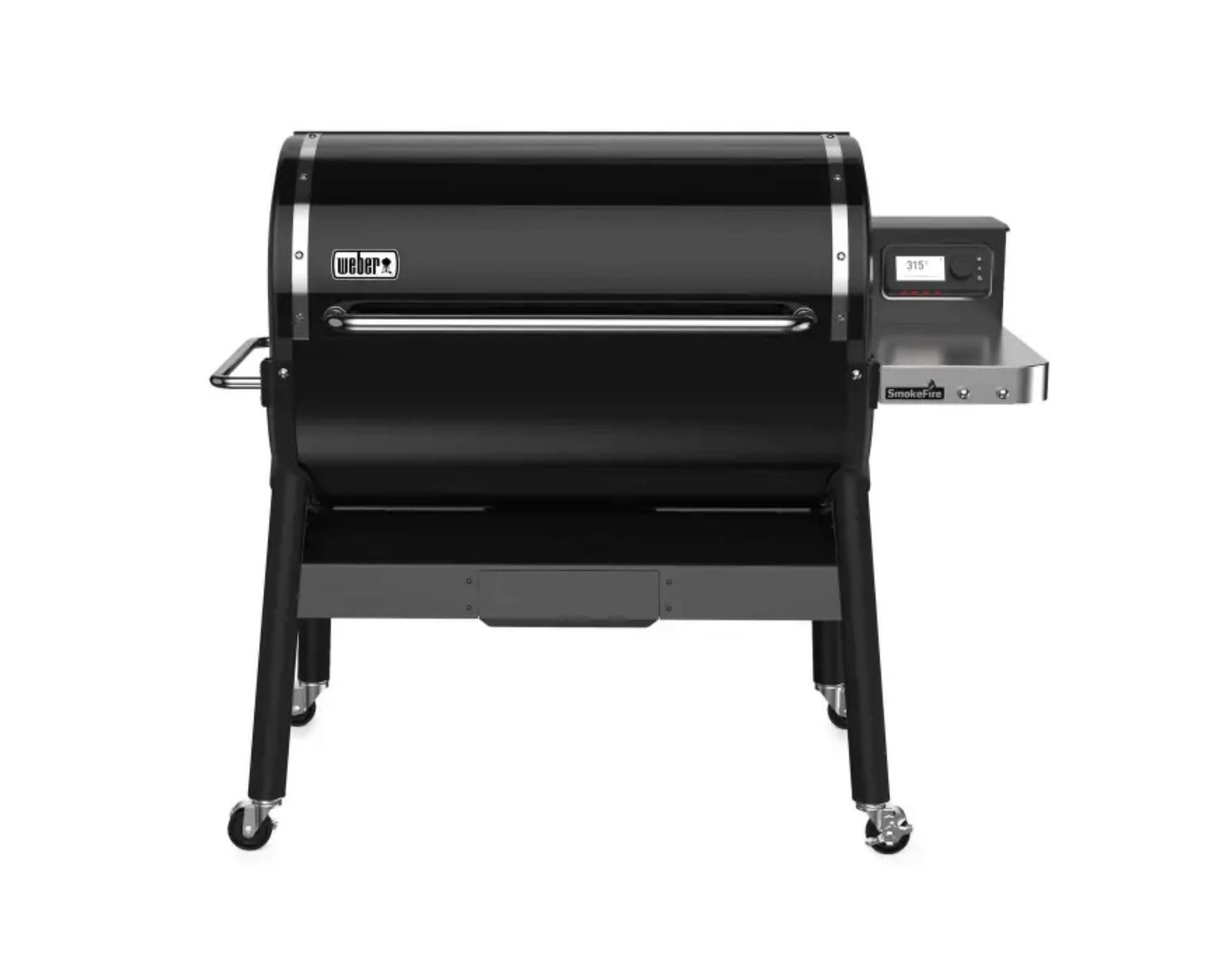 A very convenient BBQ that's fit for big families and large gardens alike, the Weber Smokefire is brilliant. It makes cooking anything and everything super easy, and you can check on your food whilst you're in the kitchen rustling up a salad to accompany your food. The app compatibility is second to none and is undeniably handy when it comes to getting the perfect temperature. It's definitely one for barbecue enthusiasts.
Cooking ability
The Weber Smokefire can be controlled by the Weber Connect app for ease of cooking. You set the temperature of the smoker on this app and using the probe, you can use it to check the cooking status of your food. It also has a control panel on the BBQ. We used this BBQ to cook a lamb shoulder joint, ribs, steak and kebabs. We found the keep warm rack super helpful and everything we cooked came out with a true smoky taste. Cooking made easy.
Design
It's not the prettiest to have in your garden, but admittedly it could look worse and does rock that pitmaster vibe. It sits on wheels and is easy to transport considering its size. The only thing is that it requires power to work, which means it needs to be positioned close to a plug socket (or an extension lead).
Good to know
This BBQ requires two people for assembly, and it arrives in a very large box. It's easy to clean although for the first three uses it advises you not to clean the grates to season them. It also boasts a night light if you're ever cooking in the dark, and handily enough it alerts you when you need to add more pellets.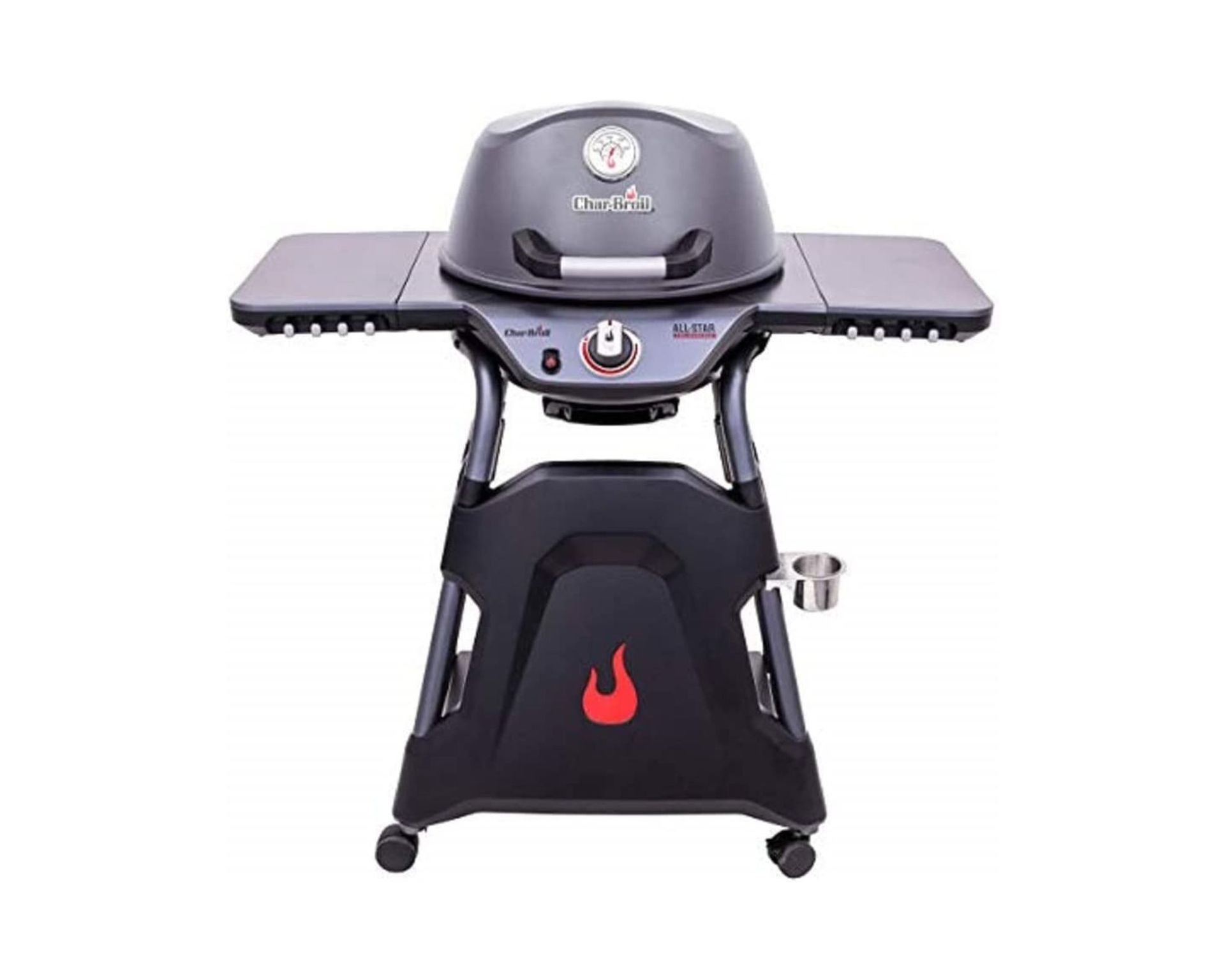 If you're searching for a gas barbecue that's small in size and reasonable in price, then the Char-Broil All Star could be the one for you. We had a small family test this BBQ for us, and the results were perfect. It's a great all-around option for anyone with a small amount of outside space to offer for a BBQ.
Cooking ability
We used this BBQ to cook burgers, spatchcock chicken, corn, halloumi and peppers. It works well to cook for small families and it's pretty easy to use. Results each time were what we expected and it's pretty fuss-free to get ready to cook.
Design
It's a compact BBQ in more ways than one. With two foldable side shelves, it offers the space you need whilst being convenient to store away after use. A cover is sold separately. It also sits on wheels so you can move it around your garden with total ease.
Good to know
It's heavy so will need two people to help carry it for set up. Cleaning the BBQ is easy, and it includes a tool to do so. Assembly takes a good while and is confusing, but don't let that put you off as you need only do it once. Use the app to help with assembly.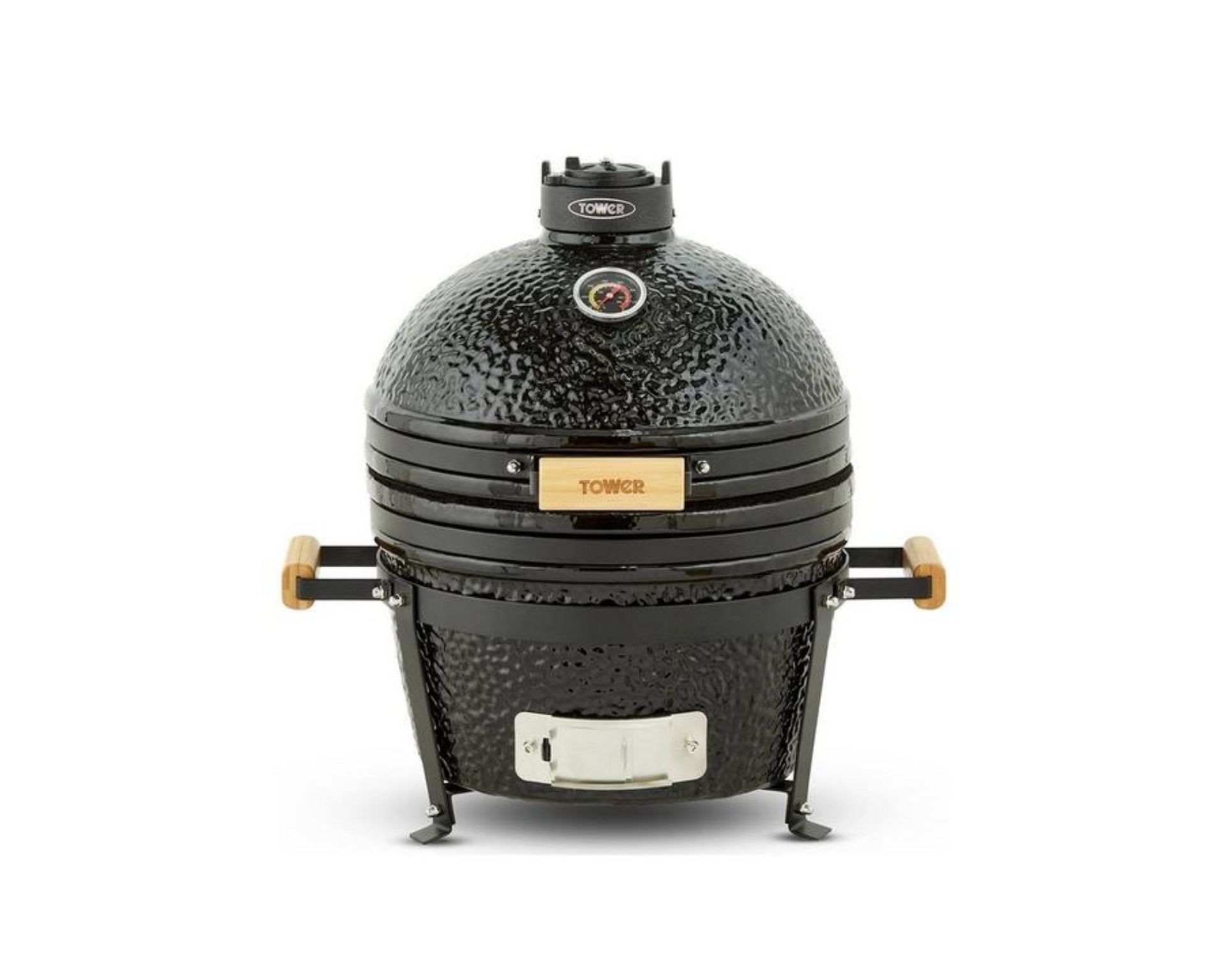 If you're searching for a Kamado grill, then this one from Tower is brilliant. We've tested it and we rate it 4.5-stars. It's affordable and compact, so great for small families and large spaces alike. Just pop it atop a garden table and you're all set to go.
Cooking abilities
We used this BBQ to cook burgers, sausages, chicken fillets and vegetable and halloumi kebabs. The wooden handles stayed cool to the touch the entire time we used it, plus it has a lid to conceal heat well. Its built-in temperature gauge tells you when the BBQ is hot enough for use, and this is undeniably handy when it comes to cooking joints, too. If you're cooking for more than four people at a time, you will need to batch cook your food though don't worry as it retains heat very well.
Storage
Since it is so compact, on-board storage is nonexistent. Though when it comes to putting it away, it comes with a cover and it can be left outdoors with no worries. Convenient.
Good to know
Minimal assembly is required when this BBQ arrives. It's quite heavy so you will need two people to move it. It's super convenient to clean, plus we think it's nice and stylish to sit in your garden all year round. It's sturdy so we had no worries about durability.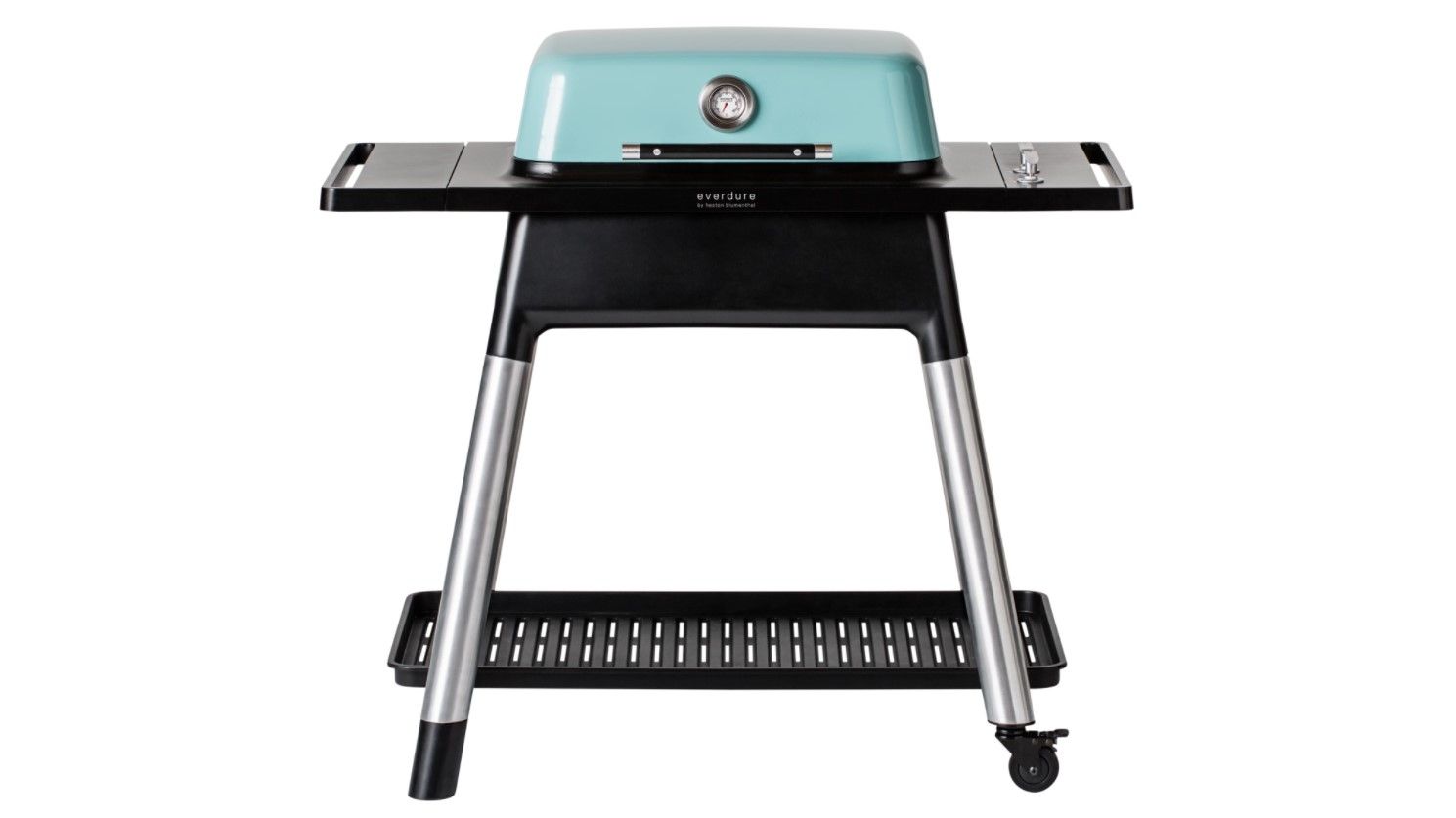 Offering outstanding control and good looks, the Everdure by Heston Blumenthal Force 2 Burner Gas BBQ is a great investment. When it comes to ease of use it's right up there too.
Cooking abilities
Any cooking gadget or appliance with the name Heston Blumenthal attached to it is going to be great quality and well thought out, and this Everdure by Heston Blumenthal Force 2 Burner Gas BBQ is no different. A beautiful piece of design, we think it's well worth the investment. It comes with independently controlled gas burners for cooking on and off the heat with variable heat control so you can ensure that ingredients are cooking at the perfect temperature. Cook with the hood up or down, with it being high enough for convection cooking if you fancy a large joint of meat. We used it to cook burgers and sausages, as well as a whole chicken, a shoulder of lamb plus veggies.
Design
Side shelves and extra storage space below provide all the space you need for sauces and salads. The die-cast aluminium body is rust-proof and feels extremely sturdy and durable. Choose from a range of colours including blue, orange or graphite.
Good to know
Bear in mind that the plates are enamel coated, which means you'll need to clean them more carefully without the use of conventional scourers. Try a nylon brush instead. It's also a bit tricky to clean inside.
If you're savvy with your money, we can recommend buying the George Foreman Indoor and Outdoor Grill which can double up as table top cooker and BBQ. Whether you're taking on the cooking responsibilities at a summer BBQ or cooking a healthy mid-week dinner for the family, this grill should enable you to do it with ease.
Cooking features
Perfect for meat or fish, this portable appliance can easily cook 15 portions of food. There's also an outside temperature gauge so you can keep an eye on the temperature inside of it, too.
Design
There's no storage with the unit but when it comes to storing it yourself, simply remove the stand and the grill will sit neatly on the table or worktop.
Good to know
Cleaning this BBQ Grill is easy as it comes with non-stick removable plates, which are also angled so they drain fat and grease away into the integrated drip tray. No need for connecting to a gas canister or messing around with dirty charcoal – just plug in and away you go.
---
What is the best BBQ?
To recap... the best charcoal barbecue is the Weber Compact Kettle Charcoal BBQ. It packs everything we love about a barbecue and its lightweight yet sturdy design is perfect for small gatherings.
The best gas BBQ has to be the Weber Genesis II E-310, which we gave a five-star rating. It's convenient in more ways than one and the fact you can connect it to an app makes al fresco cooking 10 times easier.
Combine gas with charcoal and you have a hybrid, and the BBQ which gets our vote is the Char-Broil Gas2Coal Hybrid Grill. Our reviewer found that it was a winner with its cooking ability, although assembly was a little fiddly.
5 things to consider when buying a BBQ
1. Size
How many people you regularly cook for will dictate the size of the cooking area. For four people, you need up to 1,800cm². For six or more, you need at least 2,000cm² and if you regularly cook for more than eight, go for 2,500cm² or more.
Consider whether the barbecue you're eyeing up comes with any storage space for cooking utensils and tools, as well as larger shelves for condiments and pop-up side flaps for bowls of salads and rice. At the very least, it's great if there's somewhere to pop the Ketchup. Also, look at the overall dimensions of the design and think about where you'll store it during the winter months. A barbecue left outdoors won't last very long if it's exposed to the elements so make sure there's room in the garage or shed. Otherwise, you can normally buy a cover from the brand to help protect your BBQ from the elements.
2. Burners
Many gas BBQs come with a number of burners that are capable of cooking for up to 12 people. There are also warming racks that can toast hot dog buns and keep burgers warm while the rest of your feast is cooking. Consider how many people you usually cook for, and then choose the number of burners you really need. It's not always the more the merrier, too, as every extra burner adds a lot to the price tag of a BBQ. Three to four burners is sensible for families and small gatherings.
3. Fuel
Think about the type of food you like to pop on the barbie. Is it more your classic burgers and hot dogs? In which case, a traditional charcoal design will give the best, most authentic chargrilled flavour. Or are you after something that will expertly cook fish and seafood? In which case you'd be better off with an all-singing, all-dancing gas design. Maybe you want the best of both with a hybrid dual-fuel model? If you're after something a little more exotic or as an added extra for an existing barbecue, consider a smoker. When you need something for the park or to take to a festival, go for a portable model which will really impress your friends.
4. Flavour
While a gas barbecue will still deliver on the smokey BBQ flavour, a charcoal barbecue is your best bet if you really like that authentic, chargrilled taste. An electric grill will be portable and easy to use, but won't give you smoke. For added flavour, consider a smoker barbecue instead.
5. Ease of cleaning
Look at how simple the barbecue is to clean. Are the grates and accessories dishwasher-safe for instance? Do the parts come off so you can dunk them in a sink of hot soapy water? Bear in mind that larger surface areas will take more elbow grease and time, too.
Where to buy a BBQ...
Real Homes review process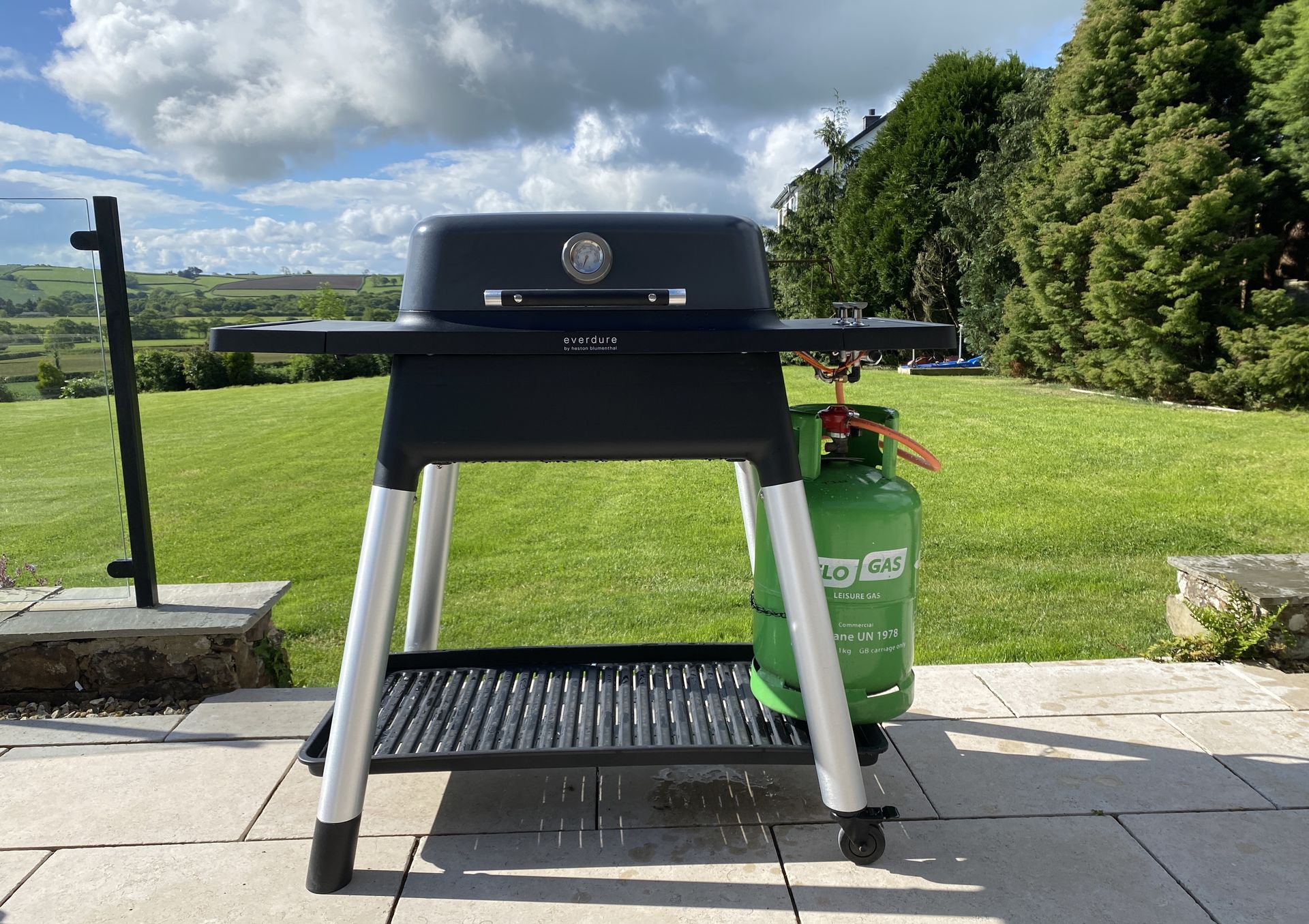 Getting hands-on experience with all the products we featured in our guides is important to us, because it'll ultimately help you. Those you see in our list - from Weber to Everdure by Heston Blumenthal – have found their way into our great British gardens with an aim of cooking up some feasts this summer, come rain or shine.
The factors we look out for go beyond how it looks. We delve into how easy it is to set up, cook meat and veggies and store and clean after each use. We also take into consideration the size of the BBQ because we know that not everyone has a large patio, or indeed a garden, so our review panel has called in barbecues that suit their home set-up to give a real-life verdict.
For more info, see our guide on how we review BBQs. Otherwise, you can read all about Real Homes reviews.
Here's who reviewed what from the Real Homes team.
Millie has tested some of our most popular barbecues, with the Char-Broil Gas 2Coal and the Weber Smokefire being her favourites. Living in South London with minimal outdoor space to work with, Millie tested these BBQs in her parents' spacious countryside garden and used them to feed several mouths.
Annie has tested four portable barbecues in total, with her favourite being the Weber Go Anywhere. She also tested the Weber Smokey Joe from this list. Annie lives in South East London and has a small amount of outdoor space to use for cooking, so finding a BBQ that's big in power but small in size was important to her.
Louise lives in East London and she tested the Tower Kamado Maxi Charcoal BBQ on her small terrace. As a complete BBQ amateur, Louise couldn't believe how easy it was to use (and to achieve great results). Though she will warn you of its heavy weight (and so will her postman!).
Linda has tested plenty of barbecues in her lovely countryside garden, and so far her favourite has to be the Everdure by Heston Blumenthal Force 2, especially when it comes to looks.
Alex lives over in the US and tests a range of products for Real Homes, including grills and BBQs. She favours the Big Green Egg and rated it five -stars, with her only complaint being how heavy it is. She says it will last a lifetime...
The rest of the barbecues on our list were tested by writers from our sister brands, including Ideal Home, Homes & Gardens and Gardeningetc.