Cold weather is never any fun for our bodies. The bitter temperature can really take its toll on us; chapped lips, dry skin, that cold or flu you just can't shake. Bring on summer please! It's especially difficult if you suffer from allergies or asthma, as the dry air can really irritate the sinuses and lungs, so ensuring you keep the home sufficiently moist (ahem), will really help you stay healthy throughout the winter months.
A humidifier will allow you to regulate the moisture in the air, keeping it healthy and reducing the amount of irritants – some can even use essential oils for an extra boost of freshness. There are many different types of humidifier you can get, so it's important to establish your needs before rushing out and buying one. Realistically, homes with children should avoid warm mist humidifiers due to the danger of hot steam. You'll also find they use slightly more electricity as they need to heat the water to produce the steam.
Sleep (and breathe) easy with our pick of the best pillows, including anti-allergy options
Whisk away sneeze- and itch-inducing particles with a HEPA filter-equipped vacuum like the Philips Powerpro Ultimate, as featured on our list of the best vacuum cleaners
However, if your home is a child-free zone, then a warm mist humidifier is great for staving off colds and reducing the symptoms of allergies. You know when you were younger and you had a blocked nose and your mum would tell you to stick your face over a bowl of hot water? Well, a humidifier essentially has the same effect but you don't have to sit there like a wally with a towel over your head. They produce a warm mist that you can feel in the air, and it can be incredibly soothing for blocked sinuses.
Cool mist humidifiers don't necessarily have the same comforting effect, but they are great at filtering the air and getting rid of any impurities. So if you suffer from hay fever or similar allergies on a daily basis, one of these could significantly reduce your symptoms. Cool mist humidifiers are generally seen as more effective, especially in larger rooms but they come with the responsibility of cleaning them regularly, changing the filter and you may find they are noisier than a warm mist humidifier.
We've picked out a range of humidifiers to cater to all homes and budgets, so you can sleep and breathe easy throughout winter.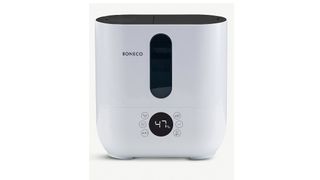 For those who suffer with asthma, the Boneco humidifier could work wonders to reduce symptoms all year round. This humidifier can be set to a cool or warm mist function, or you can simply set it on "auto" and it will regulate the moisture in the room to 50% at all times. This is great if you find your allergies vary from day to day as you don't have to keep fiddling around with the settings.
The Boneco makes our top spot for its easy functions, sleek design, and the fact you can use it with essential oils to give your home a nice fragrance. It has a timer function which means you can set it to go on and off when you need it for a peaceful night's sleep and hassle-free day.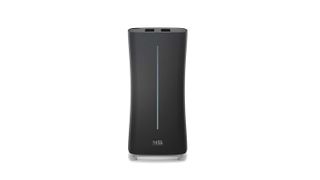 The Stadler Form Eva is a sleek looking humidifier that blows hot or cold steam out of the top to reach even the highest air particles in your home. This cleaver humidifier uses ultrasonic technology to determine the moisture levels in your home before emitting just the right amount of mist to achieve the perfect levels of humidity. It's designed to be super-quiet and its LED lights can be dimmed or switched off completely which is perfect for using in your bedroom when sleeping.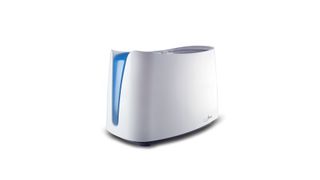 It can be really frustrating if you constantly find yourself coming down with a cold or sneezing due to dust in the air, but this Honeywell Germ Free Humidifier could just do the trick. It is designed to eliminate impurities from the air and regulate the moisture levels at the same time, so that you're not coughing and spluttering all day. Users have found it works well to keep the humidity consistent, but say that replacing filters can become expensive. To prolong the life of your filters, you can turn them every couple of days.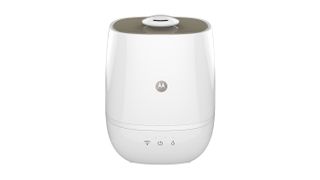 This humidifier doubles up as a baby monitor so you can help your new-born sleep better and keep an eye on them at the same time. You can create a smart nursery which allows you to adjust the moisture levels with four different mist settings, and check analytics via the Motorola Hubble app that can be downloaded to your smartphone. You can use this device wherever you are and remotely move the camera, change lighting and sound as well as regulate the humidity. It takes a little bit of setting up, but if you like the idea of creating a smart home, this humidifier is for you.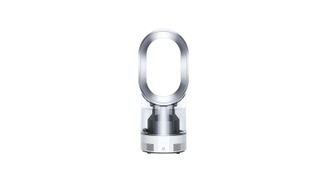 Dyson are dipping their toes into all areas of technology these days, and their humidifier doesn't disappoint when it comes to their sleek and modern style. This device looks cool, and is designed to provide even coverage even across larger rooms in the house.
It's accredited as one of the best humidifiers for asthma and allergies, and is also praised for how quiet it is when running. It has a timer function so you can set it to be on safely while you sleep and users say it's great if you suffer from dry eyes when you wake up in the mornings. Some customers find it's a little tricky to refill and clean, but for infrequent use, it is a reliable choice.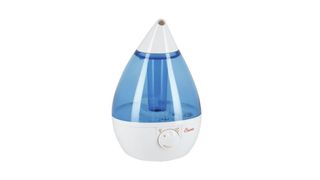 This little humidifier is designed to help you breathe easier at night time by emitting a cool mist into the room. The best thing about this humidifier is that it doesn't require you to change the filter and it's really easy to clean. It looks cool and is quite compact so will easily fit in a bedroom, but that does mean the water tank is quite small and will need filling up regularly. Its size also means you can expect little to no noise and the water level is visible so you'll always know when it needs topping up.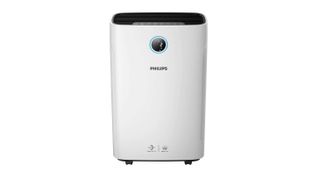 As a humidifier and air purifier combined, this machine is well worth the spend. Claiming to remove dust, bacteria and viruses from the air, you and your family can rest easy knowing that the air you're breathing in is fresh and clean. On top of its purifying technology, this Phillips 2-1 machine helps to keep your room at the perfect level of humidity, and with 40%, 50% or 60% to choose from, you can ensure that you're living in the best environment for you.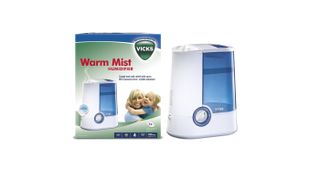 There's nothing worse than trying to sleep when you've got a blocked nose, which is why this humidifier by Vicks could be the ticket to getting a sound night's sleep when you've got a cold or the flu. It comes with a menthol pad which gently distributes warm mist into the air that is designed to unblock your sinuses and help you breathe easier. Users say they definitely noticed a difference to their breathing, but it is quite noisy which could be just as bad a problem when trying to sleep at night.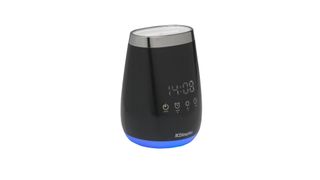 This humidifier is more about generating nice smells than purifying the air, but it's a great way to leave your home always smelling fresh. Simply add a few drops of your favourite essential oil into this diffuser and it will emit a subtle fragrance into the air. This humidifier also doubles as a mood light and an alarm clock, so if you have trouble sleeping, the calming effect of the scents combined with coloured lights could help you to drift off a little easier. It can be a little fiddly to set the alarm, but overall users love the sleek black design on their bedside table.
Read more
Why you can trust Real Homes Our expert reviewers spend hours testing and comparing products and services so you can choose the best for you. Find out more about how we test.
If you've got your eye on a humidifier that uses essential oils for an extra fragrant boost, check out the best essential oils as picked by our friends at TheRadar.com