On the look out for pretty garden tools? Are you garden tools looking a little drab and dated and in need of an update? We've rounded up the best designs that will not only help you get your garden on track for summer but also look fabulous in their own right.
These beautiful tools are the perfect treat while trapped at home and will maybe even help motivate you to start work on the garden. Also since they're so pretty they'll make a great gift for friends or family, whether it's for a special occasion or just to brighten their day. And since they can be delivered straight from the companies there's no excuse not to treat the ones you love.
Take a look at the our guide to the best gardening tools for some more advice on finding the perfect tool.
1. Brighten up your garden with these spring shades
Why you can trust Real Homes Our expert reviewers spend hours testing and comparing products and services so you can choose the best for you. Find out more about how we test.
Who says your garden tools have to made from thick plastic in camouflage green or black? There is a whole host of beautiful pieces made from durable galavanised steel and decorated in beautiful prints. We love this colourful design from the RHS featuring our favourite garden birds.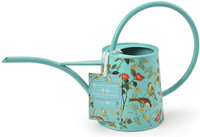 RHS Flora & Fauna Watering Can | Now £26.93 on Amazon
Crafted in durable galvanized steel, this beautiful watering can also feature a beautiful watercolour bird and flower pattern in rich jade green to add a pop of colour to your garden.
2. This galvanised metal storage solution is perfect for vintage lovers
This flexible Burgon & Ball and Sophie Conran trug is any gardeners best friend. The perfect place to hold all your tools and seeds while you sow your the borders. Then come the end of the day, it makes clearing up a breeze as it can just sit in your shed, greenhouse or utility until you next need to get some pruning done. Plus it's galvanised metal design means its hard-wearing and waterproof – all essential qualities in any garden tools.
3. Save on the tidying up in style with an elegant scoop
Gardening can be a messy process, but the right tools can make it a breeze. This Compost Scoop is cylindrical in design which means it holds the soil much better than a trowel and stops your hands getting covered in dirt. Created by British designer Sophie Conran, it features a tasteful yet minimalist look that channels the rustic charm of cottage chic.
With a Waxed FSC beechwood handle, brass ferrule and stainless steel head, it comes in a pale blue gift box making it an beautiful, and highly practical, present.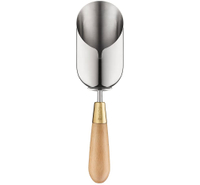 Sophie Conran compost scoop | Only £17.99 on Amazon
When a trowel is too shallow and you don't want to get your beautiful gloves all mucky, a compost scoop is the tidiest way to plant. At this price it makes a pretty little gift for someone who pretty much lives in their potting shed.
4. Get a personalised garden sign to mark out your turf
Whether you want to mark your spot on the allotment or are looking for a cute gift for a friend, a garden sign is the perfect way to tell everyone who is behind the masterful blooms and bountiful fruit and veg plots.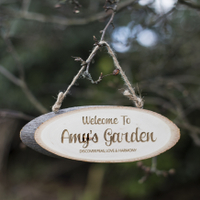 Personalised Garden Sign | £16.99 at Prezzybox
This personalised rustic sign from Prezzybox will look the part in any garden. Add any name (up to 12 characters) and a message of your choosing (of up to 35 characters) to create a really unique gift. Plus orders all placed before 11:30am will be dispatched from the warehouse on the same day.
5. Protect your hands with these floral gardening gloves
Offering high-quality protection in a beautiful archive print, these British Bloom gloves may look dainty but with a cushioned palm, gathered wrist and strong fabric exterior are hard-wearing and will protect you when pruning even the thorniest roses. Plus they are machine washable at 30°C which will ensure they always look their best (even when you accidentally leave them outside overnight).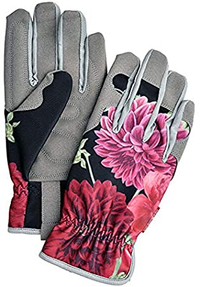 Burgon & Ball RHS British Bloom Design Gloves | £16.99 at Amazon
These soft yet hardwearing gloves make the perfect gift for those who love getting out in the garden. Offering protection for the wrists as well as the hands they are ideal for rose enthusiasts.
6. Care for plants inside and out with a stylish ceramic watering can
You don't have to have a garden to need gardening tools. Watering cans and secateurs are essential for tending houseplants too. These beautiful watering cans from Oliver Bonas are idea for plants inside and out and will look beautiful stored on a shelf or next to your houseplant collection.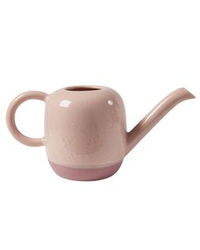 Mini earthenware watering can | £19.50 at Oliver Bonas
Available in three different shades (yellow, green and pink) these earthenware watering cans have a small glazed body with a slim spout, making it perfect for watering seedlings and succulents alike.
7. Beautiful kneeling pad to make weeding a breeze
Gardening can get uncomfortable, particularly if you are knelt on a concrete path for hours on end. This beautifully designed Burgon and Ball Kneelo kneeling pad celebrates some of the country's best loved blooms, dahlias and peonies, brought centre stage.
Part of a collaboration with the RHS, the range sees archive patterns includes early nineteenth century botanical illustrations and watercolours dating back to the 1630s found in RHS Lindley Library brought back into the garden.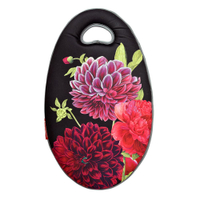 RHS Burgon and Ball British bloom kneelo kneeler | £19.85 on Amazon
As practical as it is beautiful the Kneelo has a memory foam core, for ultimate comfort and a quick dry, wipe clean nylon coated neoprene surround so that it can withstand the wear and tear of the garden while still looking stunning.
8. Child friendly gardening tools for your little helpers
Children love getting involved in the garden, so give your little gardening buddies a set of tools to call their own. Featuring the popular Mr Fox design, these pieces from Scion with delight little helpers while still being completely functional.
Check out these ways to create a child-friendly garden that adults will love too.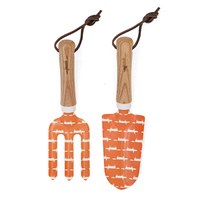 Scion Mr Fox gardening tools | £30 on John Lewis
We love the Scion Mr Fox print on cushions, curtains and wallpaper and now you can take it outside too. This colourful set makes gardening a joy for little helpers and is harder for you to lose sight of if left in the borders.
Read more on gardening: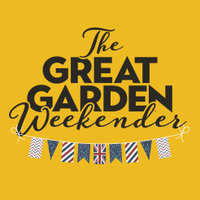 The Great Garden Weekender – Easter Bank Holiday 2020
Garden looking a bit sorry for itself? This Easter we'll be bringing you everything you need to transform it with our amazing Great Garden Weekender, which runs from April 10th–13th.
We'll have the best prices on garden furniture, lawnmowers, sheds and barbecues, as well as easy step-by-step guides to help you finally paint your decking, clean your patio or plant that veg.