If you've got a small kitchen and limited work surfaces, investing in a smaller, feature-packed gadget, such as a compact microwave, is a great way to keep your kitchen from looking cluttered, while remaining efficient.
Every kitchen benefits from a microwave, even if it's a small model. The biggest consideration? Its power: anything less than 700W and you may as well use the oven. But if you're looking for a microwave to cook food fast with oven quality taste, opt for one with 800 or 900W, such as the Samsung F300G microwave.
When it comes to size, 30x30cm is the average for compact microwaves, with some, such as the Swan Retro Digital Solo Microwave, coming in slightly smaller for cramming into those teeny tiny spaces – just make sure you consider the size of your dinner plates first...
1. Samsung F300G microwave
A high-tech, sleek, mini-microwave for modern kitchens
Specifications
Best for: Sleek design
Power: 800W
Capacity: 23ltrs
Dimensions: H17xW30.5xD30cm
Reasons to buy
+ Simple to use + Easy to clean
This sleek black compact microwave, with its ice blue LED display, not only looks modern but has a simple interface. At 800W, it's impressively powerful and there is enough room to fit a standard sized dinner plate. This microwave is loved for its ease of use, with no extra features or buttons bulking it out, but rather a surprisingly big interior that's also easy to clean.
2. Caterlite Commercial Microwave Oven
A little larger but the most powerful on the list
Specifications
Best for: Power
Power: 900W
Capacity: 23ltrs
Dimensions: H28.1xW48.3xD39.6cm
Reasons to buy
+ 5 different power settings
If power is what you're after then you can expect good things from this commercial microwave oven. It's the largest on the list, but still smaller than many microwaves, making it ideal for kitchens that have limited work surface space. Users have reported that it heats up food quickly, with no complicated buttons or dials to slow down the process, that it is surprisingly lightweight and, thanks to its simple styling, that it suits most styles of kitchen.
3. Swan Retro Digital Solo Microwave
Small and good-looking for interior design lovers
Specifications
Best for: Retro look
Power: 800W
Capacity: 20ltrs
Dimensions: H29.7xW45xD25.6cm
Reasons to buy
+ Choice of colours
The style-conscious will love this retro-looking compact microwave from Swan. It comes in a range of different colours, and it's one of the smallest on the list. It has a 20ltrs capacity but, despite its size, is said to pack a punch when it comes to power. It features a range of settings for different temperatures and even for defrosting food, with a 60 minute digital timer for ease of use. The turntable provides even heat distribution when warming up meals so you can expect quick and easy cooking in this microwave.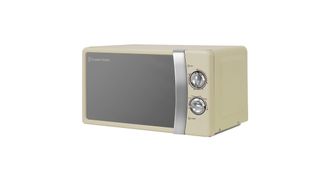 4. Russell Hobbs RHMM701C
Extra small for those really short on space
Specifications
Best for: Smallest size
Power: 700W
Capacity: 17ltrs
Dimensions: H25.6xW45.1xD32.6cm
Reasons to buy
+ Very compact
This Russell Hobbs microwave is the smallest on our list, operating at 700W of power and holding a capacity of 17ltrs. This cute, retro design might be just what you're looking for if you like the look of the Swan but still think it's a little too bulky for your kitchen. It's the least powerful on the list but users have said it's great for reheating dishes as and when needed, and could make a good choice of microwave for a studio flat or maisonette. The glass plate is 25cm in diameter, which should accommodate most standard dinner plates.
5. Panasonic Silver with Grill NN-K181MMBPQ
This versatile microwave is ideal for all types of snacks
Specifications
Best for: Versatility
Power: 800W
Capacity: 20ltrs
Dimensions: H25.8xW43.7xD33.7cm
Reasons to buy
+ Microwave and grill
If you have a busy lifestyle and don't have time to cook complicated recipes from scratch, this Panasonic compact microwave could become your new best friend. It is a combination microwave and 1000W grill, with nine auto programs and five power levels that allow you to quickly and easily reheat meals or prepare hot snacks. It's small enough that it won't take up too much room on your kitchen counter, but powerful enough to cook a range of dishes quickly and thoroughly.
Read more
If convenient cooking's where it's at (and you still have a little space to spare) check out our list of the top 5 electric grills.