Oak frame extensions are a desirable option for those wishing to enlarge any style of home, but in particular they can enhance the character of a period property while adding space and improving the internal flow. They are also prized by buyers and tend to increase a house's value more than other types of extension.
While oak structures, as we know them, can be traced back to Romans times, in Britain this attractive and robust form of construction reached its peak during the Middle Ages.
Although the use of oak declined during the Georgian and Victorian eras, thanks to the popularity of brick and stone, today we not only recognise the longevity and versatility of this hardwood timber as a building material for new homes, but also when looking to add characterful, eco-friendly extensions that work in harmony with historic properties.
Related articles: How to extend a period home | Buying oak frame garden buildings | How much will it cost to add an extension to your home?
What are the benefits of extending in oak?
For many, the beauty of an oak frame extension lies in its use of age-old construction methods – albeit often applied using hi-tech equipment – energy efficiency, and its ability to naturally weather and soften over time, which results in a more sympathetic addition to an older home.
Many people would even argue that oak only gets more attractive with time. 'A green oak frame oozes character and, as with many of the fine things in life, gets better with age,' says Nik Sheppard, lead carpenter at Carpenter Oak. 'As the frame seasons, the timbers are an enduring source of fascination as their tone and texture change and surface shakes appear.'
The material's impressive green credentials also ensure the addition is renewable, carbon neutral and sustainable – look for FSC or PEFC certification. Also, since the components can be manufactured off site, build times can be faster than normal.
This bespoke weatherboarded and glazed barn-style extension by green oak frame specialist Border Oak is self-supporting, so it does not impact structurally on the host building. Prices for a complete bespoke build cost between £1,300–£2,100 per m². A new range of self-assembly garden room kits start from £25,000 for a W4xL5.5m oak frame
Where does the wood come from?
The majority of oak frame building companies tend to use European or English oak. It's mostly 'green', which means it has recently been felled and retains moisture, making it easier to work with. It requires no chemical treatments or preservatives.
The resulting frame will continue to dry and naturally crack over the years – with shrinkage proving a structural advantage as the frame tightens, hardens and strengthens. Because of this, a well-designed and built oak-frame structure can be expected to last for at least 200 years.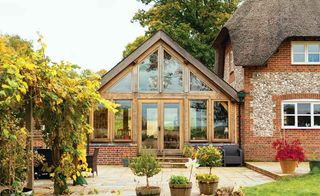 This well designed sunroom provides a dining area extension to the kitchen and what was a much more constricted area in the original home. The total build cost was £54,000, GreenRooms by Oakwrights
Design options for oak frame extensions
Extensions range from single-storey structures – often in the form of conservatories, orangeries and garden rooms – to substantial double-height additions. Many designs exploit the beauty and strength of a frame that requires little internal structural support to create large open-plan spaces and impressive vaulted ceilings and galleries, often incorporating generous amounts of glazing.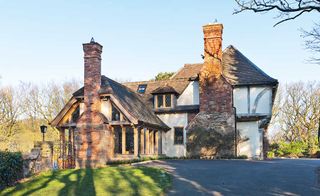 This oak frame extension has added a spacious sunroom with a stunning vaulted ceiling (see below) to a period house that dates back to Tudor times. Welsh Oak Frame carried out the project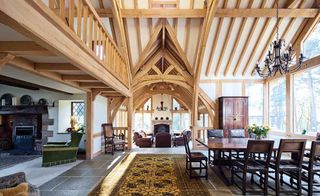 Is it expensive to extend in oak?
These unique structures will prove more expensive than a standard extension. While some kits are available, most companies do offer a completely bespoke service, with packages ranging from supply right through to a comprehensive service covering design, planning, groundworks, supply, build and finish. Adding either a single- or double-height extension can add value to your home, although that value depends on the space and its successful integration with the original house.
Externally, extensions should always remain in proportion with the existing property and, from a planning perspective, be subservient to the original. Internally, consider the new addition's function as well as form, and bear in mind that any new space must also work effectively with your existing layout, in terms of access, flow and light levels in the rooms beyond. Consult with an architect or designer.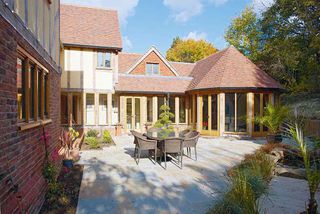 In addition to its award-winning oak-frame homes, Oakwrights builds substantial oak-frame extensions. Its sister company, Greenrooms, offers oak-frame, single-storey glazed additions. This 70m² pool house and sunroom features exposed trusses and posts, and is priced from £90,000 to £102,000 for frame-only installation
Will I need planning permission?
Oak-frame extensions are subject to the same regulations and rules as any other, so before you consider any construction, do consult your local planning department. Some extensions may be allowed under permitted development rights, but many require planning consent due to their size, scale and location.
Owners of all listed buildings, or properties within their grounds, must apply for consent to alter or extend. Find out more at planningportal.co.uk.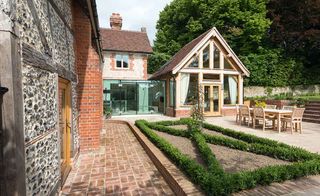 This extension by Border Oak is visually distinct to protect the listed status of the house, while a glass link makes use of an existing opening. Between £1,300-£2,100 per m2
Questions to ask before you invest
What type of oak is being used?
Most oak frame extensions are built from green oak, which is the term for oak that retains moisture content (up to 30 per cent, depending on how long it has been allowed to air dry) and which has recently been felled. Green oak buildings need time to settle; the shrinkage that occurs is a structural advantage as the joists tighten up. Oak that has dried out is called 'seasoned', which is much harder to work with.
Are green oak structures affected by building regulations?
In addition to planning, all oak-frame additions must adhere to building regulations and energy-efficiency guidelines.
What if I own a listed building?
Owners of listed buildings, or properties within their grounds, must apply for consent to alter or extend. It is always worth checking with your local planning authority, as well as with your surveyor and/or architect.
Oak frame design gallery
This oak garden room, with a glazed gable and bi-fold doors, offsets the existing oak-frame house. From £48,000 at Julius Bahn
Designed and manufactured to individual specifications, English Heritage Buildings' green oak-frame extensions have been awarded the prestigious BM TRADA Q-Mark for quality. The company also offers 10-year building and price-match guarantees. Prices for a W4.3xL4.8m single-storey frame start from around £21,600
Oak-frame structures are ideal for those looking to create large open spaces with generous amounts of glazing. This W6xL9m green oak kitchen extension, designed and installed by Welsh Oak Frame, features extensive glazing to the end gable and a vaulted ceiling that highlights the framework. Prices from £50,000
An oak orangery or conservatory, such as this one from Prime Oak, will add light, space and character to any style of home. Using carefully selected oak and traditional techniques, all of Prime Oak's structures are designed to sit harmoniously with the existing home. Prices on application
Julius Bahn prides itself on its green credentials, and aims to ensure its bespoke sustainable, oak-frame conservatories, orangeries and garden rooms are constructed with as little impact on the environment as possible. Prices start from around £48,000 for a fully assembled W4xL5m structure
David Salisbury Oak offers custom-made, bespoke buildings, crafted using a fully air-dried seasoned oak framework and kiln-dried engineered oak windows and doors. This W3.5xL4m oak garden room, with tiled roof, costs around £55,000
Bespoke structures allow for added flexibility within the design. This W3.9xL8.8m oak-frame faceted sunroom, by Arboreta, is fashioned from green oak and features a vaulted ceiling, plus king post trusses with curved braces. Prices start from around £30,000 for a frame-only structure
Essential oak frame contacts