There are many things to consider when designing a new kitchen, but when it comes down to it, there is one question that should underpin every decision – how do you want to feel in it?
Vivienne began her kitchen transformation with a very clear feeling in mind. She wanted her new space, and indeed her whole life, to be relaxed and rustic. Having moved from a more formal Georgian family home, her sights were set on a calm and laid-back kitchen-diner that would function as a living, relaxing and entertaining space, too. She reveals how she created the look.
If you've got your own renovation to tackle, we have lots of ideas and advice on what to do and where to start in our feature on house renovation. For more real home transformations, head to our hub page.
Profile
The owner Vivienne Wallace, a retired ship broker and interior design consultant
The property A three-bed, double-storey flat in a Victorian house in Bristol
Project cost £33,600
'Having lived in the countryside for many years, I decided to move to Bristol for a more urban lifestyle, but finding the perfect home proved difficult. I spent 18 months putting offers in on houses with no luck, and so I went to an auction. My wish list included a two-story home, a garden, and a location within walking distance to shops and transport. This Victorian house ticked all the boxes, so I went for it. Once it was mine, inevitably, I discovered it was in a much worse state than expected. But with my creative eye, I was excited for the challenge of stamping my personality onto the space.'
'I remodeled my home while living in rented accommodation, which certainly made things easier. The kitchen was originally in a tiny room under the staircase, and at the front was a large, cold drawing room. As I spend a lot of time cooking and entertaining, I thought the biggest and brightest room would be perfect for my kitchen. In a bid to have both a more open-plan layout and to create cozy nooks in winter, I knocked through to the living room and installed sliding pocket doors for the best of both worlds. I also wanted to retain original features. The beautifully ornate cornicing was almost hidden under layer upon layer of paint, so I had this stripped back to reveal the details.'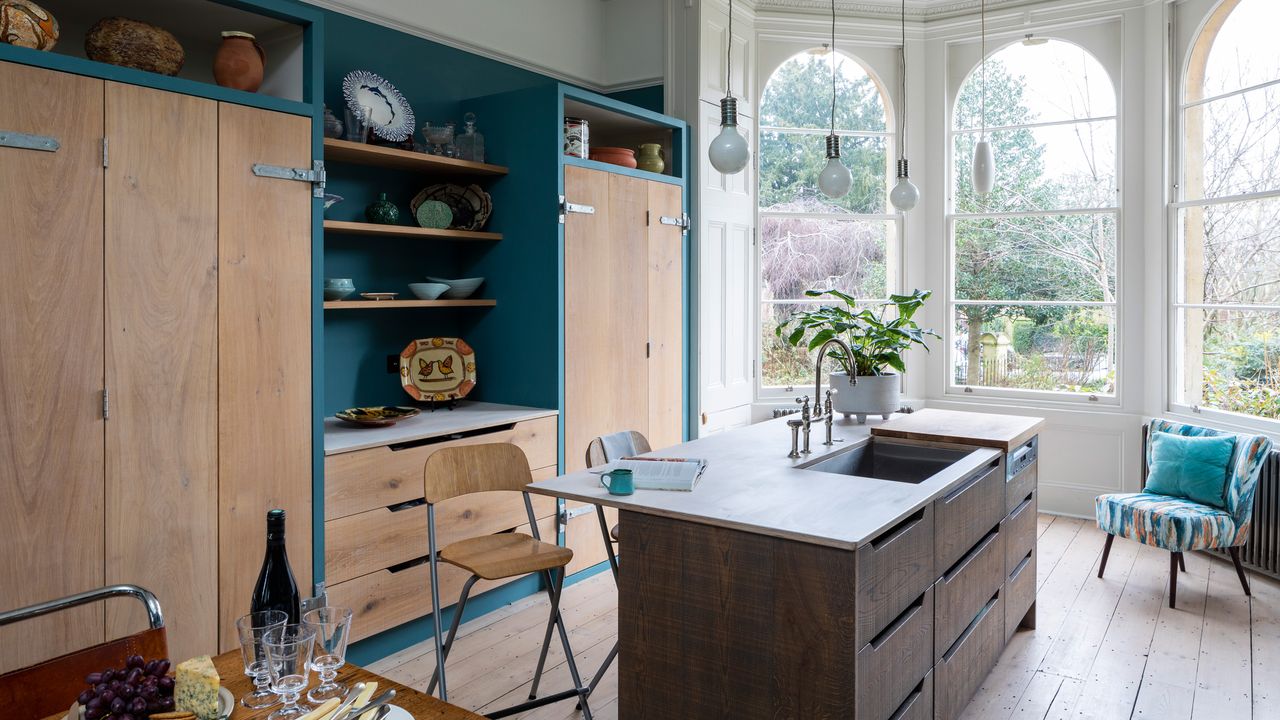 'I stumbled across my kitchen fitter – The Kitchen Man – purely by chance as I happened to walk past his shop. We designed the space together. I had an oak dining table that I knew I'd be bringing with me, so this was the starting point of the design. I wanted the look to be clean and rustic, bringing a sense of calm. I love the natural grain of oak, so I chose two different shades for the island and the surrounds, both with a cross-sawn finish. The kitchen company wanted me to have handles, but I prefer a clean look, and I'm glad I stuck to my guns. I had to move five times in 10 weeks as my lease ran out and the installation took longer than planned, but it was worth the wait.'
'Over the years I've collected many ceramics and sculptures, so I didn't want to hide them away. Open shelving allows me to appreciate my favorite pieces every day, and makes the space feel more like a comfortable living area. In a bid to enhance this further, I decided not to have tiles or a splashback, and instead went for scrubbable paint. This works a treat – splashes are easily wiped off and it looks as good as new. If you knew me, you'd know that most of my clothes are teal, aqua or turquoise. I love these colors so this paint shade was an easy decision. It makes the big space feel warm, homely and cocooning.'
'Now it's complete, the kitchen functions perfectly for me. The large oak doors hide away appliances and resemble classic cupboards, so when I've got friends and family round, I can close the doors and it hardly feels like a kitchen. I also chose an especially deep sink, which means I can hide pots and pans out of sight while I carry on entertaining. The thing I love most about my kitchen is its ergonomic design. I can stand in one place and reach everything I need from there. The cooker, sink, dishwasher, pans and even coffee are all within arm's reach. Spending time in here really is a pleasure.'