If you are considering investing in the best BBQ this year, then we can help make this all-important decision easier. Whether you are searching for a portable BBQ for a small garden or balcony, one of the best gas BBQs that's easy to use and compact to store, or perhaps it's a do-it-all hybrid BBQ that you're eyeing up, we've reviewed a range of BBQs in our own gardens, so that we can give you an all-true verdict of which ones you want to spend your money on.
Top brands in our round-up include Weber, Outback, Everdure, and Char-Broil. In total, we've chosen 17 BBQs for you to consider, but be aware that BBQs usually sell out of stock fast, especially with the current heatwave we're having, everyone is trying to get their hands on one.
Otherwise, you can shop this guide by BBQ type, should you already know what you are searching for. Jump to gas BBQs, hybrid BBQs, electric grills or smokers.
Best charcoal BBQs
Nothing beats the traditional smokey flavour of a charcoal barbecue; having said that, with the dizzying number of models out there, it can be difficult to choose a good one. We've compiled the best charcoal bbqs that give the best flavour. Keep scrolling for more barbecue types.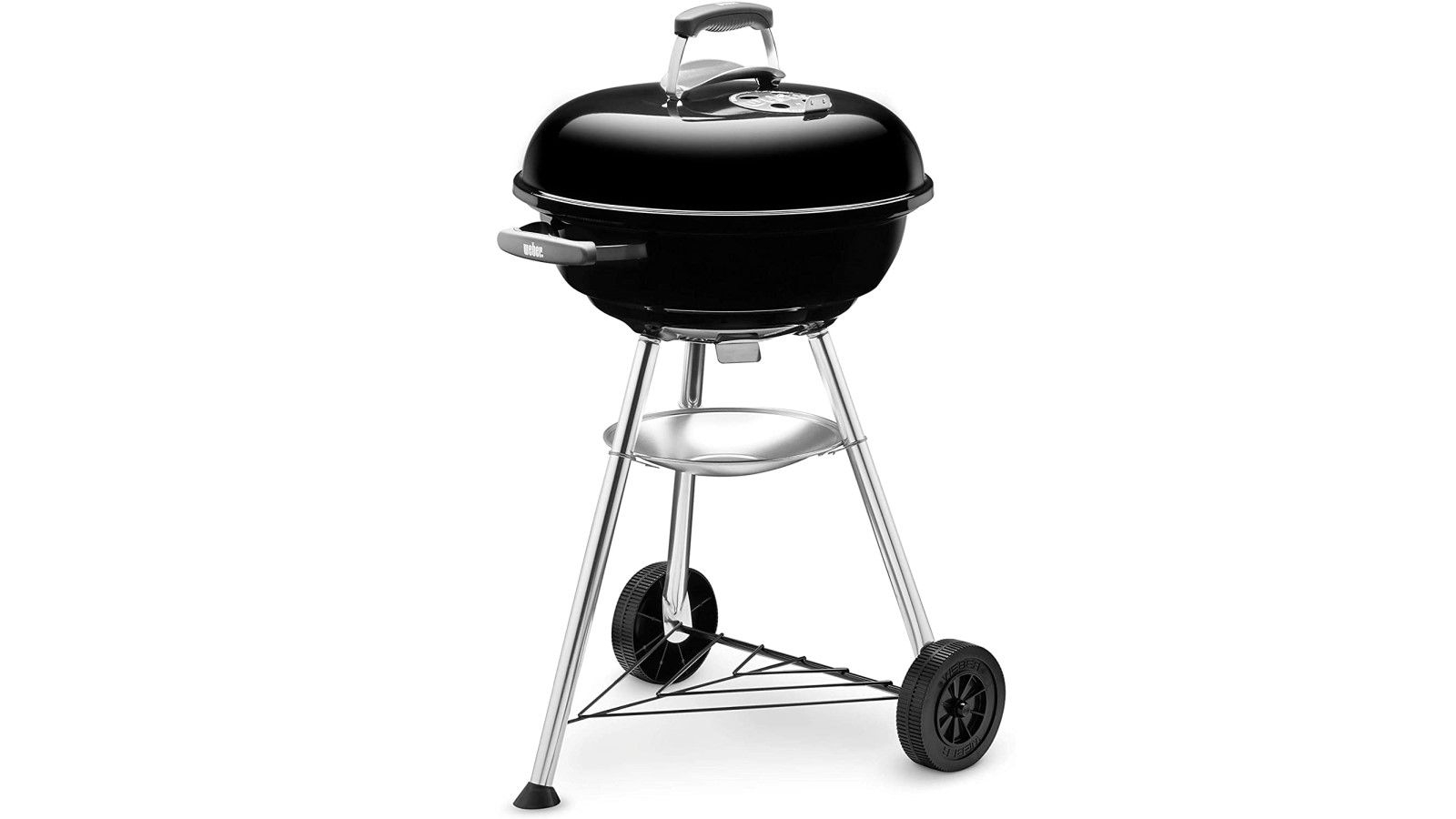 The Weber Compact Kettle Charcoal BBQ packs in all the things we love about charcoal BBQs into a traditional and compact kettle design. It's the style that makes Weber a household name, and it delivers on value and style.
Cooking features
The 47cm diameter is enough to cook for a family, and there's a drip tray underneath to catch ash and charcoal that might escape. That means you've got easy cleaning options.
Storage Space
It's fairly nonexistent, but you can use the shelf between the wheels to store plates and utensils while you grill. It's so small you can easily pull it up next to a patio table.
Added benefits
The price is a huge bonus. It's reasonably priced but comes with adjustable heat filters for smoking and keeping temperatures maintained or amping up the flames.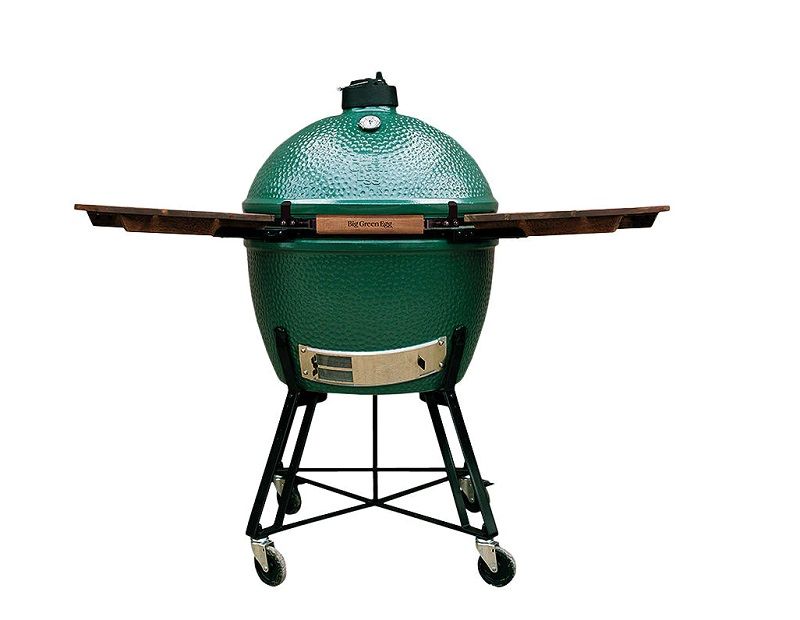 We can highly recommend buying the Green Egg BBQ; it's everybody's favourite (including ours) in terms of style and substance and it's perfect for small spaces, terraces and courtyard gardens.
Cooking features
Thanks to patented air-flow technology, once the Big Green Egg is up to temperature (which doesn't take long at all), it maintains it nice and steady so there's no worry about over or under-cooking food. Having a predictable barbecue gives peace of mind, especially when you're having people over. You can also control the temperature to within a few degrees for precise cooking.
Storage space
It features wooden shelves on either side, so you can easily keep meat and fish separate, or use one shelf for the cooked food and another for the rolls and salads.
Added benefits
No need to worry about children dashing about, as this design has superior insulation so the outside of the egg is never too hot to touch. It's also self-cleaning as the oil and fat left over after cooking are burnt down by the Egg's residual heat leaving a fine ash that can easily be brushed away.
The Big Green Egg has been awarded five stars during a review for our sister site, Gardeningetc. Our reviewer said that it is definitely worth the purchase. And although it is pricey, yep, once you buy a Big Green Egg you won't need to (or want to) buy another grill for the rest of your life.
If you want to involve your favourite wood chips to burning charcoal for full-on flavour, we recommend buying the Flamemaster Kettle 18-inch BBQ.
Cooking features
See that pizza oven insert? That can be used to heat up a pizza stone and cook up some authentic Neaopolitan. Now that's pretty sweet.
Storage Space
There is a small open shelf on the bottom where you can pop a few items but nothing more, so you'll need to have a garden table or trolley to hand for all the condiments and added extras.
Added benefits
Once shut, the lid locks in the heat while the vents regulate it. The result is some seriously juicy meat.
If you're searching for a compact BBQ, perhaps because you have a small garden or maybe because you rarely cook outside? The Weber Smokey Joe is the best option for you. This brilliant little BBQ might lack a little when it comes to size, but it certainly makes up for it when it comes to features. You can use this small yet mighty BBQ to cook everything from burgers to a Tomahawk steak.
Cooking features
For a portable model, it's packed full of features such as a steel cooking grate, a tuck-n-carry lid, a steel charcoal grate for aeration, and a briquette measuring cup so you don't overdo it on the heat production. It's pretty simple to use and it's more than easy to get good results. We tested this BBQ with everything from burgers to a Tomahawk, kebabs, and lots of smaller cuts of meat. It's safe for us to say we were more than impressed. In fact, one of the times we tested this BBQ we cooked for around 20 people, making burgers in batches, and it performed brilliantly.
Storage space
There's no storage space with this BBQ, but you wouldn't expect it for such a small model or such a low price. It sits atop a table when in use. Though not technically storage, it does have a hinged lid that can be used for shielding the weather whilst in use.
Added benefits
At just 3.5kg, this is lightweight enough to take with you to the beach, park, festival, or camping site. When we tested this BBQ, we noticed that though it does have a tuck-n-carry lid, it's not the most secure. Bearing this in mind, we wouldn't suggest putting it in a car filled with ash or charcoal in case of spillage. You can also use this BBQ to indirectly cook food by rearranging the coals once they've burned. This is great when it comes to cooking joints and delicate pieces of fish.
See more of the best portable BBQs in our guide.
The Kamado Joe Junior might look like the over-ripe cousin of the Big Green Egg, and admittedly they do share some resemblance, but its charms are all its own.
Compact
For starters, while the grill area is the same size on the Joe Junior as on Big Green Egg's MiniMax, it's a little easier to cart around if need be, thanks to its neat handled cast iron stand and lighter-by-a-whisker weight.
Extra features
It's also more cost-effective, despite offering a great range of uses thanks to the included heat deflector stone that allows you to hot smoke, roast, and bake as well as grill.
Kamado value
Kamado Grills aren't cheap, so we think this option for under £500 is a real steal.
As with all cooking gadgets designed by Heston Blumenthal, this BBQ has been cleverly designed when it comes to both features and looks. It means that you can cook outside no matter how much space you have, whilst ensuring your cooking method isn't an eyesore. Pop it atop your table, take it to the beach or even bring it to a friend's house. It's the ultimate versatile BBQ.
Cooking features
We used this BBQ to cook smaller cuts of meat, such as burgers and chicken, and it cooked everything to perfection. Whilst looking like perfection! It's nice and compact so that you can easily transport it, or tuck it away in a cupboard after use. It's designed to sit atop a table, and due to its design, you could place it in the centre of a large table and dine around this BBQ, adding your own meat to the grill whenever suits you. Makes for a sociable evening!
Storage space
Whilst you can't expect any built-in storage when it comes to a portable BBQ, this model has the added bonus of a food-grade plastic tray, which can be a handy storage area for either food or cutlery and napkins, and a bamboo tray for prepping. This makes it easy to BBQ whether you are at home or out of the house.
Added benefits
The Everdure Cube has a lid that securely clips into place to avoid spillage, and it has two sturdy heat-resistant handles. We did find that these did get hot, so wouldn't recommend touching them whilst you are cooking. Choose from a range of colours, with orange being our favourite. When it comes to cleaning, it's a bit difficult to keep clean inside as the orange interior stains easily. Otherwise, you can pop the grates and the fire basket in the dishwasher.
Best gas BBQs
When you don't want to be messing around with charcoal and smoke or you prefer precise control, a gas barbecue is for you. Or you can keep scrolling for hybrid dual fuel designs as well as electric grills, smokers and the best pizza ovens.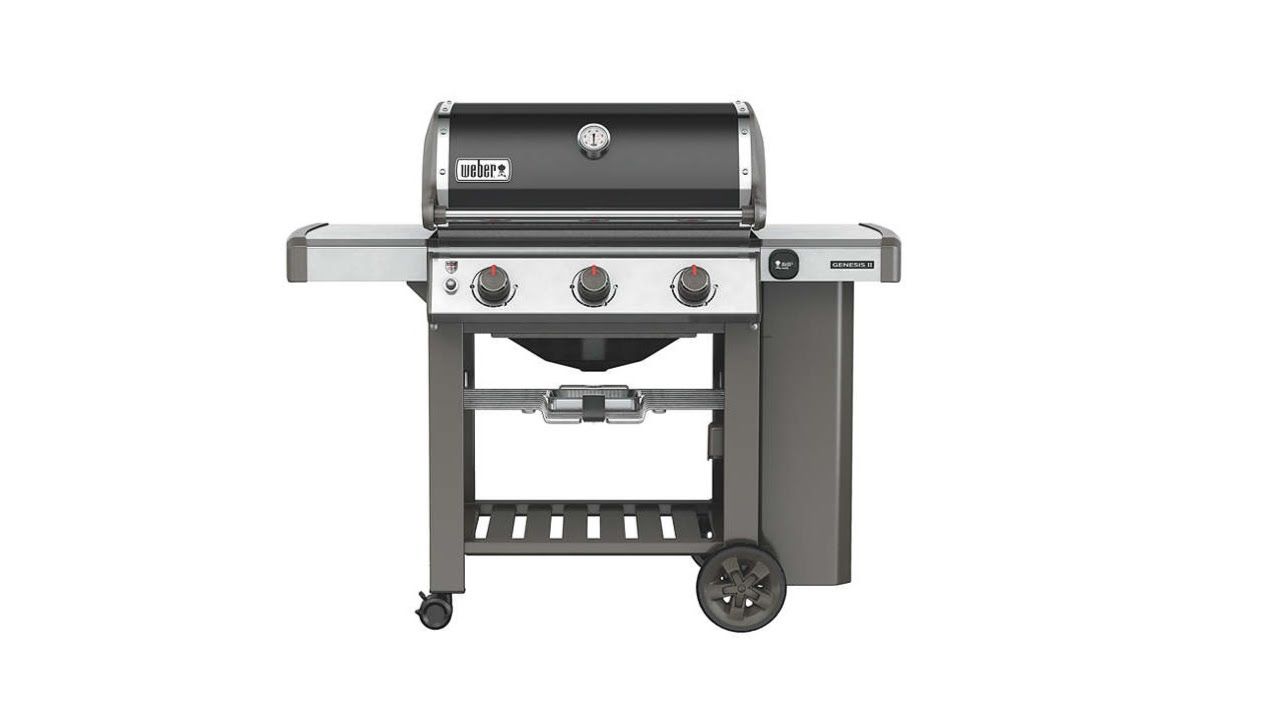 Our favourite gas barbecue is the Weber Genesis II E-310. It's designed to last, with chip-resistant and rust-free coating and cast iron cooking grates that are durable and easy to clean.
Three burners for a crowd
Weber claims this barbecue can cook for up to 12 people, and because of its warming rack you can cook in bulk for large meals. It does have only three burners which, while making it easier to clean, is not as many as other models on offer.
Easy ignition
No more waiting for your charcoal to light - with a gas barbecue you can simply ignite the grill and have all the control you need to create perfectly cooked steak, burger, and more.
Storage is easy
With a 120cm height, 152cm width, and a 76cm depth, this barbecue comes with its space demands. It is easy enough to store though, with four wheels (two of them lockable) and a tuck-away side rack.
If you want a gas BBQ but don't have the space for a full-sized BBQ, the Weber Spirit Classic E-210 is a great option.
Lightweight frame
Weighing only 52.5kg, the Weber Spirit Classic E-210 is more portable than most thanks to its lightweight frame. It also comes on four wheels with locking casters to keep it safe when in use.
Two burners
Cater to a mid-sized family with two burners for simultaneous cooking. You can control each burner independently to create different temperatures. The warming rack allows you to preheat burner buns and keep extras warm while you prepare a full feast.
Easy to clean
Featuring porcelain-coated cooking grates, you'll find the Weber Spirit Classic E-210 easy to clean after use. It's also designed to add a classic char and smokey flavour due to the "flavourizer" function.
The Outback Excel Onyx 2-Burner Gas Trolley BBQ is a winner when it comes to looks and smart design. It's got a warming rack, side burner, in-built thermometer, just about everything we look for in a gas model.
Cooking features
Blacken or boil using the side burner and convert the main grill into a convection oven using the built-on thermometer. Great for large cuts of meat.
Storage space
Take a look at that shelf. Perfect for storing places and dips. There's also a cup holder for the grill-master to stay hydrated.
Added benefits
The wheels are large and perfectly portable. We also enjoy the fact that the side burner and arm can fold down. It's the perfect balance between affordable and high quality.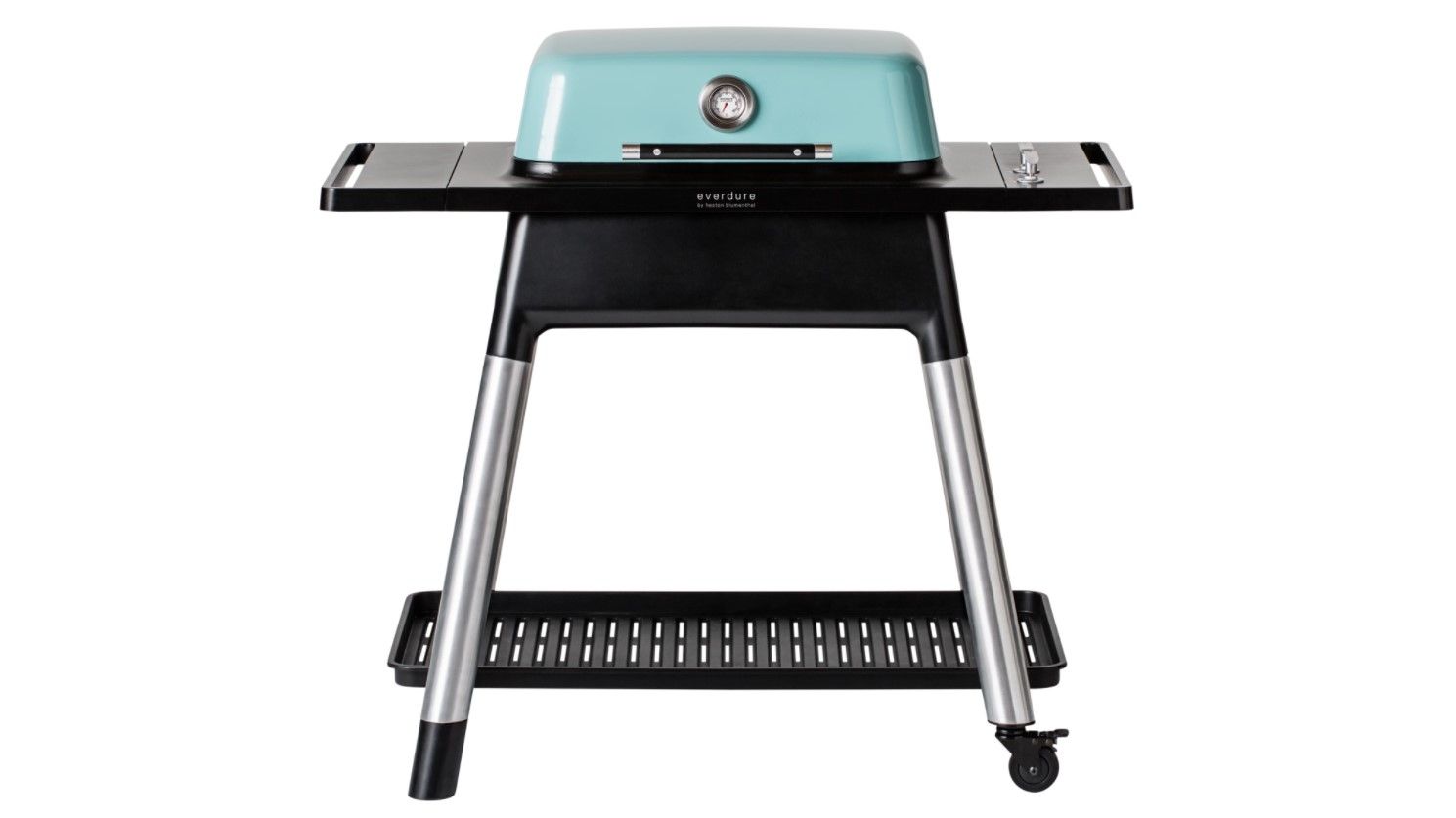 Offering outstanding control and good looks, it would be a great investment if you buy the Everdure by Heston Blumenthal Force 2 Burner Gas BBQ. It did get our vote for the best gas BBQ, too, so you know you're onto a winner.
Cooking features
Any cooking gadget or appliance with the name Heston Blumenthal attached to it is going to be great quality and well thought out and this Everdure by Heston Blumenthal Force 2 Burner Gas BBQ is no different. A beautiful piece of design, we think it's well worth the investment. It comes with independently controlled gas burners for cooking on and off the heat with variable heat control so you can ensure that ingredients are cooking at the perfect temperature. Cook with the hood up or the hood down, with the hood being high enough for convection cooking if you fancy a large joint of meat.
Storage space
Side shelves and space below provide all the space you need for sauces and salads.
Added benefits
The die-cast aluminium body is rust-proof and feels extremely sturdy and durable. Bear in mind that the plates are enamel coated, which means you'll need to clean them more carefully without the use of conventional scourers. Try a nylon brush instead.
If you're looking for convenient cooking, this BBQ from Weber may be just the ticket.
Portable
Thanks to its built in carry handles, the BBQ is easy to transport, while the fold away cooking tables provide you with some handy prep space. With a control burner valve and thermostat, you can regulate the temperature of the BBQ so the food doesn't burn on the outside and remain raw in the middle.
Add a stand
You also have the option of buying a compatible BBQ stand, making this the best portable BBQ for home and away.
Same great Weber quality
Whether you opt for a portable or freestanding Weber Q 1200, these BBQs feature that classic Weber performance you're looking for.
The CharBroil Professional Black Edition 3500 Gas BBQ has a side burner for cooking up a feast, and you can cover it with a 10 year warranty.
Large cooking area
The CharBroil Professional Black Edition 3500 Gas BBQ has a 2683 sq cm cooking area, which is great for catering to most size groups. It's only got two burners though, so opt for a four burner BBQ for something capable of cooking enough for a BBQ party.
Store more
You can stash the essentials for meal preparation behind the barbecue's enamelled steel doors and use the side shelves to ensure everything you need is at hand.
Chefs choice
The TRU-Infrared cooking with the CharBroil Professional is designed to cut back on gas use and prevent flare-ups that could lead to uneven cooking.
Best hybrid BBQs
Not sure whether you prefer charcoal or gas? How about a hybrid dual fuel design for the best of both? Here are our top picks…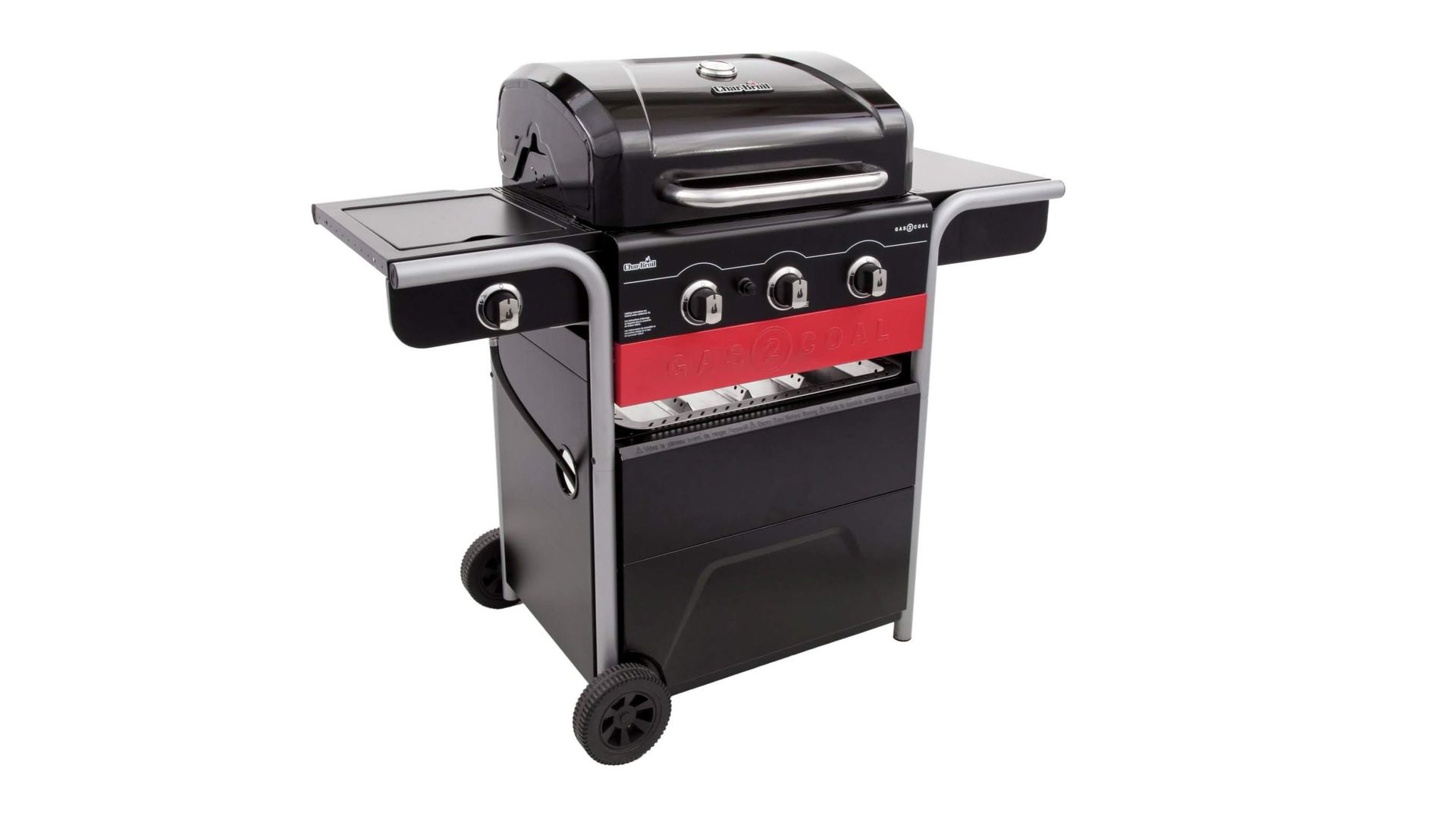 Whether one member of your family prefers gas and the other prefers coal or you're really looking to maximise every available opportunity to cook outside this summer, we can recommend which leaves you with plenty of scope for creating amazing food.
Cooking features
This design offers great gas temperature control with three individual burners that allow you to get the temperature just right when cooking on the gas setting. There's an off-heat cooking option for that smoky, slow-cooked flavour while the ability to cook without the heat on in the charcoal mode is great. The results, flavour-wise, are stunning.
Storage space
There is a little space with a side shelf and warming rack, which is also handy for keeping food warm.
Added benefits
Thanks to a warming rack, you can keep food warm while cooking more – ideal for larger batches and parties.
Use both gas and charcoal at the same time with this hybrid barbecue, which provides both instant and classic cooking in one.
Cooking features
We love this John Lewis & Partners hybrid model, as it's packed with features. There are five burners as well as an infra-red ceramic side burner, dual hoods with thermometers for cooking at different temperatures and a warming rack to keep dishes warm or you can use it as a secondary cooking area.
Storage space
As well as the warming rack, there are also side shelves, two sliding drawers and enclosed storage space underneath the cart.
Added benefits
Check out the Grillstream, which prevents flare-ups, as well as the LED backlit control knobs, chopping board and ice bucket, all of which elevate this barbecue into something truly special. The cut-out circular griddle can also be used with a pizza stone, wok and poultry roaster, which are available to buy separately.
Best electric grills
No mess, no fuss, no purchasing of fuel: electric grills give you all of that, plus portability. Keep scrolling for smokers and pizza ovens.
One of the best electric grills you can get, we wouldn't hesitate to buy the Smart Grill Pro. Perfect for steaks and burgers, it's the next best thing to a barbecue.
Cooking features
From rare to well done, the five temperature settings will delight steak lovers. However you like your meat cooked, this will get it exactly right. Remarkably accurate, the heat probe will allow you to relax and cook meat through to the right temperature without fuss.
Storage space
None but then you'll likely be using it in the kitchen so that's not really an issue.
Added benefits
The grill heats up in seconds and sears food for that smoky, chargrilled finish. It cooks veggies in seconds and it's easy to clean, as the plates can be removed and will fit in a standard dishwasher.
If you're savvy with your money, we can recommend buying the George Foreman Indoor and Outdoor Grill which can double up as table top cooker and BBQ. Whether you're taking on the cooking responsibilities at a summer BBQ or cooking a healthy mid-week dinner for the family, this grill should enable you to do it with ease.
Cooking features
Perfect for meat or fish, this portable appliance can easily cook 15 portions of food and can be used inside or out. There's also an outside temperature gauge so you can keep an eye on the temperature inside, too.
Storage space
There's no storage with the unit but when it comes to storing it yourself, simply remove the stand and the grill will sit neatly on the table or worktop.
Added benefits
Cleaning this BBQ Grill is easy as it comes with non-stick removable plates, which are also angled so they drain fat and grease away into the integrated drip tray. No need for connecting to a gas canister or messing around with dirty charcoal – just plug in and away you go.
See more of the best electrical grills in our guide.
Best smokers
Love the characteristic flavour and tender texture of smoked fish and meat? Now you can create your own smoked dishes at home…
Weber is a big name in barbecuing, so it's no surprise that they've successfully turned their hand to barbecue smokers too. If you want to buy the Smokey Mountain Cooker you won't be disappointed – it does what it says on the tin which is why it's award-winning and highly rated by yours truly.
Cooking features
It's sturdy, snug construction is very important for the quality of the smoke, and all the parts in this reassuringly heavy smoker hold together in a nicely tight fit, making sure smoke does not escape. Smoking is an hour-long process and this smoker, once you've got it to the desired temperature, will hold it remarkably steadily. This makes it suitable for smoking anything, from fish to veg and even nuts. The multiple vents compensate for windy weather.
Storage space
There's no storage with this smoker but that's not a problem as you'd likely have an additional barbecue or table alongside it.
Added benefits
This smoker means business in terms of how much it can cook in one go: we're talking a very large whole chicken or multiple whole salmon fillets.
What is the best BBQ?
To recap... the best charcoal barbecue is the Weber Compact Kettle Charcoal BBQ. It packs everything we love about a barbecue and its lightweight yet sturdy design is perfect for small gatherings. The best gas BBQ has to be the Everdure by Heston Blumenthal Force 2 Burner Gas Barbecue which has fabulous looks as well as everything you need to cook up a feast.
Combine gas with charcoal and you have a hybrid, and the BBQ which gets our vote is the Char-Broil Gas2Coal Hybrid Grill. Our reviewer found that it was a winner with its cooking ability, although assembly was a little fiddly.
How we review BBQs
Getting hands-on experience with all the products we featured in our guides is important to us, because it'll ultimately help you. Those you see in our list - from Weber to Everdure by Heston Blumenthal - have found there way into our great British gardens with an aim of cooking up some feasts this summer, come rain or shine.
The factors we look out for goes beyond how it looks and delves into how easy it is to set up, cook meat and veggies and storage and maintenance after each use. We also take into consideration the size of the BBQ because we know that not everyone has a large patio, or indeed a garden, so our review panel have called in barbecues which suit their home set-up which will give a real-life verdict to (hopefully) reflect your home set-up.
Granted, we are still working our way through this (we like to test products for a minimum of six weeks) so for the interim, we have considered what other customers think of the product/s and have called upon our barbecuing knowledge so far to share what we think are the best barbecues.
For more info, see our guide on how we review BBQs. Otherwise, you can read all about Real Homes reviews.
What to consider when buying a BBQ in 2022
Things to consider when buying the best BBQ include the size and dimensions you'll need. A larger BBQ is always desirable for those who like to entertain, but you need to store your BBQ when it's not in use, so make sure your shed has adequate space. It's also important to think about where you'll put it in your outdoor space – having a grill too close to seating is one of the worst patio decorating mistakes.
Many of the best BBQs come with a number of burners that are capable of cooking for up to 12 people. There are also warming racks that can toast hot dog buns and keep burgers warm while the rest of your feast is cooking.
The type is important as well. Gas BBQs are easy to ignite and often come with side burners and storage space below the main burners. The best charcoal BBQs offer that smokey flavour that we all associate with a classic BBQ, and they're often cheaper, too.
How to buy the best barbecue for 2022
Where to buy the best BBQ
Picking the best BBQ for your family will depend on a number of things – the fuel you like to cook with, whether you want any fancy extras and how large or small you need the barbecue to be. Also, take into account the style, the overall look and the price, too.
Fuel type
Think about the type of food you like to pop on the barbie. Is it more your classic burgers and hot dogs? In which case a traditional charcoal design will give the best, most authentic chargrilled flavour. Or are you after something that will expertly cook fish and seafood? In which case you're be better off with an all-singing, all-dancing gas design.
Maybe you want the best of both with a hybrid dual fuel model or an electric grill for when it rains? If you're after something a little more exotic or as an added extra for an existing barbecue, consider a smoker. And when you need something for the park or to take to a festival, go for a portable model which will really impress your guests; whilst a pizza oven (also very impressive) is perfect for children's parties and large gatherings too. So there are plenty to choose from at prices to suit every pocket too.
Flavour
While the best gas barbecue will still deliver on the smokey BBQ flavour, a charcoal barbecue is your best bet if you really like that authentic, chargrilled taste. An electric grill will be portable and easy to use, but won't give you the smoke. For added flavour, consider a smoker barbecue instead.
Ease of cleaning
Look at how simple the barbecue is to clean. Are the grates and accessories dishwasher-safe for instance? Do the parts come off so you can dunk them in a sink of hot soapy water? Bear in mind that larger surface areas will take more elbow grease and time, too.
Size
As a rough guide, for four people, you'll need a grill size that's less than 1800cm²; for six people, a grill up to 2500cm² will do; for eight people or more, look for a barbecue with a grill size that's 2500cm²+. Like the best chimineas, you'll want to make sure yours isn't too big for your space too.
Storage space
Consider whether the barbecue comes with any storage space for cooking utensils and tools as well as larger shelves for condiments and pop-up side flaps for bowls of salads and rice. At the very least, it's great if there's somewhere to pop the Ketchup. Also, look at the overall dimensions of the design and think about where you'll store it during the winter months. A barbecue left outdoors won't last very long if it's exposed to the elements so make sure there's room in the garage or shed.