Asking yourself, 'how much does refinishing a hardwood floor cost?' Wood flooring is easily the most desirable type of flooring there is, but if you just moved into a home with a wood floor and are realizing that the condition of the floor isn't great, refinishing will be necessary.
Wood flooring is one of the most beloved types of flooring for a reason: it is beautiful, durable, and easy to clean. However, with enough neglect, a wood floor will begin to deteriorate. Fortunately, in most cases, refinishing will restore your floor to its former glory, although it will cost you. Find out how much, and when it may be worth considering getting a new floor altogether.
How much does refinishing a hardwood floor cost?
Todd Saunders, the CEO of Flooring Stores, gives his estimate as somewhere 'between $1500 and $3000, or about $5 to $10 per square foot.' However, this range is with the caveat that 'inflation is making this a tricky number to pin down, and both the total square footage and the condition of the floor play a role here, but you.
Saunders admits that 'the vast majority of that cost is labor. If you have the tools, the time, and the skills to do this yourself, you can save a lot.' To be more precise, if you go down the DIY route, you can refinish a hardwood floor for between $600 and $1,000 - a huge saving on getting it done professionally.
However, with hardwood flooring in particular you need to be aware of the complexity of the job. Refinishing a hardwood floor is not a simple job for a beginner. If you've never used a floor sander before, you could end up damaging your floor, making subsequent professional repairs even more expensive.
Having said that, if you're an experienced DIYer, refinishing a hardwood floor should be within your range of ability. A sander can be hired for as little as $100 a day, sandpaper will be another $100, and then the clear varnish you'll need for refinishing will cost you approximately $200-400, depending on the type you use.
If you're not comfortable working with a sander and your wood floor badly needs a refresh, you could try staining it with a gel stain. It costs under $50 and can look great - just be aware that it will give you a glossy finish.
Obviously, if any of the floorboards need replacing, this will add to the cost. The job will also become a little more complex as it will now involve pulling up the old floorboards and laying down new ones.
How much will replacement wood planks cost?
Wood flooring is generally sold by square foot, and it will cost between $8 to $18 per square foot for solid wood and $8 to $14 per square foot for engineered wood, according to Flooring Stores.
However, reclaimed wood flooring can be bought in bulk on eBay and from local lumber traders, often for as little as $20 per 4-5 planks of wood. This is often the best way to buy wood for refinishing your existing floor, although you'll need to take care to find wood that is the same type and color as your existing wood. While a little variation can look fine, you don't want to replace an oak plank with beech, for example, as you'll likely end up with a warped floor.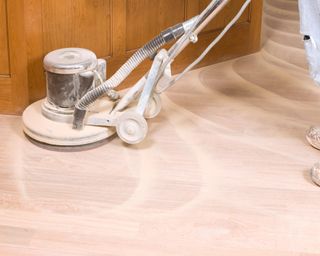 How often does a wood floor need refinishing?
'Ralph Severson, Owner of Flooring Masters, says that 'depending on the type of wood, the quality of the seal, and the amount of traffic on the floor, hardwood needs to be refinished every 5-10 years. A big family, high traffic household will need their floor refinished much more frequently.'
Todd Saunders adds that in lower-traffic homes, 'If you take good care of your floor - avoiding deep scratches, water damage, and temperature extremes, it should last you at least 7 years before it needs a refinish, and could last as long as 10 or 15 years.'
Regularly cleaning your wood floor with a dedicated wood floor cleaner will prolong its lifespan, and even just dry brushing your floor with a dry brush every once in a while will prevent some of the avoidable scratches and dents.
When is refinishing a wood floor no longer worth it?
According to Severson, 'refinishing stops making sense if the floor has sustained extensive moisture damage. If a significant portion of the floorboards are cupped, warped, and worn, it is a better investment to install a new floor. I would say that if you need to replace 15-20 percent of the floorboards or more, go ahead and get an entirely new floor. It makes better financial sense. But make sure that you eliminate that moisture problem first.'
There is also such a thing as too much refinishing. Adam Graham, a Construction Industry Analyst at Fixr.com, warns that 'if you have refinished the floor multiple times before, then it can become worn down so much that it is too thin for it to be done again, and therefore a replacement is the only option.'
Remember: if it ain't broke, don't fix it. A wood floor, when properly cared for, should not need refinishing for at least five years -10 if you're careful. Only refinish your floor when it really needs it.