If you're currently debating between removable wallpaper or the traditional kind, there's a good chance you've experienced the "other end" of hanging wallpaper. That is, the taking it down end.
Removing wallpaper has historically been a royal pain-in-the-neck. It's a multi-step process that usually involves scoring the paper, steaming it (or spraying it with wallpaper remover) and then scraping it off bit-by-bit.
In an effort to solve the wallpaper removal problem over the last 10 years, a wide range of removable, or peel-and-stick, wallpaper options have cropped up on the market. They're available from mass-market retailers like Target, but even high-end wallpaper houses like Scalamandre offer select patterns in temporary form. Plus, price wise, even the best peel-and-stick wallpaper is comparable to traditional versions.
So if peel-and-stick wallpaper is just an easier-to-remove version of classic paste-the-wall (or paste the paper) versions, then why not just go the temporary route?
Well, it's not that simple.
Personally, I've tried both traditional wallpaper, and the peel-and-stick variety, and there's a time and a place for each type. Below, I'm breaking down the pros and cons of traditional wallpaper, and the pros and cons of removable wallpaper, plus which projects are best-suited to which type.
What is removable wallpaper?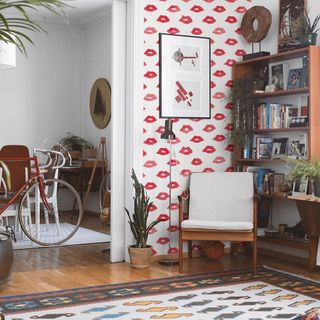 To put it simply, peel-and-stick or removable wallpaper is like a large, durable sticker that you adhere to the wall. It's typically a vinyl paper with an adhesive backing. Like traditional wallpaper, it most often comes on a roll. To install it, you simply peel the backing off the wallpaper and press it to the wall, no adhesives, paste, or tubs of water required.
Removable wallpaper is widely available from brands like Tempaper, Chasing Paper and Walls Need Love, and it comes in an expansive range of colors, patterns, and even textures, so there's a good chance you'll find a paper you love for the space you're working on.
Peel and stick wallpaper pros and cons
Pros
There are a number of upsides to removable wallpaper. For one, its temporary nature makes it perfect for renters, college students, or those who are decorating a space for the short-term, like a nursery. It's also a great choice if you want to try a trendy look without worrying that you'll be stuck with it for the long-haul. (I chose a removable zebra-print wallpaper from Tempaper for my home's entryway, for example, because it's beautiful and fun, but I wasn't quite sure I'd want zebras in my entryway forever).
The reason it's great for temporary situations is, obviously, because of the removal process. Taking down peel-and-stick wallpaper can literally be done in minutes, whereas I've spent days removing regular wallpaper from a single wall. Plus, I've peeled removable wallpaper off of walls after more than a year, and there was almost no damage to the surface underneath.
Installing removable wallpaper is also a simpler process than installing traditional wallpaper, since you won't need to soak the wallpaper, or add paste to the back or the the walls.
Cons
But! Just because temporary wallpaper offers a simpler installationprocess, doesn't make it an easier one. Personally, I find peel-and-stick wallpaper to be more difficult to install correctly than traditional wallpaper. This is because, when hanging traditional wallpaper, the wet paste allows you to adjust and slide the paper into the correct spot once it's on the wall. Because peel-and-stick wallpaper adheres to the wall instantly, if you want to reposition it at all, you need to remove the entire panel and try again. This can be tricky when you have a wallpaper with an intricate repeat, of if your walls aren't perfectly straight.
Peel-and-stick wallpaper also requires more meticulous installation to prevent bubbling, since bubbles are hard to remove once the peel-and-stick paper is on the wall. With traditional wallpaper, you can work most bubbles out of the paper after it's on the wall, before the paste dries, but this isn't the case with peel-and-stick.
For this reason, I also suggest ordering an extra roll of peel-and-stick wallpaper, in case you end up needing to reposition it too many times, since this can cause the paper to stretch and the bubbles to become permanent distortions.
Fortunately, it's not impossible to hang properly, it just requires a little precision and some patience.
When and where to use removable wallpaper
Despite the slightly-tricky install process, there are certain instances where I'd almost always choose a peel-and-stick wallpaper over a traditional one. Here's where temporary wallpaper will probably be your best choice:
If you're renting and need a temporary solution
If you're tackling a small project like the back of a bookcase or a powder room accent wall
If you want to try a trend without committing to it long-term
If you're wallpapering a space that'll evolve, like a nursery or kids room
Do none of the above fit your situation? Then it might be time to try traditional wallpaper. Next, I'll share the pros and cons of traditional wallpaper, and when that is the right choice instead.
What is traditional wallpaper?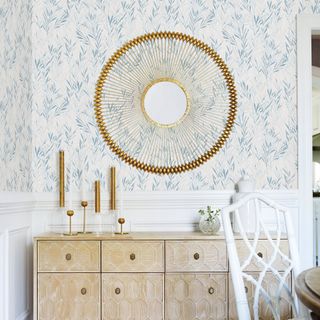 Traditional wallpaper encompasses every other kid of wallpaper application. That is: Paste the wall and paste the paper wallpaper.
As the name implies, these types of wallpapers require you to either apply wallpaper paste to the wall, then stick your wallpaper on top, or to add the paste to the back of the wallpaper before hanging.
Years ago, paste-the-paper wallpaper required you to also soak the wallpaper in water first, which made the process long and messy. Now, however, many (but not all!) paste-the-paper wallpapers are made so you can skip the soaking step and simply apply paste directly to the paper.
Though there are plenty of removable wallpaper options to choose from, if you're looking for a texture like grass cloth, a luxury paper, or a very specific print or color, you'll find many more traditional wallpaper options available.
Because traditional wallpaper is made to last, it's a time-intensive process to remove, which makes it a more intimidating option that temporary wallpaper.
Traditional wallpaper pros and cons
Pros
The pros of traditional wallpaper lie in the quality of the product available and in the install process.
In terms of quality, that's not to say that removable wallpaper is cheap or poor quality. It is to say that, if you are looking for a high-end or specialty paper, you'll almost exclusively find it in a traditional paste style.
Additionally, after installing both removable wallpaper and traditional, I find that traditional paper has a slight edge when it comes to the look of the finished product. This is likely due to the finish and material of the traditional wallpaper I've chosen - they actually look like a paper, whereas peel-and-stick wallpapers can tend to have a slightly shinier finish. It's primarily noticeable when you get up close to the paper, but if you're a detail-person, it's an important consideration.
As I mentioned earlier, I also find the process of installing traditional wallpaper to be easier than peel and stick since it's easier to get it into the exact position you want it in (especially important if you are aligning a detailed pattern or live in an older home with wall that may not be perfectly squared-off.)
I've done both paste the wall wallpapers (I love Graham & Brown's line) and paste the paper, and I find paste-the-wall to be easiest to work with by a slim margin, because you don't have to worry about setting up a pasting table. Both types, however, are fairly simple to install, even for a beginner.
Find out how to hang wallpaper like a pro in our guide.
Cons
The cons of traditional wallpaper lie in its permanence. Wallpaper is hard and messy to take down. It can take days to remove standard wallpaper, and it can leave behind some damage to walls (or at least some extra adhesive that needs to be cleaned off).
Removing traditional wallpaper requires first scoring the entire wall (or walls) extensively with a small scoring device that pokes holes in the paper to allow steam or wallpaper remover to seep through. Then, working in small sections, you steam the paper and/or spray it with wallpaper remover, and scrape the paper off the wall. Depending on how much paste was used during the install and how long the paper has been on the walls, there is sometimes leftover adhesive to take off, too. It's not a particularly fun process, so if you're only planning to leave your wallpaper up for a few years, you'll want to consider removable wallpaper (or footing the bill for a professional removal service. Many painting companies do this).
Also, while traditional wallpaper can be found for a good value, luxury wallpaper and specialty finishes can get very expensive.
When and where to use traditional wallpaper
There are a few instances where I'd always use traditional wallpaper.
If you own your home AND:
Are installing a classic paper, like a grasscloth or toile
If you find a paper you know you'll love enough to keep around for at least 5 years
If you don't mind a few days or effort to take the paper down, or are willing to pay a professional to take down the paper
If you're doing a larger job like an entire bedroom
If you live in an old home with walls that may not be exactly straight
So which wallpaper is best?
The bottom line? Choosing between removable wallpaper vs. traditional will largely depend on the type of project you're doing, whether you own or rent your home, and how long you plan to live with your new patterned walls.