Wondering if you can paint an outdoor rug? The answer is: yes. Every year, when the warm days and nights start becoming more common, I always love to get my patio ready for the outdoor living that will be sure to happen in the upcoming months.
I really love to look at our outdoor living space as an extension of our home, especially during the warmer months. I often find myself doing just as many projects outdoors, and a favorite DIY outdoor furniture project of mine is our painted outdoor rug. You read that right - I painted a rug, and this rug project was one of my favorite (and easiest) projects to date.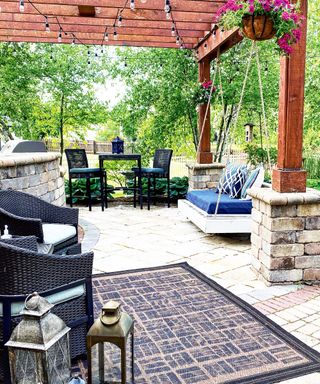 Many are familiar with the project idea of sponge painting and, after years on hiatus, sponge-painted accent walls have become quite the trend. I wanted to find a way to bring a little personality to our outdoor space, so I took the sponge painting project idea outside the box a little bit. Here's how I did it.
How to paint an outdoor rug
You will need:
As for the DIY process, I recommend choosing a pattern before you begin. What vibe are you going for? How much color do you want to bring in? Once you have your pattern and style determined, I also definitely recommend the brainstorming prep work so that there are no surprises down the line.
Use a stencil, draw your pattern out with chalk or map it out with painters' tape to get an idea of what the layout will look like. I'm a very visual learner, so actually seeing the pattern is always really helpful for me.
In my case, I was using a geometric pattern to make squares, so I estimated the number of squares I would need by measuring my sponge and rug. That way, I was able to determine how much space I should put between each row. The options for patterns are endless, and geometric patterns are always nice for a rug.
If you want a little more detail, a stencil could be used for more intricate patterns. I decided to keep it simple, but it still makes a big statement. Whichever you choose, this project is quite simple and can easily be completed in a short amount of time.
Once I had my pattern mapped out, I simply dipped my sponge in the paint and went for it.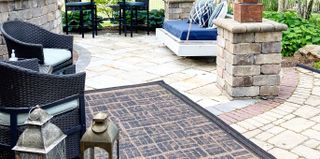 What kind of paint do you use to paint a rug?
You may be wondering why I used interior paint, and that's a valid thought. I used what I had on hand at my home, and since I used interior paint, I made sure to seal the rug really well.
Outdoor paint would certainly be an option as well, but either way, I definitely recommend protecting your rug with a waterproof sealant. I opted for a spray polyurethane from Amazon that was meant for outdoor use. And if you're wondering what the best paint for furniture is, we've got a guide for that.
One thing to note is that most of the outdoor sealants are oil-based. Oil-based sealants will cause paints to yellow, so if you are using a light-colored paint, expect the sealant to change the color a bit. For this reason, I was happy that I chose the black paint, and the color of mine was not affected by the oil-based sealant.
I put four coats of the poly on, to be safe. It was as easy as spraying it on and waiting the allotted time to apply another coat. After it was all sealed up, I had a brand-new rug that brought some dimension and character to my patio.
Now, I have to be honest. When I first completed this project, I admittedly thought that the paint would wash out after a few drops of rain. Where we live, the weather will give us anything from rain to snow, and everything in between, but I am happy to report that this rug has far exceeded my expectations. The paint has not chipped or worn one bit. I was really impressed. That is another reason to do multiple coats of poly. The best projects are worth the extra steps.
Well, there you have it: an easy springtime project that will elevate your outdoor living space. Enjoy.