If you want to know how to caulk a bathtub or shower, this expert advice is for you. Caulking is an essential part of bathroom renovations and maintenance – skip this important step of a bathroom update, and you will end up with leaks and mold growth.
Caulking is used where your bathtub or shower meets the walls in your bathrooms; that joint between two building materials is where your bathroom is always vulnerable to water leaking through the gap, however small. Even if you are not redoing your bathroom and just want to know how to clean a shower to perfection, refinishing the caulking in your shower is a crucial step that will ensure your shower looks as good as new.
Whether you need to learn how to caulk a bathtub or how to caulk a shower, this guide will help you achieve professional-looking results.
How to caulk a bathtub or shower
Caulking a bathtub and caulking a shower are similar jobs, although some plumbers prefer caulking a bathtub that's been pre-filled with water (more on that below). The most important aspects of caulking are the prep and having a steady hand.
Prepping your bathtub or shower for caulking by removing old caulk is essential for a long-lasting and waterproof result. Enoch Heise, a plumbing expert who does training for plumbing company Legacy Plumbing, advises to 'prep the surface very well to make sure the new caulking adheres well. All of the old caulking/residue/soap scum, etc, should be scraped up and the surface cleaned with a rag and good cleaner. After cleaning, it can help to go over the surface with some rubbing alcohol and a paper towel to clean up any last bit of greasy residue.' Use a scraping tool for this job – don't attempt to do this with a kitchen knife.
Once your surface is ready for caulking, you'll need to decide whether to apply the caulk straight from the tube or to use a caulking gun. Needless to say, purchasing a caulking gun will raise the overall cost of your project. Having said that, if you are a complete DIY beginner, it's a very good idea to get a caulking gun. Peter Emmanuel Rossi, an interior designer & professional hot tub designer from New York City-based ByRossi, explains that 'the built-in spout cutter and seal puncher of the silicone gun are easy to use for a first-timer. And it reduces prep time.' Caulking on a DIY basis already reduces your bathroom remodel costs, so spending $30-40 on a caulking gun from Amazon is well worth it.
If you do decide to caulk straight out of the tube, make sure to cut the opening at a 45-degree angle for the most precise application.
Once you've loaded your silicone gun/opened your caulking tube and cut the tip, you're ready to caulk.
Gerald Carpenter, a professional plumber in the third generation and consultant on Sanitary Review, advises the following step-by-step process. It works for both bathtubs and showers:
You will need:
A rag or paper towels
Duct tape
Caulking gun
Dry the surface thoroughly with a rag or paper towels.
Stick duct tape on the tub (shower) edge and wall around leaving the gap between the two pieces. Make sure the line is perfectly straight.
Slowly move the tip of the gun along the gap between the tape. Don't push the trigger too much to create an even layer of caulk.
Once the gap is filled, slide through the caulk with your finger to smooth it.
Remove the tape when the caulk is still wet.
Don't use the bath or shower for at least 30 minutes to let the top layer dry.
When you use the bath or shower, don't touch the caulk for at least 24 hours to let it harden safely.
What is the best caulk to use?
The main choice a DIYer faces when selecting the right caulk is silicone or non-silicone. While professional plumbers generally prefer silicone-based caulk for its waterproofing qualities and smooth finish, Heise admits that 'if you choose a high-quality silicone-based caulking, it is more difficult to work with because you can't clean it up with water.' Nevertheless, it's still worth it because 'it will last longer and provide a better seal.' However, using silicone isn't absolutely necessary even if it's preferable: 'If you aren't used to caulking or just want something more forgiving, go with a non-silicone kitchen and bath caulking.'
Peter adds that you should 'remember to get the mold-resistant silicone because it prevents any growth due to moisture. However, if there is an area requiring paint, get the paintable type.'
If you want a brand-specific recommendation, Cody Dickson, a licensed plumber in North Carolina, and owner of Dickson Plumbing LLC, recommends Oatey brand tub and tile caulk, which he claims 'has yielded the best results in my career.'
Carpenter swears by Gorilla Silicone Sealant available at Amazon – 'it's a very durable material that won't become yellow over time. Your bath will be ready to use in just 30 minutes after application.'
Do you need to fill up the bathtub with water before caulking?
It all depends on the type of tub you have. Plastic tubs should be filled with water. Heise explains that 'If you are caulking a bathtub, it is a good idea to fill it up with water about 70% before caulking the seams. This is because the tub often flexes a little bit with all that weight and pulls at the seams where the caulking is. By caulking with the tub in this more stressed position, it helps ensure that your new caulking won't crack in the future when the tub experiences this stress.'
However, if yours is a sturdy bathtub made from cast iron, you really don't need to pre-fill it before sealing. Rossi believes that 'there's actually no need to fill the tub before applying the caulk as it won't make any big difference or improve the quality.'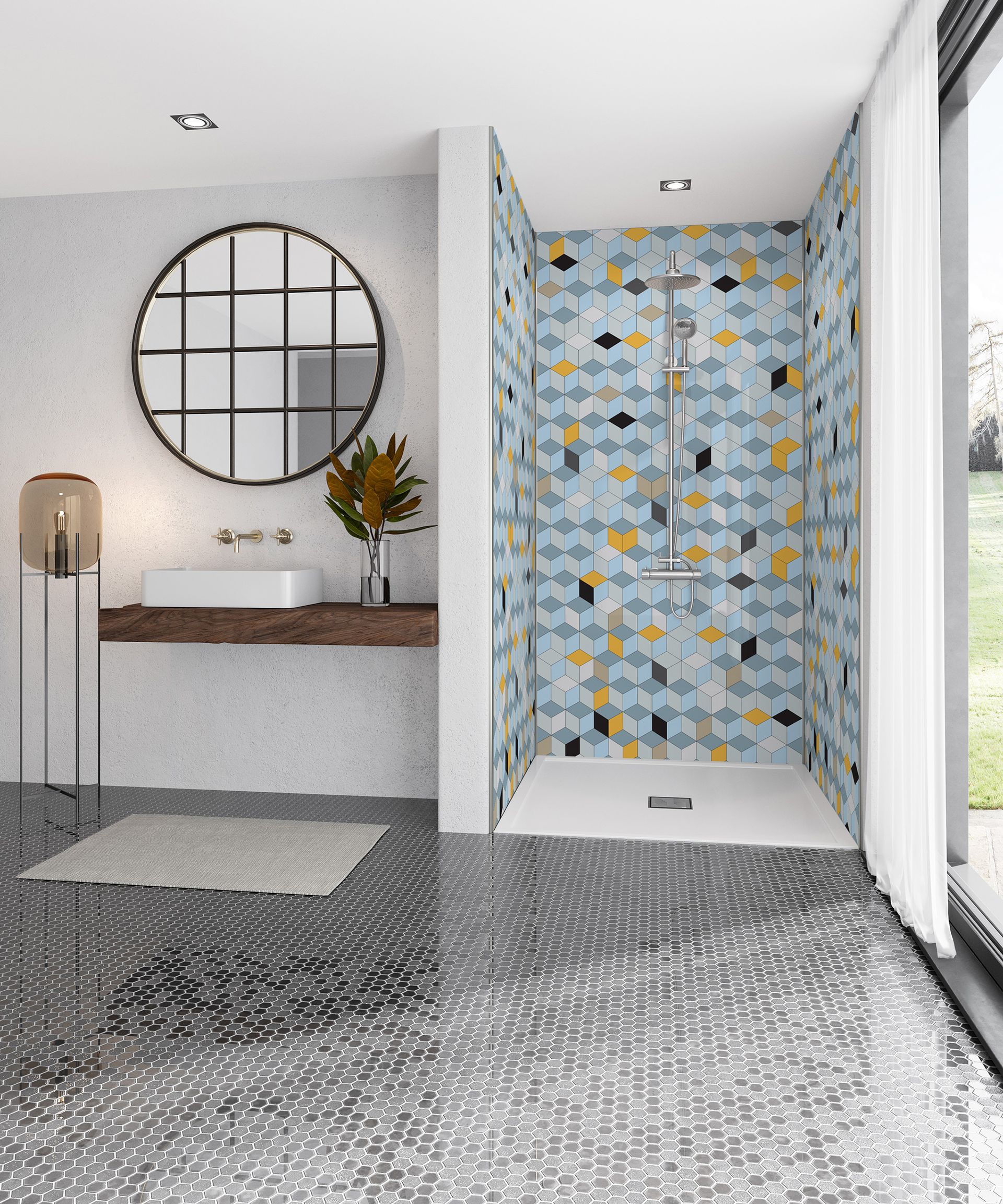 Is caulking a suitable job for a DIY beginner?
Generally speaking, yes. Caulking is relatively easy because you don't need to know anything about bathroom plumbing or work with complicated tools. Rossi believes that caulking 'is an easy job for a DIY beginner with the right tools and a good tutorial to guide them.' However, an inexperienced DIYer is likely to have some trouble achieving an even finish – it's all about practice and developing a steady hand as you're caulking. Rossi recommends you 'try to get hands-on a dripless silicone gun. It is easy to use for a first-timer.'
You also need to consider mold growth as a potential consequence of uneven caulking, because chances are you won't seal off your tub or shower completely. Charles Leduc, of Mold Busters, cautions that 'anyone who is not confident that they can seal these fixtures completely should hire a professional. Without sealing them properly, mold grows on the floor and walls while hidden behind and beneath the tub or shower basin, and it isn't discovered until it grows out into a visible place. Once it gets that far, it has become a serious problem that requires professional remediation, and possibly even replacing framing or subfloor in your bathroom.'
Only you can judge your own DIY ability, but if you've done similar jobs before, you should have no trouble caulking your shower or bathtub yourself.